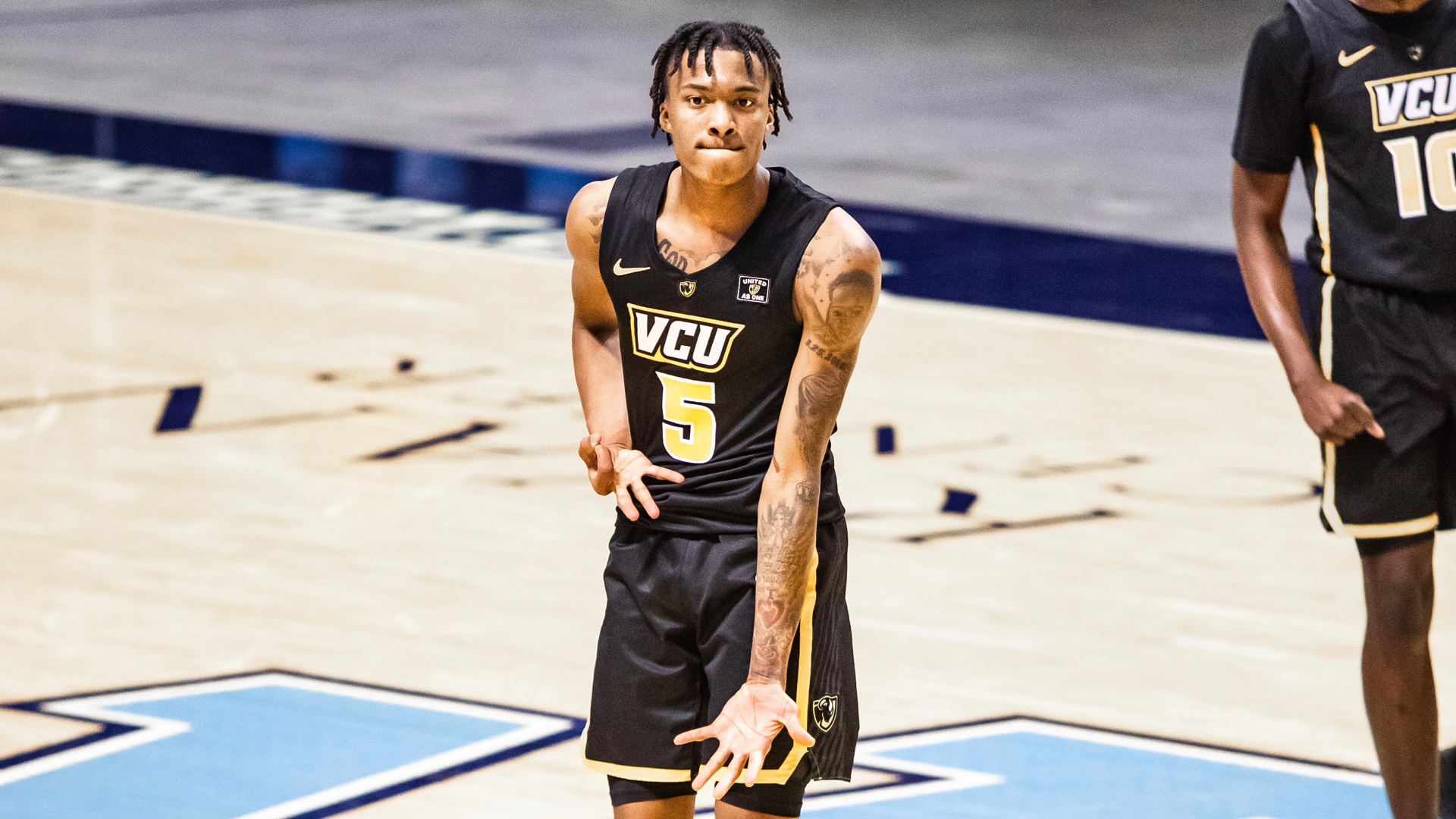 Every year, there are players throughout the NBA draft process who fly under the radar. Sometimes, these guys are late first-round picks, mid-second-round picks, or even go undrafted. In this year's projected stacked draft class, a lot of players are flying under the radar. Here are the 5 most underrated playerss in this year's draft class.
1. Quinten Grimes
Grimes, a projected late first to mid second-round pick could be a very solid three and D guy at the NBA level. At 6'5, Grimes will not "wow" anyone with his athleticism or finishing, but he is one of the most NBA-ready prospects in this draft. Grimes shot over 40% from three last season on over 7.5 attempts per game for the Houston Cougars. Grimes also projects to be one of the best one on one guard defenders in this year's draft. After bursting out for 27 points at the NBA combine, it seems that Grimes has the chance to be a very solid and underrated NBA player.
2. Nah'Shon Hyland
The VCU star is a projected second round pick but could go slightly earlier. Last season at VCU, he averaged 19.5ppg, 4.7rpg, and 2.1apg. Hyland also had 17 points on 7-11 at a scrimmage at the NBA draft combine. He looked very good at the combine which definitely made his stock rise. He's not the tallest guard at 6'3, but is a great shooter, playmaker, and is also pretty athletic. The reason why Hyland is underrated is because he is shadowed by many in an elite guard class. Despite some shot selection issues, Hyland could be a dark horse pick in this year's draft.

3. Isaiah Livers
Livers, who was arguably Michigan's best player for a large amount of the season, has been projected to be a late second round pick by most experts. Late last season livers suffered an ankle injury which ended his season. Livers did not get to participate in Michigan's tournament run which certainly hurt his draft stock. Livers is one of the best three point shooters in this draft as he shot over 43% last season and can even make plays off of the dribble. Livers also averaged 13.1ppg, 6rpg, and 2apg. Livers was also one of Michigan's best defenders last season next to Franz Wagner. Livers has a chance to be a solid three and D player. Without some uncertainty with Livers with his injury and lack of games played last season, Livers probably would've been an early second round pick. He is flying under the radar.
4. Joshua Christopher
Josh Christopher isn't necessarily underrated, as he is a well known name. The 5 star recruit out of high school was a projected top 10 draft pick before his season started. Now, he is projected to be in the mid 20's to early 30's. In other words, he's a projected late first round pick. If he slips into the second round, expect him to be picked up very early. Christopher "only" averaged 14.7ppg last season at Arizona State. The reason why the word only was in quotation marks is because people were expecting him to be a 20ppg guy.
Let's not forget, Arizona State's season was cut short due to covid issues. Christopher isn't a great playmaker or defender, but his ability to score one on one just jumps off of the chart. He isn't necessarily the greatest shooter, but he is a bucket getter. Maybe I'm higher on him then most, but it's a little confusing why Christopher is projected to go so low. Christopher may be a bit of a project, but he has what it takes to be a solid nba player.
5. Makur Maker
Maker only played 2 games last season as a Howard Bison. He chose to play for an HBCU over schools like Kentucky and Alabama as he was a 5 star recruit coming out of high school. Maker only averaged 11.5 points at Howard and hasn't received much attention as of recent but is still an interesting prospect. The 6'11 center may go undrafted and if he does, he will get a lot of offers to come into a team as an undrafted free agent. The talent and size for Maker is there, but there are clearly major questions surrounding the former 5 star recruit.
Honorable Mentions: Trey Murphy, Mckinley Wright