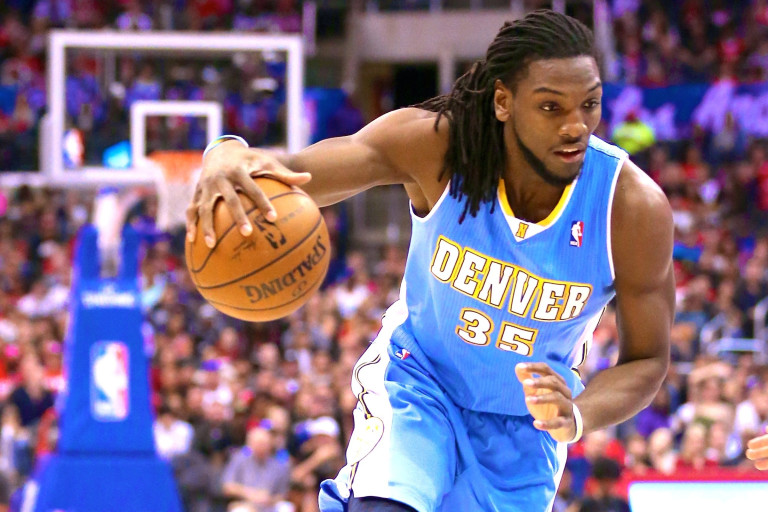 Kenneth Faried was drafted 22nd in the first round of the 2011 NBA Draft by the Denver Nuggets. Faried was known as the Manimal because of his ferocious play and crazy athleticism when driving to the rim. Right away, Faried made an impact for the Nuggets. In his first two seasons in Denver, Faried averaged around 11 points per game with nine rebounds and two blocks per game. Faried also had a crazy ability to dunk the ball and make the entire arena shake.
The 2013-14 season was Faried's best season. Along with 13.7 points per game, Faried also had around nine rebounds and just under one steal and one block per game. Faried even appeared in the Sprite Slam Dunk Contest over All-Star weekend in 2013.
Kenneth Faried continued this strong play until the 2016-17 NBA season. Faried started to taper off starting in 2016, averaging under 10 points per game and around seven rebounds. 2017 was Faried's worst season and his last season in a Nuggets uniform. Faried's numbers plummeted, and his minutes started rapidly decreasing. In 2018 Faried signed with the Brooklyn Nets. In Brooklyn, he didn't see much playing time at all and during the season he was let go by the Nets. Later that season the Houston Rockets signed Faried hoping he'd bounce back to Manimal form. He had a few games where we saw glimpses of that crazy, animal-like playstyle, but it wasn't a regular occurrence.
After 2019 Kenneth Faried was no longer in the NBA. Faried could be found getting some good minutes overseas in China playing for the Guangsha Lions. There, he averaged 17 points per game with ten rebounds and just around two blocks per game. Since then, no one has talked about Faried anymore. That is until this summer.
Kenneth Faried joined the Portland Trailblazers' summer league team this summer with former Nuggets teammate Emmanuel Mudiay. Faried showed that he was still at an elite level. Although his production wasn't near what it was when he was a young Nugget, he still looked like he could be a solid contributor on any NBA team. Once the NBA regular season was underway, Faried still found himself without a spot in the NBA. He then joined Isaiah Thomas, Lance Stephenson (now a full-time player for the Pacers), and former NBA Champion Mario Chalmers on the Denver Nuggets' G-League affiliate, the Grand Rapids Gold.
Faried is still waiting for his shot to be back on an NBA roster. With the number of players still entering the NBA health and safety protocols, Faried may not have to wait much longer.