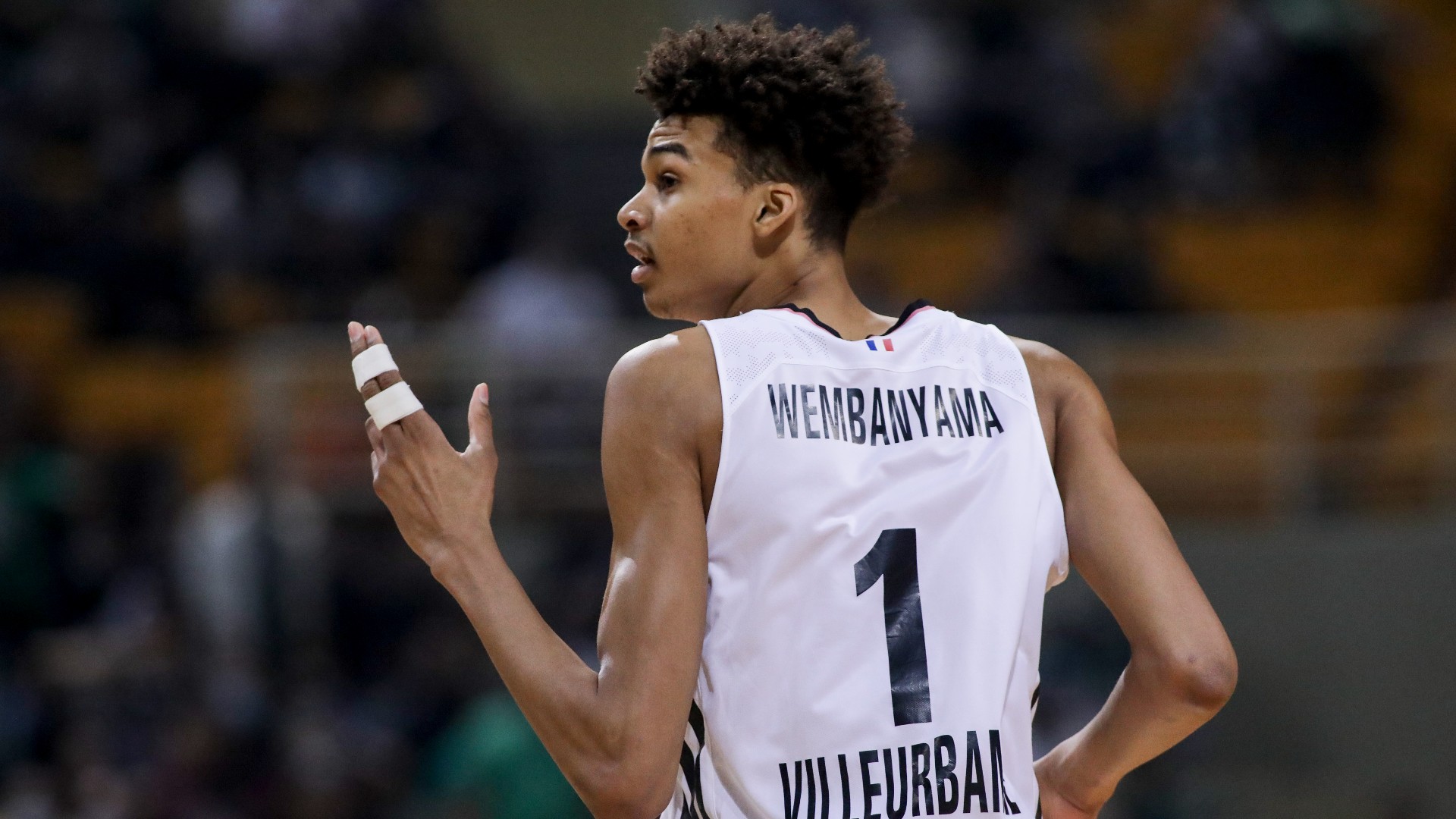 At this point, even if you are a casual basketball fan you have heard of Victor Wembanyama, the French big man that is taking the 2023 NBA draft by storm. The 2023 NBA draft is loaded, but as of now Wembanyama is the clear prize of the draft. Wembanyama is listed at 7'2 but many people (including myself) believe he may be much taller. Here is a picture taken a year ago at the FIBA u19 World Cup.
Victor Wembanyama stands in the middle of the picture next to 7'4, Purdue big man Zach Edey. If Edey is truly 7'4 (at worst he is 7'3) than Wembanyama is clearly 7'4 or 7'5. Also funny to note, in this picture from left to right is Nikola Jovic (6'11 on the Miami Heat), Jaden Ivey (6'5 on the Detroit Pistons), and Chet Holmgren (7'0 on the Oklahoma City Thunder). Those are three very big humans and Victor makes them all look like they are accountants.
Now that we have discussed his ridiculous height, let's get into his defensive game.
At 7'3 (maybe) Wembanyama moves ridiculously well and is a can't miss defensive prospect. Around the rim Vic (I am calling him that from now on) is one of the best rim protecting prospects this league has EVER seen.
His size alone makes him an above average shot blocker but his instincts make him an elite shot blocker. Watch as Vic can help over and just swallow an opposing players shot.
Or him watch him stay steady on the ground and use his go-go gadget like arms to reject the ball.
Because of his height, players attempting to do step backs or shoot over him are often unsuccessful. Even if he contests a second late, his arms allow him to never give offensive players a clean shot.
This is Rudy Gobert-like defense, which I do not say lightly considering he is a three time defensive player of the year. With that being said, I believe Wembanyama can be a BETTER defender than Gobert. The reason I say this is because of the potential Vic brings as a perimeter defender.
In this play Vic is able to give the player space and easily make it up with his arms when he sees a shot about to go up.
Also just LOL.
In an isolation scenario, just shooting over Wembanyama is going to be incredibly difficult even for some of the NBA's best. Here Vic is hit with a couple of moves and although the defender created enough space to get a shot off, Vic is still able to make the shot incredibly difficult.
To be fair, Gobert is also good at contesting three point shots for the same reason as Vic but what I think could make Vic a better defender is his potential to guard the drive.
Watch as he shuts off a potential shot, keeps a smaller defender in front of him (or at least in striking distance), and swallows up the layup attempt all while not really jumping.
Or when he is guarding a literal NBA pro.
The defense is magical. I believe in the shot blocking and rim protection 1000%. But I did call his perimeter defense "potentially" great for a reason. On the perimeter, Vic is deadly when he keeps his hips squared and the offensive player in front of him, but too many times he fails to do this.
Sometimes Vic's stance is lazy on the perimeter and defenders get by him, but I would say most of his problems are falling victim to fakes, jabs, or quick moves. Like here where Vic unnecessarly lunges at a shot fake and takes himself out of the play (who cares the guy didn't score).
At his size when his hips are turned wrong on the perimeter it is very hard for him to be able to flip them back and catch up (unless you're Giannis). Here he does exactly what I am talking about, biting for fakes.
Or these two clips where he falls for moves in the mid post. At 7'3ish, with his wingspan, jumping is relatively unnesessary in an iso sense because he can contest everything standing. Skilled NBA players will take full advantage of his jumping tendencies.
Biting for fakes is a very normal thing for a 17-18 year old big to have problems with especially when you remember he is playing in the second best league in the world. Vic showed defensive progress throughout the year and I'd expect him to make a big leap next year.
Similar to Chet people say Vic is too skinny, I am worried about that 0%. Unlike Chet, Vic has broad shoulders similar to when Anthony Davis came out of college. In the NBA, Vic will be able to add weight fairly easily and that won't be as much of a factor.
With that being said, the one concern I do partially share with some of the Vic haters is injury concerns. Wembanyama has already been injured a couple of times and some people believe there could be more problems coming. Vic will NOT be a bust for any reason on the court, the only way he doesn't pan out is injuries.
At worst, Wembanyama is a elite shot blocker and an average to below average perimeter defender. Not only do I think he will become a good perimeter defender, I believe Vic is a generational defensive prospect and when it is all said and done could be in the conversation defensively with Olajuwon and Duncan (I am bold I don't care).
This article is on Vic's defense but for those unaware, Wembanyama is a big project on the offensive end. The highlights look incredible but it will be years before he is (if ever) an all star level offensive player (but that is for a different article).
With that being said I believe Vic is a future top 10 player in the league and as of now the undisputed #1 pick in the 2023 NBA Draft.