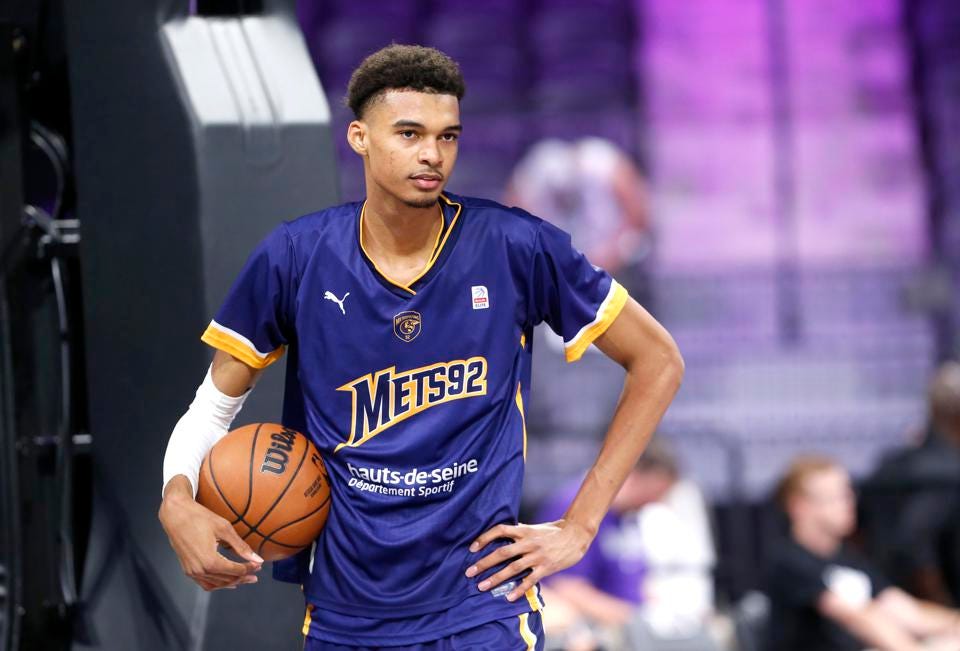 With the hype around this years draft class bubbling I thought it would be fun to put some perspective on how good this class is while also displaying a fun list.
I think it is important to note that I was not around for most of these drafts and I tried my best not to use hindsight and instead research how they were viewed before their drafts and what level of prospects they truly are.
I will only be ranking players drafted after the NBA merger (1976) because it is nearly impossible to rank before that because of a lack of film and dumb executives. Because of that players like Kareem, Bill Russell, Wilt Chamberlain, Bill Walton, Elvin Hayes, Wes Unseld, Oscar Robertson, Jerry West, and Elgin Baylor will not be considered.
Finally, these rankings are done as if every player is available to be drafted in the era they were selected in. NBA success will not be factored in this is just prospect rankings.
Honorable Mentions
Brad Daughtery, North Carolina (#1, 1986)
Blake Griffin, Oklahoma (#1, 2009)
Dwight Howard, SW Atlanta (USA) (#1, 2004)
Glenn Robinson, Purdue (#1 1994)
James Worthy, North Carolina (#1, 1982)
Amen Thompson, Overtime Elite (TBD, 2023) (yes I am serious)
25. Andrew Wiggins, Kansas
Year: 2014
Draft Pick: 1
Maple Jordan was projected to be the next great wing. At the time, the shot and the defense were viewed as swing skills and 8 years later he has finally turned a corner. The all-star may not have lived up to all the hype but he is now a solid top-40 player.
24. Cade Cunningham, Oklahoma State
Year: 2021
Draft Pick: 1
Cade was inconsistent as a collegiate player but he was such a high-level processor and shooter that it was hard to imagine him not being a good player. A year and a half later, I am confident Cunningham will be a 7+ time all-star when it is all said and done.
23. John Wall, Kentucky
Year: 2010
Draft Pick: 1
Wall was the prize of the 2010 draft after dazzling at Kentucky. Wall's speed, finishing, and defense were valued immensely especially in a pre-hyper spacing league. If Wall were to be a prospect today there would be more questions about his shot but in 2010 that was an afterthought.
22. Ben Simmons, LSU
Year: 2016
Draft Pick: 1
This may surprise some people but Ben Simmons was so enamoring as a prospect because of him being a guard at 6'10. Simmons had an impressive yet incredibly lazy season at LSU (should have seen it coming) and cake walked to the number 1 pick.
21. Allen Iverson, Georgetown
Year: 1996
Draft Pick: 1
In a draft with Kobe Bryant, Steve Nash, and Ray Allen, Allen Iverson was the clear 1st pick. Crime and trouble made Iverson's journey to the NBA unlikely but after two great years at Georgetown, Iverson was the easy pick.
20. Carmelo Anthony, Syracuse
Year: 2003
Draft Pick: 3
Darko is not on this list and that isn't just hindsight, at the time, Carmelo Anthony was the better prospect and the Darko pick was a mistake. Melo was a highly touted high school recruit that took the college basketball world by storm at Syracuse including winning a national title. Carmelo would be the #1 prospect in most drafts but he so happened to be in the same draft as the kid from Akron.
19. Yao Ming, Shanghai Sharks (China)
Year: 2002
Draft Pick: 1
The hype around Yao Ming was a lot to do with mystery. There was a 7'6 monster playing overseas dominating lesser Chinese competition. The 2002 draft was relatively weak but in the prime of Shaq's dominance, Yao Ming was viewed as a great prospect.
18. David Robinson, Navy
Year: 1987
Draft Pick: 1
One of two Navy Academy players to ever make the NBA, Robinson dominated in his 4 years at Navy averaging 28 and 12 in his senior year. Robinson's value as a prospect has to be lowered considering that after he was drafted, he could not play in the NBA for two years because of his Navy service obligation.
17. Derrick Rose, Memphis
Year: 2008
Draft Pick: 1
Rose and Calipari were the story of the 2007-08 college basketball season as the duo led nontraditional powerhouse Memphis to the finals and lost to Kansas in overtime. Rose is the greatest small guard draft prospect since the merger… until this year.
16. Scoot Henderson, G-League Ignite
Year: 2023
Draft Pick: TBD (Probably #2)
I know you are surprised but I stand by it. Scoot Henderson is everything you would want from a 6'2/6'3 point guard. For those who do not know Henderson is like Dwyane Wade was put in Damian Lillard's body. Henderson would be the #1 pick in 34 of the 47 drafts that have happened since the merger (this year is not one of those).
15. Luka Doncic, Real Madrid (Slovenia)
Year: 2018
Draft Pick: 3
Most people reading this will have one of two thoughts. How do you have someone 3 teams passed on as the 15th greatest prospect ever and no way you were that high on him at the time. First, yes I was that high on him and those 3 teams were dumb at the time and are still dumb. Luka was a fresh 19-year old that was a Euroleague champion, MVP, final four MVP, 2x rising star, and EuroBasket champion. Just because three teams viewed him as a plotty white guy who had already reached his ceiling does not mean he isn't a top-15 prospect of all time.
14. Kevin Durant, Texas
Year: 2007
Draft Pick: 2
He went #2 and honestly I don't know who I would've preferred in 2007 and I am not ashamed to say it might've been Oden. Kevin Durant was an incredible college player showing his scoring ability from all points of the floor. With that being said, at the time Durant was something we had never seen that couldn't bench 180 pounds once. Using hindsight, Durant is an insane prospect but if we are judging them in their eras, I can't put him any higher.
13. Greg Oden, Ohio State
Year: 2007
Draft Pick: 1
The next Bill Russell, that is how Greg Oden was refered to. Oden was a seven footwwork that ran the court great, had amazing footwork, finished around the hoop, and had good shot blocking instincts. On the heels of Shaquille O'Neal and the begining of Dwight Howard, Oden was a no brainer pick and if he stayed healthy the pick would not have looked bad.
12. Anthony Davis, Kentucky
Year: 2012
Draft Pick: 1
What a weird career for Davis but that's beside the point. 2012 marked the cusp of a new age of basketball and the brow represented a push into the future. A 6'10 forward-center hybrid that can guard multiple positions and be incredibly versatile offensively was the pitch. Davis was a no-brainer prospect that somehow might end up being disappointing.
11. Hakeem Olajuwon, Houston
Year: 1984
Draft Pick: 1
Phi Slama Jama! (if you don't know what that is look it up). Hakeem Olajuwon was pretty much advertised as the player that he would become (top 12 ever). The selection marked what was supposed to be the creation of the front court of the late 80s and 90s pairing Hakeem Olajuwon and Ralph Sampson. Although that duo did make the finals ('86), it would be only Olajuwon that would win the Rockets their two titles in '94 and '95.
10. Tim Duncan, Wake Forest
Year: 1997
Draft Pick: 1
With the age of Michael Jordan looking like it was nearing its end, the NBA was open and up for grabs. After a great '96 draft the idea of tanking became all the more important especially because the grand prize was Tim Duncan. With Shaq, the admiral, and Olajuwon in the league having a capable big man like Duncan became all the more important. The lottery win for San Antonio kick-started two decades of contention for the Spurs.
9. Chris Webber, Michigan
Year: 1993
Draft Pick: 1
An All-American who led two Michigan teams to the NCAA title game, Webber is a forgotten all-time prospect because of a disappointing (yet hall-of-fame) NBA career. A dynamic forward who could adapt to a quickly changing game was viewed highly when he went #1. Webber was a modern four who could pass, score, and defend. In a time when Barkley and Malone were reaching their peaks, Webber's archetype was viewed highly.
8. Larry Bird, Indiana State
Year: 1978
Draft Pick: 6
For those who did not know, yes Larry Bird went #6 but not for reasons you think. In the '70s nearly everyone stayed in college for four seasons but technically they could be drafted before. The genius of Red Auerbach chose to take Bird a season early and have him play in college as a future Boston Celtic. At the time GM's were stupid and they didn't want to take someone they would have to wait a season on, Auerbach made them look dumb.
In his senior season, Larry Bird averaged 29-15-6 shooting 53% from the field while leading Indiana State to the national championship game (only to lose to Magic and Michigan State). Bird's combination of size, speed, IQ, and scoring was unheard of and he is undoubtedly a top-10 prospect ever.
7. Zion Williamson, Duke
Year: 2019
Draft Pick: 1
Don't need to say too much for him as almost everyone remembers his dominance at Duke. A bouncy Charles Barkley is an insane title to be given but Zion was often described as such. Zion's NBA career could still go in many different directions but as a prospect, Zion was tantalizing and dominant.
6. Magic Johnson, Michigan State
Year: 1979
Draft Pick: 1
Earvin "Magic" Johnson is an incredible prospect and the only thing that held him back from being thought of as higher at the time was him being a 6'9 point guard. At the time, your height mattered as much if not more than your skills when determining your position. Magic's downhill attacking ability and playmaking skills led Michigan State to the national title and were the same skills that led Magic to five NBA titles.
5. Shaquille O'Neal, LSU
Year: 1992
Draft Pick: 1
7'0, strong as hell, and runs the court like a guard, Shaquille O'Neal grabbed scouts' interest just with his size and athleticism alone. Once scouts saw the finishing and skill, Shaq's future dominance was easy. Shaq played 3 years in college and somehow was only 20 years old when he was drafted. In his junior season, Shaq averaged 24-14-2 and 5 blocks a game. At the time Hakeem Olajuwon, David Robinson, Karl Malone, Patrick Ewing, and Charles Barkley were among the league's, and Shaq gave teams a chance to neutralize or outplay the other stars.
4. Patrick Ewing, Georgetown
Year: 1985
Draft Pick: 1
Ewing was THE post-NBA merger prospect that people saw coming years away. In college, Patrick Ewing was compared to Bill Russell on the defensive end and led Georgetown to three national championships including a title. On offense, Ewing was talented and skilled in an era that centers were mostly just back-to-the-basket players. Patrick Ewing was such a good prospect that his hall of fame (top 40 player ever) career is seen as a relative disappointment compared to what we saw in college. 1985 was also the first year the NBA held a draft lottery which leads many people suspicious that Patrick Ewing just happened to go to the New York Knicks.
3. Ralph Sampson, Virginia
Year: 1983
Draft Pick: 1
You're shocked unless you're an NBA history buff or like 50. Ralph Sampson?? Who is he? No way he is above Shaq, Magic, and Bird. Hindsight is easy to use but in 1983 Ralph Sampson was supposed to be the direct air to the throne to Kareem as best big man in the league and possibly the best player in the league. Sampson was a 7'4 center than could run the court and anchor an offense and defense. If injuries don't happen, Sampson is a top 15 player of all time and one of the best bigs this league has seen.
(Fun Story Time): Before the 1982 NBA draft the Lakers and Clippers had a coin toss for the #1 pick. Sampson was open to joining the Lakers but did not want to play for the miserable Clippers. Ralph had until the coin flip to decide what he wanted to do and elected to return to college to avoid being selected by San Diego. The Lakers would win the coin flip and select James Worthy, they also offered a substantial package to get San Diego's pick on top of theirs (imagine Sampson and Worthy added to Magic and Kareem). Sampson also was offered massive contracts to come out of college after his freshman year (Celtics) and sophomore year (Pistons and Mavericks).
2. Victor Wembanyama, Metropolitans 92 (France)
Year: 2023
Draft Pick: TBD (Probably #1)
If someone gave me a guarantee that Wembanyama will never have a massive career-impacting injury, I would put him number one and still think I may be making a mistake not putting him number one. Wembanyama is mind-blowing and honestly, I have never seen anything like him. Vic is the greatest defensive prospect since at least the merger and with respect to Kareem, Russell, Chamberlain. and Walton, he is probably the best defensive prospect ever. I had questions about how his offensive game will develop but so far this season he has SHUT ME UP!!
Wembanyama has dominated nearly every game he has played in the LNB Pro A and against the G-League Ignite. Vic has everything offensively from the handle, face-up game, shooting, and has shown some playmaking skills. There is no physical comparison in league history outside of Ralph Sampson and maybe Kristaps Porzingis. Both of those players have suffered massive injuries which can't help but make you concerned for Vic. With that being said it has been reported that Vic takes incredible care of his body and has a killer instinct like that of Giannis. Man, I really want to put him one but I just can't as of today (check back with me in June).
1. LeBron James, St. Vincent-St. Mary's (USA)
Year: 2003
Draft Pick: 1
The obvious choice if you don't put Vic… it's got to be LeBron. From the age of 15, LeBron was considered "the next guy" following Michael Jordan. Over four years LeBron would dominate high school basketball and have the NBA drooling over the 2003 NBA draft. LeBron was skinny yet strong and his frame made it clear he was going to have a grown man's body. At 6'8/6'9, LeBron played like a guard and was as athletic as any player the league had ever seen. LeBron was the most hyped player in league history and would have been viewed as a hall of famer if he was anything but a top 30 player ever. Even with those expectations, LeBron exceeded them all and will be remembered as a top 2 player ever (maybe 1).