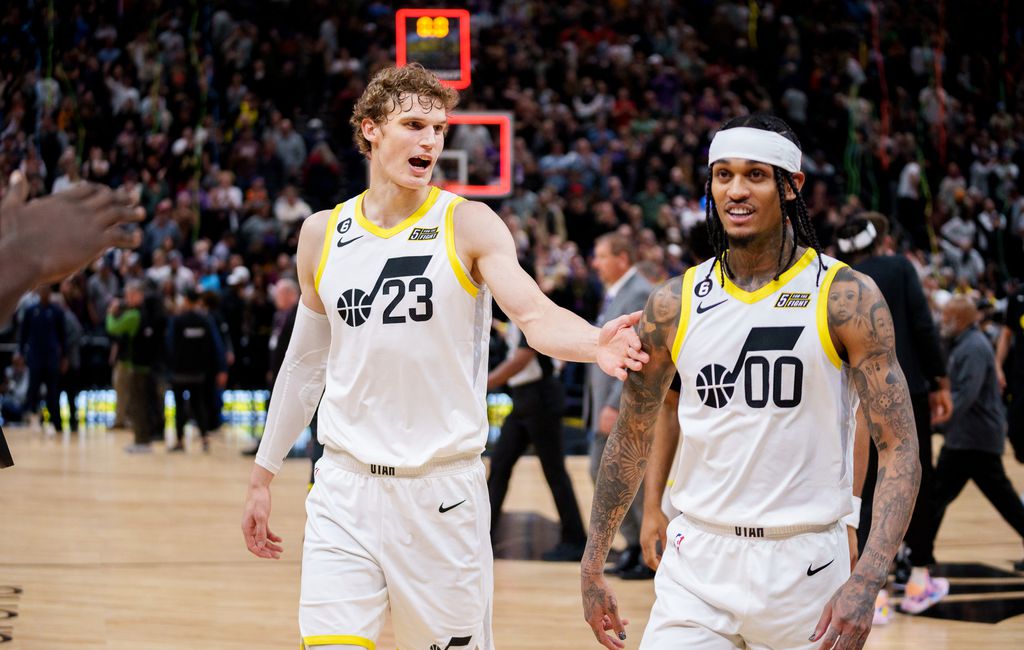 The start of the 2022-23 NBA season has been one of the weirdest starts to a season in my lifetime. There has been a lot of drama, and a lot of surprises. But, one of the most surprising things to me is that so many teams are not playing how we expected them to.
Overachievers
1. Utah Jazz (6-3)
This article would be bogus if it didn't have the Jazz at #1. Utah has been a pleasant surprise, and I sometimes find myself rooting for them. I love that everyone expected them to tank for Wembanyama, and now they are sitting at 3rd in the West.
The thing is, they aren't beating garbage teams either. 5 of their 6 wins have come against some pretty big Western Conference teams, including Memphis (twice), Denver, Minnesota, and New Orleans. I still find it odd that Collin Sexton is coming off the bench, but as long as his minutes increase he should be a very reliable 6th man. Also, when did Lauri Markkanen become the greatest player of all time?
2. San Antonio Spurs (5-3)
The Spurs have had their fair share of drama, to say the least. But, they still find themselves 2 games above .500. I wouldn't say their schedule has been as rough as Utah's but they have had a few respectable wins. Their upcoming schedule is really going to test just how serious this team is.
I have been very impressed with Keldon Johnson, who continues to show that he is the best player on the Spurs. Now that Murray is gone, he has really had a chance to show off. I won't be surprised if he makes the All-Star Game.
3. Portland Trailblazers (5-2)
Unfortunately, all 3 teams come from the West, but I just didn't see anyone that really stuck out to me in the East. Portland has definitely been better than expected, but I'm not going to say that I'm shocked. Unfortunately, Lillard has to miss some time, because Portland was looking really good.
I think the Blazers could keep up this consistency and maybe avoid the play-in by sneaking into the 5 or 6 spots. The West is tough, so Portland is going to need their star players to play to their highest potential.
Underachievers:
1. Brooklyn Nets (2-6)
A disappointing start for Brooklyn, but Nets fans are used to this. The struggle is real in Brooklyn, especially with all the Buzz around Kyrie. I think suspending Irving was one of the best things the Nets have done so far. There is obviously a lot of basketball to be played, but when do you hit the panic button if you're Brooklyn?
We'll see how they do without Kyrie. I think this next month is crucial to the Nets' season, and Kyrie's reputation.
2. Golden State Warriors (3-6)
The Dubs have struggled to actually put up a dub recently. The offense is cooking, as always. However, ranking first in PPG means nothing without defense. Golden State ranks last in OPPG. The defense is performing horrifically, and it needs to be fixed.
Klay Thompson has had a sluggish start to the season, but he looked good in last night's loss to Orlando, despite missing the game-winning shot.
3. Los Angeles Clippers (4-4)
Sure, there are teams that I could've picked over the Clippers. But, I'm a little worried about this team. I have no idea what the Kawhi situation is, and Paul George has been all over the place. Not to mention the role players aren't playing their roles.
I'm not sure which LA team has been more disappointing, but considering how good the Clippers are supposed to be, I might say the Clips. They'll probably figure it out…right?

Must See
The NBA 22-23 season has kicked off with incredible momentum. Even though each team...

Finally the time! The 2023 draft is one of the best in league history...

Every single season there are a few players that crack through and become first...