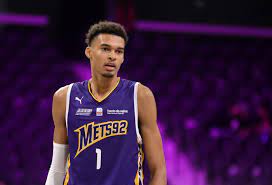 The 2022 NBA Draft cycle is over, summer league is done and it is time for the draft junkies to turn their attention to the potentially legendary 2023 NBA Draft. The draft has a deep top of the draft and many names that could be steals in the middle of it.
This is not a big board or my own rankings of the class as I am still doing research and watching film to figure those out. Instead, this is just a list of names to look out for as games start being played and names fly around.
Victor Wembanyama, Big, Metropolitans 92 (France)
The prize of the 2023 draft! Wembanyama is a 7'3-7'5 (height unknown but some pictures suggest he is taller than 7'3 that is listed) that moves like a wing, defends the rim like Gobert, and has shooting potential. There is many reasons to put Vic in the category of prospects such as LeBron, Davis, Zion, and Luka that have came out in the 2000's.
With that being said there are some reason's to be skeptical of Vic at least just a little bit. Wembanyama shot 41.5% from the field, 27.5% from 3, and only 4.2 rebounds a game at his height could be alarming. Still, I would bet on that being the cause of a 17-18 year old playing in one of the best leagues in the world while trying to get used to his unique body. Nevertheless, Wembanyama is the prize of this year's draft and his play will dominate the headlines regardless of which direction it goes.
Scoot Henderson, Guard, G-League Ignite
Scoot Henderson would go #1 in a lot of years drafts but it is looking like he will have an uphill battle to do it this year. Henderson is a dynamic, strong, point guard that I can't help but relate to Derrick Rose. Henderson is relatively undersized but we have seen many point guards succeed at a high level at his height when they have his type of athleticism.
My biggest question for Scoot going forward is if he can find a consistent 3 point shoot. Last season as a 17 year old, Henderson shot 17.4% from 3, which is quite alarming. I still believe in the shot because his touch is impressive, he shot about 78% from the free throw line, and has one of the best pull-up jump shots I've seen from a prospect.
Ausar/Amen Thompson, Guards/Wings, Overtime Elite
If you enjoy watching fun basketball go ahead and check out the Thompson twins. I feel confident in saying their athleticism is something I have never seen. The twins are effortless in their abilities to jump both vertically and horizontally but what makes them 1 of 1 (or 2 of 2) is how effortlessly they can contort their bodies to land and move how they want.
As of today I slightly lean towards Amen Thompson as the better of the two as a prospect but they both have ALOT of work to do in order to become great players. The jump shot for both players is somewhere in between bad and unfixable but most of the rest of their games (besides athleticism) is shown in flashes not consistently.
Dariq Whitehead, Wing, Duke
The 2022 high school basketball player of the year, Dariq Whitehead is a straight up bucket. Whitehead is a nightmare in transition and finishes around the hoop very well. He has a nice pull up mid range shot and although he isn't a lights out three point shooter he shoots the ball with incredible confidence. I put Whitehead on this list because I am very high on him and would not be surprised if he is a top 5 pick.
Terquavion Smith, Guard, NC State
Terquavion Smith had a legitimate chance at going in the first round of this years draft before deciding to return to college. Many people now believe Smith could make a second year leap and see himself in conversations for the lottery. Terq is a knockdown shooter but his finishing around the rim and frame could hold him back.
Another year in school could allow him to fill out his frame and boost his stock. On the other hand, if nothing improves while playing for a bad NC State team then it is possible scouts become less hopeful in what he could become. Smith returning to NC State will be very interesting and definitely something to monitor.
GG Jackson, Forward, South Carolina
GG Jackson just looks like an NBA player. This week GG Jackson announced his commitment to South Carolina and that he is reclassifying to play college basketball this season. Jackson was previously commited to North Carolina but elected to de-commit instead for his home state school. GG has a near NBA-ready body, is a versatile defender, and runs the court incredibly.
At 6'8, 210 lbs it is very impressive how Jackson is able to get out in transition. Frame and transition wise I would say Jackson is like Jonathon Kuminga or John Collins. Many have questions how he will do at South Carolina because he will be forced into a primary option role and for that reason, he is a name to keep an eye on next season.
Leonard Miller, Forward, G-League Ignite
Leonard Miller originally looked like he was heading for the draft and early in the process some people pegged him as a first round talent. After second deep dives and the combine, it was clear that Miller was not yet ready for the NBA so he made the right decision and instead decided to play in the G-League next year instead.
Miller's size, athleticism, and playmaking is enticing but he is incredibly raw. The G-League Ignite is a great program and Miller needs to utilize all of their tools in order for him to boost his stock and go as high as he can in the draft.
Emoni Bates, Wing, Eastern Michigan
This one is incredibly interesting. In the history of the Gatorade National Player of the Year award (since 1986) no player has ever won it as a sophomore besides… Emoni Bates! Bates was touted as the next guy but after he attended Memphis early and had a disappointing season, his future is up in the air.
On top of this many people are skeptical of if he made the right decision by transferring to a team projected not to be good in Eastern Michigan. In the past couple years, players have struggled after attending small school like Patrick Baldwin Jr. Emoni Bates was once considered the next elite prospect, so was last season just because he was 17? or is it showing what type of player he really is?