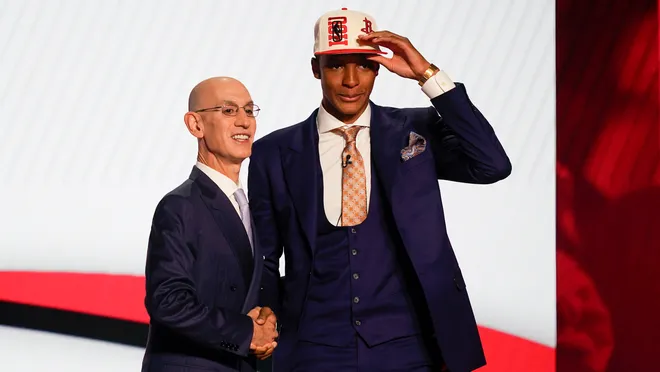 What a night! I love the draft and all 58 selections have now been made. I want to get this article out while the draft is still fresh on everyone's mind. For this article I will be grading every draft pick made in the 2022 NBA Draft. For reference I will be roughly using a B- as an average pick and tried to rarely give out extreme picks (A+, A, D, D-, F) unless it warrented them.
I hate grading picks just because system and personalities matter soooo much but oh well. These ranking will almost certainly make me look very stupid in a couple of years but again, oh well.
For a full database of my 2022 draft cycle material including my latest BIG BOARD then click below.
Also worth noting I wrote some of these descriptions as the picks came in so…
1. Orlando Magic-Paolo Banchero: A-
My Big Board Ranking: 3
Paolo was my 3rd overall prospect but honestly I really like all of the top four prospect and anyone of those would have gotten a good grade here. Paolo will fit nicely in Orlando as an offensive juggernaut next to Franz Wagner and Wendell Carter in the frontcourt.
2. Oklahoma City Thunder-Chet Holmgren: A-
My Big Board Ranking: 2
Same thinking as Paolo, I can't give this pick a bad rating because I like Chet and have him 2nd overall on my board. Holmgren finally give the Thunder a front court player worth noting and a piece that will devolop great alongside young players SGA, Josh Giddey, Tre Mann, and Lu Dort.
3. Houston Rockets- Jabari Smith: A+
My Big Board Ranking: 1
It is a relatively easy pick for Houston but still deserves an A+. At #3 the Rockets get the best player in the draft, a sniper, and a great defensive player. I view Jabari Smith as a taller version of Klay Thompson and I do not care if that sounds crazy. Some of Smith's creation flaws will be hid well next to Jalen Green and Kevin Porter Jr.
4. Sacramento Kings- Keegan Murray: C+
My Big Board Ranking: 6
I like Keegan Murray I promise. He will be a good player and maybe even an all star. BUT WHY PASS ON JADEN IVEY. Drafting for fit is what has led to the Kings missing the playoffs for 16 years and it is exactly what they did here. Jaden Ivey is a top 4 player in this draft and has a chance to be a multiple time all star and All-NBA type of player. Sacramento gonna Sacramento.
5. Detroit Pistons- Jaden Ivey: A
My Big Board Ranking: 4
What a blessing Sacramento is for Detroit. The Pistons have potentially just found their co star to play alongside Cade Cunningham for the foreseeable future. The Pistons are at the stage of their rebuild where they should be star hunting and they may have just found one.
6. Indiana Pacers- Bennedict Mathurin: B+
My Big Board Ranking: 7
There was about 3 or 4 guys I thought would be good picks here and Mathurin is one of them. Mathurin gives Indiana depth on the wings that they really haven't had. Indiana is a good situation for him to devolop his on ball offense and his defense so that one day he can be more than a role player.
7. Portland Trail Blazers- Shaedon Sharpe: C
My Big Board Ranking: 12
I respect the Portland front office for this gutsy pick but I just don't get it. Shaedon Sharpe is an incredibly raw prospect and his timeline just doesn't match up to Damian Lillard or Jerami Grant. On top of that, Sharpe doesn't project to be an asset that will gain value before February's trade deadline so I am just not sure what the plan is.
8. New Orleans Pelicans: Dyson Daniels: A-
My Big Board Ranking: 8
I love this pick for New Orleans. The Pelicans already have stars in Zion Williamson, Brandon Ingram, and CJ McCollum and now they just need to build around them and Dyson Daniels does just that. Year one, Daniels is going to play defense and be a great connector piece on offense.
9. San Antonio Spurs- Jeremy Sochan: D+
My Big Board Ranking: 22
The Spurs just really don't want to take anyone with superstar potential do they? I like Jeremy Sochan and like him even more now that he is a Spur but the Spurs just lack star upside on their roster. Sochan will be a high level role player and probably a starter in the NBA but I dock points just because of the lack of star upside in the top ten.
10. Washington Wizards- Johnny Davis: B+
My Big Board Ranking: 10
I think this is a good pick. I wouldn't quite say Davis is the point guard to pair next to Beal but none the less, the Wizards need talent an Johnny Davis is an incredibly talented played that will have a long NBA career even if it is just as a Derrick White type player.
11. Oklahoma City Thunder- Ousmane Dieng: A
My Big Board Ranking: 9
This pick makes just too much sense not to get an A. The Thunder are in a position to take home run swings and Dieng is an absolute swing. Sam Presti has an impressive and nearly impossible drafting record in the lottery so there was no better team to take Dieng and try to devolop his two way wing talents.
12. Oklahoma City Thunder- Jalen Williams: B
My Big Board Ranking: 20
This pick makes more sense with the context of the Thunder already drafting Chet Holmgren and Ousmane Dieng. Jalen is a relatively safe draft pick as he projects to be a good spot up shooter and someone who can run and defend the pick and roll.
13. Detroit Pistons- Jalen Duren: A-
My Big Board Ranking: 13
What a draft for Detroit! Cade needs talent surronding him and Detroit does just that by taking Jaden Ivey and now Jalen Duren. Duren is the perfect lob threat and defender for the Pistons and the price to get him was only a 2025 Milwaukee pick that was half of the Jerami Grant trade.
14. Cleveland Cavaliers- Ochai Agbaji: B
My Big Board Ranking: 15
A simple B for the Cavaliers as this pick makes sense, and I get it but personally wouldn't call it a home run swing with AJ Griffin and Malaki Branham still on the board. Agbaji will help the Cavs make the playoffs next season and still has room to develop into more.
15. Charlotte Hornets- Mark Williams: A-
My Big Board Ranking: 16
This pick makes sense for Charlotte as they find their starting center for the future. I would feel better about the Hornets if they did not trade the 13th pick but this pick individually is pretty good and should help the team especially in the playoffs.
16. Atlanta Hawks- AJ Griffin: A
My Big Board Ranking: 5
I had Griffin as my 5th ranked prospect so obviously I like this pick. Griffin's upside is a 2nd star in Atlanta and at his worst he is a big sniper to play with Trae Young. The only reason this pick didn't get an A+ is because the Hawks need to find perimeter defense and as of now Griffin is just a hypothetical defender.
17. Houston Rockets- Tari Eason: A-
My Big Board Ranking: 18
The Rockets were a bad defense last year and in this draft alone they have got Jabari Smith and Tari Eason to bolster their defense. Eason has some major holes in his game but his upside might make him a lottery talent.
18. Chicago Bulls- Dalen Terry: B
My Big Board Ranking: 17
The only reason why I don't like this pick is just because I don't know how much playing time Terry gets with Caruso, LaVine, DeRozan, Dosumnu, Ball, and Coby White on the roster. I am a huge fan of Terry's game I just wish he went to a roster that allowed him to play more.
19. Memphis Grizzlies- Jake LaRavia: C+
My Big Board Ranking: 24
At this point of the draft it is harder to comment on players but instead did they capitalize on the value of the pick. The only reason I question the value here is because the Grizzlies traded 22 and 29 for this pick and I have a hard time believing they couldn't LaRavia at 21.
20. San Antonio Spurs- Malaki Branham: A
My Big Board Ranking: 20
For all the reasons I knocked the Jeremy Sochan pick, I love this pick. Branham is an incredible offensive player that I believe has Khris Middleton like potential. Like usual the Spurs find value in picks after the draft.
21. Denver Nuggets- Christian Braun: C+
My Big Board Ranking: 29
This a good pick in terms of finding a role player and a point of attack defender but again I think there might be more value on the board.
22. Minnesota Timberwolves- Walker Kessler: F
My Big Board Ranking: 43
I'm sorry my first F has to go out here. I don't get this pick in terms of best player avaliable and fit. Walker Kessler is a block machine but I don't know his role on either side of the floor outside of that. I believe Kessler went 20 spots too high and to the wrong team. So F!
23. Memphis Grizzlies- David Roddy: F
My Big Board Ranking: 52
I promise I don't want to give out F's but the Grizzlies are making me give another. I liked the trade for both team but I believe this is a REACH for David Roddy who had almost no projections to go in the first round. Memphis has been amazing at drafting over the past couple years so this will probably make me look stupid but I am not a fan of the pick.
24. Milwaukee Bucks- MarJon Beauchamp: B
My Big Board Ranking: 30
I think this a good pick for Milwaukee who get someone who could be a role player for them within the next two seasons. At the 24th pick I think that is the perfect goal for Milwaukee so they get a nice solid B.
25. San Antonio Spurs- Blake Wesley: B
My Big Board Ranking: 26
I question what this pick makes the Spurs backcourt like like but then again if Wesley becomes a starting level player the Spurs can figure out what to do with the other players. Wesley has two way potential and if he can work on his touch around the hoop he could be a damn good player.
26. Minnesota Timberwolves- Wendell Moore: B-
My Big Board Ranking: 32
The Timberwolves are trying to make a playoff run next season and although I question the Kessler pick I like Wendell Moore as someone who can contribute right away. Despite being a junior Wendell will only turn 21 right before the season.
27. Miami Heat- Nikola Jovic: A-
My Big Board Ranking: 19
Jovic has major question marks on the defensive side of the ball but who better to solve them than Heat culture. Jovic has high level upside on offense so in this system I would expect him to become a good starter in the NBA.
28. Golden State Warriors- Patrick Baldwin Jr.: B-
My Big Board Ranking: 34
I could bash the pick but it will only make me look dumb as Golden State will surely make Baldwin a valuable asset. With the Warriors developmental system, the Warriors have as good of a chance as any to make Baldwin a great player.
29. Houston Rockets- TyTy Washington: A-
My Big Board Ranking: 27
I just love what the Rockets are doing this draft getting two defensive pieces and swinging on a player who could potentially be their starting point guard. Kevin Porter Jr. is fine but I don't think he is the point guard of a contending team so I really like this pick.
30. Denver Nuggets- Peyton Watson: C
My Big Board Ranking: 53
This is a better pick than my ranking would suggest but I still think it is a reach. Watson showed virtually nothing this year at UCLA and he is still a first round pick? I think his size, athleticism, and defensive potential could allow him to stick but I just believe 30 is a little too rich for me.
2nd Round
Just a heads up I will only be writing descriptions for some picks here and not all of them.
31. Indiana Pacers- Andrew Nembhard: C-
My Board Ranking: 54
32. Orlando Magic- Caleb Houstan: C+
My Board Ranking: 48
33. Toronto Raptors- Christian Koloko: B
My Board Ranking: 39
I am not the biggest Koloko guy but if Toronto takes someone they end up being good and it is almost always that simple. Koloko will get reps at center and with the Raptors devolopmental system he will probably be a good player.
34. Oklahoma City Thunder- Jaylin Williams: B+
My Big Board Ranking: 35
35. Los Angeles Lakers- Max Christie: B+
My Big Board Ranking: 28
I am high on Christie so I can not rate the pick badly but I am scared for him. The Lakers are not in a state where they can be patient and that is what Max Christie needs. If I had to guess Christie will be on a new team in the next two years because of the Lakers need for win now players but I am still a big believer in his shot and his perimeter defense.
36. Detroit Pistons- Gabriele Procida: A
My Big Board Ranking: 23
What a draft from the Pistons!
37. Dallas Mavericks- Jaden Hardy: A+
My Big Board Ranking: 25
Great job from the Mavericks realizing that Hardy was falling and trading up and grabbing Hardy. More than anything the Mavericks just need talent and Hardy adds to their talent pool. As soon as next year Hardy can simply operate as a sniper paired with Luka Doncic.
38. Memphis Grizzlies- Kennedy Chandler: B+
My Big Board Ranking: 36
39. Cleveland Cavaliers- Khalifa Diop: C
My Big Board Ranking: 59
40. Charlotte Hornets- Bryce McGowens: A+
My Big Board Ranking: 14
I view McGowens as a lottery talent so this is an absolute steal at #40. 6'7 guards who can handle the ball, get to the free throw line, get to the hoop, and have shooting potential do not grow on trees. The Hornets have had a great draft with Mark Williams and McGowens although I still do not support them trading #13.
41. New Orleans Pelicans- EJ Liddell: A+
My Big Board Ranking: 21
The Pelicans have so much depth positions 2-4 and they get deeper here stealing Liddell.
42. New York Knicks- Trevor Keels: B+
My Big Board Ranking: 37
43. Los Angeles Clippers- Moussa Diabate: C-
My Big Board Ranking: 66
44. Golden State Warriors- Ryan Rollins: A-
My Big Board Ranking: 33
THEY CAN'T KEEP GETTING AWAY WITH THIS!! Who better for Ryan Rollins to learn from than the greatest point guard of this generation, Steph Curry. The Warriors lacked a backup point guard last season so there is potential Rollins could get minutes day one.
45. Charlotte Hornets- Josh Minott: B-
My Big Board Ranking: 59
46. Denver Nuggets- Ismael Kamagate: A
My Big Board Ranking: 31
47. Memphis Grizzlies- Vince Williams: B+
My Big Board Ranking: 40
48. Indiana Pacers- Kendall Brown: B
My Big Board Ranking: 43
49. Cleveland Cavaliers- Isaiah Mobley: D+
My Big Board Ranking: >80
Makes sense, bad pick still. Just sign him.
50. Minnesota Timberwolves- Matteo Spagnolo: C+
My Big Board Ranking: 76
51. Atlanta Hawks- Tyrese Martin: D+
My Big Board Ranking: 73
52. New Orleans Pelicans- Karlo Matkovic: B
My Big Board Ranking: 61
53. Boston Celtics- JD Davidson: F
My Big Board Ranking: 71
As a Celtics fan, man I'm dissapointed.
54. Washington Wizards- Yannick Nzosa: B-
My Big Board Ranking: 67
55. Milwaukee Bucks- Gui Santos: C-
My Big Board Ranking: >80
56. Cleveland Cavaliers- Luke Travers: F
My Big Board Ranking: >80
57. Portland Trail Blazers- Jabari Walker: A-
My Big Board Ranking: 49
58. Milwaukee Bucks- Hugo Besson: B-
My Big Board Ranking: 55
Pretty good Mr. Irrelevant pick.