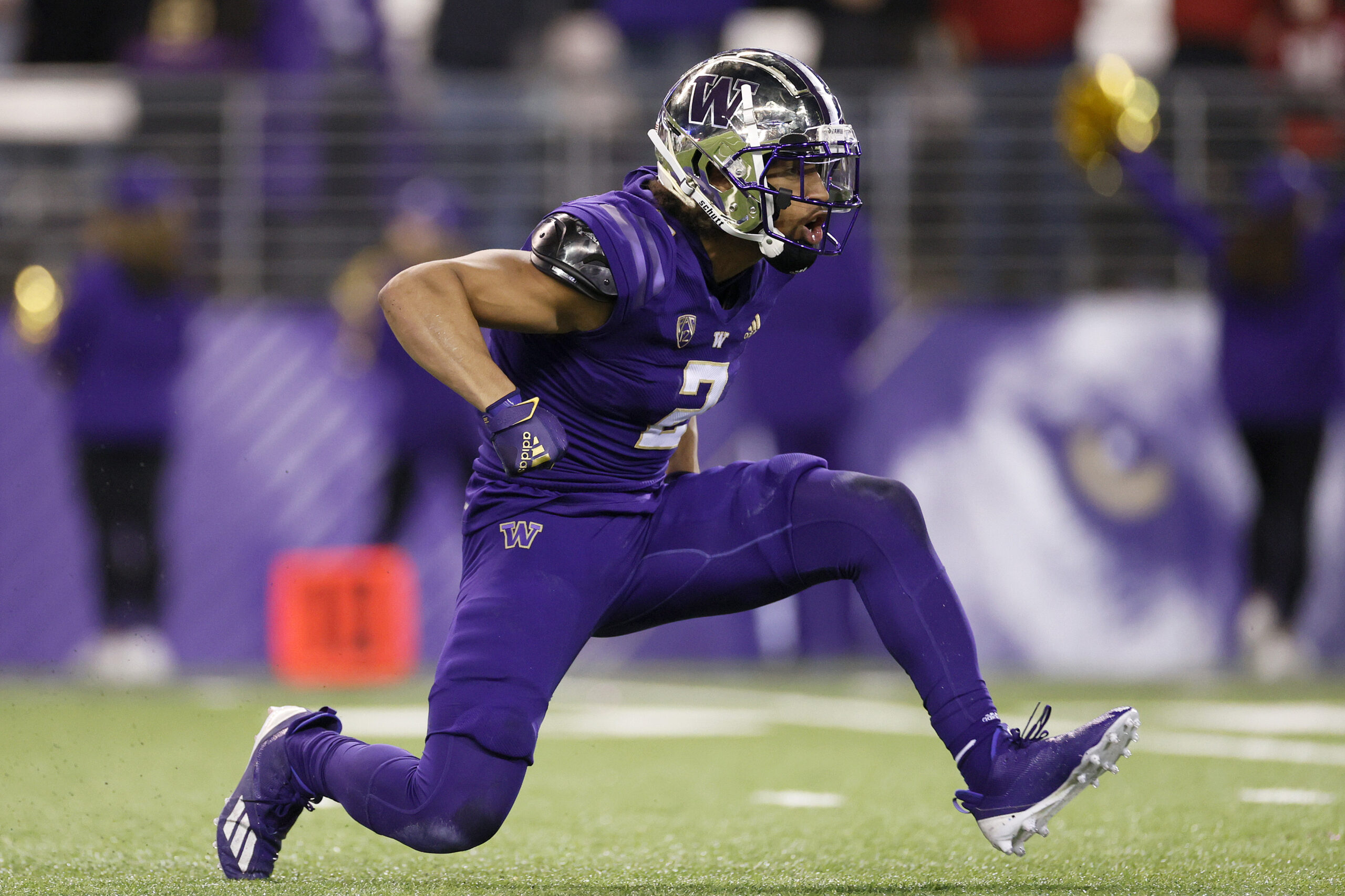 The NFL draft is coming up next week and it's time we start talking more and more about potential prospects for this year's draft. The NFL draft is always an exciting time for teams and fans to look forward to. This year is no different with a lot of top prospects like Aidan Hutchinson, Kyle Hamilton, Evan Neal, and others that will be changing franchises very soon.
Let's put some spotlight on to some players that will end up being huge steals of the draft…
Kyler Gordon, Washington, CB
Kyler Gordon will be regarded as one of the best steals of the draft, if not the #1 steal of the draft. He has great size and length and elite cover skills that cannot be taught. The issue about Kyler Gordon has been his lack of polish and anticipation that could be worked on, but some coaching can fix that.
He plays with a dog mentality and is not afraid to make big hits on corners and also be used as a ploy to be a blitzer off the edge like a Mike Hilton. Don't be surprised if he somehow makes it in the first round, his other teammate Trent McDuffie seems to be getting all the attention, but watch out for Kyler Gordon.
Potential fits: Cincinnati Bengals, Tampa Bay Buccaneers, New England Patriots
Perrion Winfrey, Oklahoma, DT
Perrion Winfrey was ranked the #1 JUCO recruit before being picked up by OU and there's an easy reason why. Winfrey has insane size, strength, and speed (running 4.89 40-yard dash) to shoot up the gap in the middle. He flashes a lot of power and has violent hands that don't stop coming at you due to his relentless effort. From all of his tackles, 41% went for losses, that's just absolutely insane. He's an instant pass-rush upgrade for most teams and should be regarded so. He's one of the top 3-techniques in this draft that needs more recognition.
The main issue that I see with Winfrey has been his ability to stop the run due to his lack of lateral movement and agility, but something that can be worked on. He's a decent tackler once he gets near the ball, just needs to work on his agility and being able to be a bit quicker off the ball.
Overall, a player I'd definitely look into drafting if a team is looking for pure pass-rush from the inside. He will outplay his draft position, without a doubt.
Potential fits: Los Angeles Chargers, Washington Commanders, Cleveland Browns
Tyler Linderbaum, Iowa, OC
The biggest reason I see Tyler Linderbaum not being taken in the top 10 is due to teams not finding a center a huge need picking that high or due to him being a bit undersized. He's got elite athletic traits otherwise and plays with elite leverage. His technique is near perfect and is able to come off the snap at an elite rate helping him win a lot of matchups on the inside as well.
He's not afraid to go at players and loves to compete. If you're looking at pure technique and play ability, I believe Linderbaum is one of the most complete players in this year's draft. Many don't like his measurables being a smaller center than your typical prototype, but he will surprise a lot of people and be a Pro-Bowl talent for years to come, watch out.
Potential fits: Dallas Cowboys, Chicago Bears, Baltimore Ravens
John Metchie, Alabama, WR
If John Metchie didn't get injured, I think he would've proved to be a first-round prospect in this year's draft. Metchie is a very smart receiver that just finds ways to get open. He's not the quickest or biggest receiver, but just finds ways to make plays and be an impactful player. He's a team-orientated player that will do whatever is best for the team. Need him to make a block and seal off the edge? He'll sacrifice himself to do so without a question.
The biggest issue with him consistently seems to be his injury and also him being a bit smaller at 5'11 and not having the greatest size/length. Don't let that fool you though, he's still very capable of making contested catches over big corners and has all the toughness you want in a #1 receiver.
John Metchie will end up making a GM very very smart in this year's draft. He will come in and instantly prove to be a #1 or very good #2 receiver for a team and find ways to make plays. Metchie will be a name to remember for the next decade, you heard it here.
Potential fits: Green Bay Packers, Atlanta Falcons, Arizona Cardinals