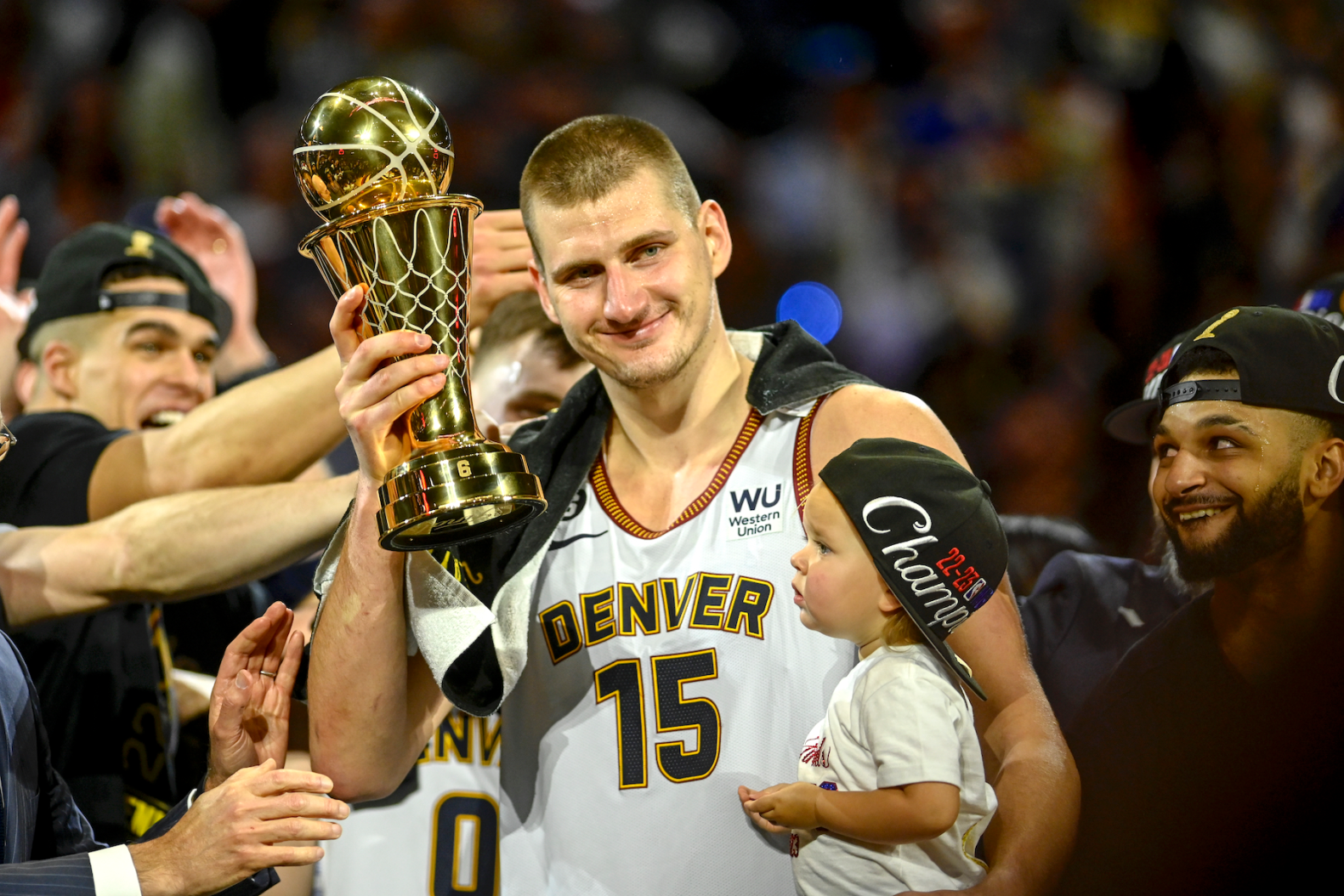 Parts 1, 2, and 3 are done and you can check them out with the links below.
The NBA has started and it is time for me to rank the top 200 players in the league. Here we get the "superstars" of the NBA and the guys you must have on your team come playoff time in order to win the title.
The NBA is super talented so although a player seems like a "top X" player I encourage you to think who in front of them is he better than?
A couple of things before we get started (PLEASE READ THESE BEFORE YOU GET MAD AT MY RANKINGS)…
These rankings are from the end of the 2022-23 season. No summer league, World Cup, Pro-Am, preseason, or other off-season basketball will be factored in. View these rankings as if it was June 12th (when the season ended).
Unlike ESPN or Bleacher Report these ARE NOT PROJECTIONS for next season instead rankings on who was the better player when the season ended.
Because these are not projections I do not include rookies because they were not in the NBA on June 12th (also putting rookies in rankings is just a complete guess).
So you may be wondering what the criteria is and the answer is it's everything. Stats, analytics, eye test, playoffs, durability, and the overall impact you have on a team.
That may sound like a daunting task but at the end of the day, the simple question is, Who is better at basketball? Who gives a team a better chance at winning? For these reasons I value playoff performances highly as a championship is the highest form of winning possible.
"A bag" or skillset is relatively irrelevant unless it helps a team win, so I judge it as so.
Lastly, positions matter less and less every year so instead of using my opinions for those I just listed them at the position they registered the most minutes at according to Basketball Reference (some may surprise you).
To check out last year's rankings CLICK HERE!
10. Devin Booker, SG, Phoenix Suns
I want to put Booker higher and when you watch him he sure seems better than the 10th best player in the league. This is written after the start of the 2023-24 season (which is not factored in) and Booker is off to a hot start. Last playoffs Devin Booker went nuclear and averaged an incredible 34-7-5 on a crazy 65% EFG%. Booker already is a superstar but I believe he has another level to his game that could make him a top 5 player in the league.
This will be the last season Devin Booker is not the top-ranked player on his team and I feel very confident about that. Booker is a special scorer but it is his strides as a defender and playmaker that have elevated his ceiling. With no real point guard it should/will be Booker, not Beal who handles most of the Suns' initiation and playmaking this season. Defensively Booker is not a superstar (still good) but they will need him to take a step up come playoff time.
9. LeBron James, PF, Los Angeles Lakers
Once a staple of being #1 in the NBA LeBron at 38 years old is still a top ten player in the NBA. Starting out with the negative, LeBron James is a truly awful NBA defender which is not surprising considering he is 38 and uses most of his energy on the defensive side of the floor. Now that that is out of the way LeBron James still has a massive impact on the court and the game's outcome. Arguably the smartest player in the game, LeBron is able to be effective even if he isn't scoring.
With the ball in his hands, LeBron is still a freight train that can not be stopped when he gets downhill. James is a terrific playmaker and uses the leverage he gains from his gravity perfectly to create for others. Between his brain, strength, and offensive skills LeBron can win games single-handedly even in year 21. I am not sure if he will ever get ring number 4 but he will retire as a top 2 player of all time and in my opinion the greatest player to ever touch a ball.
8. Kevin Durant, PF, Phoenix Suns
This might seem low to some and I completely understand why people think that. Durant has been and will always be a killer but there are two main reasons that I have him ranked as the 8th best player in the world.
Most importantly Durant has a tough time staying on the floor and has to be characterized as injury-prone playing 47-55-35-0 games in the last 4 seasons
Durant had a good playoffs last season but he seems much more mortal than he did in years past including a horrendous playoff series against Boston in the 2022 playoffs. I don't think he has the same scoring burst as he once did
Durant is still a fantastic player but this combined with his poor defensive abilities make it clear to me that the other 7 players on this list are better. The Suns have a big season ahead of them and Durant will be pivotal in their success as he goes for ring number 3.
7. Joel Embiid, C, Philadelphia 76ers
Yes, I have the MVP of the league at #7 and yes I feel confident about it. Joel Embiid is a great regular-season player but the ultimate goal in basketball is to win the title. I do not blame Embiid for losing but it has been his play in performances in the playoffs when his team loses that leaves a poor taste in my mouth. In the last two playoffs, Embiid is averaging 23.6 PPG, 10.3 RPG, and 7.4 TOVPG, while shooting 45.9% from the field and 23.5% from 3.
Those are truly terrible shooting clips and bad overall numbers for someone who is supposed to be considered a top 10 player in the NBA. Embiid is good enough in the regular season that I feel it is necessary to have him ranked here but his play on the biggest stages makes him clearly not a top-five basketball player in the world. Embiid has an uphill battle this year as it seems he will be without his running mate James Harden but to be remembered as an all-time great Embiid will need to get a ring before it is all done.
6. Jayson Tatum, SF, Boston Celtics
Jayson Tatum just keeps getting slightly and slightly better each year. Similar to guys like Paul George, Tatum is a well-rounded player who does not have many true flaws. 9 rebounds and 4 assists a game are a nice little addition on top of Tatum's 30 points a game. The one big improvement Tatum can make is shooting better from 3. Last season Tatum shot 35% in the regular season and a poor 32.3% from 3 during the playoffs. Tatum is capable of getting to his spots whenever he wants but he needs to knock down shots when the time comes.
Tatum is a very good defender when he locks in or the situation needs it and he shows that in some of the bigger moments. The Celtics made 2 big trades this offseason shipping out some of the pieces and picks and bringing in Jrue Holiday and Kristaps Porzingis. This team is built around and built for Jayson Tatum and ultimately it will be up to him how far he can bring this team. If Tatum continues what he ahs been doing he will be a hall of famer and a great player during this era but titles are what make the all-time greats and with a team like this he has a chance.
5. Anthony Davis, C, Los Angeles Lakers
The surprise of my top 200 is none other than Anthony Davis being the 5th best player in the world. Let me lay out my case before people completely dismiss the point. Anthony Davis is the league's best defender who is capable of playing in any scheme and thriving in it. Offensively Davis is 26-13-3 shooting 59% from 2 and seems to just about never miss around the rim. Come playoff time any questions about Davis go away as he is a dominant playoff performer (incredibly defensively last season and a damn good offensive player). I know the injury concerns that are often brought up and there are both validity and overreactions to that because he still plays more than other superstars that don't get that same label.
Last season Davis ranked 4th in Win Shares per 48 minutes, 5th in PER, and was the league's best defender. Davis is an underrated passer and is capable of being the team's best offensive and defensive player. I understand Davis' flaws but I would take him over every player in the world outside of the four players listed above him.
4. Luka Doncic, PG, Dallas Mavericks
I really did not want to rank Luka that high because of how little I enjoyed watching him last season but his talent is undeniable. I have and will continue to be a massive Luka Doncic fan but his play style is growing worse and worse. Luka dominates the ball and possessions and allows no freedom of movement within the game. How much of that is Luka's fault and how much of that is the Mavs system I do not know but I can't imagine it is fun to play in. Luka also is a horrendous defender who barely ever tries.
Now that I am done bashing the 4th best player in the world I will say Luka's offensive skill is special. No one not named LeBron James is capable of the playmaking and cerebral thinking that Luke Doncic is. Luka thinks 4 steps ahead of everyone he plays and you can see that watching. Luka is a big-time player that seems to play the best come playoff time. Being the 4th best player in the world is quite an accomplishment but it is just frustrating because everyone knows it is his destiny to be the best player in the league.
3. Stephen Curry, PG, Golden State Warriors
At 35 Steph is just as deadly as ever. Two seasons ago Curry cemented his place in the upper echelon of all-time NBA players and he only continues to be one of the league's best players. Curry is the greatest shooter of all time and a threat to score anywhere on his side of the half-court. Curry warps defenses unlike any player in NBA history which causes his teammates to get open looks. Not only that but Curry shoots 64% at the rim, is a great playmaker, and has one of the tightest handles in the NBA.
The Warriors still have a very good team and with Curry on the roster, they will always be championship contenders. Nearing the twilight of his career the Warrior's desire or lack of desire to chase Curry's ring number 5 will be an interesting storyline to watch. Golden State's build-for-two timelines strategy has proven to be a mistake but are they willing to admit that by dealing Kuminga or Moody for winnow players or roll the dice with the current team?
2. Giannis Antetokounmpo, PF, Milwaukee Bucks
If Davis is the league's best defender then Giannis is number 2. Giannis is a great shot blocker and like Davis is capable of playing in any scheme. Offensively, Giannis is no scrub averaging 31-12-6 last season in an attempt to win another MVP. Giannis has established himself as a top 35 player in NBA history and now everything he does in the league only moves him up the list. I had Giannis as the best player in the world last season and think it is very possible he could steal the belt yet again this year.
The addition of Damian Lillard should make Giannis all the more deadly. The spacing Lillard will create will give Giannis more room to operate whether that is in the half-court or in transition. The tandem is something the league has not seen in a long time with a dominant interior threat paired with a dominant perimeter threat. Everyone expects the Bucks to be in the Eastern Conference Finals and most likely matched up against the Celtics. If Giannis truly still is the best player in the world then a finals run would be a good way of proving it.
1. Nikola Jokic, C, Denver Nuggets
If anyone watched these playoffs and came to any other conclusion than this then I want to know if we watched the same playoffs. Jokic is the best offensive player since '13 LeBron or maybe Michael Jordan (or maybe farther) and dissects teams with his brain. When guarding Jokic you have to either send the double in which he finds the open man for an easy shot or leave your big on an island where Jokic is incredibly efficient. What Jokic does is mind-boggling and near solutionless.
The Nuggets were dominant in the playoffs and there seems to be little reason why they can not repeat this season. Jamal Murray, MPJ, and Aaron Gordon are great complimentary players around Jokic and they have great role players to fill in the gaps. Could this Nuggets team be a mini-dynasty for the next 3-4 years? I do not see why not. With so much hype around Boston, Phoenix, and Milwaukee the Nuggets are often forgotten but they are still my pick to win this year's NBA title and it is because they have the best player in the NBA.
Check Out Previous Parts