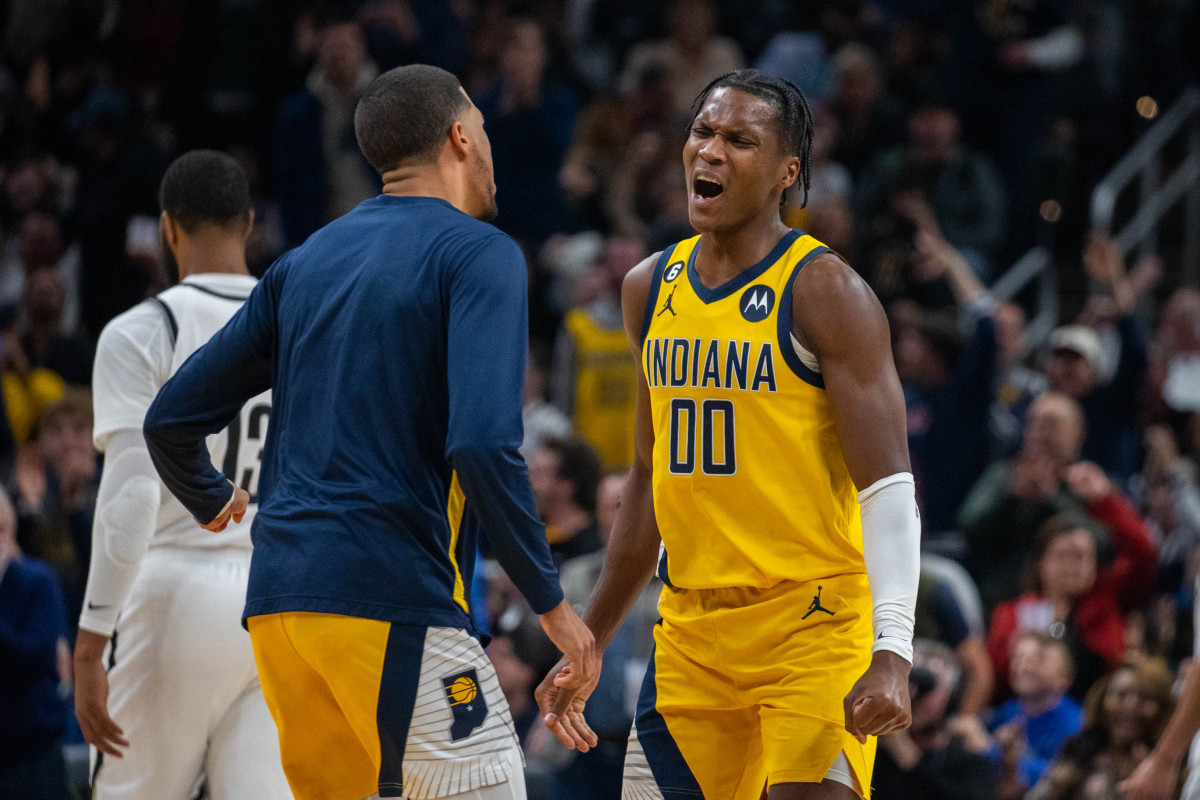 Everything has led me back to Indiana – the crossroads of America. Over 35.5 Wins is the largest wager I've ever placed. The Indiana Pacers have stumbled upon a great basketball team that should be ahead of schedule. When a team has a personality and specific style, it's easier to see the vision of success. I think the run-and-gun style of the Pacers will catch the league by storm.
It was a summer defined by a genius move that somehow netted them Jarace Walker and picks (these picks later turned into Obi Toppin) for the draft rights to Bilal Coulibaly — and then the aggressive move to sign Bruce Brown.
Excitement.
I'm admittedly too high on Bennedict Mathruin, but after seeing his capabilities in the NCAA tournament years ago with Arizona, I really won't be surprised by his inevitable All-Star appearances in the future. He will be a big part of the most improved player conversation this year.
With Myles Turner, you have a rim protector that championship teams have always wanted but haven't been able to secure. Now, he's found himself well-paid in a great situation. When I think back to a Celtics at Pacers Feb 23rd game last season, I'm still blown away by Myles Turner putting up 40 and going 8/10 from three. While this was a wild game, I hope to see more of these crazy performances from Turner. I'm more excited about the fact that he should be a consistent three-ball threat, opening up the paint for Tyrese Haliburton to conduct his offense.
Lob City?
Hali is one of the most exciting players in the NBA. When I think of unstoppable/unguardable, he really does come to mind quickly, along with a name like Kyrie Irving. He keeps his foot on the pedal, and that's why I think this Pacers team will be relentless in transition. Mathurin is already one of the best in the league in transition… Obi Toppin finally gets to be unleashed with a more prominent role — and similar to how Bruce Brown is a perfect addition to this team's style — it should be a seamless transition to perfect chemistry.
Andrew Nembhard is one of the best backup point guards in the league, and TJ McConnell will further stabilize this bench unit. Buddy Hield and Aaron Nesmith (who just got paid 33 Million/3 Years) add wing shooting. Isaiah Jackson, Jalen Smith, and Daniel Theis not only add depth, but competition to the Indiana frontcourt.
Backups
By watching Jarace Walker at Houston, you understand how quickly he affects winning basketball with an immediate defensive impact and point-forward capabilities. Isaiah Wong is another winner that the Pacers picked up this summer. Hopefully, we will see Ben Sheppard hit some shots and continue to grow with whatever minutes he receives.
Jordan Nwora is someone I'm expecting to contribute, and this could catch people by surprise when he's consistently having an impact on winning games, averaging somewhere around 13-17 points a game. This is someone the Bucks would LOVE to have in these times with their diminished bench unit.
Coaching…
And Rick Carlisle is the man to lead these players on an 82 (and beyond) game journey. He's been around for a while, and I've seen his coach of the year odds surge from +4000 to +1400 — I'd like to call him a favorite for the award once this Pacers team takes off. I'm expecting the Indiana Pacers to be in the playoffs this season!