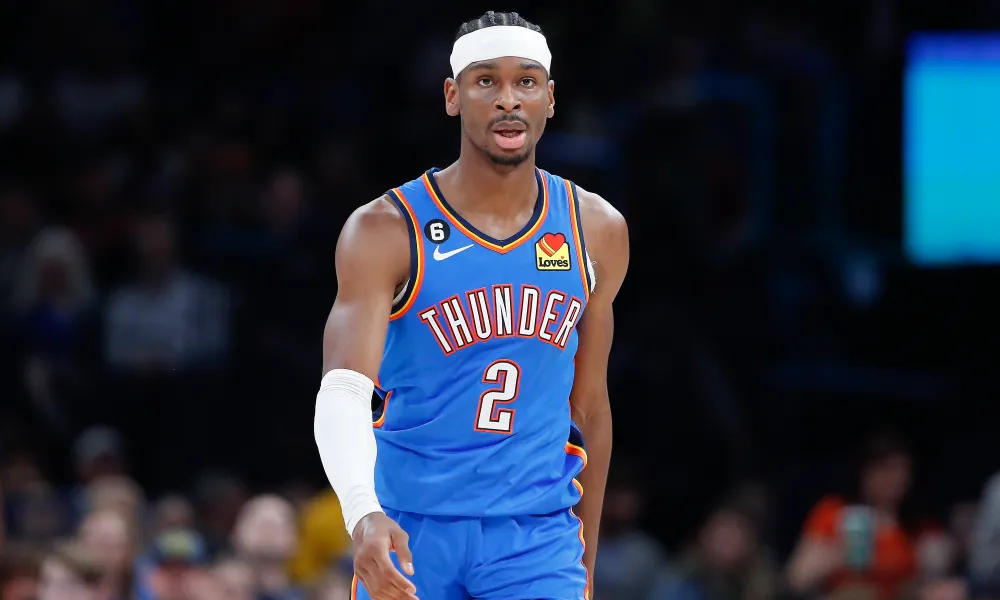 Part 1 and Part 2 of the top 200 is done (200-101 and 100-41) and you can check it out HERE! and HERE!
The NBA has started and it is time for me to rank the top 200 players in the league. Here we get into the real "stars" of the NBA and the true difference makers come playoff time.
The NBA is super talented so although a player seems like a "top X" player I encourage you to think who in front of them is he better than.
A couple of things before we get started (PLEASE READ THESE BEFORE YOU GET MAD AT MY RANKINGS)…
These rankings are from the end of the 2022-23 season. No summer league, World Cup, Pro-Am, preseason, or other off-season basketball will be factored in. View these rankings as if it was June 12th (when the season ended).
Unlike ESPN or Bleacher Report these ARE NOT PROJECTIONS for next season instead rankings on who was the better player when the season ended.
Because these are not projections I do not include rookies because they were not in the NBA on June 12th (also putting rookies in rankings is just a complete guess).
So you may be wondering what the criteria is and the answer is it's everything. Stats, analytics, eye test, playoffs, durability, and the overall impact you have on a team.
That may sound like a daunting task but at the end of the day, the simple question is, Who is better at basketball? Who gives a team a better chance at winning? For these reasons I value playoff performances highly as a championship is the highest form of winning possible.
"A bag" or skillset is relatively irrelevant unless it helps a team win, so I judge it as so.
Lastly, positions matter less and less every year so instead of using my opinions for those I just listed them at the position they registered the most minutes at according to Basketball Reference (some may surprise you).
To check out last year's rankings CLICK HERE!
40. DeJounte Murray, SG, Atlanta Hawks
Why He Fell 9 Spots…
Murray was an outstanding player this year and was even better in the playoffs but he had to adapt to a new role playing next to Trae Young. Murray's stats went down in almost every category which is not too surprising considering his role change. Two seasons ago Murray boasted an impressive 40% assist rate but that dropped to 24% in Atlanta. This is likely to do with him sharing the floor with Trae Young but it still shows a difference in role in Atlanta.
Murray is still a fantastic defender and that is even more apparent when his offensive role goes down. With a full summer of Quin Snyder, I expect DeJounte Murray to have a much better season and the Atlanta Hawks will be much better.
39. Zach LaVine, SG, Chicago Bulls
Why He Fell 7 Spots…
At this point we know what Zach LaVine is, he is a great player but not a contributor on a contending team. I would love to see LaVine in a different scenario and see if I can be proven wrong but as presently constructed he is not a contending level player. LaVine spends 35% of his possessions but only ranks in the 59th percentile in playmaking out of the PnR.
If LaVine could play in a situation where he mainly operates in transition and spotting up (in both categories he ranks in the 75th percentile or above) then he would be utilized much better. If the Bulls get off to a slow start don't be surprised if they start selling and that may include Zach LaVine.
38. Darius Garland, PG, Cleveland Cavaliers
We He Fell 1 Spot…
Garland didn't as much fall as he just didn't jump. Crafty with the ball and one of the league's most creative players, Garland gives the Cavaliers a steady presence at point guard. With that being said Garland lacks the ability to take over a game that I want from him. He is a special playmaker with a good 2.7 Ast-TO ratio and a 34% assist rate.
Garland is a really poor defender as a result of his stature but he is a great offensive player and I wouldn't be surprised if he peaks as one of the best offensive engines in the NBA. The Garland-Mitchell fit is a little awkward both defensively and as ball handlers but Garland is unselfish and creative enough to make it work.
37. Julius Randle, PF, New York Knicks
Why He Jumped 39 Spots…
After a down season, Randle returned to his all-star form this year. Randle is like a souped-up version of Tobias in that he is super talented and can score 30 any night but often you forget he is on the court. The forward is great at dropping quiet 25s where his presence is hardly felt.
Another reason that Randle is not higher is his playoff resume. In his 3 playoff series in the last 3 seasons, Randle is averaging 17-9-4 on 34% from the field and 28% from 3. The efficiency is horrendous and the numbers don't resemble that of a top 40 player. With that being said, Randle was so good in the regular season that I can't put him any lower.
36. Lauri Markkanen, PF, Utah Jazz
Why He Jumped 107 Spots…
Wow! What a jump from Markkanen jumping 107 spots into the top 40. The NBA's most improved player averaged 26-9-2 on 59% EFG. Markkanen did all of that while also being a very good defender for Utah's jumbo frontcourt. I am a big fan of what Utah is doing with Markkanen, Kessler, and now George and Hendricks.
If Utah was in the Eastern Conference I think they would be a playoff team but it is tough to make the play in never mind the playoffs in the West. The Jazz should continue building for the future prioritizing development over wins at this stage.
35. Draymond Green, PF, Golden State Warriors
Why He Jumped 7 Spots…
Draymond is still among the league's best defenders and Golden State feels it when he doesn't play. On offense, Draymond is a connecting player who seems to have a telepathic relationship with Curry and Klay. Defensively, Draymond of capable of playing whatever role or scheme is asked of him. Green can play the small ball 5, shut down fast breaks, or switch on the perimeter and he does it all at 6'6.
My biggest question about this Warriors season is how Draymond and the other stars fit with Chris Paul. Paul is used to playing at a much slower pace than the Warriors so there will need to be some adapting that happens.
34. Karl-Anthony Towns, PF, Minnesota Timberwolves
Why He Fell 11 Spots…
Towns had a really disappointing season following a great 2021-22 campaign. Towns' production dropped as the Timberwolves experimented with lineups following the addition of Rudy Gobert. Towns is still a stretch five and a massive shooting threat and mismatch but he hasn't taken that step into complete superstardom quite yet.
Like Randle, Towns also has a poor playoff resume averaging 19 points on 33% from the 3 in his career. The Towns-Gobert fit is awkward and with the blossoming star of Anthony Edwards, they need to figure that out sooner rather than later.
33. Jaren Jackson Jr., C, Memphis Grizzlies
Why He Jumped 24 Spots…
He jumped 24 spots because Jackson was the defensive player of the year and took big strides offensively. Jackson is a fantastic help-side shot blocker and can switch on the perimeter very well. There are questions about his ability to finish plays as he averages only 5.5 rebounds per game. In Steven Adam's absence, they will need Jackson to be a true center and rebound as one.
JJJ was much better last year offensively taking a 9% jump in field goal percentage and a 4% jump in 3P%. Jaren Jackson will never be an offensive star but as he continues to mature and get NBA experience his defensive presence will only get better.
32. Brandon Ingram, SG, New Orleans Pelicans
Why He Fell 10 Spots…
Brandon Ingram is one of the best pure scorers in the league but it seems like his effort has to be encouraged rather than something that just happens. Ingram is not a #1 and when Zion is out he is forced to be it. Ingram is better off a primary (like Zion) and hitting shots and attacking closeouts.
On the defensive side of the floor, Ingram has all of the tools to be a fantastic defender but shows a lack of concentration and effort needed to be a great defender. This Pelicans season has a wide range of outcomes and although Zion is the most important piece what Ingram is able to do come playoff team is very important.
31. Jrue Holiday, PG, Boston Celtics
Why He Fell 5 Spots…
As a Celtics fan, I could not be more excited to have the best guard defender of the 2020's on our team. Holiday still is a great defender and a true disrupter on that side of the floor. Offensively, Holiday is a good game manager and is capable of big games every once in a while. In the playoffs, Holiday tends to be less efficient when it comes to the playoffs as the last couple of seasons show.
In Boston, Holiday will not be asked to do nearly as much so there are not too many worries when it comes to his offensive inefficiencies. Holiday's biggest role will be defense and table setting for the offense with the loss of Marcus Smart.
30. Pascal Siakam, PF, Toronto Raptors
Why He Fell 2 Spots…
Siakam is still one of the league's most underrated players. Versatility is the best word to describe Siakam and his game. Nearly 6 assists a game is an example of Siakam's versatility and his underrated playmaking skills. Entering a contract year, the Raptors will have to make a choice if they are keeping Pascal Siakam for the long term or if they need to trade him in order to maintain an asset. The Raptors now have a track record of losing players for next to nothing in free agency and Fred VanVleet continued that trend.
29. Kyrie Irving, SG, Dallas Mavericks
Why He Fell 4 Spots…
Kyrie Irving is a super talent and an incredibly great player. Most people will be surprised for me to have him this low but here are the reasons why…
Over the last 4 seasons, Kyrie Irving has only played in 53% of potential games
Since he left Cleveland, Kyrie has disappointed in the playoffs averaging 21.8 PPG on 42.9% from the field and 34.7% from 3

Those aren't terrible figures but not top 20 results

The obvious one is that Kyrie Irving is a problem literally every season he plays even when he is healthy

What you do off the court can and does impact the results on the court and Kyrie Irving is a walking circus that could demand a trade at any second.
28. Zion Williamson, PF, New Orleans Pelicans
Why He Fell 12 Spots…
Solely because he can't stay on the court. Zion is one of the best basketball players in the world but he clearly has a real problem getting on the floor. When Zion is healthy he is an unstoppable force in transition and a force with the ball in his hands. Zion is an underrated playmaker which results from him taking advantage of the gravity he creates.
Even when healthy Zion is a poor defender but that is not what the Pelicans need from him at this point. The Pelicans have all the pieces to be a contending team in the West but the most important thing is Zion's health. Any contender needs a superstar and Zion is theirs. Zion is a joy to watch so for the sake of the Pelicans and myself I hope he stays healthy.
27. Anthony Edwards, SG, Minnesota Timberwolves
Why He Jumped 11 Spots…
Anthony Edwards seems to be flirting with absolute stardom. Now the best player in Minnesota, Anthony Edwards rises to the occasion during the biggest games. Now that he is a legitimate shooting threat, Edwards is a true 3-level scorer. If there is a mold for a great shooting guard, Edwards fits that mold perfectly, as a scorer, a playmaker, a big-time player, and maybe even as a defender.
I have picked the Timberwolves to finish 4th in the Western Conference (no easy task) and that is mostly because I anticipate an Anthony Edwards breakout season. Similar to how Shai did last year I think Edwards will take the leap into stardom and will bring the Timberwolves with him to the playoffs and maybe farther.
26. Jalen Brunson, PG, New York Knicks
Why He Jumped 22 Spots…
I thought Jalen Brunson was good in Dallas but he turned a corner in New York. Brunson is a true star and diced the #1 ranked Cavalier defense in a way I didn't know possible. A true point guard, Brunson seems to make the right play every possession whether that is getting to the rim, setting up the possession for others, or getting creative and scoring a tough bucket.
The Knicks are full of a whole bunch of high-end role players to low-end starters but they like the true #1 necessary for them to make it deep into June. Brunson is a great #2 option and Randle as a #3 would be amazing. The next superstar that becomes available (cough *Embiid*) the Knicks need to hunt with their plethora of draft picks and assets.
25. James Harden, PG, Philadelphia 76ers
Why He Fell 4 Spots…
I had Harden a couple of spots higher but the toll Harden takes on a locker room has to be factored in when ranking him. Harden is still a great player but demanding a trade now for the 3rd time in a short span is a bad look and I don't think he cares. Harden seeks out his own interests but unfortunately for him, I am not sure anyone is willing to deal with him anymore.
On the floor, Harden is still an elite playmaker and when necessary he can score in bunches. His playoff no-shows must be noted but he had a couple more in the biggest moments of the Boston series. I have no idea how this trade saga will end but I lack confidence to say it won't happen again.
24. Domantas Sabonis, C, Sacramento Kings
Why He Jumped 15 Spots…
Mike Brown. Sabonis is a fantastic player but Mike Brown did a great job squeezing everything he could get out of Sabonis making him the best possible player he could be. The Kings free-flowing, quick pace of play is great for Sabonis to operate out of. Sabonis was used at the top of the key as a quick decision-maker maker but also he was great at initiating dribble handoffs and setting screens.
I don't see this King's offense slowing down but they need a little more from Sabonis on the defensive side of the floor. Sabonis has his limitations on the floor as a shot blocker but he needs to be a better drop coverage big in order for him not to be a liability come playoff team.
23. Bam Adebayo, C, Miami Heat
Why He Jumped 1 Spot…
Bam is the exact mold you want from a non-high-scoring center. On defense, Bam can and does play in every defensive scheme whether that is drop, switch, or zone. Bam is one of the few players in the league that actually does have the ability to switch 1-5 on the court. Offensively, Bam is a great playmaker, finisher, and game manager for the Heat.
The Heat struck out on Damian Lillard but they still have a roster that is more than capable of winning a playoff round or two come the spring. I am intrigued to see how many playoff games they win because it normally seems the Heat don't care about the regular season and last year it almost bit them in the butt.
22. Jaylen Brown, SF, Boston Celtics
Why He Fell 2 Spots…
Jaylen Brown is a very good basketball player but disappoints a lot. The regular season 35-point games are great but in the playoffs against more locked-in defenses, Brown struggles to score in the same way. Brown's left hand is often the punchline jokes but the 22nd-best basketball player in the world has no business having such a glaring flaw. The Celtics have fully gone all in and there are no more excuses, Brown and the rest of the C's need to make a real run at the title now.
Brown's defense was once elite and a calling card of his but now it just seems okay. The Celtics gave Brown $300 million and the biggest contract in NBA history which should be more than enough reasons for Brown to lock back in on the defensive. This is a lot of negative talk but Brown is a great player but glaring flaws are frustrating because we know it is holding him back from what he could become.
21. Trae Young, PG, Atlanta Hawks
Why He Fell 6 Spots…
Trae Young is one of the league's best playmakers and is capable of dropping 40 on any given night. Young's efficiency is a glaring problem and it comes with his style of play. Young does not need to shoot 30 shots a game in order for him to be impactful but he does not seem to realize that. Take Steven Nash for instance. Nash completely controlled games and sometimes he only did so by shooting the ball 10 times.
I expect a big bounce-back year for Atlanta with a full summer with Quin Snyder. As Young matures he will understand the game more and more and his backcourt relationship with DeJounte Murray will blossom into one of the league's best. Home court advantage in the East is not out of the question for Atlanta and should be their goal.
20. Tyrese Haliburton, PG, Indian Pacers
Why He Jumped 35 Spots…
Haliburton has no real weakness as he can do everything at a very good level. Haliburton averages 21 a game, shooting 40% from 3, averaging 10 assists a game, with a positive defensive box score. That is such a rare combination for a point guard in today's NBA. Haliburton wasn't the most durable last season playing only 56 games due to injuries. A full season of Haliburton with the additions of Bruce Brown, Jarace Walker, and Obi Topping may be enough for this team to squeak into the playoffs. Haliburton is going to be one of the truly special playmakers of this era and he is already showing it.
19. Jamal Murray, PG, Denver Nuggets
Why He Jumped 24 Spots…
Health. Murray took a while to get his footing in the regular season but once he did he didn't turn back. He was the same old Jamal Murray once the playoffs started and was the second-best player on an NBA championship team. Murray is a big-moment player and you don't need any more evidence than looking at his play in the playoffs.
Jamal Murray and Nikola Jokic's pick-and-roll is the best 2 man game in the NBA and looked downright unstoppable at some points in the playoffs. With a full healthy season, I believe Jamal Murray will make his first all-star game of his career in Indianapolis this year.
18. De'Aaron Fox, PG, Sacramento Kings
Why He Jumped 26 Spots…
One of the league's quickest players took a leap this year alongside their nuclear offense. Fox was a competent 3-point shooter this year and shot a higher volume of threes as well. Fox's EFG% jumped from 50% to 55% last season as a result of the new system and the strides he made as a player. The Kings were a legit playoff threat last season and I anticipate they will be a problem come next postseason as well.
Fox is a slightly above-average defender but he has quick hands that allow him to rack up steals and get transition points. In the playoff, Fox rose to the occasion averaging 27-8-5 in the seven-game series against the Warriors. The West is stacked so there are no guarantees but the Kings should be back in the playoffs come April.
17. Paul George, SF, Los Angeles Clippers
Why He Fell 5 Spots…
One of the league's smoothest players, Paul George is an incredibly well-rounded forward. George is no longer the defender he once was but he is still a very good NBA defender. The Clippers had another disappointing season where they flamed out in the first round following another round of injuries. Paul George is as versatile as it gets whether it is shooting, finishing, playmaking, or rebounding, he is capable of affecting the game
PG13 has had a unique career because although injuries have taken seasons from him he still has had high peaks and now a long career. Whether it was Indiana, Oklahoma City, or LA George has been 8x All-Star and 6x All-NBA and consistently one of the league's top 20 players. After retirement, George will certainly be a hall of fame (which is far too easy to make in the NBA) and be remembered as one of the best players of the 2010s.
16. Ja Morant, PG, Memphis Grizzlies
Why He Fell 5 Spots…
The guns just really are not helping Ja Morant and he kept digging himself a bigger hole with the NBA this offseason. With that being said, Morant is still one of the league's best transition players and finishers around the rim. Morant embodies attacking the rim and it seems like he is capable of getting downhill each time he touches the ball.
The Grizzlies are without Ja Morant for the first 25 games of the season so when he gets back it will be all the more important he plays well. The Grizzlies had a disappointing finish to last season when they lost to the Lakers in the first round and the West is no easier. Nothing is guaranteed in the West and if the Grizzlies can stay afloat without Ja then they will be serious threats come the spring.
15. Donovan Mitchell, SG, Cleveland Cavaliers
Why He Jumped 4 Spots…
Mitchell had his first disappointing playoff series this year but he has built enough playoff equity that I am not too worried about him in the playoffs. As stated during the Garland section, the fit with Mitchell and Garland is not perfect but it works because both players are able to shoot and attack the hoop off the ball. Mitchell was a phenomenal defender in college so it has been disappointing not to see that translate yet into the NBA.
The Cavaliers have all the talent to compete in and potentially win the Eastern Conference but their 4 best players really play two different positions. With Garland and Mitchell as their lead guards and Mobley and Allen both as big men, there is some redundancy on their roster. The additions of Max Strus and Georges Niang are good starts but the Cavs might also need a big trade to really round out their roster.
14. Kawhi Leonard, SF, Los Angeles Clippers
Why He Fell 6 Spots…
He is only ranked this low because he seems unable to stay on the court. Kawhi is a great offensive player when he is on the court but each of the last 3 seasons, Kawhi has missed playoff games because he has gotten hurt. Leonard is no longer anything close to the defender he was but he is so great offensively that if he is healthy come playoff time the Clippers are a threat to beat anyone.
The Clippers have a lot of talent but the West is good enough that if they have a couple of big injuries don't be surprised if they are in the play in or completely out of the playoffs. Leonard has had a fascinating career and from an all-time perspective, he is very hard to rank. Leonard peaks as an elite player with 2 titles and 2 finals MVPs but injuries and a short prime make those less effective on his resume.
13. Damian Lillard, PG, Milwaukee Bucks
Why He Jumped 1 Spot…
The shocker of the offseason most certainly went to Damian Lillard joining the Milwaukee Bucks. In the last 2 seasons, Lillard has quietly played some of his best basketball despite missing a lot of games. It is unclear how healthy Lillard was because Portland was trying to lose but Milwaukee will need him on the floor to truly compete.
Lillard is an awful defender but offensively the spacing he will provide the Bucks and more specifically Giannis. One of the league's best shooters not only has an impact for the obvious reason but also it causes guys like Giannis to have much more space to operate. I can't help but see the similarities between this team and the 1971 Bucks team that traded for Oscar Robertson (Damian Lillard) to join their star big Kareem Abdul-Jabbar (Giannis Antetokounmpo) which eventually led to a championship (????).
12. Shai Gilgeous-Alexander, PG, Oklahoma City Thunder
Why He Jumped 21 Spots…
Defenders simply can not stay in front of SGA and he can get to the hoop anytime he wants. The Thunder were frisky last season and that almost is completely to do with the strides SGA made as a player. Shai is a brilliant defender as well, and it is rare to find a 30-PPG scorer who defends as well as Shai does. He will continue his superstar trajectory this year and I fully expect to see him in the top 10 a year from now.
The Thunder seem to be everyone's darling this year but they still have an uphill battle when it comes to making the playoffs. SGA is a star and everyone knows that but they will need someone else to step up into stardom if they want to compete in the Western Conference. Giddey, Jalen Williams, and Chet Holmgren are all candidates but it may be just one year too early for each of them and the Thunder.
11. Jimmy Butler, PF, Miami Heat
Why He Fell 1 Spot…
Butler in the playoffs was special, especially against the Bucks. 2 of the last 4 seasons the Heat have made the finals riding the coattails of Jimmy Butler. Butler's ability to will wins to fruition seems like something out of a movie but is reality. The Heat struck out of Damian Lillard this summer so a lot of pressure will be on Jimmy Butler, Bam Adebayo, and Tyler Herro to be able to compete with Milwaukee and Boston when it comes to playoff time.
Butler has sneakily moved up the all-time player rankings in the last couple of seasons. It is a smaller company than people think to be the best player on two finals teams which is an accomplishment Butler has now achieved. No one is arguing he should be labeled a top 50 player of all time but he is now in the top 75-80 player argument.
To Be Continued…
Check Out Part 1 (200-101) Here!
Check Out Part 2 (100-41) Here!
Check Out Part 4 (10-1) Here!