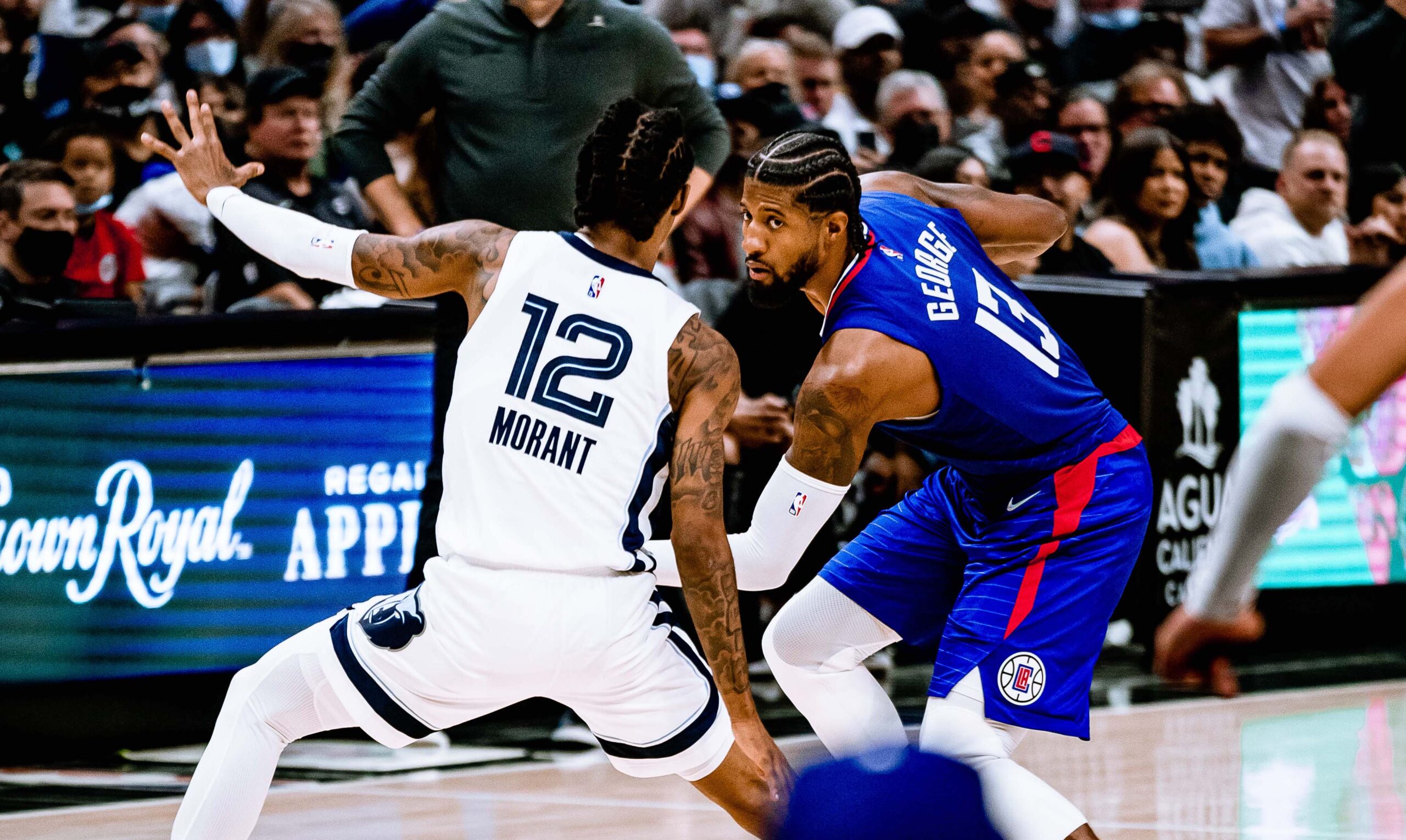 The NBA has started!! This article is being released after opening night but before 10/19's slate of games. With that being said, these rankings were done before the start of the season, and do not take those games into factor.
The NBA is the DEEPEST it has ever been in terms of talent (early 90s is the next best). I constantly find myself saying that a certain player is a top 25 player in the league only to find myself saying that about 45 players.
This is part three of my top 200 series. To check out part 1 (200-101) CLICK HERE! and to check out part 2 (100-41) CLICK HERE! Don't forget to come back tomorrow to see the top 10.
A couple of things before we get started (PLEASE READ THESE BEFORE YOU GET MAD AT MY RANKINGS)…
These rankings are from the end of the 2021-22 season. No summer league, EuroBasket, Pro-Am, preseason, or any other off-season basketball will be factored in. View these rankings as if it was June 16th (when the season ended).
Unlike ESPN or Bleacher Report these ARE NOT PROJECTIONS for next season instead rankings on who was the better player when the season ended.
Because these are not projections I do not include rookies because they were not in the NBA on June 16th (also putting rookies in rankings is just a complete guess).
So you may be wondering what the criteria is and it's everything. Stats, analytics, eye test, playoffs, durability, and if you are or are not Kyrie Irving.
That may sound like a daunting task but at the end of the day, the simple question is, Who is better at basketball? Who gives a team a better chance at winning? For these reasons, I value playoff performances highly as a championship is the highest form of winning possible.
"A bag" or skillset is relatively irrelevant unless it helps a team win, so I judge it as so.
Lastly positions matter less and less every year so instead of using my opinions for those I just listed them at the position they registered the most minutes at according to Basketball Reference (some may surprise you).
After their name, position, and team, I listed their rank from my top 200 last year (if it is green, they moved up, if it is red they moved down. Also NR means Not Ranked, HM means Honorable Mention, and R means Rookie)
To check out last years rankings CLICK HERE!
40. Andrew Wiggins, SF, Golden State Warriors
Last Years Rank: 113
The surprise all-star of the year. Andrew Wiggins had a breakout season of sorts that earned him a $100 million extension in Golden State. By these rankings, Wiggins is now the second-best player on the Warriors and showed why in the finals. While Steph and Klay had most of the offensive load, Wiggins was a great rebounder and perimeter defender. Wiggins's glue guy-like skills is one of the main reasons the Warriors won their 4th title in 8 seasons.
39. Domantas Sabonis, C, Sacramento Kings
Last Years Rank: 34
Playmaking at a big position is hard to come by (and extremely valuable), but Sabonis brings it. After getting dealt to Sacramento, Sabonis and Fox established a very effective duo yet didn't have the supporting cast to warrant winning. Keegan Murray is the perfect power forward next to Sabonis and the additions of Malik Monk and Kevin Huerter give the stars shooters to compliment them. The Kings are a potential play-in team and it'll be mostly on Sabonis and Fox if they can end their playoff drought.
38. Anthony Edwards, SF, Minnesota Timberwolves
Last Years Rank: 95
Edwards took a small leap this year but I expect an even bigger one next year. Anthony Edwards is a physical force when getting to the basket and his handle and shooting have already improved in the league. His personality has nothing to with his play but I do think it is worth mentioning that Edwards is larger than life character and if he can get his play to back it up, he could be one of the faces of the league. The Timberwolves will be better than most people think this year and I think Edwards will be a huge part of that. I currently have Ant as the 3rd best Timberwolves player but a year from now I think he will be the best.
37. Darius Garland, PG, Cleveland Cavaliers
Last Years Rank: 126
What a year for Garland jumping 89 spots on my rank. Garland is a great playmaker for both himself and his teammates. Last season, Garland was forced to take just about all of the late-game initiation reps because they did not have another initiator. This year the Cavaliers have Donovan Mitchell and both of these players will make the other much better. Garland is an assist title contender this year as he finally has another perimeter player that can create his own offense next to him. Big Garland year incoming.
36. LaMelo Ball, PG, Charlotte Hornets
Last Years Rank: 49
Some will view this as too high and some way too low, but honestly I can not imagine him one spot higher or one spot lower. On one hand, LaMelo is an extremely fun player, an amazing distributor, and a good self-creator with a surprisingly good shot. On the other hand, LaMelo is a poor defender, lacks consistent effort, and hasn't yet gained a killer instinct. The Hornets will be really bad this year, especially with LaMelo missing time, but with his skills, LaMelo should be better than he is.
35. DeAndre Ayton, C, Phoenix Suns
Last Years Rank: 22
I am buying the dip with DeAndre Ayton. After a historic Suns collapse, Ayton was used as a sort of scapegoat because of his dispute with Monty Williams in game seven. This notion discounts Ayton tremendously and dismisses how valuable of a player he is. A seven-footer who can score around the rim and is a switchable defender is valuable and rare. If you think this is too high of a rank then look back at the 2021 playoffs and the impact Ayton had on both sides of the floor. In the era of centers being played off the floor in the playoffs, Ayton allows the Suns to stay big in the playoffs.
34. Jarrett Allen, C, Cleveland Cavaliers
Last Years Rank: 75
Allen nearly single-handedly revolutionized the Cavaliers' defense and established himself as one of the best shot blockers in the NBA. Allen's size and defensive instinct make him a nightmare for opposing players around the rim. On offense, Allen is no scrub finishing everything around the hoop and scoring at a very efficient 67.7%. It will be very interesting what Cleveland does with the frontcourt rotation if/when Evan Mobley gets bigger, stronger, and more skilled. Until then Allen is the anchor of the Cleveland defense.
33. Shai Gilgeous-Alexander, PG, Oklahoma City Thunder
Last Years Rank: 42
Is he elite, or is he just on a bad team? No one truly knows but with advanced statistics and the eye test you can tell he is a very good player. Only playing 91 games over the last two years is alarming from a health standpoint, but I would say that more has to do with Oklahoma City's desire to lose and their caution in playing him. With another year of tanking in store for the Thunder, teams will start to make calls about SGA. Sam Presti (the best executive in the league) will have to decide if he is close to competing or if they should cash in with Shai.
32. Zach LaVine, SG, Chicago Bulls
Last Years Rank: 27
This season was semi-disappointing as I was hoping Zach LaVine would take another step up but instead he seemed to concede the reigns of the team to DeMar DeRozan. I am not necessarily criticizing that, I just believe LaVine could be an alpha on a playoff team so I am disappointed we didn't get to see it. Next season I project the Bulls to be much worse as Vucevic ages another year, Lonzo misses serious time, and DeRozan loses some of the magic he had last season. Zach LaVine will be the most pivotal player in whether they are a playoff team or back in the lottery.
31. DeJounte Murray, PG, Atlanta Hawks
Last Years Rank: 91
One of the most intriguing changes of scenery is DeJounte Murray now being an Atlanta Hawk. Is DeJounte a true point guard and if he is, how will he fit with Trae Young? Murray's defensive capabilities alone will help the Hawks but his offense will be what could push them into the playoffs. With so many questions I could see the Hawks finishing anywhere from a four seed and home-court advantage to an eleven/twelve seed and missing the playoffs.
30. DeMar DeRozan, PF, Chicago Bulls
Last Years Rank: 45
Maybe the surprise player of the season at 32 years old DeMar DeRozan had his best season. DeRozan was a dynamic creator and carried the Bulls for most of the season. DeRozan's heroics seemed to fade come playoff time but most can not discount the great season he had. I expect that to be peak DeRozan and for him to fall down a little bit this year as a 33-year-old without a true point guard. The Bulls may struggle this year and my bold take is they miss the play in.
29. Khris Middleton, SF, Milwaukee Bucks
Last Years Rank: 21
Khris Middleton was a closer in the 2021 playoffs and is still a damn good player. I would go as far as to say that if Khris Middleton was healthy for the 2022 playoffs, the Milwaukee Bucks would be repeat champions. Middleton is the primary perimeter initiator for the Bucks and a solid defender. For the Bucks to once again be champions they need Middleton to step up and for him to stay healthy, especially in playoff time.
28. Pascal Siakam, PF, Toronto Raptors
Last Years Rank: 47
The single most underrated star season this year. Siakam was just a flat-out star this year and earned 3rd team All-NBA. Siakam is one of those guys I just claimed was top 20 guys all season but I am now realizing isn't true. Siakam is a versatile defender that can score 25 on any given night on the offensive end. I expect Toronto to be a home-court team in the playoffs and Pascal Siakam and Scottie Barnes will be the two that lead the team there.
27. Rudy Gobert, C, Minnesota Timberwolves
Last Years Rank: 35
Olajuwon, Russell, Mutombo, Kareem, Duncan, and DRob are the only guys I wouldn't hesitate to say are better-shot blockers than Gobert (and Wembanyama in like 3 years). I am tired of hearing Rudy Gobert isn't good. Gobert is an elite defender overall and an all-time-level rim protector. Gobert gets a bad rep and maybe rightfully so because teams find ways to neutralize him in the playoffs.
I would argue the reason Gobert is neutralized is that he had very poor point-of-attack defenders in Utah that caused him to look bad as a help defender. In Minnesota, Gobert will have Jaden McDaniels and hopefully a motivated Anthony Edwards as a defender so it will be much harder to neutralize him.
26. Jrue Holiday, PG, Milwaukee Bucks
Last Years Rank: 25
This surprises all the box score watchers and shocks none of the game watchers. Jrue Holiday is the best guard defender in the NBA (coming from a Celtic fan). On defense, Jrue locks up opposing guards and navigates pick and rolls as well as anyone in the league. On offense, Jrue is a good game manager that can pass, finish around the hoop, and knock down open shots. Next to the best player in the world (spoiler) and another talented scorer, Jrue Holiday is the perfect complimentary player.
25. Kyrie Irving, PG, Brooklyn Nets
Last Years Rank: 19
He refused to play and help his team. How am I supposed to want him on my team if the goal is to win the championship? Talent-wise, Kyrie Irving is probably a top-15 player but talent alone does not win championships. Kyrie demanded out of Cleveland when he played next to the best player in the world, told Boston he wanted to resign and didn't, and finally joined Brooklyn only to cause constant problems and only play 103 games over the last three years.
Not only that, Kyrie Irving has yet to have a good playoff series since he was in Cleveland. Kyrie Irving is a nightmare no matter how you put it. If that is the resume honestly I am not sure I would ever want that player regardless but his skill makes me have to draw the line somewhere. The more I talk about it the more I want to put him in the 30s.
24. Bam Adebayo, C, Miami Heat
Last Years Rank: 24
Bam Adebayo is starting to get near the Draymond Green point. Adebayo is a great defender but his offensive game is limited to around the hoop and passing. He is still an extremely valuable player but his lack of perimeter creation and shooting puts a ceiling on how good he can be. If Bam can put a full season together and stay healthy he is one of the favorites for defensive player of the year.
23. Karl Anthony-Towns, C, Minnesota Timberwolves
Last Years Rank: 29
Towns had one of the most well-rounded seasons from a center we have seen but I just can't bite. Towns are uber talented but I would choose other players over him come playoffs. Towns is a below-average defender, a poor playoff performer, and inflicts zero fear in opponents. The Timberwolves will win a lot of regular season games but it will be on Towns and Edwards to decide if they are true contenders. Also for the love of god will he stop saying he is the greatest big-man shooter in NBA history.
22. Brandon Ingram, SF, New Orleans Pelicans
Last Years Rank: 32
The regular season was more of the same for Ingram with him as a very solid all-star. The playoffs are what opened people's eyes in terms of his talent. Ingram was the best player on a team that pushed the 64-win Suns to six games. Ingram is a true 3-level scorer and his size and frame allow him to be a capable defender even if his effort is lacking. With Zion and McCollum, the Pelicans are legitimate contenders for the West this year.
21. James Harden, SG, Philadelphia 76ers
Last Years Rank: 8
Tough season for the beard dropping 13 spots and no longer being a top 20 player. Harden is a great playmaker but he has lost a step in terms of self-creation. Some view Philly as a true contender but that can't only be true if Harden can turn back the clock and be an elite creator. On top of that, Harden has as many playoff demons as any player in the league. A lot would have to go right for the sixers to win the title and for that reason, I am not.
20. Jaylen Brown, SF, Boston Celtics
Last Years Rank: 31
The league is very lucky that Jaylen Brown is incapable of dribbling. Brown is a good defender, a great shooter, and despite no handle has an array of moves he can get to with ease. With so much turmoil in Boston with coaching and the front court, it will be crucial for Jaylen Brown and Jayson Tatum to be big-time players during the regular season. As a Celtic fan, I hope continued success is enough to keep Jaylen in Boston in the summer of 2024.
19. Donovan Mitchell, SG, Cleveland Cavaliers
Last Years Rank: 17
The best player in my rank to change teams. Donovan Mitchell offers the Cavaliers something they didn't have last year, a second creator. We all know Mitchell will give the Cavs an offensive boost that will make them a playoff team but it will be his potential defense that will make them contenders in the Eastern Conference. In college, Donovan was an incredible defender but he has lacked any effort in NBA. The Cavaliers now have all the talent it will just be about development and execution.
18. Chris Paul, PG, Phoenix Suns
Last Years Rank: 12
For those who think this is too high of a ranking for Chris Paul remember that the Spurs won 64 games and Chris Paul was the most important (not best) player on that team. Paul is still the league's best floor general and has a massive impact on winning especially in the regular season. Playoff woes make me worry about Paul and last, year's collapse against the Mavericks does not help that case. I project this season to be a rough one for the Suns and Paul, do not expect anything special from them.
17. Anthony Davis, C, Los Angeles Lakers
Last Years Rank: 11
Two seasons ago I ranked Anthony Davis the 2nd best player in the NBA and in the last two years he has fallen 9 spots and 5 spots. Davis is very skilled but he has played a whopping 76 games in the past two seasons. His three-point shot has fallen off a cliff and it seems like he doesn't understand his role. A lot is going on in Los Angeles but Anthony Davis is the Laker's X factor in terms of making the playoffs. This is the biggest season of Anthony Davis's career so far.
16. Zion Williamson, PF, New Orleans Pelicans
Last Years Rank: 14
When Zion played in 2020-21 he was one of the most dominant interior players the league has ever]r seen and he was a 21-year-old and 6'6. Zion will be a top 10 player a year from now and I can not wait for him to show the world. Zion Williamson is my pick to win the MVP next year and I feel wayyyy too confident that will come to fruition. If Zion is the playoff player he is in the regular season, the Pelicans may make more of a run than people expect.
15. Trae Young, PG, Atlanta Hawks
Last Years Rank: 13
The league leader in points and assists is ranked #15, what happened? Trae Young is an amazing player, but to put it bluntly, there are 14 players better than him. Trae Young is a great initiator but his frame limites his impact elsewhere on the court. The move to acquire DeJounte Murray helps hide some of the holes in Young's game. Trae Young is a big game player but in order for that to matter, he will have to lead the Hawks to the big games.
14. Damian Lillard, PG, Portland Trail Blazers
Last Years Rank: 10
I had to drop him a couple of spots for not playing many games last season. On top of that, when Lillard played last year he was less than impressive but injuries might have had something to do with that. Lillard has a much better supporting cast this year with the additions of Gary Payton II, Jerami Grant, and Shaedon Sharpe. The team isn't stacked by any means but if Lillard is a top 10 player still, he needs to lead this team atleast to the play in.
13. Devin Booker, SG, Phoenix Suns
Last Years Rank: 16
Booker is an elite level scorer and improved as a defender last year but is not yet a superstar. It is hard to explain but when you watch the games Booker doesn't strike you as a superstar. The production isn't yet consistent enough and I question if he could lead his own team without Chris Paul. I expect Paul to take a step back this year so it will be on Booker to determine how far the Suns can go (I have them missing the playoffs).
12. Paul George, PF, Los Angeles Clippers
Last Years Rank: 18
Weirdly, I moved up Paul George 8 spots after he had an average season but I feel like I understand his game and his value more than I did a year ago. Paul George is one of the few players in the league that can be a number-one option on offense and guards the opposing team's best wing. This makes him all the more valuable considering he is the second option on his team. If the Clippers stay healthy it is hard to imagine they won't be one of the biggest contenders for the title.
11. Ja Morant, PG, Memphis Grizzlies
Last Years Rank: 39
Ja Morant took THE leap this year going from a competent star to a borderline superstar. I heavily considered Ja for the 10 spots on this list but injuries and the other player's playoff performances made me keep Ja here. Ja showed progression in his three-point shot last season and if he can consistently knock down shots from the outside, the top ten is in his future. More importantly than any of that, for the love of god will Ja learn how to land. If Ja doesn't prioritize changing that, a big injury is much more likely.
To Be Continued…
Check out Part 1 Here!
Check out Part 2 Here!
Check Back On
10/20 for finale (10-1)

Must See
I swear I was writing a fun Kyrie to the Laker trade when the...

With the news that Kyrie Irving is being traded to Dallas, fans are already...

No matter what opinion you have of Aaron Rodgers off the field, on the...