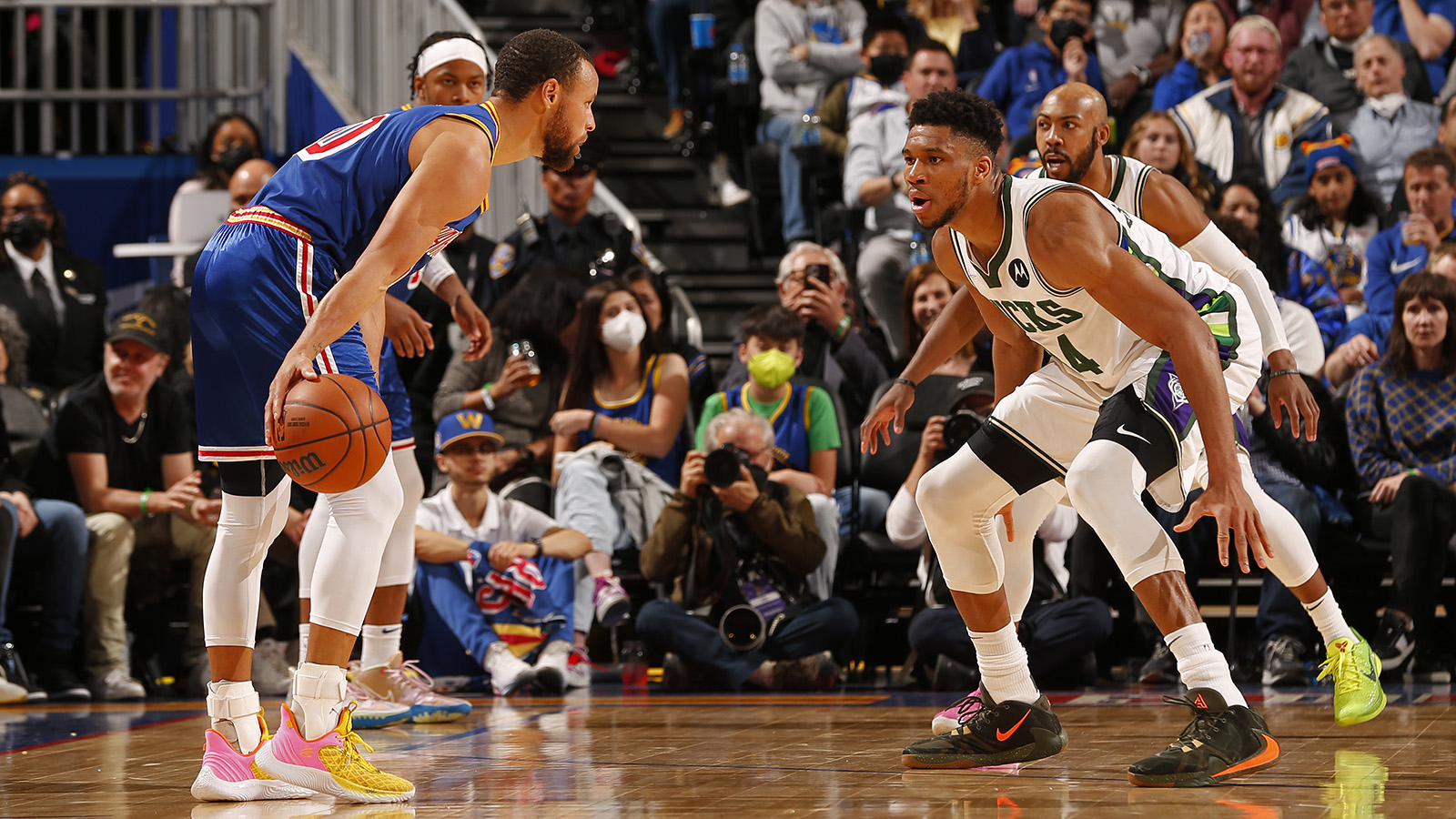 The NBA has started!! This article is being released after 10/19's slate of games but before 10/20's games. With that being said, these rankings were done before the start of the season, and do not take those games into factor.
The NBA is the DEEPEST it has ever been in terms of talent (early 90s is the next best). I constantly find myself saying that a certain player is a top 25 player in the league only to find myself saying that about 45 players.
This list is the top ten players in the NBA, the part everyone's been waiting for. I believe there are 8-10 superstars in the NBA currently and they are all featured in this section.
This is part four of my top 200 series. To check out part 1 (200-101) CLICK HERE!, to check out part 2 (100-41) CLICK HERE!, and to check out part 3 (40-11) CLICK HERE!
A couple of things before we get started (PLEASE READ THESE BEFORE YOU GET MAD AT MY RANKINGS)…
These rankings are from the end of the 2021-22 season. No summer league, EuroBasket, Pro-Am, preseason, or any other off-season basketball will be factored in. View these rankings as if it was June 16th (when the season ended).
Unlike ESPN or Bleacher Report these ARE NOT PROJECTIONS for next season instead rankings on who was the better player when the season ended.
Because these are not projections I do not include rookies because they were not in the NBA on June 16th (also putting rookies in rankings is just a complete guess).
So you may be wondering what the criteria is and it's everything. Stats, analytics, eye test, playoffs, durability, and if you are or are not Kyrie Irving.
That may sound like a daunting task but at the end of the day, the simple question is, Who is better at basketball? Who gives a team a better chance at winning? For these reasons, I value playoff performances highly as a championship is the highest form of winning possible.
"A bag" or skillset is relatively irrelevant unless it helps a team win, so I judge it as so.
Lastly positions matter less and less every year so instead of using my opinions for those I just listed them at the position they registered the most minutes at according to Basketball Reference (some may surprise you).
After their name, position, and team, I listed their rank from my top 200 last year (if it is green, they moved up, if it is red they moved down. Also NR means Not Ranked, HM means Honorable Mention, and R means Rookie)
To check out last years rankings CLICK HERE!
10. Jimmy Butler, SF, Miami Heat
Last Year's Rank: 20
This ranking is almost solely because of his consistent playoff performances. Last playoffs Butler averaged 27.4 points per game and was one shot away from sending the Heat to the finals for the second time in three seasons. Butler is a less-than-impressive regular-season player but if your goal is to win a championship there aren't 10 players I would take before Butler. Because this is Butler's age 33 season and he has a less talented roster I expect the Heat to take a step back this year and be in the play in.
9. Jayson Tatum, PF, Boston Celtics
Last Year's Rank: 15
Jayson Tatum established himself as a superstar this year as he made his play much more consistent. Not only that but Tatum has improved as a defender and is now the league's second-best two-way player (you should know who the other is). After falling short of the title last year, Tatum should be a legitimate MVP candidate as he attempts to lead the Celtics back to the finals. My one critique of Tatum is that it doesn't feel like he rises to high moments and takes over games. If he can start doing that, Tatum could be a top 5 player.
8. Kawhi Leonard, SG, Los Angeles Clippers
Last Year's Rank: 6
I can't rank Kawhi any higher because he didn't even play last year. When Kawhi is healthy and playing he is a deadly offensive weapon. Once upon a time Kawhi was league's best defender but now he is just above average and relies mostly on his frame to get stops. The Clippers had a league record 11 players make my top 200, if Kawhi and Paul George can stay healthy with that depth the Clippers aren't just a threat in the West but for the title.
7. LeBron James, PF, Los Angeles Lakers
Last Year's Rank: 3
This is the first time since the 2004-2005 season LeBron is not a top 5 player. At 37, I think it is pretty reasonable for LeBron to get passed by six players in their primes. What isn't reasonable is the Lakers not being able to put any competent players around two top 20 players in the league. LeBron may be aging but he still is capable of contending and he should be on a team that allows him to at least try and get his fifth ring. Sadly for LeBron and all NBA fans, the Lakers won't allow LeBron to be on a competitive team this season.
6. Joel Embiid, C, Philadelphia 76ers
Last Year's Rank: 9
There are very few years in NBA history that Joel Embiid wouldn't be a top 5 player and yet here we are. The 76ers may yet again be contenders for the championship but Embiid would be essential for that push. For two straight seasons, Embiid has finished second in the MVP voting (rightfully so) but Embiid shouldn't have his sights on the MVP this year instead he should focus on competing for the finals. You never know when you have a supporting cast or the health of your team so Embiid should focus on competing while he can.
5. Kevin Durant, PF, Brooklyn Nets
Last Year's Rank: 2
If I did these rankings right after the regular season I probably would have kept Durant at #2 but the combination of only playing 55 games and his poor playoff showing made me drop him. The Celtics were the better team but there is no reason Durant should have let the Celtics sweep the Nets. This is a career-defining season for Kevin Durant whose age may start to catch up to him. The bottom line is many people put an asterisk next to Durant's two titles and he needs to lead his own team to a title to be a top 10 player in NBA history.
4. Luka Doncic, PG, Dallas Mavericks
Last Year's Rank: 5
My favorite player in the league is not a good athlete or a good defender but Doncic dominates the game with his head. Even without athleticism Doncic only plays at his speed and doesn't allow any opposing player to speed him up or slow him down. Luka is a big-time player that wakes up for any primetime game and is a dominant playoff player. It is disappointing that Luka's best two teammates are Dorian Finney-Smith and Christian Wood who are good players but by no means stars. Dallas hit the jackpot with Luka, they need to prioritize surrounding him with stars that will allow them to compete for the title. If Luka gets all-star teammates, championships will follow.
3. Nikola Jokic, C, Denver Nuggets
Last Year's Rank: 7
The back-to-back MVP! Nothing about Nikola Jokic's appearance strikes you as dominant but he is. With the ball in his hands, Jokic can dissect any defense either with his excellent finishing or passing which has never been seen from a big man. Last season, Jokic had no help besides Aaron Gordon, but with the returns of Jamal Murray and Michael Porter Jr. and the additions of KCP and Bruce Brown, Jokic will have a team to contend with. I heavily considered Jokic at 2 but besides the bubble season, Jokic has yet to make a deep playoff run.
2. Steph Curry, PG, Golden State Warriors
Last Year's Rank: 4
Finally, Steph Curry is a finals MVP! Curry had an iconic season because he broke the three-point record but he was a little underwhelming in the regular season. He shot a career-low 3-point percentage at 38% and only averaged 26-6-5 (I know terrible). With that being said, when games mattered most, Steph Curry was dominant. As a Celtics fan, I will never forget game 4 of the finals when Steph Curry ripped my heart out scoring 43 points with 7 three-pointers. Curry is now a top 10 player of all time and he is set up great to compete for more titles over the coming years.
1. Giannis Antetokounmpo, PF, Milwaukee Bucks
Last Year's Rank: 1
Was there any doubt? I was one of the few people who ranked Giannis #1 following last season (was told I was dumb in many comments but who looks dumb now) and there is no reason to change that ranking. Giannis is a dominant offensive force and he is the NBA's most versatile defender. On top of that, Giannis shows up to big games like no one else in the league. Giannis came down from 2-0 to a good Suns team in the finals and unleashed a series of iconic moments. The block, the alley-oop, and the 50-point performance capped off one of the greatest finals performances in NBA history. If Khris Middleton was healthy last season I believe the Bucks would have repeated and this season I am picking the Bucks to win their 2nd in 3 seasons.
Check Out Part 1 (200-101) Here!
Check Out Part 2 (100-41) Here!
Check Out Part 3 (40-11) Here!

Must See
I swear I was writing a fun Kyrie to the Laker trade when the...

With the news that Kyrie Irving is being traded to Dallas, fans are already...

No matter what opinion you have of Aaron Rodgers off the field, on the...