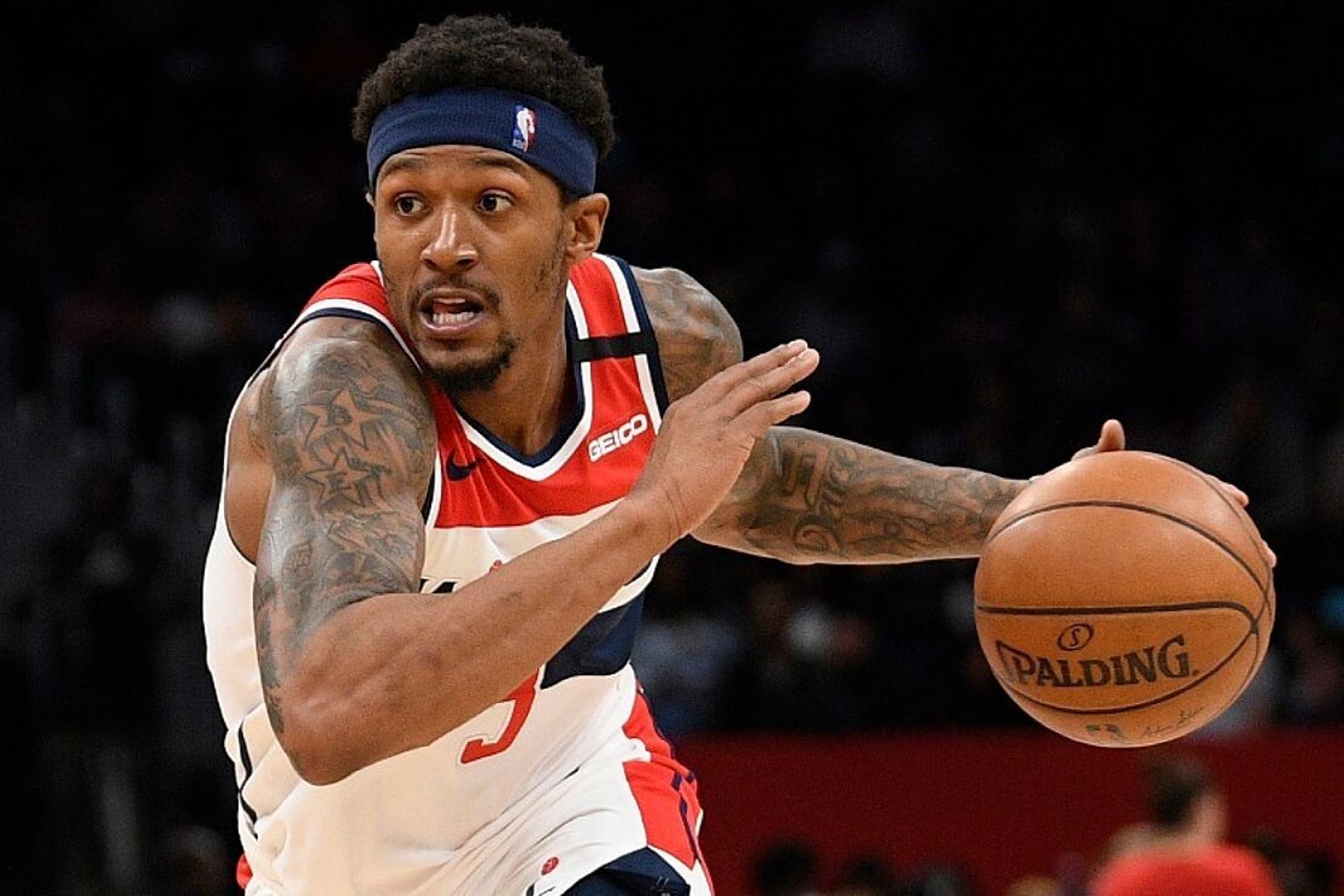 NBA Basketball Starts Today!!!! This season looks to be fun with no clear favorite set to dominate. Before NBA basketball starts, let me continue my top 200.
The NBA is the DEEPEST it has ever been in terms of talent (early 90's is the next best). I constantly find myself saying that a certain player is a top 25 player in the league only to find myself saying that about 45 players.
The top 100 is loaded with each of the player being a starting level player for a playoff team. I would not consider any of these player superstars and only consider the top 54 players stars.
This is part two of my top 200 series. To check out part 1 (200-101) CLICK HERE!
A couple of things before we get started (PLEASE READ THESE BEFORE YOU GET MAD AT MY RANKINGS)…
These rankings are from the end of the 2021-22 season. No summer league, EuroBasket, Pro-Am, preseason or any other off-season basketball will be factored in. View these rankings as if it was June 16th (when the season ended).
Unlike ESPN or Bleacher Report these ARE NOT PROJECTIONS for next season instead rankings on who was the better player when the season ended.
Because these are not projections I do not include rookies because they were not in the NBA on June 16th (also putting rookies in rankings is just a complete guess).
So you may be wondering what the criteria is and it's everything. Stats, analytics, eye test, playoffs, durability, and if you are or are not Kyrie Irving.
That may sound like a daunting task but at the end of the day the simple question is, Who is better at basketball? Who gives a team a better chance at winning? For these reasons, I value playoff performances highly as a championship is the highest form of winning possible.
"A bag" or skillset is relatively irrelevant unless it helps a team win, so I judge it as so.
Lastly positions matter less and less every year so instead of using my opinions for those I just listed them at the position they registered the most minutes at according to Basketball Reference (some may surprise you).
After their name, position, and team, I listed their rank from my top 200 last year (if it is green, they moved up, if it is red they moved down. Also NR means Not Ranked, HM means Honorable Mention, and R means Rookie)
To check out last years rankings CLICK HERE!
100-96
100. Derrick White, SG, Boston Celtics (116)
99. Jakob Poeltl, C, San Antonio Spurs (182)
98. Tim Hardaway Jr., SG, Dallas Mavericks (70)
97. Jalen Green, SG, Houston Rockets (R)
96. Dillon Brooks, SF, Memphis Grizzlies (72)
Derrick White is a weird subject as a Celtics fan. His perimeter defense is greatly valuable but when the playoffs started last year, his jump shot became totally inconsistent. With the addition of Malcolm Brogdon, less guard or initiation responsibilities will be on White and his role will strictly be 3 and D. Jakob Poeltl probably surprises you on this list because he plays in San Antonio and no one hears about him but Poeltl is a good defender and a very efficient player. Now that San Antonio truly is bottoming out, expect Poeltl's name to be frequently in trade rumors.
Tim Hardaway Jr. is a great supporting piece next to Luka but sadly injuries really hit him hard last season causing him to miss the playoffs. The Mavericks did get worse this offseason but it is important to factor in that Hardaway will be returning to the team. Love him or hate him, Dillon Brooks is a passionate player that helps Memphis grind out games. Not the most efficient scorer, but a hard nosed defender that is truly not afraid of anyone.
I have changed my mind on Jalen Green 5-6 times by now. Coming out of the draft I listed Jalen as the second best prospect in the draft behind only Cade Cunningham. Through about the first 50 games of the season I grew to not like Jalen Green's style of play. Nothing about Jalen helped the team win and he wasn't that successful at the things he was "good" at. I was an idiot, it is stupid to judge rookies, especially that early and I learned that in the final 30ish games. I still have questions about Green's total ceiling or if he is a number 1, but for now I can say he will be a good player, maybe as soon as next year.
95-91
95. Norman Powell, SG, Los Angeles Clippers (89)
94. Gary Payton II, SG, Portland Trail Blazers (NR)
93. Christian Wood, C, Dallas Mavericks (46)
92. Gary Trent Jr., SG, Toronto Raptors (192)
91. Jordan Clarkson, SG, Utah Jazz (85)
After Paul George got hurt, many speculated that the Clippers would trade proven players in order to get assets but LA went the other way. In February, the Clippers acquired Norman Powell and Robert Covington for very little. Norman Powell is a very good player and this trade improved the depth of the Clippers behind Kawhi and Paul George. Gary Payton II was a crucial player for the Warriors last season and he will have to carry most if not all of the guard defense load for the Blazers next season.
Christian Wood is very talented but I do not think he is the solution for the Mavericks like many people say. Wood is a disappointing defender and effort seems optional to him. He will be a deadly roller next to Luka but I think he may be a little overrated as a playoff player. As a fan of Luka and someone who feels bad for his lack of star partner, I hope I am wrong.
Gary Trent Jr. quietly had a very good year. The weaknesses that caused me to rank him 192 last year were addressed and why I now have him 92. Trent is a good, gritty guard defender and is now an efficient scorer (which is much different than last year). Trent and VanVleet may be the only guard sized players to see the court next season in Toronto and it is soley because of their shooting and finishing. No Jordan Clarkson comments, I am not a big fan.
90-86
90. Kyle Lowry, PG, Miami Heat (38)
89. Lugentz Dort, SG, Oklahoma City Thunder (99)
88. Mike Conley, PG, Utah Jazz (51)
87. Al Horford, C, Boston Celtics (74)
86. Keldon Johnson, PF, San Antonio Spurs (159)
Kyle Lowry took a major step back this season and sadly I assume it is mostly age related. Miami hoped to be signing an all star and NBA champ last off season but sadly the truth is Lowry turns 37 in March and his best days are behind him. Nothing about Keldon Johnson's game is overly exciting but he is a good basketball player and currently is the face of the tanking San Antonio Spurs.
Lu Dort was mostly ignored nationally this year on the tanking Thunder but quietly had a decent offensive year averaging 17 a game. We all know what Dort can do as a defender so if the offense is real then it is a game-changer. Mike Conley is getting older but he still may be underrated as a playoff player. If Conley gets bought out or offered for nothing, playoff teams should jump at the opportunity to acquire him.
What a season for Al Horford. Horford went from not even being played in OKC to being a crucial member of a team that made the finals. Even at his age, Horford was a versitile defender and the perfect big next to Rob Williams. With Rob Williams missing the first two months of the season (and probably more) the Celtics are going to have to decide if they want to put those extra minutes on Horford or keep him rested for the playoffs (from a Celtics fan, keep him rested).
85-81
85. Herbert Jones, PF, New Orleans Pelicans (R)
84. Clint Capela, C, Atlanta Hawks (52)
83. RJ Barrett, SF, New York Knicks (97)
82. Jerami Grant, PF, Portland Trail Blazers (57)
81. Malcolm Brogdon, PG, Boston Celtics (56)
Looking at these rankings it does feel like I may be underrating RJ Barrett. My reasoning for this placement is that I don't believe RJ Barrett contributes all that much to winning basketball yet (key word, yet) and he really doesn't inflict any fear into me. I once said Barrett could be a McGrady like player and I still believe in that. I expect Barrett to have a big jump in these rankings next season.
Clint Capela is a good basketball player but personally, I think the Hawks should trade him. With #6 overall pick in the 2020 draft, Onyeka Okongwu sitting behind him, Capela's days in Atlanta may be numbered. Jerami Grant is viewed by people very differently from a scorer to a versatile defender. If Grant can play like he did in Denver this season, the Trail Blazers could be a better defensive team than many think.
My Guy, Herb Jones! I loved Herb Jones out of the draft, but even I didn't think he would be this good. Herb is a LOCKDOWN wing defender and is already a surprisingly good shooter. Herb Jones should/will be a starter on a Pelicans team that I think is home court advantage good. Malcolm Brogdon is a game changer for the Celtics as it takes initiation pressure off of Marcus Smart and gives the Celtics a legit ball handler. The big question for Brogdon is just if he is able to stay on the court this season.
80-76
80. OG Anunoby, SF, Toronto Raptors (69)
79. Josh Hart, SF, Portland Trail Blazers (158)
78, Bojan Bogdanovic, PF, Detroit Pistons (83)
77. Julius Randle, PF, New York Knicks (36)
76. Anfernee Simons, PG, Portland Trail Blazers (NR)
Anfernee Simons is a controversial player as some people will see him closer to the 50s or 60s and others think he is barely top 100. After Lillard went down, Simons carried a big load of the offense and did it pretty well while being efficient. Some say this was the result of playing on a bad team, but Simons catch and shoot numbers are some of the best in the league which will only get better playing next to Lillard.
OG Anunoby is a good basketball player…when he plays. It feels as if every time I watch a Raptors game, OG is not on the court. Anunoby has already had his fair share of trade rumors so this may be a make or break year for him in Toronto. I did not know Bojan Bogdanovic is underrated but if Kelly Olynyk is the return for him, he is. Detroit might be sneaky good this year with vets like Bogdanovic, Burks, and Noel on the roster.
The constant talk in Portland is that the defense is going to be bad but players like Josh Hart, Jerami Grant, Gary Payton II, Nassir Little, and maybe Keon Johnson (crossing my fingers) make me skeptical of that notion. Hart is a good offensive player but I expect his touches to go down this year as they ask of more of him on the defensive end.
Julius Randle had a disappointing season after it seemed he broke out into a star last year. Randle is not a star that much I have learned, but I think he can be a really good complimentary piece if he understands his role. Next year RJ Barrett and Jalen Brunson will both be better players and for his and the Knicks' sake, I hope he understands that.
75-71
75. Kristaps Porzingis, C, Washington Wizards (87)
74. Wendell Carter Jr., C, Orlando Magic (154)
73. Collin Sexton, SG, Utah Jazz (65)
72. D'Angelo Russell, PG, Minnesota Timberwolves (67)
71. Dorian Finney-Smith, PF, Dallas Mavericks (145)
No offense to this group, but this group is very boring, Dorian Finney-Smith is very underrated but at the end of the day he is just the prototypical 3 and D player. Wendell Carter Jr. is also a very underrated player that doesn't do anything sexy but he can finish, defend, rebound, pass, and has shown some potential as a switchable defender.
I think Collin Sexton and D'Angelo Russell are both very similar players. They both are highly skilled guards with "bags" but I question what impact they really have on winning. I expect Sexton to have MASSIVE numbers on a Utah team that's main goal is to lose. Russell is a fun player but he had a rough post season and at this point I think he is just taking the ball away from Edwards.
Kristaps Porzingis quietly was very good after his trade to Washington. As a center, Porzingis has played better defensively but he is still mostly just a shot blocker. Porzingis has almost 0 playmaking skills averaging just 0.7 assists per game and plays mostly like a guard refusing to punish smaller defenders. Porzingis is a good player but is frustrating because he always leaves more to be desired as a 7'3 skilled player.
70-66
70. Tyler Herro, SG, Miami Heat (138)
69. Aaron Gordon, PF, Denver Nuggets (71)
68. John Collins, PF, Atlanta Hawks (53)
67. Jusuf Nurkic, C, Portland Trail Blazers (68)
66. Klay Thompson, SG, Golden State Warriors (23)
High-level role players who aren't stars is how I would describe this group. Tyler Herro took a jump this year rising 68 spots on my rank. Herro is a tough evaluation as a great creator but he is undersized and just a flat out bad defender. Besides the 37 point outburst against the Celtics (yes I remember), Herro has been a bad playoff player and that needs to get better for the Heat to have any playoff run next year.
Aaron Gordon and John Collins belong next to each other as swiss army knives that surround stars without necessarily taking over games themselves. Aaron Gordon has found basketball nirvana cutting next to Nikola Jokic while playing good forward defense on the other side of the ball. Collins gets his share of feeds as a high flying role man next to the assist leader.
Jusuf Nurkic is a good regular season center that becomes hard to play in the playoffs. Nurkic missed a lot of games last season but his performances in EuroBasket suggest he may be in for a big season. Klay Thompson falls down the rankings just because he never quite got his groove after coming back from injury. In the playoffs, Thompson showed flashes of his old self so I would expect that next year he is closer to the top 50.
65-61
65. Evan Mobley, PF, Cleveland Cavaliers (R)
64. Tobias Harris, PF, Philadelphia 76ers (48)
63. Harrison Barnes, SF, Sacramento Kings (66)
62. Scottie Barnes, PF, Toronto Raptors (R)
61. Miles Bridges, PF, Free Agent (120)
I am not gonna talk about Miles Bridges, but I did have to rank him because he did play last season. I hope he does not play basketball this season (sorry, not sorry).
Harrison Barnes may finally have a chance to play on a good Sacramento team next season after a really good off season. Barnes is a winning type player so I really hope that his skills are better on display this year. Tobias Harris is the forgotten 76er but he is still a very good contributor. Yes, he is overpaid, yes he is not a star, but Tobias Harris is still a good player and if you ignore him he can give you 25.
The Rookies! Cade will be addressed shortly but Scottie Barnes and Evan Mobley impressed the NBA world this year as real contributers on good teams. I learned that Scottie Barnes is better today but I would flip my answer if you asked who I would take long term. I expect Scottie Barnes to be the best or second best Raptor next season (Siakam for those who are wondering) and believe Evan Mobley will make huge strides and flirt with the all star game.
60-56
60. Robert Williams, C, Boston Celtics (127)
59. Nikola Vucevic, C, Chicago Bulls (43)
58. Desmond Bane, SG, Memphis Grizzlies (HM)
57. Jaren Jackson Jr., PF, Memphis Grizzlies (80)
56. Cade Cunningham, SG, Detroit Pistons (R)
Coming fresh off the other rookies, let's talk about Cade. My pre-draft #1 is still my favorite player from this draft. In the second half of the season Cunningham flashed his high level processing, playmaking, and improved his shooting. I think Cade Cunningham is an all star this season and the Pistons will be in the playoffs as soon as the 2023-24 season.
Nikola Vucevic had a disappointing regular season but had a sneaky good playoff series against the Bucks. Vucevic was traded for Wendell Carter, Otto Porter, Franz Wagner, and a first round pick this year (yikes), that is problem #1. The second problem is that when playoff time comes, Vucevic is a defensive liability on switches and is not dominant enough offensively to warrant his playing time. Desmond Bane was the biggest riser on my rank this year going from not ranked to the 58th best player in the world. Bane's lights out shooting and hard nosed defense is one of the major reason the Grizzlies were so good.
Jaren Jackson and Robert Williams are two incredible young defenders that have problems staying healthy. Rob Williams defense was one of the biggest reasons the Celtics season turned around last year and was crucial to Boston's playoff run. Jaren Jackson is more than just a defender but between him fouling out and his injuries it seems he is normally just nothing. More injuries take Jackson and Williams out to start the season but both Boston and Memphis will need them come playoff time.
55-51
55. Tyrese Haliburton, PG, Indiana Pacers (81)
54. Ben Simmons, PG, Brooklyn Nets (33)
53. Tyrese Maxey, PG, Philadelphia 76ers (NR)
52. Jonas Valanciunas, C, New Orleans Pelicans (59)
51. Mikal Bridges, SF, Phoenix Suns (54)
This is a fun section. I don't know how to rank Ben Simmons he purposely sat out last season so I just can't put him in the top 50. I am very excited to see Simmons actually play basketball this year in Brooklyn. Mikal Bridges is one of the best wing defenders in the NBA. Bridges has shown offensive flashes but I doubt he is ever a true star or play good enough to make an all star game. With Crowder looking like he is on the way out, Bridges play and health will be huge for the Suns next year.
Jonas Valanciunas may be the best version of a great (not dominant) offensive center that is not switchable. The Pelicans should milk any production they can out of Valanciunas because come playoff time teams will look to phase him out of games in switch schemes. I was wrong with Bane, Tyrese Maxey was actually the biggest riser on my rank (no I am not changing it, this way you get to see the writing process or something like that). I expect Harden to be better this year but if Maxey can take another leap into stardom, the 76ers may be true contenders.
Tyrese Haliburton is such a high level processor that the league better be thankful he wasn't a great athlete. Halliburton is a great game manager, amazing passer, and is slowly becoming one of the best shooters in the league. The Pacers are going to be really bad next year but if they can land one of the top 7 guys (yes the top is that good, articles about them will be coming out soon) Haliburton will only make them better. Pacers could be in for a quick rebuild.
50-46
50. Jordan Poole, SG, Golden State Warriors (114)
49. Fred VanVleet, PG, Toronto Raptors (73)
48. Jalen Brunson, SG, New York Knicks (139)
47. Michael Porter Jr., SF, Denver Nuggets (50)
46. Marcus Smart, PG, Boston Celtics (64)
Top 50 Baby! I just hope Michael Porter can play again soon because he is such a fun player when he plays. At 6'10, Porter can shoot over anyone and it helps that he is one of the best shooting forwards in the NBA. If the Nuggets stay healthy they are one of my favorites to have the best record in the Western Conference and they just maybe my pick to make the finals out of the West.
Jalen Brunson is underrated because some people don't believe he deserved the $100 million he got from New York. Brunson will instantly make the Knicks much better and provide them stability at a point guard position they haven't had in a long time. Fred VanVleet is a great shooter and very underrated defender that fits surprisingly well next to the versatile wings Toronto has. After making his first All-star game VanVleet looks to give the Raptors their first series win since the bubble.
The defending defensive player of the year. Marcus Smart elevated his game last year becoming more of playmaker and really focusing in on the defensive end. With that being said watching Smart at the end of games can sometimes be like watching a slow car crash as you know he is gonna do something dumb you just don't know what yet. Fresh off getting punched in the face, Jordan Poole got PAID with a $140 million extension. As a Celtic fan, no Warrior (besides Curry obviously) inflicted more fear on me than Jordan Poole (and no one inflicts more fear on him than Draymond).
45-41
45. CJ McCollum, SG, New Orleans Pelicans (40)
44. De'Aaron Fox, PG, Sacramento Kings (44)
43. Jamal Murray, PG, Denver Nuggets (28)
42. Draymond Green, PF, Golden State Warriors (30)
41. Bradley Beal, SG, Washington Wizards (26)
The people who just missed part 3. The "hoopers" or "bag" fans are going to go crazy over the Bradley Beal ranking but I feel confident about his ranking at 41. Beal is a great scorer, but he is a low level helio-centric player that doesn't defend and doesn't get his team involved. As it is now Bradley Beal has no impact on winning and for those reasons he is outside the top 40.
Bubble Jamal Murray was a religious experience as he somehow turned into Michael Jordan. If the Nuggets get any form of that player come playoff time then I would feel a lot better about my Nuggets finals pick. De'Aaron Fox hilariously did not move at all from last year and that seems about right. Next season Fox will have shooters around him and a legitimate star next to him. If Fox is a star level player he will have to show it next year.
CJ McCollum has shifted into a new role in his career. Instead of having a heavy offensive load, McCollum will have to be a secondary player off Ingram and Zion. Expect McCollum to get a lot of point guard reps next season and be a veteran player come playoffs. This exercise surprised me as I put Draymond Green at 42. Green is still one of the leagues best defenders but his offensive impact is hard to evaluate. With the Warriors locked into $487 million for the 2023-24 season do not be surprised if Green's days in Golden State are coming to an end.
To Be Continued…
Check out Part 1 Here!
Check Back On
10/19 for 41-11
10/20 for 10-1

Must See
I swear I was writing a fun Kyrie to the Laker trade when the...

With the news that Kyrie Irving is being traded to Dallas, fans are already...

No matter what opinion you have of Aaron Rodgers off the field, on the...