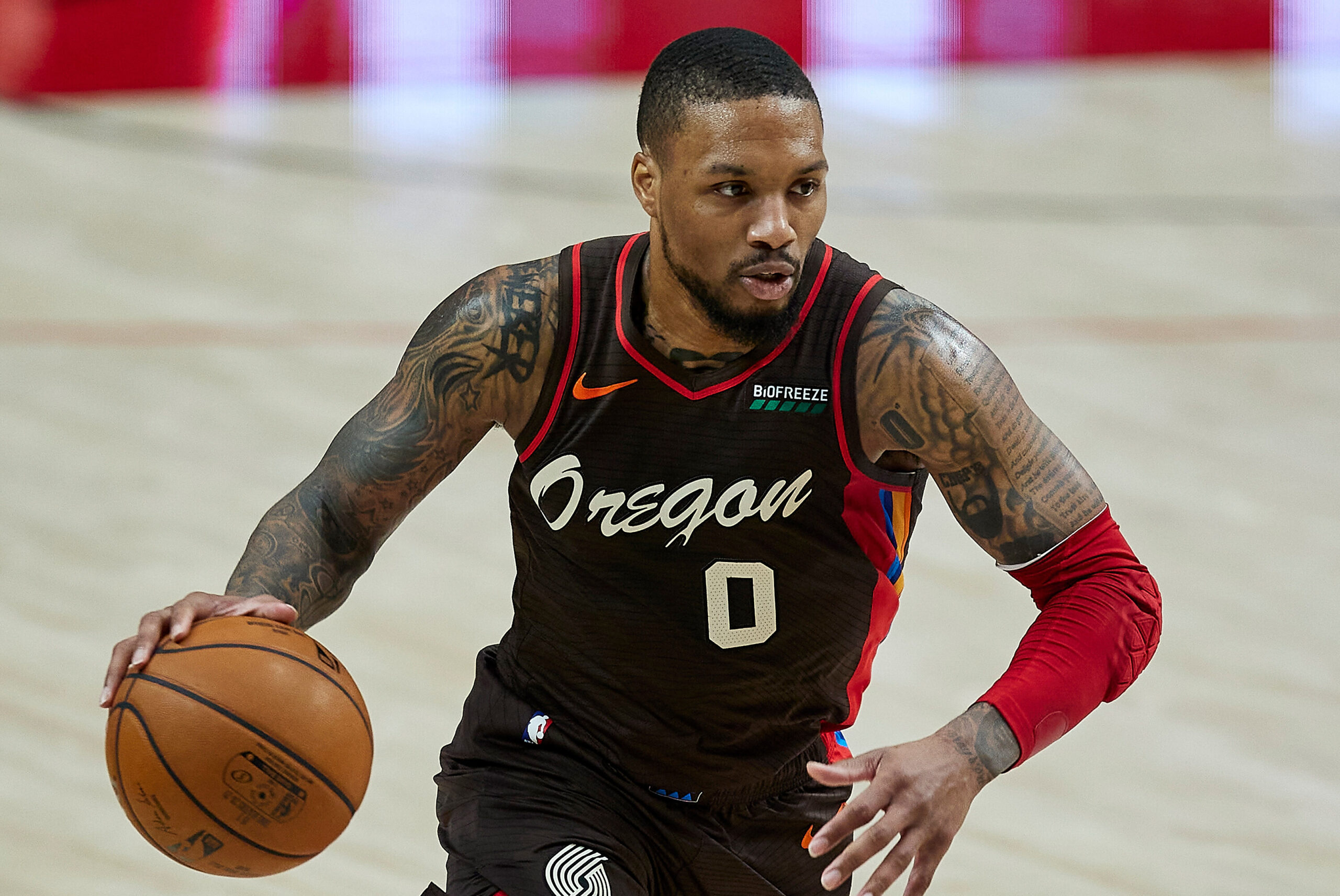 The NBA has never been so good and the league has an influx in talent that it has never had before. Every year the league becomes more loaded with talent as draft classes become better and better. Cade Cunningham, Jalen Suggs, and many more talented players joined the NBA in this year's draft but because they have yet to play a game I chose to exclude them from this list. I will try to do another piece before the season starts where I project the top 100 players next year, which will include rookies. Last season I only did a top 50 list so for any players that were on that list I will say what their rank was last year but most players were not. LaMarcus Aldridge was left off this list solely because the list was created before he came out of retirement. If it was announced earlier, Aldridge would find himself just outside the 100s.
Before anyone gets mad the position listed for each player is whatever position that player registered the most minutes at last season, according to Basketball Reference, and the team is accurate as of 9/30
Catch Up If You Have Missed Parts
Part 1: 200-101
Part 2: 100-41
Part 3: 40-11
10. Damian Lillard, PG, Portland Trail Blazers
Last Years Rank: 9
Dame Dolla comes in at number 10 as the second best true point guard in the NBA (excluding LeBron and Luka). Lillard has dominated NBA storylines since the season ended because of his potential trade request out of Portland. For the time being it seems that Lillard will be staying put in Portland and seems content with trying to win a championship there. This will be a highly difficult task for Lillard as a 6'3 guard because there are limitations on how much a point guard can do, especially on the defensive end. In the past decade only once has the best player on a championship team been an undersized player like a point guard. Even outside of Lillard the supporting cast in Portland is just not good enough to bring them the title. If Lillard truly wants to win an NBA title and values that above all else, it may be time for him to request a trade.
What makes Damian Lillard so deadly as a player is how well rounded of an offensive scorer he is. Lillard has a strong frame and athletic abilities that allow him to get to the basket and finish strongly whenever he needs to. Lillard's ability to get by people and get to the hoop is what opens up the most exciting part of his game, his 3 point shot. Lillard is not just a good 3 point shooter he is one of the best shooters the game has ever seen. Lillard shot an impressive 39% from 3 last season but that was not just spot up shooting 3s. What separates Lillard from most other shooters is his insane ability to shoot off the dribble, off balanced, and from incredibly deep. Being able to do those things is extremely rare and in fact there is only one other player in NBA history that does all three of those things at the level Damian Lillard does. Lillard is a bubble MVP but as the Western Conference seems banged up this year there is a chance Lillard could go for the real MVP this season.
9. Joel Embiid, C, Philadelphia 76ers
Last Years Rank: 13
This year was a massive year for Joel Embiid's career. Embiid has been a high-end star for a couple years now but hasn't seemed able to breakthrough into stardom, but this was the year. This season Embiid averaged 5.5 more points a game then the year before while shooting 51% from the field and 37% from 3 which were both upgrades from the year before as well. Embiid was arguably the MVP favorite until the final third of the season because he averaged 28.5 points and 10.6 rebounds a game. Not only was Embiid's MVP case resting on his dominant offense but it was also because of his incredible defense. Embiid protects the rim very well, is a great post defender, and is a serviceable perimeter defender. The reason Embiid did not win the MVP is the same thing that has been holding him back all his career, injuries. Embiid missed 21 games this season and has only played in two-thirds of the potential games he could have played in the last five seasons. When Embiid is healthy he is an incredible two way player that gives the 76ers a chance to beat anyone but the problem is Embiid is injured A LOT.
I would like to take this second paragraph just to drool over potential good fits next to Joel Embiid if the 76ers were to trade Ben Simmons. The best fit is if somehow the 76ers could pull off a crazy Damian Lillard trade. Between Lillard's range and Embiid's post dominance, the spacing would be just right for both players to be incredible. Also the idea of a pick and roll between the two of them would have to scare any defense in the league. Other fun players next to Embiid would be Michael Porter Jr., Tyrese Haliburton, and CJ McCollum. McCollum and Porter would operate as near elite level scorers that can take over games whenever Embiid is out of the game. Halliburton is a more interesting fit when you think of the team in the long term. Halliburton is an extremely high IQ player that will continue to become a better player as he is only 20 years old. Haliburton would guarantee that the 76ers get the most out of Embiid and could lead to 76ers becoming the best versions of themselves because of just how smart he is.
8. James Harden, SG, Brooklyn Nets
Last Years Rank: 7
When James Harden was traded to the Brooklyn Nets, I worried about his potential fit next to two primary scorers in Kevin Durant and Kyrie Irving. In the games Harden was able to play last season he proved that he could mold his game to benefit any team. In Houston, Harden was the primary scorer and was asked to score nearly 40 points a game, which he did. In Brooklyn, the ask of him is much different. Harden operates as the offense's initiator and leading playmaker for the title favorite team. On the Nets, Harden is able to showcase his basketball IQ and passing ability while still being able to score nearly at will when asked to. If Harden can stay healthy next season then he could have a sneaky case for MVP award.
Harden's legacy in terms of all time players is a very interesting case study. James Harden has an MVP, 3 scoring titles, 9 all star games, 7 All-NBA honors, and in my opinion has been a top 5 player in the league 5 times. Few players can match that resume but yet there are still questions if James Harden is a true winner or not. During his 12 years in the league, Harden has made the conference finals twice and has only made the finals when he was not much of a factor and came off the bench in Oklahoma City. If Harden wants to elevate his name into the all time greats he needs a championship on his resume. Lucky for Harden, he is on a team that has a great chance to win the title, but if Harden fails to win the championship it could be yet another black mark on a hall of fame career for Harden. In my opinion Harden is currently in the range of Steve Nash, Russell Westbrook, Patrick Ewing, and Kawhi Leonard but if Harden can continue to add to his resume then he could get into the tier with Dwayne Wade, Scottie Pippen, and John Stockton.
7. Nikola Jokic, C, Denver Nuggets
Last Years Rank: 10
Nikola Jokic continues to get better every season he is in the league. This season Jokic's points, assists, rebounds, blocks, and steals all went up. As all of those stats went up, so did Nikola Jokic's overall impact on the game and because of this impact, Jokic was awarded the MVP. This was the first time a center had one the MVP since Tim Duncan did in 2003 or Shaquille O'Neal in 2000 depending on how you view Duncan's eligibility as a center. Following a Western Conference title series the Nuggets were building to make another playoffs run before Jamal Murray tore his ACL. Jokic and the Nuggets still made a noble attempt but did not have much of a chance without Murray. If Murray can return healthy by next playoffs the Nuggets have a puncher's chance at winning the Western Conference. Between Murray, Porter, and Gordon the Nuggets have a very good supporting cast but they will only make it as far as Nikola Jokic takes them.
For the first time in 21 years, the MVP of the NBA was a center. Jokic is a great post player and average defender but the reason he won this award was because of his ability to make his teammates better. Jokic knows when he has to take over games and has moments where it looks like he is unstoppable scoring the ball. With that being said it is Jokic's passing that makes him a player we have truly never seen. Nikola Jokic is not only the best passing big man in the NBA but he is the best passing big man of all time. Only Wilt Chamberlain averaged more assists in a season and that is an outlier season within his career. As a seven foot force of nature, his passing ability becomes so deadly because of the attention his size requires. If the Nuggets continue to surround Jokic with good players and shooters it is only a matter of time before Jokic is an NBA champion.
6. Kawhi Leonard, SG, Los Angeles Clippers
Last Years Rank: 4
The silent killer Kawhi Leonard. Even in Los Angeles Kawhi Leonard does an incredible job flying under the radar. During the regular season, Kawhi keeps quiet and will rest games when he and the Clippers feel necessary. In the playoffs, it seems as if he takes some games off but in the big games and when his team needs it he is incredible. Last season, the Mavericks went up on the Clippers 2-0 before and seemed as if the Clippers were dead. Out of nowhere, Kawhi Leonard gave his team life scoring 29 in game 3 and 45 in game 6 of the series. The Clippers would go on to win the series and look promising before Kawhi Leonard tore his ACL. Leonard is not an all gas no brakes player but one thing is for sure, in the big games and the big moments Kawhi Leonard arrives and is one of the best players in the league.
Kawhi being under the radar has benefits and is obviously what he prefers but it can lead to some annoying situations. In the second round of the playoffs, Kawhi Leonard tore his ACL and would miss the rest of the playoffs. If this were any other player we may get an indication on a timeline and how long the recovery is expected to take but not with Kawhi Leonard. Most guesses place Kawhi's return before the playoffs and possibly around the all star break. For me this seems early and if history teaches anything it is that if Kawhi Leonard does not feel healthy he will not play. When Kawhi Leonard was in San Antonio he nursed a leg injury that placed him out a couple of months. The Spurs medical staff would go on to clear him to play but Kawhi did not believe he was ready so he sat out. Kawhi sitting out would cause a divide that would lead to him being traded to Toronto. Kawhi may treat this situation similar and the Clippers need to be careful not to rush him back before he feels healthy.
5. Luka Doncic, PG, Dallas Mavericks
Last Years Rank: 5
Luka Doncic is the single best passer in the NBA. You heard that right, Luka is a better passer than LeBron, Jokic, or Trae Young. He is such an incredible passer because of the amount of attention defenses are required to give him. Luka is incredible at getting to the hoop and has a deadly step back that causes two or three defenders to give him their attention. Luka is truly special in realizing this and being able to give the ball to whoever is open whether that is a shooter or cutter. The scariest part about Luka Doncic is that he has yet to play with an all star level talent in his career and if he has the opportunity to play with one then he will become even more deadly as some of the defensive attention is elsewhere. If the Mavericks find team success this year and Luka continues to get better there is a good chance that Luka could win this year's MVP. This will be a massive year for Luka Doncic and by the end of the year we will consider him a top 3 player in the NBA.
Luka Doncic needs help. Luka does not have a teammate that is a top 70 player besides Tim Hardaway Jr. who is number 70. It is a testament to how good Luka is that the Mavericks were able to make the playoffs and push a very good Clippers team to the brink of elimination. Because of the lack of talent supporting Doncic he understandably had the highest usage rate in the league last season. Dallas is in a tricky situation because they do not have many assets to make the team better and the team is not very good right now. With that being said Houston proved for years that you can improve a roster even when you lack assets both in players and draft capitol. The biggest key to Luka and the Maverick's success is Kristaps Porzingis. If Porzingis can return to his star status then it completely changes the dynamic of the Mavericks. With a supporting star next to him Luka would be a real threat to make a playoff run in the Western Conference. All time greats always make deep playoff runs before you'd expect so do not be surprised if Luka makes a deep playoff run because he will be an all time great.
4. Stephen Curry, PG, Golden State Warriors
Last Years Rank: 6
The man who averaged over 30 points and is the most offensively skilled point guard of all time is only the 4th best player in the NBA. Curry is the most fun player to watch in the NBA and honestly has a case for being the most entertaining player in NBA history. Curry is a threat to score everywhere on the floor and that is not an exaggeration in the slightest. Curry's range goes to half court and his bag of moves allows him to get to the rim even though he is undersized and not an insane athlete. The greatest shooter of all time does not only affect the game with his scoring but he is also an incredible dribbler, great passer, and an amazing leader. Curry impacts winning more than nearly anyone in the NBA and causes almost every team he is on to over achieve. If Klay returns 100% healthy then the Warriors are a real threat in the Western Conference and to win the title.
As Curry continues to add to his resume, he slowly rises all time rankings. Curry is a 2 time MVP, 3 time NBA champion, 7 time All-NBA, 7 time all star, and 2 time scoring champion. That is an impressive resume and qualifies Curry as an undeniable top 15-20 player of all time. Not only is he an all time great player but he is one of the best leaders and winners in NBA history. In 2016, Curry welcomed Kevin Durant to the Warriors with open arms even though it would take away from his stats and his spotlight. These next couple years are extremely important for Curry in terms of legacy. If Curry can add an NBA championship or an MVP to his resume in the next couple of seasons then it could push Curry into the pantheon of top 10 players ever. Curry is a generational talent and a hall of famer undeniably but it will be very interesting to see just how high he can get in terms of all time players.
3. LeBron James, PG, Los Angeles Lakers
Last Years Rank: 1
LeBron took a slight step backwards last season but that was mostly because of injuries. Throughout his whole career LeBron has been incredibly healthy but in two out of the last three seasons he has missed a substantial amount of games due to injuries. For the first time it is becoming fairly visible that LeBron is aging which is extremely reasonable considering he is 36 years old but he is still nowhere near done. As LeBron has aged he has become a slightly worse scorer but has become an incredible passer. In the bubble, LeBron won the NBA title by completely controlling the game and making his teammates the best versions they can be. LeBron is passing some incredible milestones and if he can have two or three more injury free seasons then he will find himself as the NBA's all time leading scorer. LeBron already has an argument for being the greatest of all time and if he can continue to add to his resume then the debate between him and Jordan will become even tougher.
LeBron currently has 4 NBA titles and 4 finals MVPs and has a legitimate chance to add one to each of those categories this season. The Lakers had a great offseason adding Russell Westbrook via a trade and signed Malik Monk, Dwight Howard, Kendrick Nunn, Carmelo Anthony, and Trevor Ariza in free agency. The roster that the Lakers have assembled is old but is very deep with players that could make a real impact in the playoffs. If LeBron and Anthony Davis are healthy then they are still the best duo in the NBA and if you can keep Russell Westbrook from making dumb 4th quarter mistakes the Lakers have a real chance at the title. Westbrook has never been a very reliable player in the playoffs or at the end of games, but if there is a player that can keep him in check it is LeBron James. LeBron has successfully reshaped people's careers in the past and he may be able to give Westbrook the ring he has been chasing.
2. Kevin Durant, PF, Brooklyn Nets
Last Years Rank: 8
Kevin Durant proved me wrong this year by staying healthy and arguably being the best player in the world. Last year I ranked Durant the 8th best player in the world because I did not believe anyone could successfully come back from a torn achilles because no one in NBA history had. I stated that a year from then Durant would either be much higher on the list or much lower on the list and I leaned on the side of lower. Durant would go on to prove me wrong to an incredible degree and was the best player on the floor most games he played. Durant was incredible in Eastern Conference semi finals scoring 49 points in one of the games. If Kevin Durant wore one shoe size smaller there is a chance that Nets would go on to win the Eastern Conference and eventually the NBA title. Durant is one of the greatest scorers of all time and it seems every time we forget that he lights up a game or series like he has many times before.
Durant has an accolade filled resume but some (including me) downplay some of those accomplishments because of how he acquired them. Kevin Durant joined a championship team in order to win a championship which seems to be an almost fake way of getting them. After that instead of joining a decent team and proving his value by winning a championship, Durant has formed a superteam in Brooklyn in order to assure another title. Despite forming this super team, injuries plagued their playoff run and ending their title run short. Although Durant could not control injuries it is the Nets fault for building a team that is so top heavy. Durant has another opportunity to make a title run this year and if he can not do it this year for any reason then that should affect his legacy negatively. Durant's greatness is undeniable but he has won his championships is questionable in terms of competitiveness.
1. Giannis Antetokounmpo, PF, Milwaukee Bucks
Last Years Rank: 3
For how much I say there is a difference between stars and superstars there is an equal difference between superstars and all time greats. During the playoffs Giannis elevated his play from a superstar to an all time great. This happens frequently in NBA history (LeBron in 2012, Shaq in 2000, Jordan in 1991) and this year was Giannis' year. After Giannis was able to beat Kevin Durant and the Nets something seemed to click inside of him as he realized he was the best player on the court everytime he stepped foot on it. In the finals, Giannis gave an all time performances game after game. Before the series Antetokounmpo was questionable to play at all because of a knee injury he suffered in the conference finals. Despite the obvious pain, Antetokounmpo returned for game 1 and would go on to have one of the greatest NBA finals we have ever seen. The Greek freak would average 35 points, 13 rebounds, and 5 assists a game including a 50 point performance in the series clinching game 6. Giannis' series performance was incredible and elevated him from a superstar to a generational talent.
Most predictions for next year's NBA title are currently either the Brooklyn Nets or the Los Angeles Lakers with a couple rare Golden State Warriors picks. This incredibly underrates Giannis Antetokounmpo and the Bucks because they are a real threat to repeat this year. Again Giannis has hit a level in which he knows exactly how to beat teams and how he can play at his top level. The league should be scared of Giannis now that he has hit another level and the Milwaukee Bucks should not be counted out from winning the title. Giannis is currently the best player in the world and has a real chance to defend that title from players like Luka and Zion for the next decade. Expect a massive season from Giannis similar to the players listed above, once a player breaks out they barely ever regress backwards.
Check Out Previous Parts!

Check out our new podcast episode!
Got Hoops Podcast
A new up and coming basketball podcast by 4 dedicated NBA and basketball fans. It's for fans, by the fans.
Got Hoops Podcast (Ep.20): The Return
Search Results placeholder
Must See
Many going into this season had doubts about the Phoenix Suns and their ability...

It's that time of the football season where we eat turkey and enjoy some...

Two nights ago, the Lakers traveled down to Detroit to play the Pistons, and...