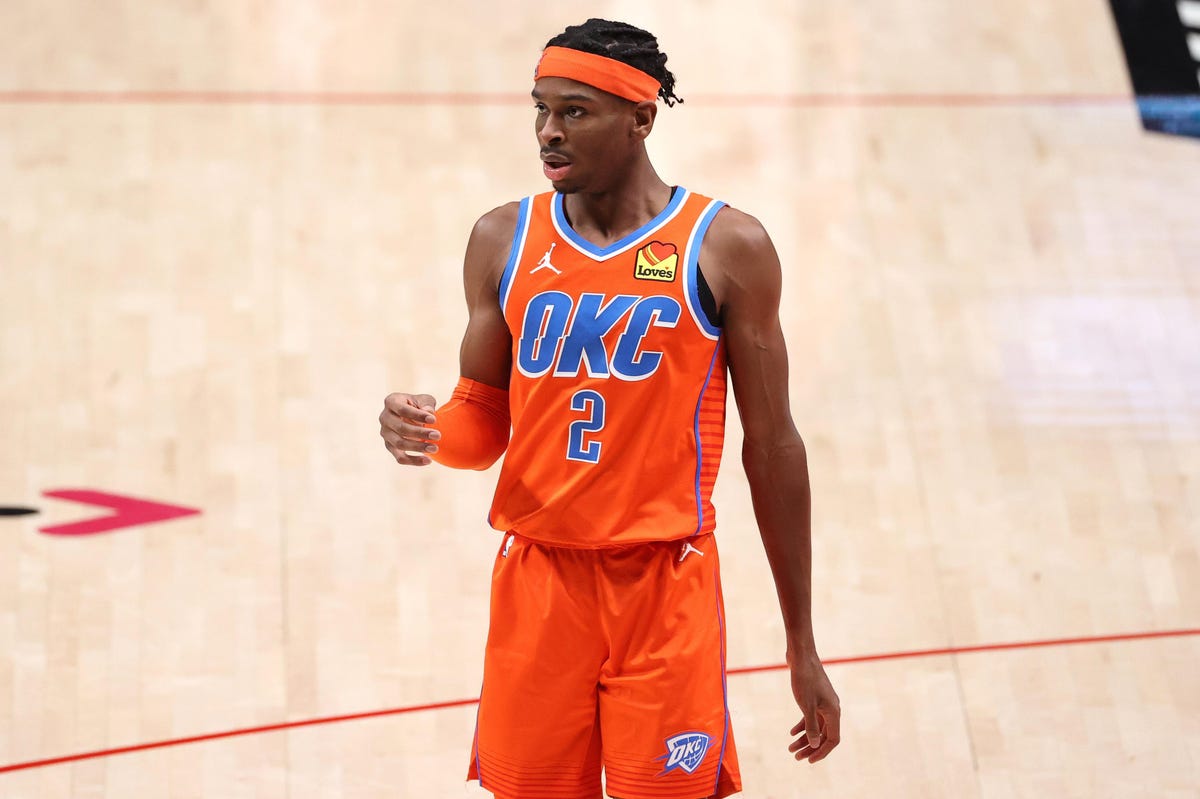 The NBA has never been so good and the league has an influx in talent that it has never had before. Every year the league becomes more loaded with talent as draft classes become better and better. Cade Cunningham, Jalen Suggs, and many more talented players joined the NBA in this year's draft but because they have yet to play a game I chose to exclude them from this list. I will try to do another piece before the season starts where I project the top 100 players next year, which will include rookies. LaMarcus Aldridge was left of this list solely because the list was created before he came out of retirement. If it was announced earlier, Aldridge would find himself just outside the 100s.
Before anyone gets mad the position listed for each player is whatever position that player registered the most minutes at last season according to Basketball Reference and the team is accurate as of 9/28
Players within 100-41 are more talented than they ever have been before. Every one of these players could potentially warrant a first-round pick in a trade and almost all these players would be extremely wanted by contenders. Within this section of the list, you will find: stars, high-end role players, and rising stars. The league is constantly changing so anyone that performs well in the playoffs has a huge advantage within the ranking because I weigh the playoffs as the most important basketball of the year.
Check Out Part 1 if You Missed it: 200-101
100-96
100. Richaun Holmes, C, Sacramento Kings
99. Lugentz Dort, SG, Oklahoma City Thunder
98. Kyle Anderson, PF, Memphis Grizzlies
97. RJ Barrett, SG, New York Knicks
96. Cameron Johnson, PF, Phoenix Suns
Four high-level role players and an emerging star are in this group. Richaun Holmes last year proved his worth in the NBA by being a serviceable center and earned himself a 47 million dollar deal. Despite only being 27 I would not expect too much more from Holmes besides what we saw last season. Lugentz Dort is one of the best ball stoppers in the NBA and a very good role player. It is really disappointing the Thunder are not good because Dort is the exact player you would want in the playoffs and at only 22 years old he possibly has more to offer. 
Slow-mo, Kyle Anderson is a very fun player to watch. Anderson earned his nickname by playing at a very slow pace but despite his speed, he is still very good at picking defenses apart with his head. Not only that but Anderson is also a good defender and is one of the core members of the Memphis Grizzlies roster. Cameron Johnson showed he belongs in his rookie year but this season he proved that he is a very good basketball player. Out of college people thought he was too old and slow (me included) but Johnson's jump shot and defense was very good and he was a core part of the Phoenix team that made the finals. 
RJ Barrett was my pick for most improved player last season and despite that being incorrect he still showed improvement and some flashes of stardom. I stated that RJ Barrett will be a top 25 player in five years and I still stand by that. Tom Thibodeau is an above-average coach and helps teams make the playoffs but he is not very good at using young players. RJ is not currently being used right in New York. The Knicks use RJ as someone to play off the catch and mainly as a shooter but that is not what RJ is. RJ thrives the most when the ball is put in his hands in isolation. Once the Knicks learn to do this we will see RJ Barrett how really is.
95-91
95. Anthony Edwards, SF, Minnesota Timberwolves
94. Myles Turner, C, Indiana Pacers
93. Brook Lopez, C, Milwaukee Bucks
92. Derrick Rose, PG, New York Knicks
91. Dejounte Murray, PG, San Antonio Spurs
Myles Turner is a very polarizing player. Some look at Myles Turner's defense and believe that if he were on another team he would become a valuable asset in this league and others believe he is an overrated player that has not shown much progression since his sophomore season. I land somewhere in the middle of this debate and think Turner is a good role playing center but do not buy into the narrative that he has an incredible ceiling. Brook Lopez has revolutionized his career and potentially how we think of "shooters". Early in his career, Lopez was a post player that never shot threes and now he is a stretch five that started on a team that brought a title back to Milwaukee.
The Derrick Rose story is truly incredible. Rose went from an MVP to an injury-prone player, to an inefficient player, to now being a really good backup point guard. After the Knicks were able to sign Kemba Walker, Derrick Rose will be able to play in the role that he should, backup point guard. Dejounte Murray plays almost the complete opposite of Derrick Rose. While Rose is a score-first guard, Murray is a defensive-orientated guard. 
Anthony Edwards showed why he was the number 1 pick in the second half of last year. Edwards showed flashes of elite leveling scoring and high-level shot creation after the All-star break. There are still many questions about Edwards' game like playmaking and defense but Timberwolves fans can not help but be happy at the way Edwards finished the season. Expect Edwards to average over 20 points a game this season and potentially be a high-level scorer as his career progresses. Between Edwards and Karl Anthony-Towns, the Timberwolves' future may be getting brighter.
90-86
90. Jae Crowder, PF, Phoenix Suns
89. Norman Powell, SF, Portland Trail Blazers
88. Serge Ibaka, C, Los Angeles Clippers
87. Kristaps Porzingis, C, Dallas Mavericks
86. Reggie Jackson, PG, Los Angeles Clippers
Jae Crowder proved to be extremely valuable for the Phoenix Suns this year. Most of the credit should be on Chris Paul because he was the most pivotal addition for the Phoenix Suns but Jae Crowder deserves credit as the second most important addition that the Suns made. Norman Powell is a very good 3 and D player and potentially underrated. Obviously, the Portland Trail Blazers agree because he earned himself a 90 million dollar deal this offseason. Norman fits well in a small-ball lineup next to Lillard and McCollum and his success will be pivotal in Lillard's decision to stay or leave. 
Two clippers are in this section of the list as high-level role players. Serge Ibaka was a good starting center all season long but a back injury caused him to miss the playoffs preventing us from seeing him play playoff basketball. I like to think I value the regular season as ⅓ of a player's ranking and the playoffs as ⅔ so if Ibaka played in the playoffs he could have been much higher or possibly lower than what he is ranked now. The other Clipper was one of the biggest stories of the playoffs. Reggie Jackson went from a below-average backup point guard to now a potentially good starting point guard for the Clippers. During the playoffs, Reggie Jackson ranked 1st overall in isolation scoring. Does this mean that Jackson is the best isolation scorer in the league, absolutely not but the Clippers may have found a role for Jackson that allows him to find success that he has never before. 
Kristaps Porzingis is the 87th best player in the NBA. The 7'3, highly mobile, shooter is the 87th best player in the NBA, which is really bad. We have seen Porzingis truly be a unicorn but when he is not the primary scorer his production versus expectation has been terrible. Porzingis shies away from post play and plays as if he is a shooting guard. I am not sure there has ever been a 7'3 player that does not play in the post like Kristaps does. Not only that but Porzingis is a good shot blocker but a very poor defender. This might seem impossible but Porzingis does not guard the post well and despite him moving well he can not guard faster players. Dallas is in a very tough situation with Porzingis and I hope for Luka Doncic's sake that they figure it out.
85-81
85. Jordan Clarkson, SG, Utah Jazz
84. Caris LeVert, SF, Indiana Pacers
83. Bojan Bogdanovic, PF, Utah Jazz
82. Buddy Hield, SF, Sacramento Kings
81. Tyrese Haliburton, SG, Sacramento Kings
Jordan Clarkson and Caris LeVert are much different on this list. Jordan Clarkson is someone that has finally found his role within the NBA and Caris LeVert is someone that still has high potential but has not yet found a role in the league. Jordan Clarkson used to be a poor defending and extremely inefficient player and now he is a poor defending and efficient player. Despite the defense, Clarkson is a very good asset off the bench and is now someone that can help a team make a playoff run. On the other hand, some nights Caris LeVert is the opposite and some nights will shoot 30% and on other nights he will score 30 points. Despite already being 27 it seems that there is some unlocked potential if a team can find out the right way to use him.
Bojan Bogdanovic has consistently been a great role player for a while now. Bojan is a big body to use on defense and on offense he is an underrated shot creator. It seems the Jazz have a lot of "good players" and one day they might consider condensing them into higher talented players next to Donovan Mitchell and Rudy Gobert. Buddy Hield was thissss close to being a Los Angeles Laker, and it is disappointing for his career that he is not. Buddy Hield is one of the best shooters in the league and no one would have shown the world that more than LeBron James. Instead the Lakers chose to go with Russell Westbrook and Buddy Hield is still stuck in Sacramento.
Tyrese Haliburton was one of the best rookies in the league last year despite not having the sexiest stats. Haliburton manages the game like a 10-year veteran despite only being 21 years old. Haliburton plays completely differently than his backcourt partner De'Aaron Fox. Fox is a high-tempo score first guard while Haliburton is game managing point guard. If Davion Mitchell finds success in the backcourt next season expect the De'Aaron Fox trade rumors to start. In my opinion, Tyrese Haliburton is a better franchise building block than De'Aaron Fox 
80-76
80. Jaren Jackson Jr., C, Memphis Grizzlies
79. Blake Griffin, PF, Brooklyn Nets
78. De'Andre Hunter, SF, Atlanta Hawks
77. Jonathon Isaac, PF, Orlando Magic
76. Seth Curry, SG, Philadelphia 76ers
Jaren Jackson ranked higher on this last year but at some point, injuries have to hurt how you can rank someone on this list. Jackson has all the tools of a really good player but injuries have kept him back from both reaching his potential and getting a lot of playing time. De'Andre Hunter started the season just under an All-star level player but injuries interrupted that run. After missing most of the regular season, Hunter returned for the playoffs but did not return to the form he started the season in.
Jonathan Isaac was one of the favorites for most improved player in the league two seasons ago but then he tore his ACL missing most of the last two seasons. Isaac is one of the league's premier defenders but still has a lot of work to be done on the offensive end. Isaac is the Orlando Magic's biggest blue-chip prospect and as long as he stays healthy he and Jalen Suggs could build something there. For most of his career, Seth Curry has been overshadowed by his older brother but he had a very good season last year in Philadelphia. Curry is one of the league's best shooters in the league and is a quality starter now within the NBA. 
Blake Griffin rejuvenated his NBA career unlike many players have in recent memory. Griffin went from extremely overpaid, unhappy, and aging in Detroit to being a very successful role player in Brooklyn. Griffin was able to fill a Draymond Green-like role last season for the Nets and his ability to let the Nets go small is what makes him so deadly. For the first time in his career, Griffin seems to only care about winning and makes all the little plays you would ask your role players to make.
75-71
75. Jarrett Allen, C, Cleveland Cavaliers
74. Al Horford, C, Boston Celtics
73. Fred VanVleet, SG, Toronto Raptors
72. Dillion Brooks, SF, Memphis Grizzlies
71. Aaron Gordon, PF, Denver Nuggets
Jarrett Allen got PAID this offseason by getting a five-year 100 million dollar extension with the Cleveland Cavaliers. The Cavaliers will be very interesting this year with Jarrett Allen, Evan Mobley, Kevin Love, and Lauri Markkanen all in the frontcourt. With the five-year deal obviously, the Cavaliers believe Allen will be a part of their long-term plans next to Evan Mobley. Al Horford has had a wild ride the last two seasons. He was terrible on the 76ers but during a small sample size with the Thunder, he looked like a serviceable center. Horford may be the solution for the Celtics center problem they had all last season. 
Fred VanVleet finds a way to both be underrated and overrated at the same time. When you view VanVleet as your 3rd or 4th scoring option he can maintain efficiency and be fairly underrated. On the flip side if you ask him to be one of your top two scorers he struggles to stay efficient and to help the team win. Dillon Brooks made a name for himself last playoffs by showing his gritty defense and showing that he has a competent offensive game. Ja Morant needs an elite two-way player next to him in order for the grizzlies to succeed and Brooks might just become him, with time. 
For years analysts said that if Aaron Gordon could find a new situation he might have much more success. After years of waiting Gordon was dealt to Denver and has proven to be deadly next to Nikola Jokic. Gordon is such a nightmare for defenses because of his ability to cut paired with Jokic's elite passing. Not only this but on defense, Gordon acts as a sort of swiss army knife being able to guard most players on the court. Because of these abilities, Gordon recently earned himself a 92 million dollar extension with the Nuggets. 
70-66
70. Tim Hardaway Jr., SF, Dallas Mavericks
69. OG Anunoby, SF, Toronto Raptors
68. Jusuf Nurkic, C, Portland Trail Blazers
67. D'Angelo Russell, PG, Minnesota Timberwolves
66. Harrison Barnes, PF, Sacramento Kings
Tim Hardaway is a great player to pair next to Luka Doncic. Hardaway not only can operate as a catch and shoot player but also he has the ability to create his own shot off of the dribble. Hardaway shot 39% from three last season which is exactly what you want when Luka Doncic is on your roster. OG Anunoby is still underrated within the NBA but had a fairly disappointing season. Next season opposing teams' wings should be scared at the thought of OG Anunoby and Scottie Barnes guarding them every night when they play Toronto. Expect to see a big season by OG this year.
Jusuf Nurkic is a very good and serviceable starting center but by no means a star. In the regular season, Nurkic is very good but in the playoffs, he gets played off the floor because of his lack of perimeter defense. For this reason, he is probably not the right center for the Blazers if Lillard really wants to win a championship. Harrison Barnes is maybe the best version of a 3 and D role player. The Kings love him, but he would show his value more if he was on a team that was competing in the playoffs. As already stated the Kings are stacked at positions 1-3 so moves may be necessary at some point throughout this season. 
D'Angelo Russell is harder to judge than possibly any player in the league. Russell is a decent playmaker and above-average scorer but does not do anything else that well. The Timberwolves now have a decent roster and Russell may be the X-factor of their success. Towns, Edwards, Beasley, Beverley, and Naz Reid, make for a good roster and if Russell can contribute as a good starting point guard then the team may have success. If Russell can return to the way he was in Brooklyn this Minnesota team could be very fun to watch. 
65-61
65. Collin Sexton, SG, Cleveland Cavaliers
64. Marcus Smart, SG, Boston Celtics
63. Terry Rozier, PG, Charlotte Hornets
62. Spencer Dinwiddie, PG, Washington Wizards
61. Kemba Walker, PG, New York Knicks
TRADE COLLIN SEXTON. That might be an aggressive way to start the Collin Sexton section but it is very true. Sexton is a good player but he is being overused in Cleveland which hurts his teammates and causes him to be overrated. Sexton is a good scorer but by no means is he a 24 point per game scorer. Sexton would thrive the most as a second or third option for a good playoff team. Marcus Smart is the player you love on your team until you don't. Smart brings a defensive heart to a team and offensive skill to a team but the problem is Marcus Smart believes he is a Bradley Beal type player. On many occasions, Smart will shoot questionable shots or make bad reads but he more than makes up for it with his defense. 
Terry Rozier made a leap this year from a good bench scorer to a legitimate starting point guard. LaMelo is the team's facilitator and Rozier plays well next to him by being the score-first guard. I am unsure what Rozier's future is with the Hornets, despite him having 5 years left on his deal they did just draft James Bouknight. If Bouknight becomes a legitimate player like I believe then Rozier may not be long for Charlotte. Spencer Dinwiddie will be joining Bradley Beal in Washington this season. Dinwiddie missed all of last season but will prove this year that he is a borderline star and if he can stay healthy he will be much higher on this list. 
Kemba Walker is another player that is extremely hard to rank. Walker suffered a lot of injuries this season and when he did play it was not that good. Walker's poor play can almost certainly be blamed on his health but it does beg the question about his longevity in the league. Walker is already 31 years old and has the lower body of about a 40-year-old. If Walker stays healthy, which is a big if, then he will give the Knicks added scoring that they desperately needed last season. The shots and minutes that went to Derrick Rose last year will be Kemba's and between Walker, Randle, and Barrett, the Knicks could repeat the success they had last year. 
60-56
60. Lonzo Ball, PG, Chicago Bulls
59. Jonas Valanciunas, C, New Orleans Pelicans
58. TJ Warren, SF, Indiana Pacers
57. Jerami Grant, PF, Detroit Pistons
56. Malcolm Brogdon, PG, Indiana Pacers
Like many modern centers, Jonas Valanciunas is a player that you love to have on your team in the regular season but he can lose value in the playoffs. Valanciunas is an underrated scorer and has a great knack of grabbing a lot of rebounds. His fit next to Zion in New Orleans is questionable because of his lack of jump shot but he could help them in the regular season. TJ Warren was one of the biggest stories of the bubble a year ago but after a major injury, he missed basically all of this season. We still have yet to see if Bubble Warren was any indication of star-level potential for TJ Warren.
Jerami Grant finished second this season in most improved voting and was close to making his first all star game. Grant showed us that when given the opportunity he has much more to offer but while his production went up his efficiency dropped. Now that he will be a second option behind Cade Cunningham his stats will probably take a dip but his efficiency may rise back up. Malcolm Brogdon is just a constant positive player for your team. On defense, Brogdon can guard most guards in the league and on offense he is efficient and can run the offense how you would like your point guard to do.
Lonzo Ball seems to be everyone's favorite to win next year's most improved player award and that is not a bad prediction. After a two-year stint with the Pelicans, Lonzo will be joining the new-look Chicago Bulls next year. Next to good players like Zach LaVine, Nikola Vucevic, and DeMar DeRozan, Lonzo should be able to do what he does best. This means on defense he can be the great defender that he is and on offense, he can hit open shots and facilitate for others. Lonzo has gotten better every season he has been in the league and I expect him to continue that pattern and help the Bulls make the playoffs this season.
55-51
55. Bogdan Bogdanovic, SF, Atlanta Hawks
54. Mikal Bridges, SF, Phoenix Suns
53. John Collins, PF, Atlanta Hawks
52. Clint Capela, C, Atlanta Hawks
51. Mike Conley, PG, Utah Jazz
Hawks hold 3 of the spots on this section of the list. Bogdan Bogdanovic comes in the lowest as a really good starting shooting guard next to Trae Young. Bogdanovic was really good in the first two rounds of the playoffs before injuries caused him to miss a couple of games. Bogdanovic, when healthy, can be a deadly weapon when you have such a lethal playmaker like Trae Young. Another deadly weapon that Trae Young makes better is Clint Capela. Capela was more than impressive this year as a lethal role man and a great rebounder for the Hawks. The Hawks are filled with skilled high-end role players and when paired next to Trae Young, that is what makes the team so good. The last Hawk in this section is John Collins. Collins can be a polarizing player because some nights he has a tendency to disappear but when he is playing well it is easy to understand why he is a 125 million dollar player. 
Mikal Bridges is similar to how I described Cameron Johnson earlier but he is more dynamic in everything he does. On defense Bridges keeps up with every wing in the league, the only time he struggles is when guarding physically stronger players. On offense, Bridges does what you ask him to do, and on Phoenix that is mostly moving the ball and hitting shots. Mike Conley had a major bounce-back season this year. In his first year in Utah, Conley seemed to be aging quickly and was not quite able to be the player he was in Memphis. This year was completely different with Mike Conley even being an All star for the first time in his career. Mike Conley was one of the major reasons that Utah was able to get the number 1 seed and win a playoff series.
50-46
50. Michael Porter Jr., PF, Denver Nuggets
49. LaMelo Ball, PG, Charlotte Hornets
48. Tobias Harris, PF, Philadelphia 76ers
47. Pascal Siakam, PF, Toronto Raptors
46. Christian Wood, C, Houston Rockets
Talent gets better yet again with this section of the list. Michael Porter Jr. took an expected leap this year to become a really deadly scorer in Denver. Porter is so lethal because of the combination of his 6'10 frame and his shot-making ability. Porter is a future 25 points per game scorer it just may be a little bit because the offense moves through Nikola Jokic. Tobias Harris can be looked over a lot of times in Philadelphia because of Joel Embiid and Ben Simmons but he is a very good player. The problem with Tobias Harris is that he is extremely inconsistent. One night Harris will score 34 points and the next he will score 12, if Harris became more consistent he would easily be a top 40 player. 
Pascal Siakam has dropped many spots since he won a title in Toronto. Siakam's game has yet to evolve past the post spins that he was doing two seasons ago. Siakam is still a good player but his game is beginning to feel stale and I am starting to question his impact on winning. Christian Wood burst onto the scene at the beginning of last season and proved to be one of the best mobile centers in the league. Like almost every player in the league, Wood fought injuries almost all of last season but when he played he was really good. It will be interesting to see if Houston views him as a future building block or someone that will allow them to acquire more assets.
LaMelo Ball is one of the most fun players to watch in the whole league but talent has not yet matched how fun he is. Notice how I said yet, because LaMelo will be a top 40 player next season and probably a top 20 player within the next couple of years. What makes Ball so good is his ability to help a team win however that is. Ball is one of the best passers in the league and has the ability to score when it is needed. Ball's jump shot looks serviceable which was one of the biggest things against him going into the 2020 NBA draft. Ball right now is just fun but not too long from now he will be among the league's best. 
45-41
45. DeMar DeRozan, PF, Chicago Bulls
44. De'Aaron Fox, PG, Sacramento Kings
43. Nikola Vucevic, C, Chicago Bulls
42. Shai Gilgeous-Alexander, SF, Oklahoma City Thunder
41. Gordon Hayward, SF, Charlotte Hornets
DeMar DeRozan has flown under the radar these last couple years as a sub All-star on a mid-level team in San Antonio. DeRozan is still a good offensive player and will give the Bulls different looks next year when paired with Zach LaVine. The problem with DeRozan is he plays a very analytically poor game. DeRozan does not shoot many 3 pointers and settles for a lot of deep 2 pointers. I am lower on De'Aaron Fox than most because he is a poor defender and not very good in the half-court setting. Fox may be the fastest player in the NBA which helps him dominate fast breaks but when the game is slowed down in the half-court he struggles to create both for himself and others. On the defensive end, Fox has quick hands which allow him to get a lot of steals but he is still a poor defender. 
Nikola Vucevic was pretty good last season earning himself a place in the All star game. Before the trade deadline, Chicago dealt two first-round picks and Wendell Carter for the All-star big man. Despite a steep price for the trade Vucevic underperformed tremendously averaging 3 less points than in Orlando. Gordon Hayward finally had the career rejuvenating season we have been waiting for. Hayward was the best player on a team that was fighting for a playoff spot at the end of the season. Hayward is such a good player because he seemingly always makes the right play and is a very smart player. Most of what Gordon Hayward does is things that do not show up in the stat sheet like making the extra pass or having the right defensive rotation. 
I am much lower on Shai Gilgeous-Alexander than most other people. Most people have Gilgeous-Alexander around the 30 spot give or take some. Analytically Gilgeous-Alexander was incredibly impressive last season but he played for a team where he could do whatever he wanted. In order for me to view Gilgeous-Alexander as a true star, I need to see him contribute to winning and play in a system where we can truly view what kind of talent he is. One thing is for certain, Gilgeous-Alexander has a real future as a star and as things stand right now he is the blue-chip prospect that could bring the Thunder out of a never-ending rebuild.
To Be Continued…
Check out 200-101 if You Missed It

Check out our new podcast episode!
Got Hoops Podcast
A new up and coming basketball podcast by 4 dedicated NBA and basketball fans. It's for fans, by the fans.
Got Hoops Podcast (Ep.20): The Return
Search Results placeholder
Must See
Many going into this season had doubts about the Phoenix Suns and their ability...

It's that time of the football season where we eat turkey and enjoy some...

Two nights ago, the Lakers traveled down to Detroit to play the Pistons, and...