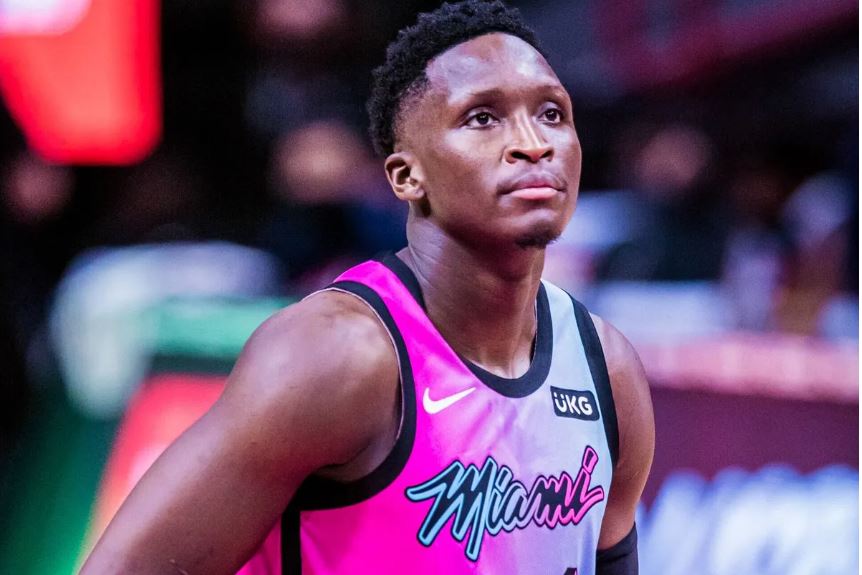 The NBA has never been so good and the league has an influx in talent that it has never had before. Every year the league becomes more loaded with talent as draft classes become better and better. Cade Cunningham, Jalen Suggs, and many more talented players joined the NBA in this year's draft but because they have yet to play a game I chose to exclude them from this list. I will try to do another piece before the season starts where I project the top 100 players next year, which will include rookies. Last season I only did a top 50 list so for any players that were on that list I will say what their rank was last year but most players were not. LaMarcus Aldridge was left of this list solely because the list was created before he came out of retirement. If it was announced earlier, Aldridge would find himself just outside the 100s.
Before anyone gets mad the position listed for each player is whatever position that player registered the most minutes at last season, according to Basketball Reference, and the team is accurate as of 9/5.
Players that are outside the top 100 are still making eight-figure salaries every year. The players between 101 and 200 can vary between role players, regressing veterans, and rising stars. Because this section is of the less "sexy" players, I chose too write about players in groups of ten. Some players had nothing said about them but I was just trying to put out my list.
Honorable Mentions
LaMarcus Aldridge, C, Brooklyn Nets
Cole Anthony, PG, Orlando Magic
Nerlens Noel, C, New York Knicks
Kevon Looney, C, Golden State Warriors
Cam Reddish, SF, Atlanta Hawks
Taj Gibson, C, New York Knicks
Desmond Bane, SF, Memphis Grizzlies
Jae'Sean Tate, SF, Houston Rockets
200-191
200. Dwight Powell, C, Dallas Mavericks
199. Immanuel Quickley, PG, New York Knicks
198. Coby White, PG, Chicago Bulls
197. Rajon Rondo, PG, Los Angeles Lakers
196. Talen Horton-Tucker, SF, Los Angeles Lakers
195. JaMychal Green, PF, Denver Nuggets
194. Dario Saric, C, Phoenix Suns
193. Malik Monk, SG, Los Angeles Lakers
192. Gary Trent Jr., SG, Toronto Raptors
191. Jeff Green, PF, Denver Nuggets
As already said, the NBA is better than ever. Anyone in the top 200 could still be a useful player in the playoffs. Players like Rajon Rondo, JaMychal Green, and Jeff Green are still useful players to contenders but are trending backwards in terms of this list. Rondo recently signed with the Los Angeles Lakers so it will be very interesting to see if he can make an impact on a contender. There is a very good chance that one of Talen Horton-Tucker or Malik Monk is finishing games for the Lakers next season. If that happens and they succeed in that role there is an underrated chance that either of them could be a top 100 player next season.
Immanuel Quickley and Coby White are major question marks as they both are in the young parts of their careers and have not shown flashes that would warrant a higher ranking. Gary Trent is the opposite as he has shown many flashes of being a very good player but is not yet efficient enough to be called one. This year, expect a big season from Trent as he starts to get comfortable in Toronto.
190-181
190. Patrick Williams, SF, Chicago Bulls
189. Wayne Ellington, SG, Los Angeles Lakers
188. Josh Richardson, SG, Boston Celtics
187. Saddiq Bey, SF, Detroit Pistons
186. Luke Kennard, SG, Los Angeles Clippers
185. DeAndre Jordan, C, Los Angeles Lakers
184. Rudy Gay, PF, Utah Jazz
183. Brandon Clarke, PF, Memphis Grizzlies
182. Jakob Poeltl, C, San Antonio Spurs
181. Isaiah Stewart, C, Detroit Pistons
Seven of these ten players are on teams that are projected to make the playoffs next season which could easily cause any one of them to fly up the list. The biggest potential riser is Patrick Williams. Williams is a projected starter on a mid-level playoff team in the eastern conference. Because of that expect to see Williams closer to 100 next year than 200. Rudy Gay was underwhelming last year but he was also an underrated signing with the Utah Jazz.
Two Pistons make this part of the list in Saddiq Bey and Isaiah Stewart. The Pistons will be a very fun team to watch next year with young players like Bey and Stewart playing alongside the top pick in Cade Cunnigham. Stewart is better at this moment but I would expect Bey to be the better player moving forward. Saddiq Bey is someone that should be in Detroit long term and will thrive next to Cade Cunningham and Killian Hayes.
180-171
180. Kenrich Williams, SF, Oklahoma City Thunder
179. PJ Washington, PF, Charlotte Hornets
178. DeVonte Graham, PG, New Orleans Pelicans
177. Cody Zeller, C, Portland Trail Blazers
176. Trevor Ariza, PF, Los Angeles Lakers
175. Kyle Kuzma, SF, Washington Wizards
174. Grayson Allen, SG, Milwaukee Bucks
173. Marcus Morris Sr., PF, Los Angeles Clippers
172. Terrence Ross, SG, Orlando Magic
171. Markelle Fultz, PG, Orlando Magic
When I look at these players the first thing that comes to mind is that the 178th best player in the world got 47 million dollars this offseason. DeVonte Graham is a good player that still has unlocked potential but the Pelicans had to give up a first round for the right to give him 47 million dollars. Both Grayson Allen and Kyle Kuzma, who will each be 26 before the season starts, are joining new teams and will get a change of scenery. Kuzma could potentially be the 3rd or 4th option next year so he may show some of the flashes we saw his rookie year.
A pair of Magic players end this part of the list at two completely different points of their careers. Terrence Ross is now one of the best players on a young, bad Orlando team. Expect Ross to be in trade rumors and to be dealt before February's deadline. On the other hand Markelle Fultz is somehow still only 23 years old and seemed to be turning a corner before he tore his ACL at the beginning of last season. The Orlando Magic have more questions than answers at this point and Markelle Fultz is still a major question.
170-161
170. Davis Bertans, PF, Washington Wizards
169. Montrezl Harrell, C, Washington Wizards
168. Daniel Gafford, C, Washington Wizards
167. Kevin Porter Jr., SG, Houston Rockets
166. Reggie Bullock, SF, Dallas Mavericks
165. Thomas Bryant, C, Washington Wizards
164. Delon Wright, SG, Atlanta Hawks
163. Ricky Rubio, PG, Cleveland Cavaliers
162. Chris Boucher, C, Toronto Raptors
161. Andre Drummond, C, Philadelphia 76ers
Four Wizard bigs are featured in this section with Davis Bertans, Montrezl Harrell, Daniel Gafford, and Thomas Bryant. Thomas Bryant was injured all of last season so he and Montrezl will join a loaded front court rotation next season. One of the surprises of last season was Daniel Gafford's emergence as a rim runner following his trade to Washington. Expect Gafford to beat out Harrell and Bryant for the majority of the center minutes next year. With so many options the Wizards should be able to find someone to play alongside their talented guards.
Despite scoring 50 points in a game Kevin Porter only makes this list at 167. Porter's potential is high but at this point of his career he is inefficient, a poor defender, and yet to find a defined role in the NBA. With that being said he still could be a high level scorer and next to Jalen Green the Rockets will be one of the leagues much watch teams.
160-151
160. Patty Mills, PG, Brooklyn Nets
159. Keldon Johnson, SF, San Antonio Spurs
158. Josh Hart, SF, New Orleans Pelicans
157. Maxi Kleber, PF, Dallas Mavericks
156. Larry Nance Jr., PF, Portland Trail Blazers
155. Rui Hachimura, PF, Washington Wizards
154. Wendell Carter Jr., C, Orlando Magic
153. Steven Adams, C, Memphis Grizzlies
152. Bobby Portis, C, Milwaukee Bucks
151. Cameron Payne, PG, Phoenix Suns
Keldon Johnson is a name to keep an eye on this upcoming season. Johnson was featured on the United States Olympic team that won the gold medal this summer. Young players that play in the Olympics have a tendency to have "breakout" seasons following the Olympics. The tips, tricks, and work ethic that Keldon Johnson picked up in Tokyo should help him elevate his game. This would be incredible news for the Spurs considering they do not have a star and it seems that they may not even have a player with star potential.
Bobby Portis and Cameron Payne round out this portion of the list both as bench players that helped their respective teams make the NBA finals. Cameron Payne was a major surprise these playoffs having a few breakout games and helped the Suns dramatically while Chris Paul was in covid protocol. Bobby Portis, a Milwaukee fan favorite, was an excellent glue and energy guy for the Bucks throughout the playoffs and especially in the NBA finals. Both of these players signed deals to return to their teams so it will be interesting to see if they can keep the playoff momentum going.
150-141
150. Lou Williams, PG, Atlanta Hawks
149. Goran Dragic, PG, Toronto Raptors
148. PJ Tucker, PF, Miami Heat
147. Eric Gordon, SG, Houston Rockets
146. Kendrick Nunn, PG, Los Angeles Lakers
145. Dorian Finney-Smith, PF, Dallas Mavericks
144. Alec Burks, SF, New York Knicks
143. Dwight Howard, C, Los Angeles Lakers
142. Pat Connaughton, SF, Milwaukee Bucks
141. Paul Millsap, PF, Brooklyn Nets
As a whole, this is a group of very productive players that could make an impact on almost any playoff team. Kendrick Nunn and Dwight Howard are joining a very deep Los Angeles Lakers team but both could still be real contributors for a team with title aspirations. Dwight Howard is viewed through a weird lens because of what he used to be but he is still a very productive and good NBA player.
Two late free agent acquisitions are in this section with Lauri Markkanen (he is feature later but oh well) and Paul Millsap. Markkanen joins a frontcourt in Cleveland that already has Evan Mobley, Jarrett Allen, and Kevin Love. His fit next to those players this year will be very interesting and will probably lead to someone being unhappy as a result of them not being able to play together. Paul Millsap will be chasing his first championship this season joining the title favorite Brooklyn Nets and a frontcourt of Blake Griffin, Nicolas Claxton, and unretired LaMarcus Aldridge.
140-131
140. John Wall, PG, Houston Rockets
139. Jalen Brunson, PG, Dallas Mavericks
138. Tyler Herro, SG, Miami Heat
137. Danillo Gallinari, PF, Atlanta Hawks
136. Kevin Love, PF, Cleveland Cavaliers
135. Monte Morris, PG, Denver Nuggets
134. Royce O'Neale, SF, Utah Jazz
133. TJ McConnell, PG, Indiana Pacers
132. Kelly Olynyk, PF, Detroit Pistons
131. Mitchell Robinson, C, New York Knicks
It might surprise some to still see Tyler Herro in the top 150. Herro had a very bad sophomore slump but this is still the same talent that had 37 in the eastern conference finals only a year ago. This season will be pivotal for Tyler Herro and the projection of his career. The Miami Heat are a legitimate contender in the East this year so if Herro plays poorly or similar to last year, then the Heat may move on from him. I personally think it is time to buy all the Tyler Herro stock you can.
I am spending this paragraph just to talk about Monte Morris. Morris is a legitimately good point guard that can fill nearly any need on a team. Jamal Murray tore his ACL and is expected to be out until at least March and Monte Morris will slide right into the starting guard position. Morris may not be the sexiest player but when he is on the court you are not scared that he will screw up or be exposed. Morris does not turn the ball over and last year posted an impressive 4.5 assist to turnover ratio. Do not be surprised by Kevin Love being this high, he is tanking his talents for the Cavaliers. Similar to Blake Griffin, he has talent still and we will see it when he leaves Cleveland.
130-121
130. Nicolas Batum, PF, Los Angeles Clippers
129. Evan Fournier, SF, New York Knicks
128. Patrick Beverley, PG, Minnesota Timberwolves
127. Robert Williams, C, Boston Celtics
126. Darius Garland, PG, Cleveland Cavaliers
125. Ivica Zubac, C, Los Angeles Clippers
124. Dennis Schroder, PG, Boston Celtics
123. Terance Mann, SG, Los Angeles Clippers
122. Kelly Oubre Jr., SF, Charlotte Hornets
121. Kevin Huerter, SG, Atlanta Hawks
I project Darius Garland as one of the biggest jumpers on this list next year. Two seasons ago I listed Garland as the 4th best player in the draft and on the same tier as RJ Barrett and Ja Morant. I still believe that is extremely possible and this season will be the first step towards that. If Collin Sexton shows more willingness to relinquish the ball, then we will see that Darius Garland is the Cavaliers' best offensive player and a true building block for their franchise. TRADE COLLIN SEXTON.
Evan Fournier is a good player and will help the Knicks but 73 million dollars is too much for him. That's all I have to say about that. Terance Mann and Kevin Huerter both surprised last season as key playoff pieces for conference finalists. Mann made a name for himself early for his defense but last playoffs he exploded offensively in a couple games. With Kawhi projected to be out most of this season, expect a big year from Terance Mann. The red mamba was similar to Mann with his playoff explosion against the 76ers in the playoffs. Trae Young and Kevin Huerter still have the potential to develop into a splash brother backcourt (not Steph and Klay though).
120-111
120. Miles Bridges, SF, Charlotte Hornets
119. Malik Beasley, SG, Minnesota Timberwolves
118. Will Barton, SF, Denver Nuggets
117. Robert Covington, PF, Portland Trail Blazers
116. Derrick White, SG, San Antonio Spurs
115. Donte DiVincenzo, SG, Milwaukee Bucks
114. Lauri Markkanen, C, Cleveland Cavaliers
113. Andrew Wiggins, PF, Golden State Warriors
112. Jordan Poole, SG, Golden State Warriors
111. Matisse Thybulle, SG, Philadelphia 76ers
This group is very interesting because it is filled with high level role players and despite some youth, I would say none of these players have star potential. Miles Bridges is electrifying but I struggle to think of a high level role for him to fill. I view him at best as a less skilled Aaron Gordon which is still a decent player. Robert Covington seems to be very wanted but yet slightly overrated as he has now played for four teams in the last three seasons. Covington can certainly help a playoff team but I no longer believe as a starter.
Jordan Poole is arguably the most interesting player in this group. As a rookie Poole was horrendous and it already seemed like he was going to be a waste of a first round pick. But as many have before, Poole showed that progression after their rookie season is very possible. Last year Poole was great making two 3 pointers a game on 35% shooting from three. If Poole can continue to develop on both sides of the floor, he could become an extremely valuable piece for a team with title aspirations.
110-101
110. Bruce Brown, SG, Brooklyn Nets
109. Doug McDermott, PF, San Antonio Spurs
108. Thaddeus Young, PF, San Antonio Spurs
107. Mason Plumlee, C, Charlotte Hornets
106. Joe Ingles, PF, Utah Jazz
105. Joe Harris, SF, Brooklyn Nets
104. Danny Green, SF, Philadelphia 76ers
103. Kentavious Caldwell-Pope, SF, Washington Wizards
102. Duncan Robinson, SG, Miami Heat
101. Victor Oladipo, PG, Miami Heat
This is where the talent starts to become really good. Bruce Brown is my favorite non-star in the entire NBA. On defense, he is willing to chase and guard the opponents best guard and does a great job at it. On offense, Brown has a knack at finding open spaces and creating good shots for himself and others. Brown is nowhere near a star but what he does next to Durant, Harden, and Kyrie, is extremely valuable. Victor Oladipo barely misses the top 100 after an extremely inefficient season. After returning to the Miami Heat, if Oladipo can show he is capable of staying healthy then he will jump right back into the top 100.
Joe Ingles, Joe Harris, Danny Green, Kentavious Caldwell-Pope, and Duncan Robinson are all very similar as high end role players. Inges, Harris, and Green all thrive as 3 and D players for championship contenders. Expect a big year out of Kentavvious Caldwell-Pope as he will have many different opportunities offensively now that he is not playing with LeBron James. I did not include Robinson as a 3 and D player above because he is a better shooter than all of those players and a worse defender than all of those players. Robinson's shooting alone is what earned him a 90 million dollar contract.
To Be Continued…