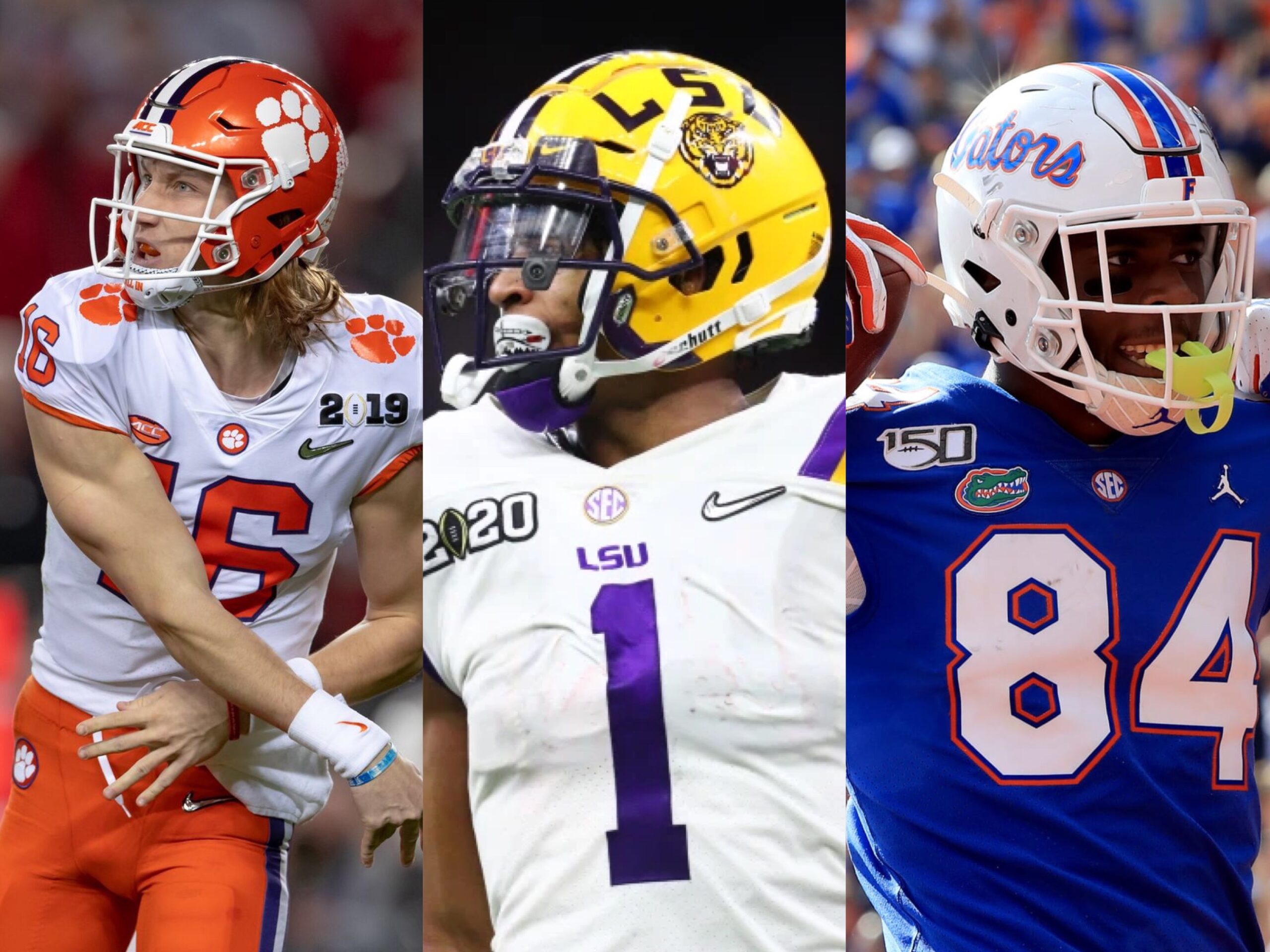 The NFL Draft season is always one of the most fun times of the year for me, scouting players and watching film, making countless mock drafts in my free time, and everything that comes with it. Draft season is coming up very soon in the NFL and it's time we get in our first official NFL mock draft of the year, let's get into it…
1. Jacksonville Jaguars: Trevor Lawrence, QB
I mean this is pretty straightforward, Urban Meyer signed with the Jaguars knowing he'd get Trevor Lawrence and that's where he will go.
2. New York Jets: Zach Wilson, QB
The Jets traded away Sam Darnold which definitely meant they are going QB with the second overall pick, Wilson might end up becoming the best QB in this class when it's all said and done.
3. San Francisco 49ers: Justin Fields, QB
There's a reason why the 49ers traded so many assets to get a top 3 overall pick, they're going QB and Justin Fields would be that dynamic player at that position they've been looking for ever since Kaepernick.
4. Atlanta Falcons: Trey Lance, QB
This was a really hard pick as the Falcons could either go get a weapon for Matt Ryan in Kyle Pitts here or get his replacement, I went with replacement.
5. Cincinnati Bengals: Ja'Marr Chase, WR
After Bengals GM's comments regarding the OL depth in this draft, it seems like the Bengals will be pushing towards getting Burrow a top-tier weapon in the first round and Chase would be a great option.
6. Miami Dolphins: Kyle Pitts, TE
Kyle Pitts is one of the more intriguing players in this draft and is one of the most physically gifted TE prospects I have ever seen, if ever. The Dolphins get themselves a new weapon for Tua to use this upcoming season.
7. Detroit Lions: Devonta Smith, WR
Jared Goff was at his best when he had elite weapons around him and Devonta Smith is definitely one of them. Smith can do wonders with the ball in his hands and has arguably the best route running in this draft. They need a replacement for Golladay and Smith could come in and bring offense immediately.
8. Carolina Panthers: Penei Sewell, OT
Penei Sewell might be the most talented OL prospect we've seen in years, but gets drafted at #8 due to a run of QBs and weapons at the top of the draft. Panthers bring in Sewell to bring some protection for Sam Darnold/Teddy Bridgewater.
9. Denver Broncos: Mac Jones, QB
Sad to see the Drew Lock era end, but I don't think many Broncos fans will be complaining about this pick. Mac Jones makes it 5 QBs drafted within the first 9 picks in this draft, insane.
10. Dallas Cowboys: Patrick Surtain II, CB
The Cowboys had one of the worst defenses in the league this past season, it's time they invest into it. Getting a cornerback like Patrick Surtain II to provide some stability will definitely help improve the defensive backfield.
11. New York Giants: Rashawn Slater, OT
Some think Slater is the best OT prospect in this draft and some see Sewell, either way, the Giants are getting a great o-linemen prospect in this draft. They need to protect Daniel Jones and one way is to get him some help upfront.
12. Philadelphia Eagles: Jaylen Waddle, WR
They decided to move on from Carson Wentz this offseason so now it's time to build around Jalen Hurts. One way to do so? Give him a speedy receiver to work with in Jaylen Waddle.
13. Los Angeles Chargers: Christian Darrisaw, OT
The Chargers want to protect their franchise QB in Justin Herbert and the best way doing that would be getting him more help on the front-end to make sure he doesn't get touched.
14. Minnesota Vikings: Micah Parsons, LB
Micah Parsons is one of the most intriguing defensive prospects in this draft. He has the talent of a top 5 player in this draft, but won't get drafted that high due to the runs on quarterbacks, receivers, and offensive linemen in the top half of this draft. Vikings are getting a major steal.
15. New England Patriots: Caleb Farley, CB
Many would want the Patriots to trade up maybe to grab a quarterback prospect like Mac Jones, but they stay put and draft a defensive back to help their defense. They could also consider getting a weapon for Cam Newton offensively, but they choose defense this round instead.
16. Arizona Cardinals: Gregory Rousseau, DE
They have aging stars in JJ Watt and Chandler Jones so it's time they bring in a young defensive pass rusher to help the core. Rousseau would come in and provide rotational snaps immediately and bring an impact for the Cardinals defense.
17. Las Vegas Raiders: Alijah Vera-Tucker, OT
They traded away some offensive linemen this offseason so it's only right they bring in some talent through the draft immediately to fill the voids. Vera-Tucker can play tackle or guard for the Raiders, he could slot in and start immediately.
18. Miami Dolphins: Kwity Paye, DE
The Dolphins go defense and grab Paye to help bolster the defensive line and provide a boost to the pass rush. Paye could come in and start and bring a boost to the unit the moment he gets there. Paye has huge potential with his physical abilities and would be an interesting option for the Dolphins at #18.
19. Washington Football Team: Jeremiah Owusu-Koramoah, LB
Another linebacker with an insane athletic profile that I think the WFT will definitely be intrigued by. They need some new talent in the linebacker core and adding Owusu-Koramoah would do just that.
20. Chicago Bears: Rashod Bateman, WR
One of my favorite underrated WR prospects in this draft, I'd love to see him on the Bears being paired with Allen Robinson. He will definitely give new Bears starting QB Andy Dalton another beast weapon to play with.
21. Indianapolis Colts: Jaelen Phillips, DE
Another edge prospect with a lot of potential with his crazy athleticism. He had a really productive season this past year and would bring a spark to the Colts defensive linemen immediately.
22. Tennessee Titans: Kadarius Toney, WR
The Titans lost Corey Davis this past offseason to the Jets and are going to be needing to draft a replacement. Toney is a speedy receiver that can make plays with the ball in his hands, he would bring much-needed explosion to the WR room for the Titans instantly.
23. New York Jets: Jaycee Horn, CB
After drafting a quarterback at the top of the draft, they decide to go cornerback this time around. Jaycee Horn is a great zone coverage cornerback that can play on the outside really well, can start for the Jets immediately.
24. Pittsburgh Steelers: Najee Harris, RB
The Steelers offense has been missing a consistent rushing attack after the departure of Le'Veon Bell and Harris would be that dynamic back they've been wanting for some years now.
25. Jacksonville Jaguars: Trevon Moehrig, S
The Jaguars decided to draft their new franchise QB with the 1st overall pick and now decide to grab a safety with their 2nd 1st round pick. Moehrig would start immediately for the Jaguars in the defensive backfield and bring good ball skills and edge to the safety position for the Jags instantly.
26. Cleveland Browns: Zaven Collins, LB
Collins is a huge linebacker at 6'4 that is a great instinctive tackler. He would bring an impact to the Browns defense with his instincts to find the ball-carrier.
27. Baltimore Ravens: Elijah Moore, WR
The Ravens decide to grab a weapon for Lamar Jackson to work with in Elijah Moore. Moore can play on the outside and on the inside and would help Jackson in the passing game tremendously.
28. New Orleans Saints: Terrace Marshall Jr., WR
It's only right they get a wide receiver from the area in Terrace Marshall Jr. to help bolster their WR room. They're lacking in a #2 option after Michael Thomas and Marshall Jr. could slot in that position instantly
29. Green Bay Packers: Rondale Moore, WR
This first round will go down in history as one of the craziest WR drafted first rounds ever. Moore makes it an 8th receiver drafted in the first round and much needed so. It's only right to give Rodgers another option to throw to other than Davante Adams, Moore would bring some stability in case of an Adams injury.
30. Buffalo Bills: Christian Barmore, DL
Christian Barmore is an explosive 3-technique that would bring help to the defensive line of the Bills. The Bills have a good thing going on the offensive side of the ball, so now it's time to invest in the defense more.
31. Kansas City Chiefs: Samuel Cosmi, OT
All you needed to watch was the Super Bowl to see that the Chiefs desperately need some offensive linemen and Cosmi would be a slot-in immediately at the tackle spot.
32. Tampa Bay Buccaneers: Greg Newsome II, CB
The Buccaneers could use some depth at the corner position and more talent and Newsome II would bring that. They have the offensive side of the ball figured out, so time to grab some talent for the defensive backfield.

Check out our new podcast episode!
Got Hoops Podcast
A new up and coming basketball podcast by 4 dedicated NBA and basketball fans. It's for fans, by the fans.
Got Hoops Podcast (Ep. 19): Summer League? Beverley Trade? Westbrook/LeBron/AD Trio?
In this episode we discussed the summer league, the Clippers and Grizzlies trade, and the fit of Westbrook with LeBron and Anthony Davis, and other topics as well.
Search Results placeholder
Must See
The NBA season is coming up very soon and it's time we start talking...

The NBA season is just about a month away, with the regular season set...

The first week of the NFL regular season has concluded and it's time for...