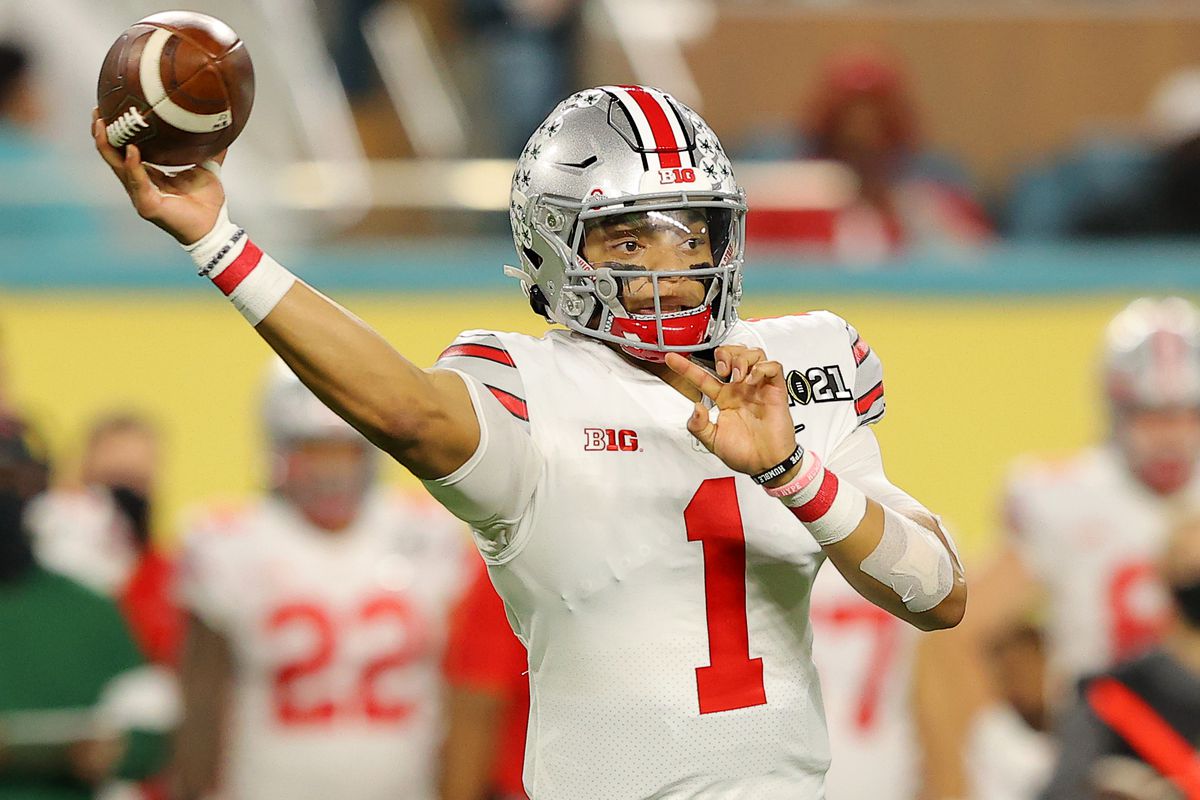 The NFL draft has to be one of my favorite times of the year as a football fan. New players being added to your favorite team and excitement surrounding them brings a lot of intrigue to it.
The draft is closing in with it being in a few days, let's get into some bold predictions that could potentially occur in this year's draft.
1. Justin Fields gets taken out of Top 10
The way reports are coming out that the 49ers aren't interested in Justin Fields kinds of scares me that I don't see him getting picked with the top 4 picks. There's been a lot of hype surrounding Trey Lance as of recent and he's most likely to be taken by the 49ers and if not the 49ers, there's the Falcons or the Broncos that might look his way.
For some odd reason, Justin Fields' stock has dropped. I don't want to say it's going to end up being like the Deshaun Watson scenario where he drops a lot in the draft for no reason and the team that gets him gets a star QB, but the same kind of scenario looks like it's going to happen.
Justin Fields has shown poise and great athleticism after running a 4.4 40 for a quarterback. I could see a team like the Patriots trading up a few picks and picking up Justin Fields if he drops out of the top 10, let's see.
2. The Record for most WRs drafted in the first 2 rounds is Broken
The current record for most receivers drafted in the first two rounds will be broken in my opinion. The current record stands at 13 receivers being drafted in the first two rounds and I believe it will definitely be broken. I think there's around 7-8 receivers that will end up going in the first round, the obvious ones being Ja'Marr Chase, Jaylen Waddle, and DeVonta Smith.
This receiver class is going to be one to be remembered as there is so much talent and a lot of teams that could use a WR (Ravens, Dolphins, Packers, etc.).
3. No defensive player gets takes in Top 10
It's extremely rare that a defensive player doesn't get drafted in the top 5, nonetheless a top 10 pick. I don't think a defensive player gets picked in the top 10, not because he's not worthy of a top 10 pick, but the amount of teams that are QB needy in the top 10 picks. In the top 10 picks, you could potentially see 6-7 teams chasing a quarterback which is insane.
This will allow a team that is more set on the offensive end to get a player that is worthy of being a top 5-10 pick of being taken later in the draft due to the offensive talent in the draft and needs by teams picking higher.