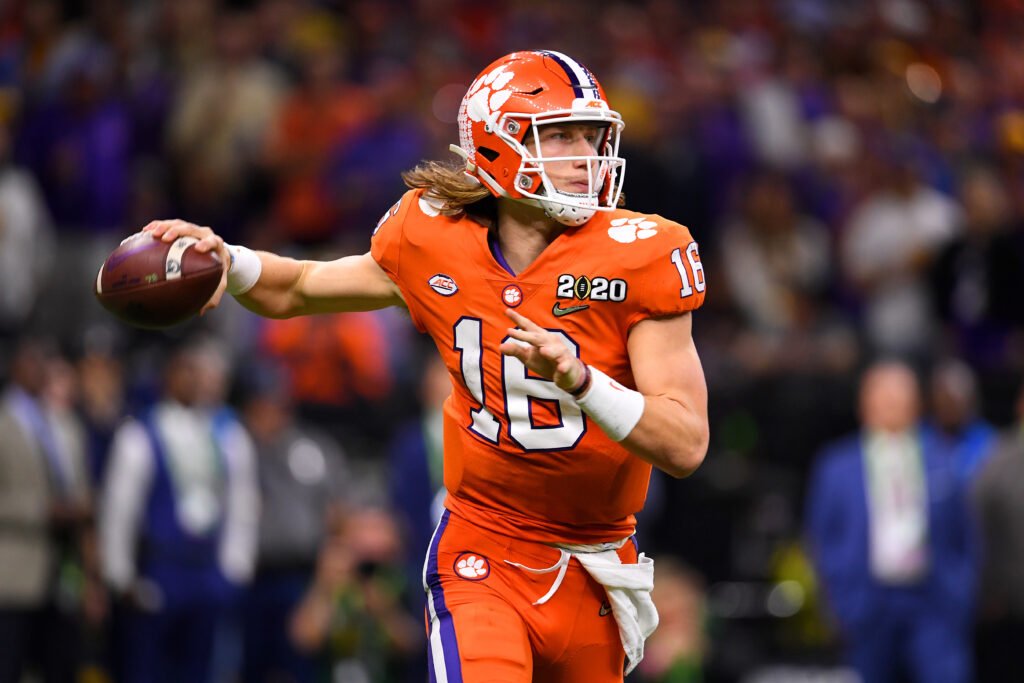 One of the most exciting days at the start of every NFL offseason is the NFL Draft. With the 2020 season winding down, let's take a look at some of the new names that could be joining the NFL in just a couple of months. This mock draft will break down why each player is picked and how they can provide support on the team they're picked by.
1. Jaguars: Trevor Lawerence, QB, Clemson  
The 6'6 QB from Clemson is the clear cut number one pick in the draft. Lawrence won a national championship and only lost two college games in his three year long career. Lawrence will almost certainly be a day one starter and he will attempt to bring the struggling Jaguars back to the playoffs. 
2. Jets: Justin Fields, QB, Ohio State 
After Fields's almost flawless 6 touchdown performance against the Clemson Tigers, many believe Fields will be the second QB off of the draft board. Although Ohio State QBs haven't been great in the NFL, Fields will look to be the guy to get the Jet's back on track. 
3. Dolphins: Devonta Smith, WR, Alabama 
The newly named Heisman trophy winner will most likely find a home very early in the draft. If he were to reunite with Tua that could be very difficult to defend. The Dolphins need a WR1 and Smith could be the guy to provide them that. Smith has great hands, speed, and athleticism. He is all you could ask for in a receiver.
4. Falcons: Zach Wilson, QB, BYU
The Falcons have announced numerous times that both Matt Ryan and Julio Jones will be on the trade block during the upcoming offseason. Even if Matt Ryan doesn't get traded, this could be an indication that the team is looking for a young franchise QB. Wilson impressed at BYU throwing 33 touchdowns during his final year in college. There is a major possibility that the Falcons go for a QB at pick number 4.
5. Bengals: Penei Sewell, OL, Oregon
This pick makes perfect sense as there is no question the Bengals desperately need to improve their O-line. Joe Burrow had almost no protection and if the Bengals want to keep Burrow playing at a high level they are going to need to provide him with weapons including an offensive line.
6. Eagles: Jamar Chase, WR, LSU 
There are a few teams in the top 5 that could pick Chase including the Dolphins or Bengals. If Chase falls to the Eagles, he shouldn't fall past them. The Eagles definitely need an upgrade at receiver as they still do not have a true number one guy. Can the LSU speedster be that guy? 
7. Lions: Kwity Paye, DE, Michigan 
While the Lions could certainly use this pick on an offensive player like Jaylen Waddle, they are desperate to find a stud for their defense. With the third overall pick in the 2019-20 NFL draft, they took Jeff Okudah who up to this point has underperformed. Kwity Paye would be a perfect pick for a struggling pass rush in Detroit. 
8. Panthers: Kyle Pitts, TE, Florida
The Panthers have been in need of a young TE ever since Greg Olsen left the team last year. This upcoming draft would be the perfect year to get the tall athletic tight end from Florida who was a difference maker all season. The Panthers have already built a nice young receiving core with D.J Moore and Robby Anderson so why not add another guy to that list?
9. Broncos: Caleb Farley, CB, Virginia Tech 
The Broncos are in search of another GM but newly appointed President of Operations John Elway has made it public that Vic Fangio will be returning. The Broncos are in desperate need of a young cornerback to build their defense around. Farley has the perfect size and strength for an NFL corner and would make a huge impact for a defense coached by Vic Fangio. 
10. Cowboys: Patrick Surtain, CB, Alabama 
Surtain has been a lockdown for Alabama all season and it was apparent the Cowboys needed an upgrade at corner. Dallas's corners were letting opponents WR's feast on them all year. Surtain should provide some insurance and could be a young cornerstone for their defense. 
11.  Giants: Gregory Rousseau, Edge, Miami 
Rousseau had an outstanding season for the Hurricanes in 2019 with 15.5 sacks and 34 tackles. As for the Giants, it's hard to pass up this type of talent if Rousseau starts to slip down the draft board. 
12. 49ers: Trey Lance, QB, North Dakota State 
As Garoppolo and his contract start to look worse and worse for the 49ers, they may turn to look for a new QB at their pick. Although his competition in college was weak, Lance has a ton of upside, (especially with his rushing) and with some work can become a very talented QB in the NFL. 
13. Chargers: Rashawn Slater, OT, Northwestern 
The Chargers need a player to protect their new star Quarterback Justin Herbert. The 300 pound lineman is the perfect option here and will look to take some pressure off of Herbert.
14. Vikings: Micah Parsons, LB, Penn State
While the Vikings don't necessarily need a Linebacker, if Parsons starts to fall in the draft they can't pass up on the best LB. Parsons opted out for the 2020 NFL season but his draft stock was only slightly affected. Parsons probably won't fall this far in the draft but if he does this pick would make sense for the Vikings. 
15. Patriots: Mac Jones, QB, Alabama 
Mac Jones had a ton of playmakers around him at Alabama but was still very impressive and threw 5 touchdowns during the National Championship game. The Patriots will probably be looking for a QB at their pick and although this is a little early for Jones it wouldn't be a surprise for him to be a Patriot as he proved he can perform under the lights all college football season long. 
16. Cardinals: Jaycee Horn, CB, South Carolina
The 6'1 corner from South Carolina saw his draft stock rise after an impressive season. Horn played very tight coverage all year and even had two interceptions against Auburn. Although this may be a little early for Horn, the Cardinals really need to get some youth in their secondary so don't be surprised if they take a flier on Horn. 
17. Raiders: Jeremiah Owusu-Koramoah, LB, Notre Dame
The Raiders selected Henry Ruggs in the 2019-20 NFL Draft hoping to improve their offense. This year, they should use their first round pick on defense. At times throughout the year, the Raiders had the worst defense in football. They could use the tough-skilled 215 pound linebacker from Notre Dame. 
18. Dolphins: Christian Darrisaw, OT, Virginia Tech 
Since the Dolphins didn't use their first pick on an offensive lineman, they should draft the 315 pound offensive lineman with their second pick. It's clear the Dolphins already have a great defense and should probably use their first two picks on offense to help their young QB out anyway they can. 
19. Washington Football: Azeez Ojulari, LB, Georgia
The talented swifty linebacker out of Georgia would be a perfect fit for Gus Bradley's new defense. Ojulari has been flying up draft boards after an outstanding year as he accumulated 8.5 sacks which ranked him 8th in the country. 
20. Chicago Bears: Jaylen Waddle, WR, Alabama 
The Bears don't necessarily need another wide receiver but with Allen Robinson possibly leaving in free agency it may not be a bad idea to snag one at their pick. The tough receiver from Alabama who fractured his ankle during the season could see a minor slip on draft day. He could be the perfect replacement for Allen Robinson and play alongside the other fast wide receiver in Chicago (Darnel Mooney.)
21.  Colts: Alex Leatherwood, OL, Alabama
With Anthony Castonzo retiring, the Colts should look for his replacement. The 2020 national champion would fit right into Indy's offense and provide even more help to an already staggering offensive line. 
22. Titans: Christian Barome, DT, Alabama 
The 300 pound defensive tackle has recently soared up the draft board after an outstanding performance against Ohio State in Alabama's National Championship game. The Titans defense was mediocre at best for most of the 2020 NFL season and could definitely use some depth along their defensive line.  
23. Jets: Alijah Vera-Tucker, OT, USC 
The Jets could have used their first pick on Penei Sewell, but after drafting Fields they may decide to provide help around him with their second pick in the first round. The strong versatile tackle out of USC would be a nice addition to a rebuilt Jets line and would help whichever young QB they decide to go with. 
24. Steelers: Najee Harris, RB, Alabama 
Throughout the second half of the season, there were multiple games where the Steelers completely failed to establish the run. You can look at the wild card game against the Browns as an example where Pittsburgh had to rely on Ben Roethlisberger to throw for 500 yards and 4 touchdowns. Even with that performance they still couldn't pull off the comeback win. They need to add another tuff and physical runner to pair with James Conner. 
25. Jaguars: Rondale Moore: WR, Purdue 
After a stellar 1,000 yard season in 2018, Moore has played just 7 games. Moore has slightly slipped down many draft boards and there would be no reason for the Jaguars not to take him with their second pick of the first round. Moore and Lawrence? That could be a phenomenal combination. 
26. Browns: Rashod Bateman, WR, Minnesota 
The Browns could very well take a receiver with an Odell Beckham Jr. replacement on the board. With an already decent young receiver core, the Browns will most likely look to add to it. The receiver who caught 11 touchdowns in 2019 will be an excellent choice late in the first round. 
27. Buccaneers: Pat Freiermuth, TE, Penn State 
The Big body tight end out of Penn State would provide some much needed youth in Tampa. They don't necessarily need a TE, but could use a fresh face with some uncertainty around Rob Gronkowski's future. 
28. Ravens: Kadarius Toney, WR, Florida 
The Ravens need a true number one wideout and should look for one with their first pick. If they do, don't be surprised if they add Toney or the speedster Terrace Marshall Jr. from LSU. 
29. Saints: Patrick Jones, EDGE, Pittsburgh 
With the Saints almost 100 million dollars over the salary cap, they may look to improve their already polished defense as there will be a lot of uncertainty around who they should and should not keep. Jones has a lot of experience after spending 4 years at Pittsburgh so this would be a great match in New Orleans.
30. Bills: Tyson Campbell, CB, Georgia 
The Bills could look to add youth and a number two guy to play alongside Tre'davious White. The lanky and quick corner from Georgia would provide just what they're looking for.
 31. Packers: Amon-Ra St. Brown, WR, USC
While the Packers didn't provide Rodgers with many offensive weapons in the draft last year, they will look to grab him one of the best offensive prospects still left on the board. With decent size and quickness, Brown will add another dimension to an already great packers offense. 
32. Chiefs: Zaven Collins: LB, Tulsa
While the Chiefs are known for adding weapons to play alongside Patrick Mahomes, they should use their late first round pick with the polished linebacker from Tulsa. Collins would provide Chiefs DC Steve Spanouluo with great size and the ability to wreak havoc off the edge.

Check out our new podcast episode!
Got Hoops Podcast
A new up and coming basketball podcast by 4 dedicated NBA and basketball fans. It's for fans, by the fans.
Got Hoops Podcast (Ep. 19): Summer League? Beverley Trade? Westbrook/LeBron/AD Trio?
In this episode we discussed the summer league, the Clippers and Grizzlies trade, and the fit of Westbrook with LeBron and Anthony Davis, and other topics as well.
Search Results placeholder
Must See
The NBA season is coming up very soon and it's time we start talking...

The NBA season is just about a month away, with the regular season set...

The first week of the NFL regular season has concluded and it's time for...