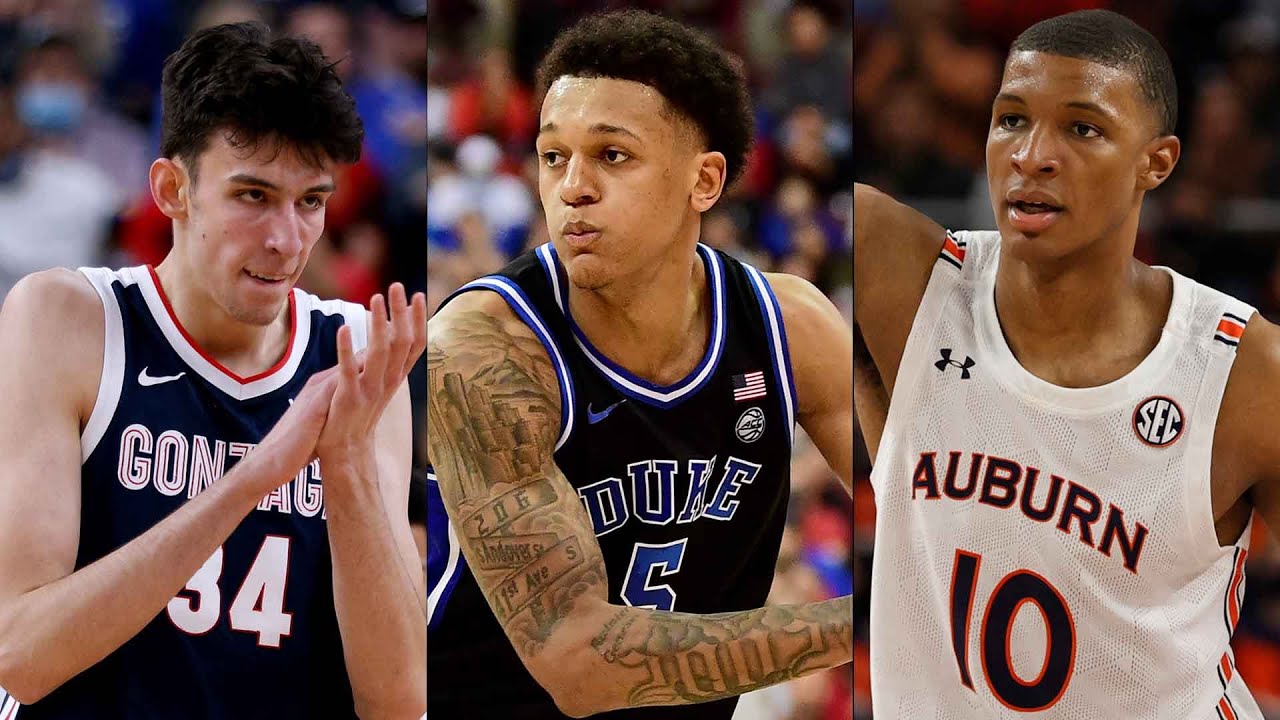 With March Madness coming to a conclusion and the NBA Draft combine less than 2 months away I figured it's time to look at some of the top NBA Draft prospects, and compare them to NBA players just as a tool to see how I could see them projecting at the next level. Some of these are all over the place as some of my projections are ceilings and some of them are floors.
As we get deeper into the draft process we will see more of these player strengths and weaknesses with a full year of tape. Then we will really start to see more player comparisons with these prospects. I got most of my heights and weights from ESPN, and keep in mind that these are not perfect or easy to come up. Some of these also may be a bit more unorthodox than what others are saying. 
Chet Holmgren, 7'0, 195 lbs (Gonzaga)
Chet is by far one of the hardest players of recent draft years to find a reasonable comparison. The potential is off the charts and he is extremely skilled and nimble for his height. His weight is his biggest problem as ESPN lists him at less than 200 pounds and he looks frail. However, he doesn't back down and goes at guys bigger than him. Personally, I like to think he will gain weight and be a Rudy Gobert level player who can be the league's best defensive player. It's a stretch but I think he can have Gobert level impact on defense while having a much better offensive game. However, I think the comparison more people like is definitely Kristaps Porzingis or Kevin Garnett. Another comparison I've heard is Anthony Davis at Kentucky which I kind of understand as well. 
Jabari Smith, 6'10, 220 lbs (Auburn)
Jabari Smith is quickly rising up draft boards. At this point, it appears in most people's eyes he has surpassed Paolo Banchero to be a Top 2 pick in this year's draft. His game on offense revolves around his elite ability to shoot and be able to shoot with his length. On defense he gets into a stance and can defend nearly every type of player. There are weaknesses as well, he can't really finish at the rim or put the ball on the floor which limits him on offense. I have him as a Jaren Jackson Jr, or a Rashard Lewis. He projects as an elite shooting stretch four that can also be a potential perimeter stopper. 
Paolo Banchero, 6'10, 250 lbs (Duke)
Paolo is an interesting player right now specifically in terms of NBA circles. He was the projected number one pick in the draft heading into the season. He has seemed to slip a bit but still appears to be a top 3 pick. He has an NBA-ready body right now as he can be a bully on the block. He has also been flashing more playmaking to his game which showed down the stretch against Texas Tech. He shows strong mid-range and mid post games and will likely be a 20 point scorer year in and year out. However, his lateral quickness and defense in general is a work in progress. He reminds me of Blake Griffin on the Pistons when he wasn't at his peak athleticism, and shows some shades of Carmelo Anthony. 
Jaden Ivey, 6'4, 195 lbs (Purdue)
Ivey is an athletic freak at the guard spot. I'm not quite sure if he should be playing the 1 or the 2 at the next level as I'm not in love with his playmaking to be a point guard. However, he has shown significant improvement with his jumper and I think he should have shot better than his percentage, but he didn't have another playmaker with him on the perimeter. I think he has the potential to be a hyper-athletic guard who can shut down smaller guards. With that said I would compare him to Dejonte Murray and Victor Oladipo as they have similar builds. 
Johnny Davis, 6'5, 194 lbs (Wisconsin)
Davis' improvement from one year to the next was nothing short of impressive going from 7 to 20 points. He has shown an ability to hit shots in bunches and difficult ones as well. I would have loved to see him as the secondary playmaker rather than the main one, but we will see this at the NBA level likely. He isn't quite the explosive athlete to consistently get to the rim but makes up for it in shooting skill. He is a very solid defender as well. If he were to hit a ceiling he could have a Devin Booker-lite type of game, but I would compare him to a better defending Jordan Clarkson or Jeremy Lamb. A friend of mine said DeMar Derozan, because they have similar shot selection. 
AJ Griffin, 6'6, 222 lbs, (Duke)
Griffin started off slow at Duke, as he is not too far removed from a serious injury to his leg in high school I wonder if this is why he may not be showing off his true athleticism, but nonetheless he still shows amazing strength and quickness with a frame like his. His shooting has been unbelievable as he shoots 45% from 3. His ball handling is a work in progress but he shows flashes that it can be improved. He also uses his strength on tough finishes and rebounds. On defense, his strength and length I think will make him be able to guard 1-4 at the next level. I would compare him to OG Anunoby. 
Keegan Murray, 6'8, 225 lbs (Iowa)
A scoring machine at Iowa who plays bigger than his height. He projects as a scoring 4 at the next level who can score in a number of ways. In spite of his advanced age, I think he has even more room to fill out his frame. I think at the next level he will be able to average around 20 a night as a team's 2nd or 3rd option. I would compare him to Tobias Harris or Marcus Morris, given they are bigger scoring forwards with the ability to put it on the floor. 
Benedict Mathurin, 6'6, 210 lbs (Arizona)
An intriguing wing prospect who has shown enormous upside. He has good shooting percentages with good volume, although they may have dipped from March Madness. He can get to the rim with a fair bit of ease, but struggles with contact and needs to add more to his finishing moves. He has shown to be an adequate defender who can rack up steals. He isn't much of a playmaker but can be an above the rim player. I like him like Malik Beasley or Terrance Ross, but has an All Star upside. If he hit his ceiling possible Jayeln Brown type of player. 
Tyty Washington, 6'3, 197 lbs (Kentucky)
It was disappointing to see Kentucky get bounced by St. Peter's in the first round but as a high prospect coming in, he likely will end up as a first-round pick. He has shown great point guard abilities such as a playmaker. He also has added a nice floater to his game. His defense is a work in progress but his long arms give me hope. He is also young but will need to bulk up. I would compare him to Monte Morris or Tyrese Haliburton. 
Jalen Duren, 6'11, 250 lbs (Memphis)
Oh the potential of Jalen Duren. He has a huge wingspan and is insanely strong. He moves well for his height and weight and will be 18 on his first NBA game. I think he will rise up draft boards and likely go Top 10. He also has shown good playmaking when doubled which shows an upside on offense. Defensively he can be an anchor on the team's rim defense with his strength, nimbleness, and shot-blocking. I liken him to Dwight Howard or Clint Capela. 
Shaedon Sharpe, 6'6, 200 lbs (Kentucky)
A hard prospect to find tape for, Sharpe was the number 1 player in the 2022 class and reclassified and enrolled at Kentucky this year. He has yet to play and it hasn't been made official if he is draft eligible. He also may come back to Kentucky regardless. Nonetheless, he is an amazing above the rim player at his height with long arms and a jumper he elevates high into. I would compare him to Zach Lavine, Jalen Green, or Andrew Wiggins. This might seem bold, but he is the number 1 player of his original class and I think his upside is the highest of any wing. He may go as high as number 5 potentially.
Tari Eason, 6'8, 216 lbs (LSU)
A swiss army knife, a guy with high steal and block rates who causes havoc on defense. His shot got better as the season went along and he can play the 3 or the 4 and maybe one day could play the small-ball 5. I would compare him to Jerami Grant with Denver before he had the ball in his hands so much, or even Scottie Barnes. 
Ochai Agbaji, 6'5, 215 lbs (Kansas)
A high motor veteran at Kansas, his game has grown so much in his time there. Starting his freshman year when he shot 30% from three he has risen to almost 40 this year. He is a strong shooter and adequate but not phenomenal off the dribble creator. He's not an elite ball handler but is a solid defender. I would compare him to Gary Trent Jr. 
Jaden Hardy, 6'4 198 lbs (G League Ignite)
A volume shooter who opted for the G-League over going to college, he has struggled. His efficiencies are not great but the flashes are there. His shot selection has been questioned many times, and is prone to be undisciplined on defense. However, he has potential to be an elite shot maker. He is a hard comparison to peg, I thought of guys like Lou Williams, Jordan Poole, or Anfernee Simmons.