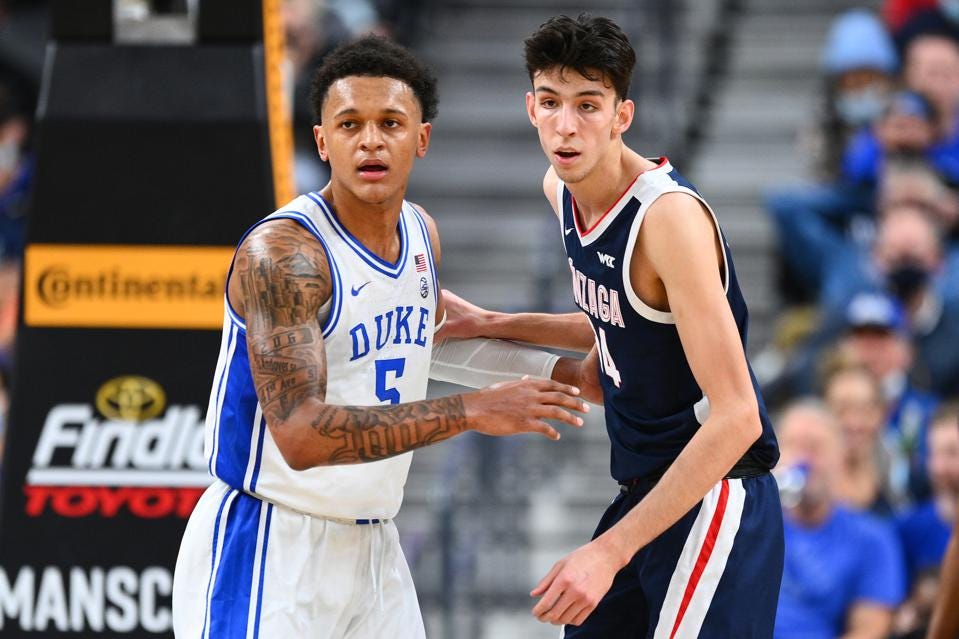 It is finally March! This year more than most march madness will affect players draft stock more than usual. 11 of my 14 lottery players are playing in the tournament which is significatly higher than usual. I haven't made a big board since before the season but wanted to get 2.0 out before March Madness gets started. If you want to see me look incredibly dumb here is my Preseason Big Board from August. Following March Madness I will do a bigger and more detailed Big Board 3.0.
Chet Holmgren
Jabari Smith
Paolo Banchero
Jaden Ivey
Johnny Davis
Shaedon Sharpe
Jalen Duren
Nikola Jovic
AJ Griffin
Tari Eason
Keegan Murray
Bennedict Mathurin
Jaden Hardy
TyTy Washington
Dyson Daniels
Mark Williams
Ochai Agbaji
EJ Liddell
Kendall Brown
Jeremy Sochan
Kennedy Chandler
Wendell Moore
Walker Kessler
Marjon Beauchamp
Oscar Tschiebwe
Patrick Baldwin
Hyunjung Lee
Orlando Robinson
Ismael Kamagate
Max Christie
Just Missed the Cut
Caleb Houstan
Christian Braun
David Roddy
Christian Koloko
Bryce McGowens
Duren's March
Jalen Duren has risen up boards the last couple months and has a prime oppurtunity to get even higher. Memphis faces Boise State in the first round but if the get past them it sets up a prime matchup with Chet Holmgren and Gonzaga. If Duren performs well or beats Gonzaga then he could quickly enter top 5 pick talks. When watching Duren, between his defensive versatility and ability as a lob threat I have a hard time not seeing DeAndre Ayton. It is also worth noting that Jalen Duren will only be 18.59 on draft night (yes I used a decimal talking about age).
Nikola Jovic Uniqueness
Nikola Jovic's placement at 8 on my big board may surprise some but I am more suprised that no one else has him as high as I do. Jovic is a 6'10 wing that runs the court with ease. Not only that but Jovic is an excellent playmaker and flashes great shooting potential. Any team that gets him outside of the lottery is getting an absolute steal.
Kennedy Chandler's Winning Mentality
It was hard for me to put a six foot, 61% free throw shooter at 21 on my board but he deserves it. Chandler is an absolute winner and between his pesky defense and good playmaking there is a lot to like. The free throw percentage is alarming but Chandler has shot very well from three as of recently.
The Uncertainty of Patrick Baldwin
In Big Board 1.0 I ranked Patrick Baldwin number 3 and since then he has done everything he can to make me look stupid. Baldwin was advertised as a Jayson Tatum-like player but in a weak conference he was unable to dribble and looked very uninterested in defense. Baldwin will still probably translate as a good shooter but the rest of his game looks much more bleak than it used to.
Christian Braun's NBA Game
In college, Christian Braun has been a good 3 and D like player but I have questions on if that game will translate to the league. I have heard Kevin Huerter comparisons but Huerter was a much better athlete and a way better shooter in college. Tankathon currently projects that Braun will have a 34.9% NBA 3 point percentage and if that is true he will have real problems playing in the NBA. Like most players on my big board, Braun will have a big oppurtunity to build his draft stock in these years tournament.