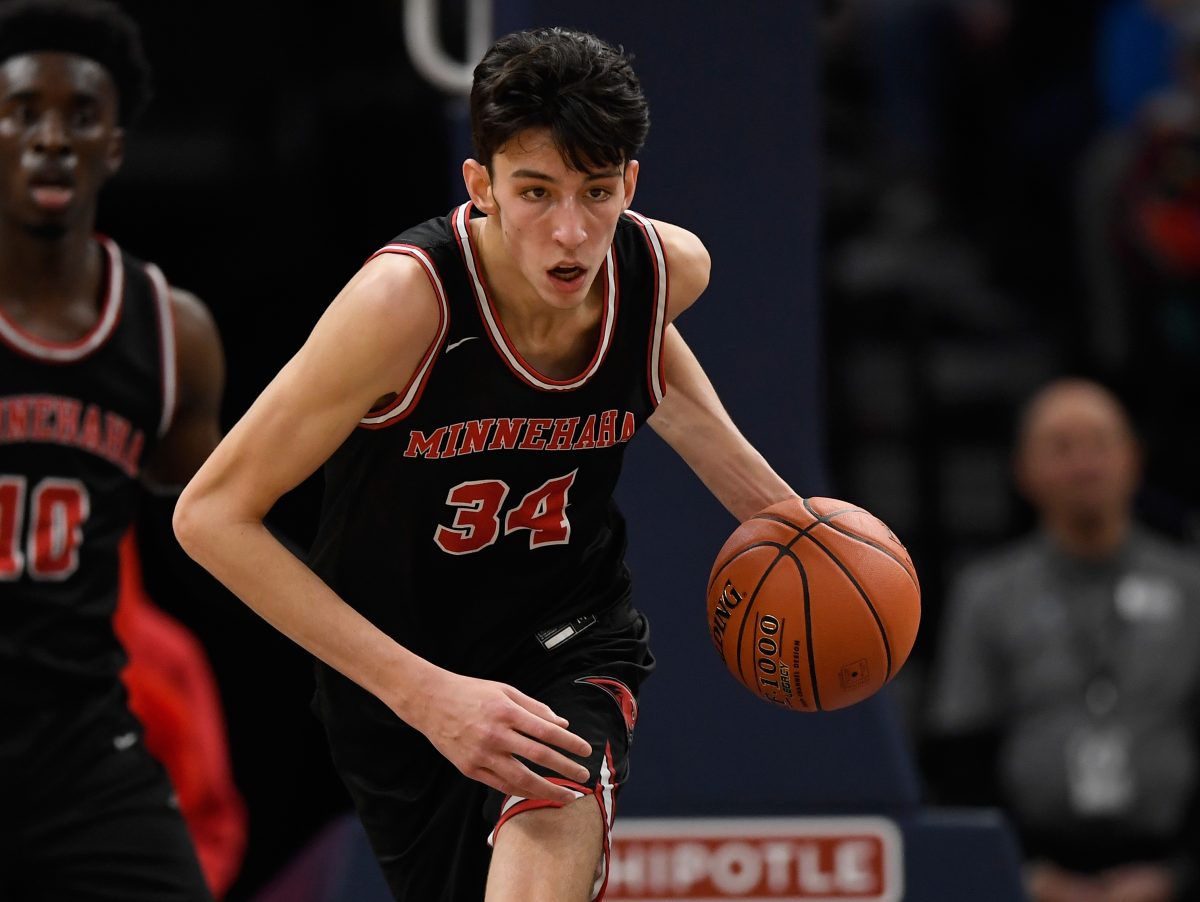 Yes this is way to early, but who cares. It is especially hard to scout players a year out because of the lack of film. In order to rank these players, I had to watch highlights, look at measurables, and read peoples first hand opinion's on these guys. Some people had full games I could watch but most I had to find other ways of scouting.
Honorable Mentions
Matthew Cleveland, Wing, Florida State
TyTy Washington, Point Guard, Kentucky
Mojave King, Guard, Cairns
Bennedict Mathurin, Wing, Arizona
Peyton Watson, Wing, UCLA
15. Yannick Nzosa, Center, Unicaja Malaga
| | | | |
| --- | --- | --- | --- |
| Draft Day Age: 18.59 | Height: 6'10 | Weight: 195lbs | Wingspan: N/A |
I originally planned on making this a top 14 (lottery) list but could not leave Nzosa off. Last season Nzosa had a very small sample size in both minutes and games. Many scouts project that with more minutes and games Nzosa could be viewed as a potential top ten pick. Nzosa is a deadly rim runner with Clint Capela-like potential. It is always very difficult to scout players that do not play many minutes in foreign leagues.
14. Daimion Collins, Big, Kentucky
| | | | |
| --- | --- | --- | --- |
| Draft Day Age: 19.64 | Height: 6'9 | Weight: 210lbs | Wingspan: 7'5 |
At 6'9 Collins is an excellent defender and shot blocker and has excellent athleticism. The film on Collins is especially bad and there are no high end basketball accounts that have a made videos on him. I think that means it is reasonable to assume his level of competition is not very high. Still, Collins looks to be dominant at points and flashes potential on what he could be in the league.
13. Jaden Ivey, Guard, Purdue
| | | | |
| --- | --- | --- | --- |
| Draft Day Age: 20.35 | Height: 6'4 | Weight: 200lbs | Wingspan: 6'7 |
Ivey is the most popular second-year player in this draft and it is easy to see why. When you watch Ivey you can't help but think of Ja Morant, the comparison is fun but there are some very obvious differences. Ivey is not a great passer yet and does not score the ball at a very efficient rate. Last season Ivey shot 39% from the field and 25% from three. If Ivey can improve his efficiency he could see himself as a top ten pick.
12. Johnny Juzang, Shooting Guard, UCLA
| | | | |
| --- | --- | --- | --- |
| Draft Day Age: 21.09 | Height: 6'7 | Weight: 209lbs | Wingspan: 6'11 |
Yes, this is extremely high for Juzang and he is almost certainly gonna finish the season lower than this. At this point in the scouting where there is so many unknowns, Juzang is a known. I am high on Juzang because of his ability to create a shot for himself. In today's NBA finding a self creator is not easy and Juzang is most certainly one. If Juzang is the same player he was in the tournament next season then he could be fighting for a lottery spot.
11. Jalen Duren, Center, Memphis
| | | | |
| --- | --- | --- | --- |
| Draft Day Age: 18.59 | Height: 6'10 | Weight: 230lbs | Wingspan: 7'5 |
Jalen Duren would be the number one overall pick in 2003. Duren is a true center that can dominate around the rim and protect the rim on the other side. It is hard to go farther than Dwight Howard when looking for a comparison. With that being said teams will be watching Duren's perimeter defense this season to see if he could potentially be a DeAndre Ayton-like player.
10. Kendall Brown, Wing, Baylor
| | | | |
| --- | --- | --- | --- |
| Draft Day Age: 19.12 | Height: 6'8 | Weight: 205lbs | Wingspan: 6'11 |
Brown is one of the most interesting prospects in this draft. He is an excellent defender and can guard nearly any position. On offense, Kendall Brown is a high flyer that can finish everything around the rim. At Baylor, if Brown can develop a perimeter shot then he will get some looks towards the top of the draft.
9. Jabari Smith, Wing, Auburn
| | | | |
| --- | --- | --- | --- |
| Draft Day Age: 19.10 | Height: 6'10 | Weight: 210lbs | Wingspan: N/A |
Jabari Smith's talent is easy to see anytime you watch him. At 6'10 Smith has the rare ability to be the ability to turn around and shoot over anybody. Smith's stock will revolve around what his shot IQ looks like at Auburn. In high school, Smith was prone to have questionable shots or decisions. Body and athleticism is something you can not teach and Smith has it.
8. Caleb Houstan, Wing, Michigan
| | | | |
| --- | --- | --- | --- |
| Draft Day Age: 19.44 | Height: 6'8 | Weight: 205lbs | Wingspan: 7'3 |
Caleb Houstan is this years can't miss prospect. Houstan is a marksman shooter and flashes potential as an isolation scorer. Houstan's floor is very high and where he is drafted will just be determined by how high teams determine his ceiling is. When I watch Houstan I think of him as a Cameron Johnson level player but in college he may show that he can be better than that.
7. Kennedy Chandler, Guard, Tennessee
| | | | |
| --- | --- | --- | --- |
| Draft Day Age: 19.76 | Height: 6'0 | Weight: 172lbs | Wingspan: N/A |
Chandler is a rare point guard leader. On the defensive end, Chandler can lock up the opposing team's best guard and he can create offense on the other end. Chandler is a surprisingly good athlete and has all the tools of a very good offensive player. The problem in Chandler's game is that he is only 6'0 tall. At that height, there will be a low ceiling on both his offensive and defensive game.
6. Nikola Jovic, Wing, Mega Bemix
| | | | |
| --- | --- | --- | --- |
| Draft Day Age: 19.03 | Height: 6'10 | Weight: 209lbs | Wingspan: N/A |
If you were a fan of Franz Wagner this season you will love Nikola Jovic. 6'10 is an incredible and very rare height for a 3 and D player and that is exactly what you are getting with Jovic. Jovic will also only be 19 on draft day, making him one of the youngest players in the draft. This next season is going to be really interesting but the potential of a 6'10 shooter that can also play in the post is very appealing.
5. Jaden Hardy, Shooting Guard, G-League Ignite
| | | | |
| --- | --- | --- | --- |
| Draft Day Age: 19.96 | Height: 6'4 | Weight: 190lbs | Wingspan: 6'9 |
Arguably the best scorer in this draft with some ambitious people already comparing him to James Harden. Same as this year's best pure scorer Jalen Green, Hardy will be taking the G-League route next season. Hardy is a true three-level scorer and a near-elite athlete. On the other end of the floor, Hardy has a 6'9 wingspan which could show potential for him to become an elite defender.
4. Adrian Griffin, Wing, Duke
| | | | |
| --- | --- | --- | --- |
| Draft Day Age: 18.82 | Height: 6'6 | Weight: 220lbs | Wingspan: 7'0 |
Adrian Griffin is a high-potential player that reminds me a lot of Jimmy Butler. Griffin is one of the youngest players in the draft and appears that he could still be growing. His frame is wide and he is tall which means that if he grows into it, he could have a very good NBA body. His offensive game is good but he will make his money as a defender with his 7'0 wingspan.
3. Patrick Baldwin, Wing, Milwaukee
| | | | |
| --- | --- | --- | --- |
| Draft Day Age: 19.59 | Height: 6'10 | Weight: 205lbs | Wingspan: N/A |
I have been lucky enough to watch Patrick Baldwin live and he is everything that is advertised. A 6'10 three-level scorer that handles business on defense may seem like a rare archetype, because it is. Baldwin is taking a very weird route by playing for his dad at Milwaukee University. In a poor conference, I am sure Baldwin will dominate statistically but it will be interesting to see if he is able to maintain efficiency or what his film looks like.
2. Paolo Banchero, Wing, Duke
| | | | |
| --- | --- | --- | --- |
| Draft Day Age: 19.60 | Height: 6'10 | Weight: 250lbs | Wingspan: 7'1 |
The debate for the number one pick looks to be a fierce one with Banchero right in the mix. At 6'10, 250 lbs Banchero is built like a linebacker and can come down the lane like a running back hitting the hole. Even at his size, he still has a great handle and can shoot the ball at near an elite level. With his size at his absolute worst, he will be a serviceable defender that can guard fours and fives.
1. Chet Holmgren, Big, Gonzaga
| | | | |
| --- | --- | --- | --- |
| Draft Day Age: 20.14 | Height: 7'0 | Weight: 195lbs | Wingspan: 7'6 |
I have only been scouting for four or five years but Chet Holmgren is without a doubt the best shot blocker I have scouted. Not only that but Chet also has insane defensive instincts and knows how to position himself on defense. On offense, Chet is still a very smart player and is skilled in the low post. The X factor is Chet's offensive game is if his deep shot develops into a consistent shot that teams have to respect. Oh and he crossed up Stephen Curry for whatever that is worth.

Check out our new podcast episode!
Got Hoops Podcast
A new up and coming basketball podcast by 4 dedicated NBA and basketball fans. It's for fans, by the fans.
Got Hoops Podcast (Ep. 19): Summer League? Beverley Trade? Westbrook/LeBron/AD Trio?
In this episode we discussed the summer league, the Clippers and Grizzlies trade, and the fit of Westbrook with LeBron and Anthony Davis, and other topics as well.
Search Results placeholder
Must See
The NBA season is coming up very soon and it's time we start talking...

The NBA season is just about a month away, with the regular season set...

The first week of the NFL regular season has concluded and it's time for...