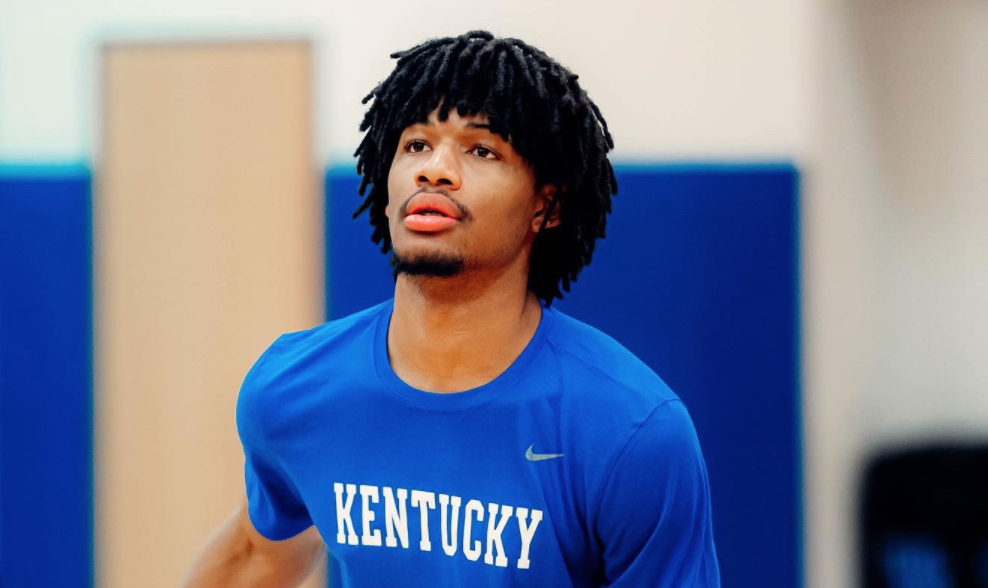 It is that time of the year where the top prospects in the country decide if they should enter the draft or return to college. Recently the NCAA made this process much easier on the players by allowing them until June 7th to decide what they want to do. This means prospects can play in the combine and attend workouts in order to recieve feedback on what they should do.
Most players when push comes to shove decide to enter the draft and get the money while they can but sometimes there are benefits to returning to school. Last summer, Jaden Ivey could have been an early second round pick but chose to come back to college and is now a top 5 pick lock. Every player has a different situation but here we take a look at 12 of the players on the fence and decide what we think they should do.
Note: Some players have already "declared" for the draft on this list but they have until June 7th to change their mind so although they declared nothing changes.
Go: Shaedon Sharpe, Kentucky
ESPN Rank: 6
Shaedon Sharpe was the #1 player in the high school class of 2022 before reclassifying. In October, Sharpe enrolled at Kentucky but did not play in any games. It seemed as if Sharpe was preparing to play for Kentucky before they announced he would not play this season in preparation for next year. Sharpe's potential status for the draft is still unknown although reports have indicated he will be eligible.
If Sharpe is eligible it should be a no-brainer that he goes to the league considering he will be a top 10 pick. Jaden Hardy and Patrick Baldwin were both pre-season top ten picks but now are potentially out of the lottery. Sharpe should take advantage of his situation and leave.
Stay: JD Davidson, Alabama
ESPN Rank: 38
A highly ranked five star coming into the season, Davidson's freshman campaign showed flashes but wasn't what was expected. Some of this is not his fault, as he had to play behind three veteran guards thus making him come off the bench. His best performance of the year was surprisingly against Gonzaga when he exploded for 20 points off the bench.
Davidson will likely start next year if he returns to Alabama, and given he didn't show he could shoot the three well this year which is what scouts were looking to see, I think he should return. Another whisper being spread about him was that his high school competition wasn't the strongest either. If he stays he will get better experience against better competition and handle the ball a lot more. I could easily see him catapulting into the upper end of the first round next year.
Go: Malaki Branham, Ohio State
ESPN Rank: 16
A late bloomer in the season, Malaki Branham has risen from being relatively unknown to being nearly a first round lock. Branham's shot creation is already near an NBA level and I am a big fan of comparing his offense to all-star Khris Middleton.
The argument for Branham to return is that he is still fairly raw and if he comes back he will be one of the stars of college basketball and could play himself into the top 10 of next year's draft. That argument makes sense but if someone is a projected first round pick and has the opportunity to get paid they should take that because the future is just too uncertain.
Stay: Max Christie, Michigan State
ESPN Rank: 41
If you watch just Max Christie's highlights it is easy to fall in love with his length and ability to rise and get his shot off. A deeper look into Christie's game shows that he is a 31% 3 point shooter and a sub par defender. At this point it seems unlikely Christie will be a first round pick in June.
With that being said the best move for Christie is to return to Michigan State and really develop his jump shot and defense. A 3 year, couple million dollar deal is intriguing but if Christie raises his stock next June he could be looking at a 4 year, tens of million dollar deal. Money is hard to turn down but it is in Christie's best interest to return to college.
Go: Oscar Tshiebwe, Kentucky
ESPN Rank: 42
The likely Naismith Player of the Year, a rebounding machine after transferring to Kentucky from West Virginia Tshiebwe was dominant, as he was the NCAA rebounding leader by a wide margin. He also averaged well over a block and nearly two steals per game. While his offense is a work in progress, Tshiebwe can bank on getting drafted due to his rebounding and defense and likely can't progress much further in scout's eyes given he was one of college basketball's four best players.
Stay: Dalen Terry, Arizona
ESPN Rank: 46
Playing on an Arizona team with Bennedict Mathurin and Christian Koloko, it is easy for Dalen Terry to become the forgotten Arizona player. Terry was not a high usage player in his sophomore season and often found himself as the fourth scoring option on the floor. Terry could ride a late surge and good workouts into an early second round selection but that is not what I think he should do.
If Terry returns to Arizona he will be the star of the team and should see an elevation in his usage similar to Mathurin this season. With the ball in his hands Terry could show scouts anything they were unable to see this season and elevate his draft position into the second round.
Go: Drew Timme, Gonzaga
ESPN Rank: 49
The jury on Timme is interesting. On one hand, he isn't getting any younger, and doesn't have a whole lot to accomplish on the college level. On the other hand, he has some major holes in his game like his defense and his shooting. Ultimately, I think we know what his role in the NBA will be, a four who provides offense likely in a bench role. Considering he will be 22 come the next NBA season and mounting questions about if Gonzaga may be fraudulent because of its conference and recent tournament letdowns, I think Timme's time should be spent preparing for the NBA.
Stay: Caleb Houstan, Michigan
ESPN Rank: 66
As a Michigan fan I am disappointed this is a question. My pre-season 7th best player has mostly disappointed this season shooting less than expected 35% from 3. Michigan has the potential to be really good next season. The team made the sweet 16 this year and will have Moussa Diabate and Hunter Dickinson returning to the team. On top of that Michigan has two top 50 players joining the team and is in the running for several top transfers.
So why do I bring that up? If Houstan comes back to school he has the potential to be playing for a final four team. If Houstan can play better and finds team success with a very good Michigan team, then it is not unreasonable he could be a top 20 pick.
Go: Jaime Jacquez Jr., UCLA
ESPN Rank: 52
Had a good year at UCLA showcasing strong physicality and defense. Showed he can defend multiple positions at the next level due to his size and length. He performed alright in March Madness, although he was hampered with an injury. He rose up boards this year. Given his advanced age and how he likely will be a top 10 wing prospect come draft night, I think he should go.
Stay: Trayce Jackson-Davis, Indiana
ESPN Rank: 70
A strong athlete, TJD muscled Indiana to a March Madness berth (barely). He was an animal on the low block as he is a strong finisher but doesn't have the most skill in the post. Relying on his athleticism to score, TJD took less than five three-pointers on the season hitting none of them. Given his height, he would likely be a power forward at the next level. I very well could see him making a leap to be a First Team All American next year, and given he will need to improve his jumper tremendously, I think his best bet is to return.
Go: Harrison Ingram, Stanford
ESPN Rank: 55
An interesting case, Ingram was a highly rated five star freshman this past season. He disappointed for the most part of the year, as his field goal percentage was abysmal. However, interestingly enough, he is still a projected 2nd rounder by most. This decision confused me the most, but I feel like given his potential upside and development he could hold in the G-League especially given his age  he can bank on likely getting drafted. Testing the waters with Ingram will be important as how he tests at the Combine and scrimmages will be very intriguing.
Stay: Caleb Love, North Carolina
ESPN Rank: 93
Love is one of the most interesting players to predict because he is still playing. Through the tournament's first four games, Love is averaging 18 points a game shooting 37.5% from 3. The problem with Love is that he is so incredibly inconsistent and most of the time inefficient. The stats in the tournament look great until you factor in that he is at about 3 rebounds and assists a game and shooting a bad 38.7% from the field.
Caleb Love's tools are undeniable, but so far he lacks the ability to put them together. Love has potentially two of the biggest games of his life ahead of him and if he can impress in those two games, I could see him starting to become a solid 2nd round pick. Until then, it is in his best interest to return for his Junior season.