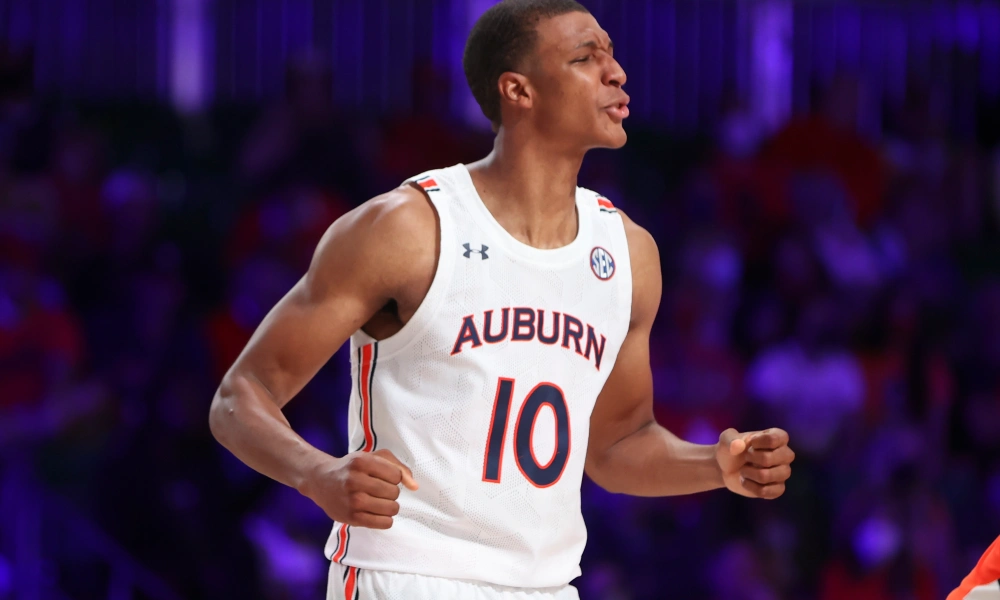 Today's the day. After a year of waiting the draft is finally here. My board has been incredibly fluid all year and it feels as if this years draft is even more hard to guage than the normal year. With that being said I wanted to release my top 70 players before the draft.
All draft cycle I have been releasing content and have put the links to all my work including scouting reports, big boards, and mock drafts (I released one yesterday) into a draft database which you can check out below.
With all that being said here is my final rankings for the prospects in the 2022 NBA Draft along with informatiom from Tankathon. I also included any scouting reports with the prospects I wrote them on. Also just as a reminder this is not my predictions for the draft but instead how I rank prospects 1-70 in this draft. For my predictions check out yesterdays MOCK DRAFT.
1. Jabari Smith, Power Forward, Auburn
| | | |
| --- | --- | --- |
| Age: 19.1 | Height: 6'10 | Weight: 210 lbs |
Draft Range: 1-2
2. Chet Holmgren, Big, Gonzaga
| | | |
| --- | --- | --- |
| Age: 20.1 | Height: 7'0 | Weight: 195 lbs |
Draft Range: 1-3
3. Paolo Banchero, Big, Duke
| | | |
| --- | --- | --- |
| Age: 19.6 | Height: 6'10 | Weight: 250 lbs |
Draft Range: 2-3
Paolo Banchero Scouting Report
4. Jaden Ivey, Guard, Purdue
| | | |
| --- | --- | --- |
| Age: 20.4 | Height: 6'4 | Weight: 200 lbs |
Draft Range: 2-5
5. AJ Griffin, Wing, Duke
| | | |
| --- | --- | --- |
| Age: 18.8 | Height: 6'6 | Weight: 222 lbs |
Draft Range: 7-13
6. Keegan Murray, Power Forward, Iowa
| | | |
| --- | --- | --- |
| Age: 21.8 | Height: 6'8 | Weight: 225 lbs |
Draft Range: 4-6
7. Bennedict Mathurin, Wing, Arizona
| | | |
| --- | --- | --- |
| Age: 20.0 | Height: 6'6 | Weight: 205 lbs |
Draft Range: 5-9
Bennedict Mathurin Scouting Report
8. Dyson Daniels, Guard, G-League Ignite
| | | |
| --- | --- | --- |
| Age: 19.3 | Height: 6'7.5 | Weight: 195 lbs |
Draft Range: 6-8
9. Ousmane Dieng, Forward, New Zealand (NBL)
| | | |
| --- | --- | --- |
| Age: 19.1 | Height: 6'9 | Weight: 185 lbs |
Draft Range: 8-14
10. Johnny Davis, Guard, Wisconsin
| | | |
| --- | --- | --- |
| Age: 20.3 | Height: 6'5.75 | Weight: 196 lbs |
Draft Range: 9-15
11. Malaki Branham, Wing, Ohio State
| | | |
| --- | --- | --- |
| Age: 19.1 | Height: 6'5.5 | Weight: 195 lbs |
Draft Range: 11-20
12. Shaedon Sharpe, Wing, High School
| | | |
| --- | --- | --- |
| Age: 19.1 | Height: 6'5.25 | Weight: 198 lbs |
Draft Range: 6-11
13. Jalen Duren, Center, Memphis
| | | |
| --- | --- | --- |
| Age: 18.6 | Height: 6'11 | Weight: 250 lbs |
Draft Range: 7-13
14. Bryce McGowens, Wing, Nebraska
| | | |
| --- | --- | --- |
| Age: 19.6 | Height: 6'6.5 | Weight: 181 lbs |
Draft Range: 21-35
15. Ochai Agbaji, Wing, Kansas
| | | |
| --- | --- | --- |
| Age: 22.2 | Height: 6'5.75 | Weight: 217 lbs |
Draft Range: 13-21
16. Mark Williams, Center, Duke
| | | |
| --- | --- | --- |
| Age: 20.5 | Height: 7'2 | Weight: 242 lbs |
Draft Range: 12-17
17. Dalen Terry, Guard, Arizona
| | | |
| --- | --- | --- |
| Age: 19.9 | Height: 6'7.25 | Weight: 19.9 |
Draft Range: 14-23
18. Tari Eason, Wing, LSU
| | | |
| --- | --- | --- |
| Age: 21.1 | Height: 6'8 | Weight: 217 lbs |
Draft Range: 15-22
19. Nikola Jovic, Wing, Mega Basket (Serbia)
| | | |
| --- | --- | --- |
| Age: 19.0 | Height: 6'11 | Weight: 223 lbs |
Draft Range: 20-33
20. Jalen Williams, Wing, Santa Clara
| | | |
| --- | --- | --- |
| Age: 21.2 | Height: 6'5.75 | Weight: 209 lbs |
Draft Range: 13-20
Jalen Williams Scouting Report
21. EJ Liddell, Big, Ohio State
| | | |
| --- | --- | --- |
| Age: 21.5 | Height: 6'7 | Weight: 243 lbs |
Draft Range: 18-25
22. Jeremy Sochan, Power Forward, Baylor
| | | |
| --- | --- | --- |
| Age: 19.1 | Height: 6'9 | Weight: 230 lbs |
Draft Range: 12-20
23. Gabriele Procida, Wing, Bologna (Italy)
| | | |
| --- | --- | --- |
| Age: 20.1 | Height: 6'7.75 | Weight: 193 lbs |
Draft Range: 35-UD
24. Jake LaRavia, Forward, Wake Forest
| | | |
| --- | --- | --- |
| Age: 20.6 | Height: 6'8 | Weight: 227 lbs |
Draft Range: 23-36
25. Jaden Hardy, Shooting Guard, G-League Ignite
| | | |
| --- | --- | --- |
| Age: 19.9 | Height: 6'4 | Weight: 190 lbs |
Draft Range: 17-35
26. Blake Wesley, Guard, Notre Dame
| | | |
| --- | --- | --- |
| Age: 19.3 | Height: 6'4.25 | Weight: 187 lbs |
Draft Range: 18-30
27. TyTy Washington, Point Guard, Kentucky
| | | |
| --- | --- | --- |
| Age: 20.6 | Height: 6'3.75 | Weight: 196 lbs |
Draft Range: 17-35
28. Max Christie, Shooting Guard, Michigan State
| | | |
| --- | --- | --- |
| Age: 19.4 | Height: 6'5.75 | Weight: 189 lbs |
Draft Range: 25-40
29. Christian Braun, Wing, Kansas
| | | |
| --- | --- | --- |
| Age: 21.2 | Height: 6'7 | Weight: 209 lbs |
Draft Range: 24-33
30. MarJon Beauchamp, Wing, G-League Ignite
| | | |
| --- | --- | --- |
| Age: 20.7 | Height: 6'6.5 | Weight: 197 lbs |
Draft Range: 21-33
31. Ismael Kamagate, Center, Paris (France)
| | | |
| --- | --- | --- |
| Age: 21.4 | Height: 6'11 | Weight: 220 lbs |
Draft Range: 30-50
32. Wendell Moore, Wing, Duke
| | | |
| --- | --- | --- |
| Age: 20.8 | Height: 6'5.5 | Weight: 217 lbs |
Draft Range: 20-35
33. Ryan Rollins, Guard, Toledo
| | | |
| --- | --- | --- |
| Age: 19.9 | Height: 6'3.25 | Weight: 179 lbs |
Draft Range: 28-43
34. Patrick Baldwin Jr., Power Forward, Milwaukee
| | | |
| --- | --- | --- |
| Age: 19.6 | Height: 6'10.25 | Weight: 231 lbs |
Draft Range: 20-37
35. Jaylin Williams, Big, Arkansas
| | | |
| --- | --- | --- |
| Age: 19.9 | Height: 6'10 | Weight: 237 lbs |
Draft Range: 30-44
36. Kennedy Chandler, Point Guard, Tennessee
| | | |
| --- | --- | --- |
| Age: 19.8 | Height: 6'0.5 | Weight:172 lbs |
Draft Range: 25-40
37. Trevor Keels, Wing, Duke
| | | |
| --- | --- | --- |
| Age: 18.8 | Height: 6'4.75 | Weight: 224 lbs |
Draft Range: 30-40
38. Jean Montero, Guard, Overtime Elite
| | | |
| --- | --- | --- |
| Age: 18.9 | Height: 6'2.25 | Weight:172 lbs |
Draft Range: 30-45
39. Christian Koloko, Center, Arizona
| | | |
| --- | --- | --- |
| Age: 22.0 | Height: 7'0 | Weight: 221 lbs |
Draft Range: 25-45
40. Vince Williams Jr., Wing, VCU
| | | |
| --- | --- | --- |
| Age: 21.8 | Height: 6'6 | Weight: 205 lbs |
Draft Range: 35-UD
41. Dereon Seabron, Guard, NC State
| | | |
| --- | --- | --- |
| Age: 22.1 | Height: 6'5.75 | Weight: 182 lbs |
Draft Range: 36-50
42. Kendall Brown, Forward, Baylor
| | | |
| --- | --- | --- |
| Age: 19.1 | Height: 6'7.5 | Weight: 201 lbs |
Draft Range: 20-37
43. Walker Kessler, Center, Auburn
| | | |
| --- | --- | --- |
| Age: 20.9 | Height: 7'1 | Weight: 256 lbs |
Draft Range: 20-37
44. Dominick Barlow, Forward, Overtime Elite
| | | |
| --- | --- | --- |
| Age: 19.1 | Height: 6'9.75 | Weight: 221 lbs |
Draft Range: 40-58
45. John Butler, Forward, Florida State
| | | |
| --- | --- | --- |
| Age: 19.6 | Height: 7'0.75 | Weight: 174 lbs |
Draft Range: 34-53
46. Alondes Williams, Guard, Wake Forest
| | | |
| --- | --- | --- |
| Age: 23.0 | Height: 6'5 | Weight: 209 lbs |
Draft Range: 42-UD
47. Orlando Robinson, Center, Fresno State
| | | |
| --- | --- | --- |
| Age: 21.9 | Height: 6'11 | Weight: 244 lbs |
Draft Range: 39-52
48. Caleb Houstan, Small Forward, Michigan
| | | |
| --- | --- | --- |
| Age: 19.5 | Height: 6'8 | Weight: 205 lbs |
Draft Range: 40-UD
49. Jabari Walker, Forward, Colorado
| | | |
| --- | --- | --- |
| Age: 19.9 | Height: 6'8 | Weight: 218 lbs |
Draft Range: 42-56
50. Julian Champagnie, Small Forward, St. John's
| | | |
| --- | --- | --- |
| Age: 20.9 | Height: 6'7.75 | Weight: 212 lbs |
Draft Range: 47-UD
51. Jared Rhoden, Wing, Seton Hall
| | | |
| --- | --- | --- |
| Age: 22.8 | Height: 6'6 | Weight: 210 lbs |
Draft Range: 52-UD
52. David Roddy, Forward, Colorado State
| | | |
| --- | --- | --- |
| Age: 21.2 | Height: 6'6 | Weight: 261 lbs |
Draft Range: 38-54
53. Peyton Watson, Forward, UCLA
| | | |
| --- | --- | --- |
| Age: 19.8 | Height: 6'8 | Weight: 203 lbs |
Draft Range: 30-UD
54. Andrew Nembhard, Point Guard, Gonzaga
| | | |
| --- | --- | --- |
| Age: 22.4 | Height: 6'4.5 | Weight: 196 lbs |
Draft Range: 20-40
55. Hugo Besson, Guard, New Zealand (NBL)
| | | |
| --- | --- | --- |
| Age: 21.2 | Height: 6'5.75 | Weight: 180 lbs |
Draft Range: 36-58
56. Trevion Williams, Big, Purdue
| | | |
| --- | --- | --- |
| Age: 21.8 | Height: 6'8.75 | Weight: 265 lbs |
Draft Range: 46-UD
57. Khalifa Diop, Center, Gran Canaria (Senegal)
| | | |
| --- | --- | --- |
| Age: 20.4 | Height: 6'11 | Weight: 231 lbs |
Draft Range: 36-58
58. Keon Ellis, Wing, Alabama
| | | |
| --- | --- | --- |
| Age: 22.5 | Height: 6'4.75 | Weight: 167 lbs |
Draft Range: 45-UD
59. Josh Minott, Forward, Memphis
| | | |
| --- | --- | --- |
| Age: 20.5 | Height: 6'8 | Weight: 205 lbs |
Draft Range: 45-UD
60. Kenneth Loften Jr., Forward, Louisiana Tech
| | | |
| --- | --- | --- |
| Age: 19.9 | Height: 6'7 | Weight: 275 lbs |
Draft Range: 50-UD
61. Karlo Matkovic, Big, Mega Basket (Serbia)
| | | |
| --- | --- | --- |
| Age: 21.2 | Height: 6'10 | Weight: 231 lbs |
Draft Range: 47-UD
62. Michael Foster, Big, G-League Ignite
| | | |
| --- | --- | --- |
| Age: 19.4 | Height: 6'9.25 | Weight: 237 lbs |
Draft Range: 53-UD
63. Jordan Hall, Wing, Saint Joseph's
| | | |
| --- | --- | --- |
| Age: 20.4 | Height: 6'7 | Weight: 215 lbs |
Draft Range: 50-UD
64. Justin Lewis, Wing, Marquette
| | | |
| --- | --- | --- |
| Age: 20.2 | Height: 6'7.5 | Weight: 235 lbs |
Draft Range:43-UD
65. Moussa Diabate, Big, Michigan
| | | |
| --- | --- | --- |
| Age: 20.4 | Height: 6'10.25 | Weight: 217 lbs |
Draft Range: 43-UD
66. Hyunjung Lee, Wing, Davidson
| | | |
| --- | --- | --- |
| Age: 21.7 | Height: 6'7 | Weight: 210 lbs |
Draft Range: 54-UD
67. Yannick Nzosa, Big, Malaga (Spain)
| | | |
| --- | --- | --- |
| Age: 18.6 | Height: 6'10 | Weight: 195 lbs |
Draft Range: 48-UD
68. Scottie Pippen Jr., Guard, Vanderbilt
| | | |
| --- | --- | --- |
| Age: 21.6 | Height: 6'3 | Weight: 185 lbs |
Draft Range: UD-UD
69. Tevin Brown, Wing, Murray State
| | | |
| --- | --- | --- |
| Age: 23.7 | Height: 6'5 | Weight: 175 lbs |
Draft Range: 56-UD
70. Kofi Cockburn, Center, Illinois
| | | |
| --- | --- | --- |
| Age: 22.8 | Height: 7'0 | Weight: 292 lbs |
Draft Range: 48-UD
Best Non Ranked
JD Davidson, Point Guard, Alabama
Johnny Juzang, Wing, UCLA
Ron Harper Jr., Big, Rutgers
Iverson Molinar, Point Guard, Mississippi State