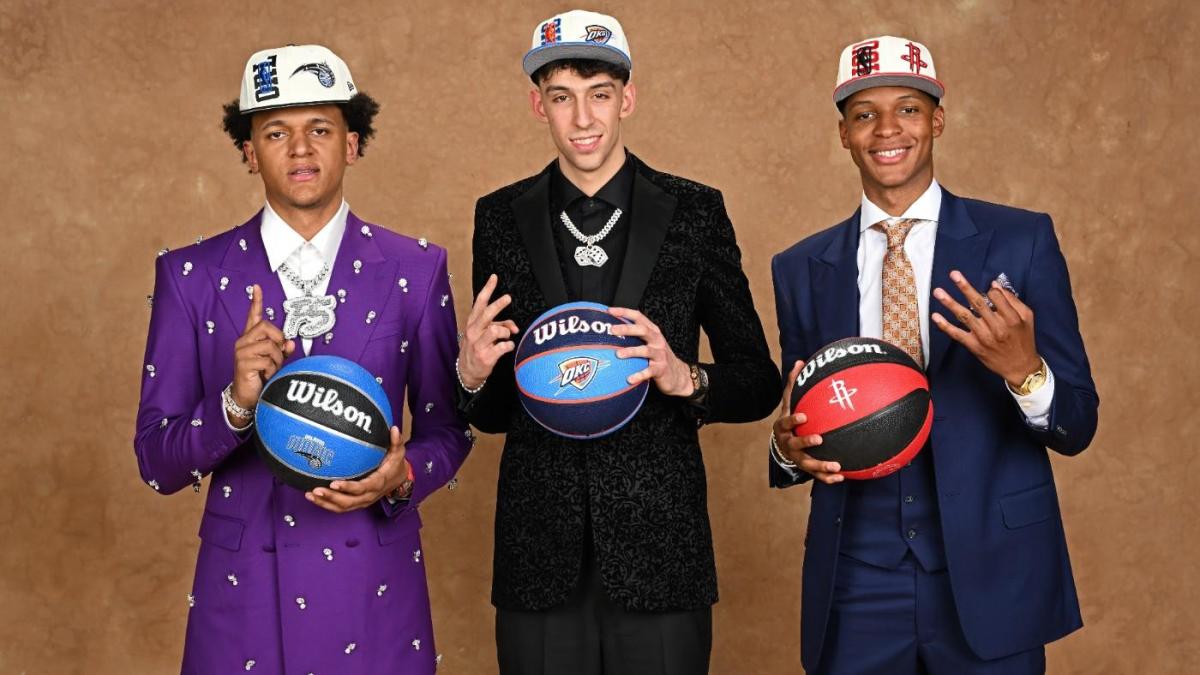 The NBA draft has concluded and it's time we start getting into early predictions for the rookies. There was a few surprises in the top 6-7 of the draft with Banchero going #1 and then Keegan Murray being taken as high as #4 by the Kings. Where a player gets drafted can affect many things. The situation and coaching can end up playing a huge factor in whether a player is given the opportunity to succeed. Let's get into the rookie stat predictions from the prospects from the 2022 NBA draft…
Paolo Banchero, PF, Magic
It's going to be interesting with Banchero on the Magic when they also have Johnathan Isaac as well. We could see Banchero and Isaac play together and I actually do like the defensive versatility of that. Banchero is capable of putting the ball on the floor and also being a threat on the outside as well. He's not as good of a defender as Holmgren or Smith, but he's as offensively gifted or more than both.
The Magic have a logjam at the guard position, but either way, I have a feeling Banchero will prosper in his rookie year. He's physical on the inside unlike Holmgren or Smith and I think that will help him a lot early on.
Stat Prediction: 18.2 PPG, 7.8 RPG, 2.4 APG, 53.5% FG, 36.3% 3PT
Chet Holmgren, PF/C, Thunder
The Thunder were set on Holmgren the whole night and finally have the young center that they've been looking for a bit. Holmgren can shoot and handle the ball really well for a 7-footer. He's also a great help defender on the inside with his ability to block the ball. I think he will struggle a bit early on, but still provide an impact for an up-and-coming Thunder team.
Stat Prediction: 13.9 PPG, 8.1 RPG, 1.5 APG, 1.7 BPG, 48.2% FG, 38.2% 3PT
Jabari Smith, PF, Rockets
Jabari Smith was the most talented player in this year's draft and the Rockets got a steal. Smith can shoot the ball at an elite level and also defend every position. The Rockets have a lot of trigger happy perimeter players which kind of worry about Smith's production early on, but I trust he will get his. If Smith can improve his post-up and inside game, he's going to be much more dangerous than he already is.
Stat Prediction: 16.3 PPG, 7.1 RPG, 3.5 APG, 1.2 BPG, 51.1% FG, 39.8% 3PT
Keegan Murray, PF, Kings
Keegan Murray was kind of a head scratcher for the Kings at 4, but when you look at it more it makes a lot of sense. The Kings are in a win-now mode with De'Aaron Fox and Domantas Sabonis and adding Murray to pair with Sabonis was a solid move. Murray was arguably the most NBA-ready prospect and is capable of being a threat from the perimeter and also the inside. He's a bit on the older side at 22, but that shouldn't matter for a team focused on winning now.
The fit with Sabonis is pretty good, Murray is a versatile defender and will be able to get open for Sabonis to find him or Fox as well. Definitely will be seeing a lot of Sabonis to Murray inside dishes for sure.
Stat Prediction: 15.7 PPG, 6.2 RPG, 1.4 APG, 50.6% FG, 36.9% 3PT
Jaden Ivey, SG, Pistons
Jaden Ivey is electric and honestly, what the Pistons needed. Cade Cunningham is their main playmaker and facilitator, but they needed that aggressive player to pair with him that can just put his head down and get a bucket. Ivey isn't necessarily the best shooter, but is just absolutely dangerous on the inside. His speed is unmatched and he will be a weapon for the Pistons to utilize immediately. We will be seeing some thundering dunks and excitement in the Little Caesars Arena soon.
I do hope that Ivey can improve his playmaking a bit and also being an off-ball player with his shooting, that's what it will come down to in the end for him. Other than that, he's going to be a bucket for the Pistons for a long time.
Stat Prediction: 19.8 PPG, 4.4 RPG, 3.1 APG, 44.4% FG, 35.3% 3PT
Benedict Mathurin, SG/SF, Pacers
Mathurin was a perfect fit for the Indiana Pacers. Getting a player that isn't afraid and is a dawg on both ends of the court was important for the Pacers. They needed a player that isn't scared to take the last shot or be fearless on the offensive end and pairing him with Haliburton is going to be beautiful to watch. I expect Mathurin to contribute immediately and make plays on both ends of the court. His explosiveness when attacking the rim and also reliable shot from the outside makes him dangerous.
He needs to work on his handles a bit, but with a facilitator like Haliburton, he will be able to find Mathurin cutting to the rim with ease and also on the perimeter as well.
Stat Prediction: 17.6 PPG, 5.6 RPG, 2.2 APG, 1.2 SPG, 47.2% FG, 37.4% 3PT

Must See
The NBA 22-23 season has kicked off with incredible momentum. Even though each team...

Finally the time! The 2023 draft is one of the best in league history...

Every single season there are a few players that crack through and become first...