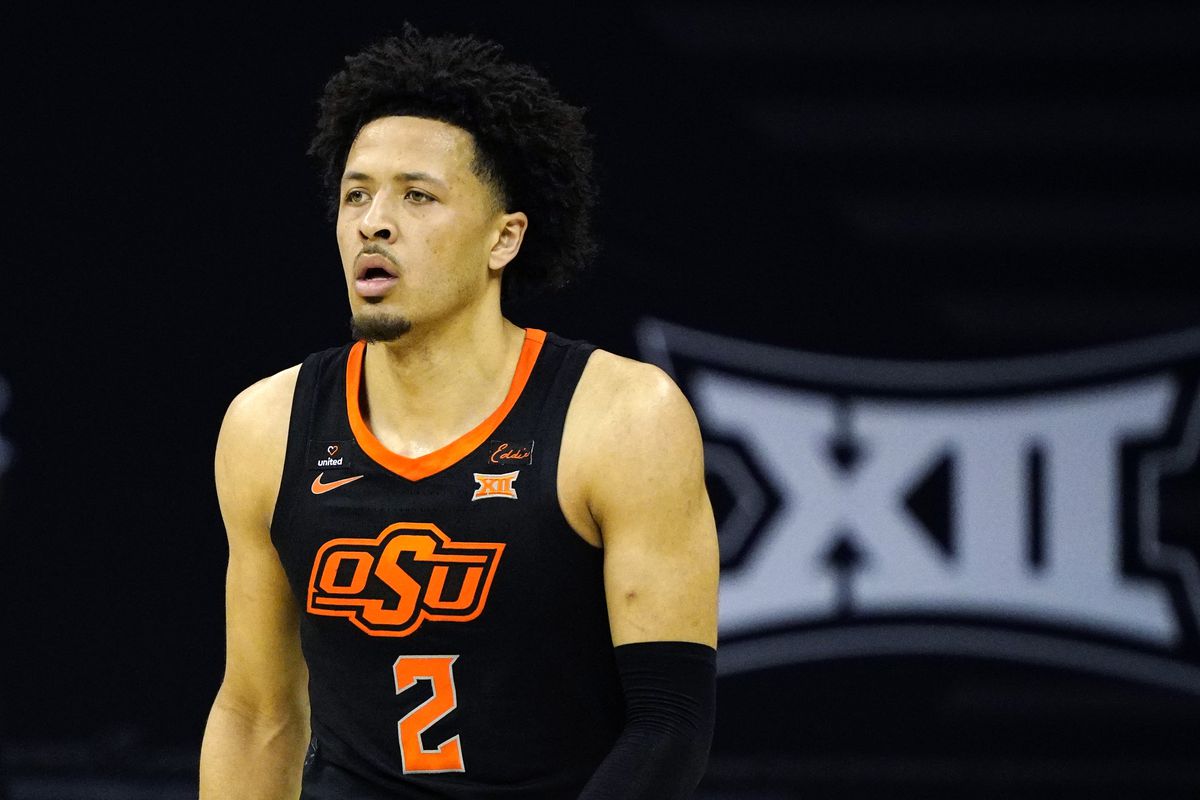 The yearly NBA draft will start in about a month. Just like every year, there will be risers and fallers as we get closer to draft day. This year's draft may be one of the deepest ones we have seen in years. Let's take a look at which players land where and why.
Detroit Pistons, G, Cade Cunningham, OSU
The 6'8 prospect from OSU, has everything a modern NBA team would want. With great ball handling skills, vision, defense, the ability to pull up from just about anywhere on the court. Cunningham is primed to be a star in the league. In fact, Cunningham was projected to be the number one pick midway through the previous college basketball season. Cunningham's only concern has been turnovers as he averaged four of those a game. Some of the blame can be dealt to his just average teammates at OSU, but the rest of it is on Cade. He needs to be more careful with the ball. With that said, Cade will surely brighten up the future for the Detroit Pistons or whichever team he finds himself to.
Houston Rockets, C, Evan Mobley, USC
The 6'11 defensive stopper led his team to a deep run during the March Madness tournament. He has all the tools of a great defensive big man and more. He can guard the pick and roll, which is rare for bigs nowadays. He can stick with guards around the perimeter. That is special. Mobley can also play on the offensive end. He has great touch, and is an amazing offensive rebounder as well. If this all translates to the NBA, Mobley will be special for a long time and a great fit for Houston.
Cleveland Cavaliers, G, Jalen Suggs, Gonzaga
The man who made the miracle shot against UCLA during march madness could certainly be going to Cleveland. Suggs is solid on the offensive and defensive side of the ball. He is a gifted playmaker, and can guard 1-3. As for the Cavs, they may have to make some roster adjustments should they select Suggs, but he is a locked in top five pick.
Toronto Raptors, G, Jalen Green, G League
The high flying elite scorer from the G league passed up on college to try to prove he was more than NBA ready. His decision paid off. He is extremely quick, young, and has an explosiveness that not many other players in this draft class possess. It's hard to pass up on the 6'5 guard here at 4, as he averaged 17.9ppg and shot 36.5% from three for the G League Ignite.
Orlando Magic, G, Scottie Barnes, FSU
The 6'9 point guard from FSU came off the bench last season but that shouldn't draw anyone away from the talented guard. Barnes has a 7'2 wingspan and has the potential to be an elite playmaker on the offensive end. Barnes averaged 10ppg, 4 rpg, and 4apg for the Seminoles. Barnes has all the physical tools to be a great defender. The one concern with Scottie is his shot from deep as he only shot 27.5%. However, there is no denying the raw talent that Barnes brings to the table, and the Magic may not be able to pass up on him.
Oklahoma City Thunder, Jonathan Kumigna, F, G League
Kuminga has undeniable talent, but his game, especially on the offensive end, is extremely raw. Kuminga shot under 40% from the field, and under 25% from three. He also shot under 65% from the free throw line. He averaged 15.8ppg, and 7.2apg. He is clearly a prospect that will need to develop, and it will take time.
The talent is there. But the Thunder will need to wait, and they can. This pick just makes sense. However, there is a strong possibility that Kumigna could be gone before six. Orlando is another team that could target the young versatile prospect. 
Golden State Warriors, Davion Mitchell, G, Baylor
The recent national champion may find a home in the top 10. With his defensive prowess and IQ, Mitchell should be a stud alongside guys like Stephen Curry and Klay Thompson. Plus, he gives the Warriors some more wing defense. They already have Andrew Wiggins, the best wing defender on the team. However, Wiggins could be moved. Either way, Mitchell brings competitiveness, athleticism, and fire to a Warriors team that could use another playmaker.
Orlando Magic, Moses Moody, G/F, Arkansas
This may be a tad high for Moody, but this is another pick that may make sense for Orlando. Moody is a wing/forward that can really help Orlando. Moody can provide great perimeter defense and also shot 35.5% from three. Moody may need to improve his offensive game to develop into a two way star, but just like many of the other teams in the lottery, Orlando can wait and be patient. A Moody Kumigna pairing could really start something for the Magic.
Sacramento Kings, Franz Wagner, F, Michigan
Franz is just a solid player. One every team could use. Franz can shoot, handle, drive, pass, and play defense. His outside shot is a little concerning, especially off of the dribble. He still shot around 34%. If Franz can develop a shot off of the dribble, he has a chance to be one of the best players in the draft with his length defensively. He can bring some immediate help to the Kings.
New Orleans Pelicans, Keon Johnson, F, Tennessee
The man with the highest vertical in the entire draft will surely find a home in the lottery. Johnson is a terrific defender, one of the best on ball defenders in the entire draft. Although the Pelicans need shooting, they also need some more defense, especially at the wing position. If Lonzo Ball leaves, Johnson will be a good replacement. If the Pelicans wanted to add perimeter shooting alongside Zion Williamson, they would go after players like Corey Kispert, Tre Mann, or Chris Duarte. But here, they could draft a stud defender/athlete and hope he develops an outside shot.
Charlotte Hornets, Jalen Johnson, F, Duke
Johnson opted out midway last season and has a lot of very raw skills. But much like many modern lottery picks, if Johnson can develop some playmaking, passing, and a more consistent shot, he will thrive in the NBA. Johnson has size, speed, amazing athleticism, but needs to cut back on turnovers. Johnson committed more turnovers than assists in his time at Duke. A guy like this next to Lamelo Ball and inserting him into a lineup with other freak athletes could be a good starting block for the Charlotte Hornets.
San Antonio Spurs, Alperen Sengun, C, Turkey
Alperen is an already very accomplished young player overseas. The 18 year old won the MVP of the Turkish league. He averaged 19.2ppg, 9.4rpg, and 2.4apg. This is really impressive for his age. Alperen plays with a lot of smart basketball IQ and is a great finisher around the hoop. He would fit well with Greg Popovich, and the Spurs could definitely use a young center as a cornerstone to their already young team.
Indiana Pacers, Josh Giddey, F, Australia
With the Pacers a tad thin at their small forward position, the playmaker from Australia could fix their long term problems. Giddey, who played in the NBL last season probably wouldn't start right away, but he is a really gifted playmaker. His passing and ability to grab difficult offensive rebounds stands off the charts. His scoring isn't the greatest, and will need to develop. If he does this, he could be really good.
Golden State Warriors, Isaiah Jackson, F, Kentucky
The warriors could go two directions here. They could add a scorer like Corey Kispert or James Bouknight (if still available.) The other option would be to go with a big man. Warriors fans may not love this pick because Jackson isn't as big of a name as some of the other guys they could pick here, but Jackson could fit right in. This may be a bit of a reach for Jackson, but his tools fit exactly what the Warriors would want.
He isn't the best scorer, as he only averaged 8.6ppg, but he is a stud with defensive stats. In fact, Jackson averaged an impressive 2.6bpg-blocks per game. Jackson is an energy guy, a guy who has all of the tools. A guy who could fit next to wiseman in the long term or possibly even replace him? Either way, the Warriors could possibly go guard with their 7th overall pick, so selecting a big man here would make sense. 
Washington Wizards, Corey Kispert, G, Gonzaga
The Wizards need as much shooting as possible when surrounded by a guy like Russell Westbrook. Kispert is the best three point shooter in the draft and would fit right into the Wizards offense. He's also a sneaky good off ball defender. Should he fall to 15, the Wizards would be smart to take him.
Oklahoma City Thunder, Kai Jones, F, Texas
Another freak athlete who started to rise up draft boards towards the end of his college basketball season. Jones has incredible bounce, can shoot off of the dribble, and is also a good defender who can guard multiple positions. At times, Jones can look a little lost and sluggish on the court, but he would be a great pick here.
Memphis Grizzlies, Chris Duarte, G/F, Oregon
Duarte, who is already 23 years old, was one of the best shooters in all of college basketball last season. He is very old compared to many other prospects, perhaps a flag that some teams may want to stay away from. In all honesty, it shouldn't be that big of a deal. Duarte adds more shooting to a Grizzlies team that really struggled from three at some points throughout last season.
They were very hot and cold. Duarte, who shot 42.4% from three last season and averaged 17.1ppg for the Ducks last season, would make the grizzlies a more consistent three point shooting team. He also cuts very well, and knows the game. 
Oklahoma City Thunder, Zaire Williams, G, Stanford
Willians was a projected top 10, maybe even top 5 pick before his college basketball season started. William's lack of the ability to shoot the three and make shots is what ultimately made his stock drop. Many thought he was a better shooter than he showed at Stanford as he shot just 29% from three. He's a good ball handler who can shoot off the dribble and get into the lane. He also has the tools to be a good defender and took a lot of charges in college. He's a little lean, but has the tools to be a very solid player.
New York Knicks, James Bouknight, G, UConn
If anything happened to the Knicks down the stretch last season, it was their lack of depth at point guard that came back to hurt them. Elfrid Payton was just not good in the playoffs and as great as Derrick Rose played, he was played way too much by Tom Thibodeau. The Knicks future for their point guards are uncertain and drafting Bouknight would clear things up.
Bouknight could and probably should be taken earlier than this. Bouknight has been rising up draft boards recently, don't be surprised if he get's taken in the top 10. Bouknight is a streaky shooter, explosive athlete, and great at the free throw line. In college, he only averaged 1.9apg, but he's a do it all point guard that could be inserted into the Knicks lineup right away. 
Atlanta Hawks, Cameron Thomas, G, LSU
The Hawks actually have a lot of depth and are pretty set at most positions. However, Lou Williams may leave this offseason and the Hawks don't have a ton of depth at the point guard position. Thomas is a great three point shooter at 44.4%, and has a decently quick first step. Thomas also has a deadly floater and is just an all around sound basketball player. The Hawks need another ball handler and Thomas could be that guy.
New York Knicks, Josh Christopher, G, Arizona State
Right now, Christopher is projected to go about 5-10 spots lower than this. However, don't be surprised if he starts rising boards as the draft gets closer. He looked really good during the scrimmages on day 1 of the draft combine. He also just has untenable tools that some teams may not be able to pass up.
He needs to gain some consistency on his outside shot, but off of the dribble, Christopher can be really good. One of the best one-on-one off of the dribble players in this class, but he lacks playmaking and passing ability. The Knicks may take a flier on someone like Christopher or Zaire Williams if he drops. Both players have the talent to go in the first round. 
Los Angeles Lakers, Tre Mann, G, Florida
Mann, a phenomenal three point shooter who produced at over 40% on a decent amount of attempts. Mann is a good playmaker and can immediately contribute to the Lakers as Dennis Schroder's/Alex Caruso's future is somewhat uncertain.
Houston Rockets, Sharife Cooper, G, Auburn
Cooper is an interesting yet mesmerizing prospect. Cooper averaged 20.2ppg and 8.1apg last season at Auburn. The problem? Cooper shot just 22 percent from the three point line. However, Cooper shot almost 83 percent from the foul line and was pretty good around the rim. Cooper is also probably the best passer in this year's draft as he had flashy pass after flashy pass last season.
He's also only 6'1, and his jumper just doesn't look solid. His form looks awkward. If he can figure that part out of his game and become a three point shooter. Cooper may be the next Trae Young.Both are amazing floor general's who can finish at the rim, pass, command an offense, and do much more. 
Houston Rockets, Usman Garuba, F, Real Madrid
Garuba is a player that plays with a lot of energy. Almost like a Draymond Green or P.J Tucker. Any team could use one of those guys. Garuba is a phenomenal defender and also has the ability to guard some of the point or shooting guards in the NBA. He only averaged 5.6ppg overseas, but is only 19. At points, it was a struggle for him to score, but Garuba does not lack hustle and effort. Also a good passer and offensive rebounder, the Rockets could use a big like this even if they draft Evan Mobley. Garuba could see his name called earlier than this on draft night.
Los Angeles Clippers, Jeremiah Robinson Earl, F, Villanova
Robinson Earl has great touch which turned into a lot of interior scoring at Villanova. Earl is a smart basketball player that knows the game well and has the ability to play different positions. With some futures unknown for the Clippers including Kawhi Leonard and Serge Ibaka, bringing in a smart, solid, above average passer, and a player who can also defend multiple positions would make sense. He averaged 15.7ppg, 8.5rpg, and 2.2apg last season at Villanova.
Denver Nuggets, Jaden Springer, G Tennessee
There's a chance Springer could be picked before this. He has been all over draft boards. From the late teens to the late twenties, nobody is sure exactly where he is going to be taken. This pick would be great for Denver. Springer is a young prospect who is great defensively. The Nuggets struggled with wing defense and need some more depth in their back court.
Springer is a great driver, has great touch, and is a phenomenal defender. Springer averaged 12.5ppg and 2.9apg last season. He also shot 44.4 percent from three on limited attempts. He's not great in the pull up game, and may need to fix his outside shot a little, but there's a lot to like about Springer's game and the potential he can bring to a team. 
Brooklyn Nets, Ayo Dosumu, G Illinois 
Ultimately, Brooklyn could go a lot of different ways with this pick. They could try to draft a big to get more depth at the forward or center position. They could also try to get more depth at the guard position. Someone to be the backup to James Harden or Kyrie Irving. Ayo, the guard from Illinois, would be a good pick here as he displayed great shooting, versatility, decent playmaking skills, and the ability to defend. If they don't like Dosumu, they could also go with Jared Butler from Baylor.
Philadelphia 76ers, Jared Butler, G, Baylor
Butler's medical status is in question, leaving his stock up in the air. Right now, all we know is what Butler brings to the table basketball wise. Butler was a national champion at Baylor. He can create his own shot off of the dribble, is a great passer, and a good ball handler. With Ben Simmons's status in question, it would be smart to bring in someone like Butler.
Phoenix Suns, Day'Ron Sharpe, C, North Carolina
Sharpe would be a solid backup for current center Deandre Ayton. Sharpe is a great rebounder, and does not lack energy, Phoenix's roster is already built and they are just adding some depth. Sharpe, who averaged 9.5ppg and 7.5rpg would be a solid pick
Utah Jazz, Miles McBride, G, West Virginia
McBride averaged 15.8ppg, 3.9rpg, and 4.9apg. Conley may not return to Utah next season so drafting a guard would make sense depending who is on the board. McBride can shoot off of the dribble. He's great at getting to his spot. He's also a good passer and would give Utah some depth and clarity.

Check out our new podcast episode!
Got Hoops Podcast
A new up and coming basketball podcast by 4 dedicated NBA and basketball fans. It's for fans, by the fans.
Got Hoops Podcast (Ep. 19): Summer League? Beverley Trade? Westbrook/LeBron/AD Trio?
In this episode we discussed the summer league, the Clippers and Grizzlies trade, and the fit of Westbrook with LeBron and Anthony Davis, and other topics as well.
Search Results placeholder
Must See
Breakout seasons can be extremely unpredictable and often are very hard to predict. For...

The NBA preseason has started and we have started seeing how these rookies have...

The NBA has never been so good and the league has an influx in...