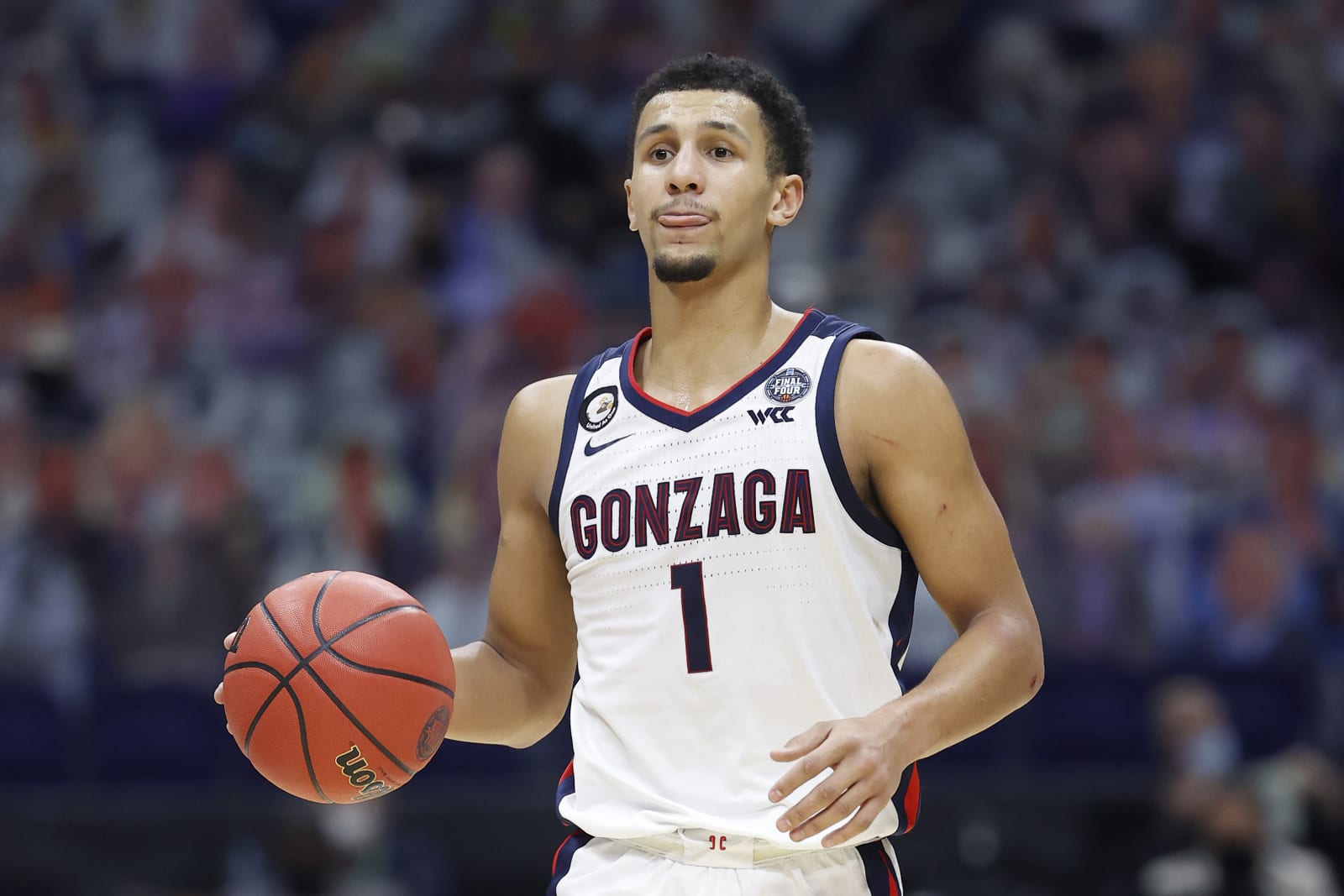 1. Cade Cunningham, PG, Oklahoma State
| | | | |
| --- | --- | --- | --- |
| Age: 19.81 | Height: 6'8 | Weight: 220lbs | Wingspan: 7'0 |
| PPG: 20.1 | RPG: 6.2 | APG: 3.5 | SPG: 1.6 |
| BPG: 0.8 | FG%: 43.8% | 3P%: 40.0% | FT%: 84.6% |
Strengths
Complete control of the ball and his team on offense
Great shooter in every way
Very good ball handler
Great passer
High level and versatile defender
Switchable on defense
Big game player
Leader
Not many weaknesses
Weaknesses
Relatively high turnover percentage at 18.7%
Not a top level athlete
Best Potential Fits: Pistons
Worst Potential Fits: N/A
Resembles: Luka Doncic, Jayson Tatum, LaMelo Ball, taller Shai Gilgeous-Alexander
2. Jalen Suggs, Guard, Gonzaga
| | | | |
| --- | --- | --- | --- |
| Age: 20.07 | Height: 6'4 | Weight: 205lbs | Wingspan: 6'6 |
| PPG: 14.4 | RPG: 5.3 | APG: 4.5 | SPG: 1.9 |
| BPG: 0.3 | FG%: 50.3% | 3P%: 33.7% | FT%: 75.4% |
Strengths
True winner
Great passer
Overall great athlete
Efficient scorer when he wants to
Great leader
Great defender
Weaknesses
Questions about his jump shot, shot 33.2% from three and 75.4% from the free throw line
Best Potential Fits: Raptors, Thunder
Worst Potential Fits: Cavaliers
Resembles: Jason Kidd, Jrue Holiday, Chauncey Billups, Eric Bledsoe
3. Jalen Green, SG, G-League Ignite
| | | | |
| --- | --- | --- | --- |
| Age: 19.44 | Height: 6'6 | Weight: 178lbs | Wingspan: 6'7 |
| PPG: 17.9 | RPG: 4.1 | APG: 2.8 | SPG: 1.5 |
| BPG: 0.3 | FG%: 46.1% | 3P%: 36.5% | FT%: 82.9% |
Strengths
Best scorer in the draft
Can score at all 3 levels
Defense is average now and if he locks in he can be elite
Insane athlete
Passing vision is good and with better teammates assists should go up
Weaknesses
Is prone to shoot questionable shots
Has tools to be a good defender but must lock in to become a good defender
All gas no brakes, must learn to slow down to become high level offensive player
Best Potential Fits: Rockets
Worst Potential Fits: Raptors
Resembles: Zach LaVine, Vince Carter, rich mans JR Smith
4. Evan Mobley, Big, USC
| | | | |
| --- | --- | --- | --- |
| Age: 20.08 | Height: 7'0 | Weight: 215lbs | Wingspan: 7'4 |
| PPG: 16.4 | RPG: 8.7 | APG: 2.4 | SPG: 0.8 |
| BPG: 2.9 | FG%: 57.8% | 3P%: 30.0% | FT%: 69.4% |
Strengths
Not many seven footers can move like he can
Amazing defensive instincts
Primary scoring potential
Amazing passing big
Good finisher around the rim
Real shooting potential
Weaknesses
Physically is to too thin
Size causes him to not be able to play around the rim against strong defender
Even with instincts, his size might not allow him to guard bigs
Does not have a an arsenal of post moves
Best Potential Fits: Cavaliers
Worst Potential Fits: Rockets
Resembles: Anthony Davis, Kevin Garnett minus the edge, skinny DeAndre Ayton
5. Scottie Barnes, PF, Florida State
| | | | |
| --- | --- | --- | --- |
| Age: 19.96 | Height: 6'8 | Weight: 225lbs | Wingspan: 7'3 |
| PPG: 10.3 | RPG: 4.0 | APG: 4.1 | SPG: 1.5 |
| BPG: 0.5 | FG%: 50.3% | 3P%: 27.5% | FT%: 62.1% |
Strengths
Swiss army knife, do it all kind of player
Defensive master
Can guard 1-4 with potential to play a small ball 5
Can handle the ball and bring it up the court
Above average passer and rebounder
Physically can hold up and very good athlete
Makes winning plays
Weaknesses
Jump shot is major question
Free throw percentage shows that he may never be an above average shooter
Struggles to create shots for himself
Only shot 4/19 for shots off the dribble
Not a back to the basket player, lacks sophisticated post game
Best Potential Fits: Thunder, Warriors
Worst Potential Fits: Magic, Kings
Resembles: Draymond Green, Ben Simmons, Kyle Anderson, Jabari Parker
6. Keon Johnson, SG, Tennessee
| | | | |
| --- | --- | --- | --- |
| Age: 19.36 | Height: 6'5 | Weight: 185lbs | Wingspan: 6'7 |
| PPG: 11.3 | RPG: 3.5 | APG: 2.5 | SPG: 1.1 |
| BPG: 0.4 | FG%: 44.9% | 3P%: 27.1% | FT%: 70.3% |
Strengths
Best jumper in this draft
Best perimeter defender in the draft
All-Defensive team potential
Incredible athlete
Will dunk on anyone
Super raw but offensive potential is there
Weaknesses
Extremely raw prospect
Not a go too scorer at this point
Poor shooter
Poor playmaker, negative AST-TOV ratio
Best Potential Fits: Magic, Pelicans, Hornets
Worst Potential Fits: Warriors, Kings
Resembles: Victor Oladipo, smaller Aaron Gordon, Kentavious Caldwell-Pope
7. James Bouknight, SG, UConn
| | | | |
| --- | --- | --- | --- |
| Age: 20.83 | Height: 6'5 | Weight: 190lbs | Wingspan: 6'8 |
| PPG: 18.7 | RPG: 5.7 | APG: 1.8 | SPG: 1.1 |
| BPG: 0.3 | FG%: 44.7% | 3P%: 29.3% | FT%: 77.8% |
Strengths
Great scorer
3 level scorer potential
Good at getting the free throw line
Good athlete
Does well finishing around the rim, can be an acrobatic finisher
Weaknesses
Bouknight has a high usage rate but only averaged 1.8 assists a game on 31 minutes a game
Poor 3 point shooter especially later in the year, although free throws and touch show potential development
Has tools to be good defender but is inconsistent
Best Potential Fits: Pelicans, Hornets
Worst Potential Fits: Thunder, Kings, Spurs
Resembles: DeMar DeRozan, Jordan Clarkson, Eric Gordon, Malik Monk, Anfernee Simons
8. Franz Wagner, SF, Michigan
| | | | |
| --- | --- | --- | --- |
| Age: 19.89 | Height: 6'8 | Weight: 205lbs | Wingspan: 6'8 |
| PPG: 12.5 | RPG: 6.5 | APG: 3.0 | SPG: 1.3 |
| BPG: 1.0 | FG%: 47.7% | 3P%: 34.3% | FT%: 83.5% |
Strengths
Plug in to any situation player
Spot up 3 point shooter
Versatile defender
Switchable
Glue guy skills
Weaknesses
Ceiling is not as high as other prospects in this range, you know what you are gonna get with him
Not a big isolation scorer
Not an insane athlete
Needs to make his shot more consistant
Best Potential Fit: Kings, Pelicans, Spurs, Pacers
Worst Potential Fit: Magic, Hornets
Resembles: Andrei Kirilenko, Trevor Ariza, Nicolas Batum, Deni Avdija
9. Moses Moody, SG, Arkansas
| | | | |
| --- | --- | --- | --- |
| Age: 19.13 | Height: 6'6 | Weight: 211lbs | Wingspan: 7'1 |
| PPG: 16.8 | RPG: 5.8 | APG: 1.6 | SPG: 1.0 |
| BPG: 0.7 | FG%: 42.7% | 3P%: 35.8% | FT%: 81.2% |
Strengths
Big 3 and D potential
Good spot up 3 point shooter
Good on ball defender
Above average rebounder especially for height
Weaknesses
Poor finisher at the rim
Struggles to finish floaters or runners
Probably will never be a primary scorer
Best Potential Fits: Pelicans, Hornets
Worst Potential Fits: Pacers, Spurs, Wizards
Resembles: Khris Middleton, Richard Hamilton, thinner Dillon Brooks, Wesley Matthews
10. Jonathon Kuminga, SF, G-League Ignite
| | | | |
| --- | --- | --- | --- |
| Age: 18.78 | Height: 6'8 | Weight: 210lbs | Wingspan: 7'0 |
| PPG: 15.8 | RPG: 7.2 | APG: 2.7 | SPG: 1.0 |
| BPG: 0.8 | FG%: 38.7% | 3P%: 24.6% | FT%: 62.5% |
Strengths
Potential off the charts
Body and athleticism are incredible
Body suggests he could become great defender
Could become great passer
Can finish around the rim
Weaknesses
Everything good about Kuminga is based around his upside
Was flat out just bad this year in the G-League
Poor shooter at 24.6% and 62.5% from line
Has tools to be a good defender but has not done it yet
Best Potential Fits: Thunder, Kings
Worst Potential Fits: Magic, Warriors
Resembles: Jaylen Brown, OG Anunoby, Rudy Gay, Jeff Green
11. Jalen Johnson, Forward, Duke
| | | | |
| --- | --- | --- | --- |
| Age: 19.58 | Height: 6'9 | Weight: 210lbs | Wingspan: 7'0 |
| PPG: 11.2 | RPG: 6.1 | APG: 2.2 | SPG: 1.2 |
| BPG: 1.2 | FG%: 52.3% | 3P%: 44.4% | FT%: 63.2% |
Strengths
6'9 athlete that moves like a guard
Good rebounder
Grab and go forward that plays well in transition
In high school he was an exceptional passer so there is real potential there
Good finisher
Defensively he could become elite
Very switchable
Weaknesses
Does not have too much film, lacked minutes at Duke
Not great shooting potential despite 44.4% percentage
Similar to many players, has defensive potential but has yet to consistently show it
Left IMG during his senior year and left Duke after 13 games, some worry about quitting mentality
Best Potential Fits: Kings, Pacers, Spurs
Worst Potential Fits: Pelicans, Hornets, Warriors
Resembles: Ben Simmons lite, less athletic Aaron Gordon, Kevin Knox
12. Davion Mitchell, PG, Baylor
| | | | |
| --- | --- | --- | --- |
| Age: 22.87 | Height: 6'1 | Weight: 202lbs | Wingspan: 6'4 |
| PPG: 14.0 | RPG: 2.7 | APG: 5.5 | SPG: 1.9 |
| BPG: 0.4 | FG%: 51.1% | 3P%: 44.7% | FT%: 64.1% |
Strengths
At Baylor he was a total stopper on defense
If that was right he could be an elite level defender in the league
Became a very good three point shooter last season
Crafty with the ball, looked like an NBA offensive player
Very good finisher around the rim
Makes winning plays has a chip
Very efficient
Weaknesses
Almost 23 years old
Not great size for a two guard but lacks playmaking abilities of a point guard
Three point shot was bad his first two years in college the suddenly got better, that in addition to his poor free throw shooting could mean it was a fluke season
Biggest selling point is his defense but he lacks the size and wingspan of elite defender
Best Potential Fits: Warriors, Pelicans, Hornets
Worst Potential Fits: Magic, Kings
Resembles: Donovan Mitchell, shorter Marcus Smart, Gary Payton, Lugentz Dort
13. Alperan Sengun, C, Beşiktaş J.K. (Turkey)
| | | | |
| --- | --- | --- | --- |
| Age: 18.98 | Height: 6'10 | Weight: 240lbs | Wingspan: 7'0 |
| PPG: 19.0 | RPG: 8.7 | APG: 2.7 | SPG: 1.3 |
| BPG: 1.6 | FG%: 63.2% | 3P%: 20.0% | FT%: 79.4% |
Strengths
Great interior player
Amazing footwork
Great finisher around the rim
Post move arsenal is great
Good passer for a big
Good free throw shooter, could show shooting potential
Locked in defensively, although he's not great the effort is there
Weaknesses
Very little versatility
Solely inside player on both sides of the floor
Currently lacks the ability to stretch the floor
Probably will never be even an average perimeter defender
Best Potential Fits: Kings, Hornets, Warriors
Worst Potential Fits: Pelicans, Pacers
Resembles: Nikola Vucevic, Domantas Sabonis Pau Gasol, Greg Oden, Boris Diaw, Dario Saric
14. Corey Kispert, SF, Gonzaga
| | | | |
| --- | --- | --- | --- |
| Age: 22.38 | Height: 6'7 | Weight: 224lbs | Wingspan: 6'7 |
| PPG: 18.6 | RPG: 5.0 | APG: 1.8 | SPG: 0.9 |
| BPG: 0.4 | FG%: 52.9% | 3P%: 44.0% | FT%: 87.8% |
Strengths
One of the best shooters in the draft
Can shoot in all ways (spot up, screens, etc.)
Can finish around the rim
Good defender will probably be slightly above average in the league
Big time competitor that has shown a high work ethic
Weaknesses
Not anywhere near elite at creating his own shot of the dribble
Average defender but quickness needs to be improved in order for him to be a good defender
Lacks ball handling in order for him to be much more than a 3 and D player
Best Potential Fits: Kings, Pelicans, Hornets, Pacers, Warriors
Worst Potential Fits: Magic
Resembles: Klay lite, Joe Harris, Wally Sczerbiak
15. Usman Garuba, PF, Real Madrid
| | | | |
| --- | --- | --- | --- |
| Age: 19.36 | Height: 6'8 | Weight: 229lbs | Wingspan: 7'3 |
| PPG: 4.7 | RPG: 4.6 | APG: 0.8 | SPG: 0.7 |
| BPG: 0.5 | FG%: 47.1% | 3P%: 31.6% | FT%: 65.9% |
Strengths
Elite defender
Is willing to try harder than anyone else on the court
Very switchable defender
7'3 wingspan will help him guard bigger offensive players
Makes winning plays
Good rebounder
Good at finding the first open man
Weaknesses
Poor shooter
Below average offensive player in general
Best Potential Fits: Grizzlies, Knicks
Worst Potential Fits: Thunder, Rockets
Resembles: Serge Ibaka, Paul Millsap, Udonis Haslem, Amir Johnson
16. Tre Mann, PG, Florida
| | | | |
| --- | --- | --- | --- |
| Age: 20.45 | Height: 6'4 | Weight: 178lbs | Wingspan: 6'4 |
| PPG: 16.0 | RPG: 5.6 | APG: 3.5 | SPG: 1.4 |
| BPG: 0.1 | FG%: 45.9% | 3P%: 40.2% | FT%: 83.1% |
Strengths
Spark plug offensive player
Great three point shooter
Herkie jerky with the ball, hard to guard
Killer step back
Great handle
Is possibly still growing
Weaknesses
Lacks elite decision making skills as a passer
Asist and turnover ratio were essentially the same this year (19.6% and 21.9%)
Not elite athlete
Will need to figure out defensive side of the floor in order to ever be elite
Best Potential Fit: Nuggets, Suns, 76ers, Bucks, Knicks
Worst Potential Fit: Nets, Jazz, Magic
Resembles: D'Angelo Russell, CJ McCollum, Darius Garland, Jordan Poole
17. Josh Giddey, PG, Adelaide (Australia)
| | | | |
| --- | --- | --- | --- |
| Age: 18.77 | Height: 6'8 | Weight: 205lbs | Wingspan: 6'7 |
| PPG: 10.8 | RPG: 7.4 | APG: 7.4 | SPG: 1.1 |
| BPG: 0.5 | FG%: 42.5% | 3P%: 29.3% | FT%: 69.1% |
Strengths
Extremely talented passer
High IQ player
Deadly in the pick and roll
Good finisher when it can get to the hoop
There is hope that his jump shot could develop
His height will allow him to hide on defense
Weaknesses
Not a good shooter, will need to develop the jump shot in order to thrive in pick and roll
6'8 will allow him to stay on the court but he is a terrible defender
Shorter wingspan than height
List of good players with shorter wingspans than their height is a very short list
Best Potential Fit: Spurs, Pacers
Worst Potential Fit: Kings, Pelicans, Hornets
Resembles: taller Ricky Rubio, Kyle Anderson, Evan Turner
18. Kai Jones, Big, Texas
| | | | |
| --- | --- | --- | --- |
| Age: 20.50 | Height: 6'11 | Weight: 221lbs | Wingspan: 7'2 |
| PPG: 8.8 | RPG: 4.8 | APG: 0.6 | SPG: 0.8 |
| BPG: 0.9 | FG%: 58.0% | 3P%: 38.2% | FT%: 68.9% |
Strengths
Projects to be a great rim runner
Good defender and keeps guards in front
Could be switchable in the league
Good perimeter player, especially as an big
Amazing athlete, few bigs move as fluid as him
Weaknesses
A big at 6'11 should be a good rebounder but Kai Jones is below average
Not a post player offensively
Gets pushed around defensively by large bigs
Poor playmaker
Best Potential Fits: Hornets, Thunder, Knicks
Worst Potential Fits: Pacers, Grizzlies, Hawks
Resembles: Myles Turner, Chris Boucher
19. Jaden Springer, Guard, Tennessee
| | | | |
| --- | --- | --- | --- |
| Age: 18.81 | Height: 6'4 | Weight: 202lbs | Wingspan: 6'8 |
| PPG: 12.5 | RPG: 3.5 | APG: 2.9 | SPG: 1.2 |
| BPG: 0.4 | FG%: 46.7% | 3P%: 43.5% | FT%: 81.0% |
Strengths
Incredible on ball defender
Overall great defender
Good passer and finding the open man
Good at attacking the hoop
Real shooting potential if he switches some things
Weaknesses
Lacks elite athleticism to get by NBA defenders on a consistent basis
Takes too long to get his shot off
Below the rim finisher who is often blocked or has his shot altered
Only shot 9 pull up jump shots all season, shows lack of confidence
Best Potential Fits: Knicks, Hawks, Grizzlies
Worst Potential Fits: Warriors, Thunder
Resembles: Malcolm Brogdon, less flashy Rajon Rondo, George Hill, Neckeil Alexander-Walker, Jerryd Bayless
20. Chris Duarte, Wing, Oregon
| | | | |
| --- | --- | --- | --- |
| Age: 24.1 | Height: 6'6 | Weight: 190lbs | Wingspan: 6'7 |
| PPG: 17.1 | RPG: 4.6 | APG: 2.7 | SPG: 1.9 |
| BPG: 0.8 | FG%: 53.2% | 3P%: 42.4% | FT%: 81.0% |
Strengths
Knock down shooter
Can shoot in every way (off catch, scree, etc.)
Great perimeter defender
Best player in Pac-12 last season
High floor
Hustler
Weaknesses
24 years old by draft night
Because of age, he is closer to the final player he will be than others in the draft
Lacks elite athleticism needed to keep players in front of him on defense
Best Potential Fits: Warriors, Knicks, Lakers
Worst Potential Fits: Thunder, Hawks
Resembles: Really poor mans Klay, Aaron Afflalo, Thinner Desmond Bane
21. Cam Thomas, SG, LSU
| | | | |
| --- | --- | --- | --- |
| Age: 19.766 | Height: 6'4 | Weight: 210lbs | Wingspan: N/A |
| PPG: 23.0 | RPG: 3.4 | APG: 1.4 | SPG: 0.9 |
| BPG: 0.2 | FG%: 40.6% | 3P%: 32.5% | FT%: 88.2% |
Strengths
Great offensive skills
Can shoot from beyond NBA range
Good isolation scorer in college
Can finish at the hoop
Great at drawing fouls and makes them pay at the line
Offensive potential is extremely high
Weaknesses
Prone to taking really bad shots
Plays an iso heavy game but at this point he lacks the skills to make that work in the league
Sloppy, lazy on defense
Best Potential Fits: Knicks, Rockets, Clippers, 76ers
Worst Potential Fits: Nets, Nuggets, Pistons
Resembles: Highest potential is Bradley Beal, CJ McCollum but Lou Williams, Brandon Knight, Malik Monk realistically
22. Jared Butler, PG, Baylor
| | | | |
| --- | --- | --- | --- |
| Age: 21.81 | Height: 6'4 | Weight: 193lbs | Wingspan: 6'4 |
| PPG: 16.7 | RPG: 4.8 | APG: 3.3 | SPG: 2.0 |
| BPG: 0.4 | FG%: 47.1% | 3P%: 41.6% | FT%: 78.0% |
Strengths
Good shooter
High effort defender
Good ball handler
Good in the pick and roll (can't go under)
Will have a good NBA career
High floor
Weaknesses
As a point guard he is average at best as a playmaker
Capped ceiling
Small on defense
Best Potential Fits: Lakers, Hawks, Grizzlies
Worst Potential Fits: Wizards, Thunder
Resembles: George Hill, Malcolm Brogdon
23. Sharife Cooper, PG, Auburn
| | | | |
| --- | --- | --- | --- |
| Age: 20.10 | Height: 6'1 or 6'4 | Weight: 180lbs | Wingspan: N/A |
| PPG: 20.2 | RPG: 4.3 | APG: 8.1 | SPG: 1.0 |
| BPG: 0.3 | FG%: 39.1% | 3P%: 22.8% | FT%: 82.5% |
Strengths
Best passer in the draft
8 assists in college is no joke
Offensive leader
Great control of the ball
Possibly grew
Shooting potential because of high free throw percentage
Can finish well around hoop
Weaknesses
Measured at 6'4 during combine but many believe that is an error, he was 6'1 all season
Awkward three point shooter, leans backwards on every set shot
Poor defender
Lacks most tools required in todays league outside of passing
Best Potential Fits: Knicks, Thunder
Worst Potential Fits: Hawks, Clippers, Nets
Resembles: Trae Young minus the jumper, Rajon Rondo, Tony Parker, Ish Smith
24. Trey Murphy, Forward, Virginia
| | | | |
| --- | --- | --- | --- |
| Age: 21.10 | Height: 6'9 | Weight: 206lbs | Wingspan: 7'0 |
| PPG: 11.3 | RPG: 3.4 | APG: 1.2 | SPG: 0.8 |
| BPG: 0.4 | FG%: 50.3% | 3P%: 43.3% | FT%: 92.7% |
Strengths
Knockdown spot up shooter
At 6'9 has great screener potential
Good rebounder
Good defender, could become highly switchable
Keeps ball moving
7'0 wingspan
Weaknesses
Strictly 3 an D player, is not above average in any other facet
Good spot up shooter but not great in any other way shooting (move, dribble, screens)
Poor ball handler
Best Potential Fits: Grizzlies, Lakers, Knicks, Clippers
Worst Potential Fits: Hawks, Thunder, Suns
Resembles: Cam Johnson, Robert Covington
25. Joel Ayayi, Guard, Gonzaga
| | | | |
| --- | --- | --- | --- |
| Age: 21.37 | Height: 6'5 | Weight: 180lbs | Wingspan: 6'7 |
| PPG: 12.0 | RPG: 6.9 | APG: 2.7 | SPG: 1.1 |
| BPG: 0.2 | FG%: 57.5% | 3P%: 38.9% | FT%: 78.1% |
Strengths
Solid in almost every way
High floor
Good shooter
Can handle the ball well
Good defender
Keep guards in front of him
Great rebounder at 6'5
Efficient
Weaknesses
Is not elite in any single way
Possibly the lowest ceiling out of anyone on this list
Thin framed
Best Potential Fit: Nuggets, Suns, Jazz
Worst Potential Fit: Clippers, 76ers
Resembles: Kendrick Nunn, Delon Wright, Frank Ntilkina, Nickeil Alexander-Walker
26. Quentin Grimes, SG, Houston
| | | | |
| --- | --- | --- | --- |
| Age: 21.20 | Height: 6'5 | Weight: 210lbs | Wingspan: 6'8 |
| PPG: 17.8 | RPG: 5.7 | APG: 2.0 | SPG: 1.4 |
| BPG: 0.3 | FG%: 40.6% | 3P%: 40.3% | FT%: 78.8% |
Strengths
Very good college 3 point shooter which should translate
Strong defender
Good 3 and D potential
Has shown flashes of creating his own shot
Weaknesses
Lacks explosiveness or burst of speed
Below average ball handler
Only two assists a game as a guard
Best Potential Fits: Clippers, Nuggets, Nets, 76ers
Worst Potential Fits: Suns, Magic
Resembles: Bogdan Bogdanovic, Josh Hart
27. JT Thor, Forward, Auburn
| | | | |
| --- | --- | --- | --- |
| Age: 18.91 | Height: 6'9 | Weight: 203lbs | Wingspan: 7'3 |
| PPG: 9.4 | RPG: 5.0 | APG: 0.9 | SPG: 0.8 |
| BPG: 1.4 | FG%: 44.0% | 3P%: 29.7% | FT%: 74.1% |
Strengths
Crazy high potential
Body and athleticism are great
Great perimeter defender
Very switchable
3 point potential
Weaknesses
Poor three point shooter but free throw percentage could show potential
Negative AST-TOV ratio
Best Potential Fits: Magic, Thunder, Pelicans, Pistons
Worst Potential Fits: Jazz, Bucks
Resembles: Jonathon Isaac ceiling, Al Farouq-Aminu
28. Josh Christopher, SG, Arizona State
| | | | |
| --- | --- | --- | --- |
| Age: 19.61 | Height: 6'4 | Weight: 215lbs | Wingspan: 6'9 |
| PPG: 14.3 | RPG: 4.7 | APG: 1.4 | SPG: 1.5 |
| BPG: 0.5 | FG%: 43.2% | 3P%: 30.5% | FT%: 80.0% |
Strengths
NBA level scoring
Able to make very difficult shots
Jump shot looks really good
Really good in mid range area
Defensive potential
Weaknesses
Extremely questionable shot selection
Defensive tools but probably never more than average on defense
Shot looks great but percentages are not great
Best Potential Fits: Knicks, Suns, Bucks
Worst Potential Fits: Nuggets, Jazz, 76ers
Resembles: Anthony Edwards without some athleticism, Xavier Henry, Nick Young
29. Nah'Shon Hyland, Guard, VCU
| | | | |
| --- | --- | --- | --- |
| Age: 20.86 | Height: 6'2 | Weight: 169lbs | Wingspan: 6'9 |
| PPG: 19.5 | RPG: 4.7 | APG: 2.1 | SPG: 1.9 |
| BPG: 0.2 | FG%: 44.7% | 3P%: 37.1% | FT%: 86.2% |
Strengths
Elite scorer
Crafty with the ball
Good 3 point shooter
Very good ball handler
Good finisher around the rim
Long wingspan, if he adds weight he could be an average defender
Weaknesses
Very skinny and lacks defensive mentality at this point
Great scorer but can get tunnel vision playmaking wise
Best Potential Fits: Suns, Pelicans, Bulls, Celtics
Worst Potential Fits: Magic, Pistons, Kings
Resembles: Immanuel Quickley, taller Collin Sexton, Tim Hardaway Jr.
30. Isaiah Jackson, Big, Kentucky
| | | | |
| --- | --- | --- | --- |
| Age: 19.52 | Height: 6'10 | Weight: 206lbs | Wingspan: 7'2 |
| PPG: 8.4 | RPG: 6.6 | APG: 0.7 | SPG: 0.8 |
| BPG: 2.6 | FG%: 54.0% | 3P%: 0.00% | FT%: 70.0% |
Strengths
Can serve as a real lob threat
Great athlete
Has perimeter potential
Good rebounder
High energy
Weaknesses
Lacks clear offensive role
Poor finisher around hoop for size
Nearly zero shooting potential
Unsure if his defense will work because of lack of size or mass
Gets in foul trouble
Best Potential Fits: Knicks, Clippers, Nets
Worst Potential Fits: Hawks, Lakers
Resembles: Nerlens Noel, Robert Williams

Check out our new podcast episode!
Got Hoops Podcast
A new up and coming basketball podcast by 4 dedicated NBA and basketball fans. It's for fans, by the fans.
Got Hoops Podcast (Ep. 19): Summer League? Beverley Trade? Westbrook/LeBron/AD Trio?
In this episode we discussed the summer league, the Clippers and Grizzlies trade, and the fit of Westbrook with LeBron and Anthony Davis, and other topics as well.
Search Results placeholder
Must See
The NBA season is coming up very soon and it's time we start talking...

The NBA season is just about a month away, with the regular season set...

The first week of the NFL regular season has concluded and it's time for...