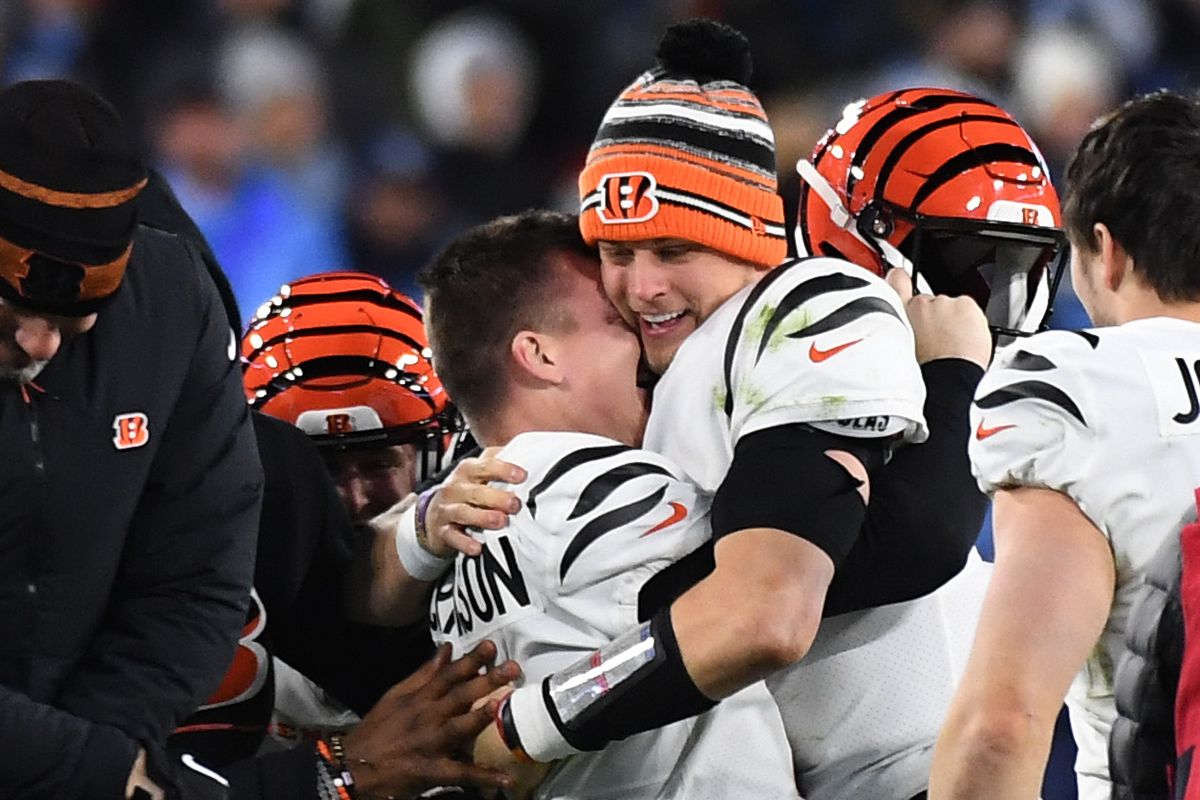 Bengals vs Titans
If a quarterback was sacked 9 times, which team usually wins?
If a quarterback takes at least 5 sacks, they have less than a 1 in 3 chance of winning their game (Stathead).
Before this weekend there was one exception to this statistic, Russell Wilson, now there are 2.
Bengals' O-Line was getting pummeled almost every single play, and yet Joe Burrow threw for 348 yards. When Burrow didn't face pressure, he got rid of the ball quickly and was 25/35 while averaging 8.6 yards an attempt. He got the ball in the hands of his best receiver in Jamarr Chase, who was elite at catching the ball and making play. Even though Chase has some issues with being consistent, he has been sensational in the playoffs.
Tannehill on the other side, had all day to throw for the most part. He was sacked only once by Vonn Bell, and threw 3 picks. Was it a lack of receiving weapons? Nope he has A.J. Brown, who he forces the ball to, way too much, and Julio Jones, even though he is older now.
With that being said, this came down to Evan McPherson being sensational. Alleged stories of the 5th round draft pick before the final kick were legendary. Although he had some issues earlier in the season, specifically against the Packers, he hasn't missed in the playoffs, and I don't think he will.
The whole Bengals franchise, although weak in many spots, does not lack confidence. They believe they can beat whoever, whenever. Burrow walked into the Bengals outdoor practice facility and changed the franchise, he rubs off on everyone and the team plays like it.
One team made the right play at the right time, and the other one made unforced errors and kept handing the ball back.
49ers vs Packers
Before I get too far, Packers' special teams were awful, they have been awful, and they will stay awful unless they hire a new coordinator. The probability of being blocked on a field goal are already very low, there's times teams don't even try, but it happened. Then they somehow get blocked on a punt from their endzone which gets returned for a touchdown.
Special teams coordinator Maurice Drayton should have been packing his bags after the first blocked kick. If the Packers' do move on from Drayton, they should look into Joe Judge, not a great HC, but an elite special teams coach as he showed in New England.
Aside from special teams, Aaron Rodgers was 20/29, threw for 225 yards and sacked 5 times. Yhis doesn't seem that bad, but the fact that he was only able to muster 10 points is embarrassing. After the first drive that he scored on, all Rodgers did was throw in and out routes to DaVante and Screen passes to Jones.
Aaron Jones was the best player on the Packers Saturday night, and that isn't even debatable. Rodgers has spent the entire offseason and regular season making himself look like a victim in an organization that he is holding hostage. Sure, he had a sensational regular season and will probably win MVP again, although I think it belongs to Brady. But mustering 10 points in a playoff game and not even being able to get your team field goal attempts more than 3 times is ridiculous. Keep in mind he was also playing a 49ers secondary which had multiple 2nd stringers playing throughout the game. Interesting to see who he blames this offseason.
Jimmy Garoppolo on the other hand, the guy that had his team trade up to draft his replacement with the 3rd pick, played as good as he needed to when he needed to. Sure, the punt return team got him a touchdown, but in the 4th quarter, he did what Rodgers couldn't. Him and Robbie Gould got them a field goal when they needed it.
Also are we sure Deebo Samuel is not the best offensive player in the league? Is there any player that is as physical and as fast as he is? He has great hands, can burn anyone, and can run through you as well. In terms of offensive value, I don't think there is anyone better, you can give him the ball 5 yards behind the sticks and he will get you a 1st down.
Garoppolo did something Aaron Rodgers hasn't done in a very long time, and that is making a play when he needs to in the playoffs.
Buccaneers vs Rams
My heart rate was all over the place on Sunday, it was something else. Being a Tom Brady fan boy this game hurt, but I will do my best to not be partial.
The Buccaneers offense was horrible. Their issues started on the offensive line with Tristin Wirfs and Ryan Jensen being injured. I don't believe Wirfs has ever given up a sack yet except for Khalil Mack in his rookie season to put some perspective on how good he is. Tom Brady was not able to stand tall in the pocket for long without having to get rid of the ball to tight spots, hence the 30/54 completions.
But Tom Brady did what he always does, he never crumbled and stood tall, and capitalized on the Rams playing conservative and tight. 4 mistakes by the Rams let Brady storm back form being down 27-3. If the Buccaneers were able to capitalize on some drives early on or even had a healthy Godwin or Antonio Brown, I don't think this game is close even with a depleted Bucs o-line. When properly protected, Brady made the Rams pay with a 55-yard Mike Evans touchdown on Jalen Ramsey.
Stafford played very well as well, but his team crumbled in the second half, while he did not. His team was getting tight, they were playing scared, as McVay teams have done in the past. There were miscued snaps, unnecessary fumbles and missed field goals. But in the end, when the pressure was on Stafford, he got sacked, fumbled the ball, and threw an incomplete pass. All of that did not matter beacuse in the last drive, he made a play. The play, he threw a bomb to Kupp, who was pretty much open the entire game against the Bucs defense questionable scheme.
Now for that questionable scheme, from a different camera angle when you can see downfield and the qb, the Buccaneers intention was apparent pre snap. Any experienced Madden player would tell you, that a LB blitz in that situation would leave you with 2-3 soft zones and 1 deep safety. So, what does Kupp do, runs right up the seam and right past Winfield.
I would assume this is a situation when he misses Belichick. Defense isn't making that mistake if Belichick is the coach.
Pro Bowl kicker Matt Gay then nails the game winner sending them to the NFC championship. Rams earned that win but got bailed out by a defensive coordinator who is known for blitzing. But he got caught blitzing at the wrong time.
Bills vs Chiefs
/\/\/\/\/\/\/\/\/\/\
That was my heart rate watching this game.
The first three quarters were fine, but the fourth and OT, OMG!
I don't think I can recall a game more exciting than this, maybe Rams vs Chiefs, or the Patriots vs Falcons Super Bowl.
OT rules aren't ideal for everyone, the losing team normally always has an issue with it, but it is what it is and the opening defense in OT knows that.
That being said, both QB's played probably their best games ever. Patrick Mahomes has become more and more methodical as he progresses in the league, his intelligence is beginning to compliment his supreme arm talent.
Josh Allen, has an argument to be put in the same sentence or placed as the best QB in the league after this season. The amount of growth he has had is ridiculous considering where he started in his rookie season. Many people believed he was a bust after his first season, and he has buckled under pressure many times. But yesterday, he went throw for throw with Patrick Mahomes.
Both QBs threw for 300+ yards and ran for 60+ yards. Both of these QBs are gunslingers that don't turn it over, they throw outside the pocket, side armsm under hands, and all sorts of ridiculous throws. Mahomes did end up throwing for more but, he did have an OT drive where he marched down the field and won the game.
I'm at a loss of words to even describe this game other than sensational, it's a shame the game ended the way it did. Both offenses did not miss a beat at any point, again, this game had some questionable defensive calls towards the end, and Mahomes capitalized, just like Josh Allen would have done.
I am interested to see what the Bills do this off season, Josh Allen getting Stefon Diggs was life changing. Curious to see who they chase in free agency or who they draft. A physical receiver like Godwin would be huge if the Buccaneers somehow let him go. Excited to see these 2 quarterbacks and many other in the AFC battle it out.