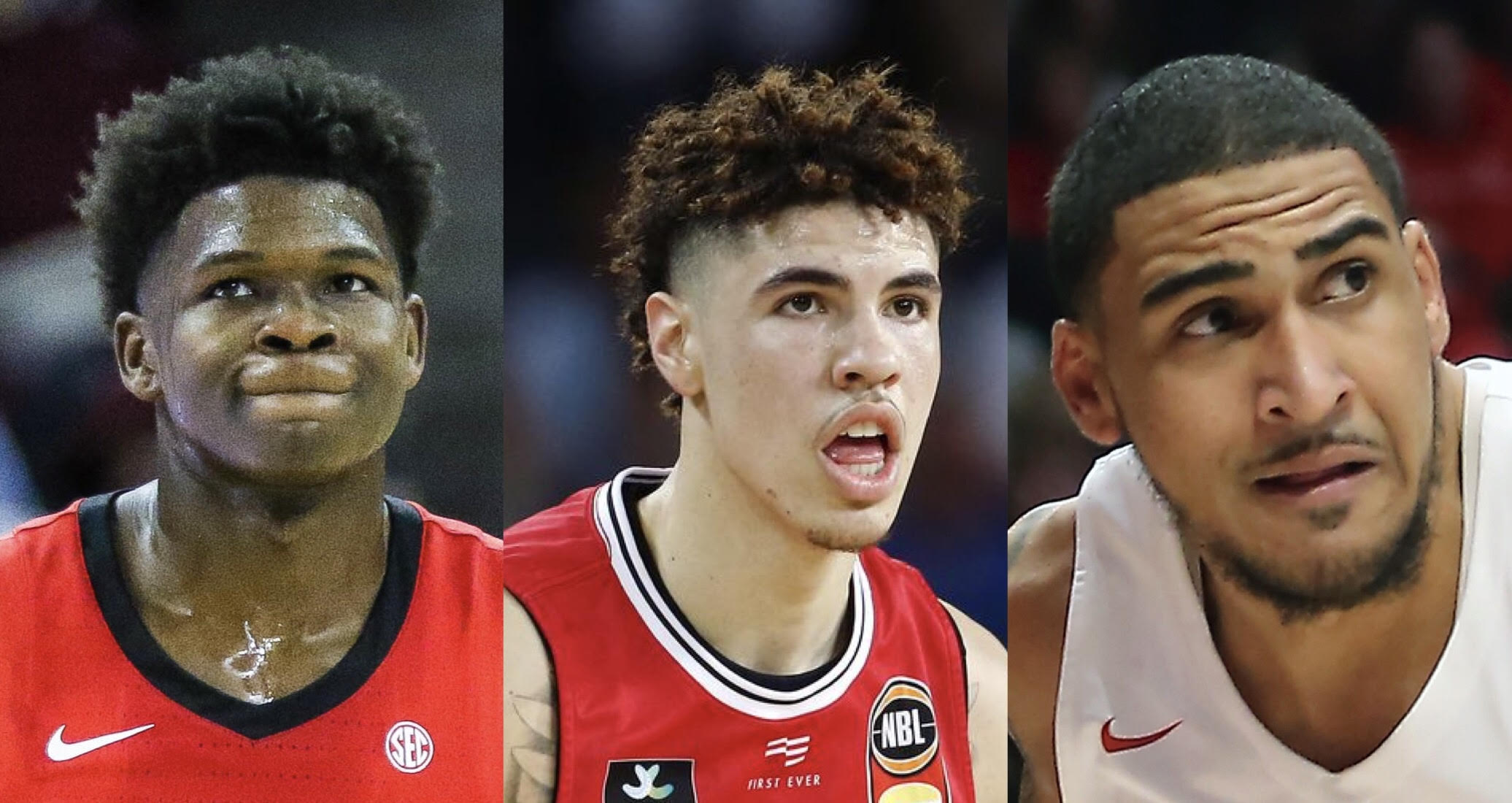 The NBA season is coming up very soon within the next 2 weeks and let's just say… I'm f****** excited. Although we just had basketball a few months ago, I can't wait for the season to come back already. Seeing all the teams compete at once is going to be interesting due to the nature of the NBA right now. It's going to be really interesting to see how they operate the season and how everything will turn out.
Another interesting thing to watch is how the NBA rookies will play in their rookie season on a limited training camp and no summer league. It's definitely going to be interesting to see how rookies are going to perform in this year's regular season.
Let's get into some of the top NBA rookies that were drafted…
Anthony Edwards, Timberwolves
Anthony Edwards was the #1 pick in this year's NBA draft. With being the #1 overall pick, there comes a lot of expectations to succeed and be a beast immediately. The Timberwolves will look to Edwards to provide a spark at the shooting guard position. Although Edwards doesn't shoot the ball too well, he can get drive inside really well and dunk with ferocity.
I think he does get the start and will probably play the small forward position for the Timberwolves. I expect the Timberwolves to start Malik Beasley at the #2 position due to them paying him $60M for 3 years. I do think Edwards will play well but not get the numbers due to so many heads to feed like KAT, D'Lo, and also Malik Beasley.
Projected Stats: 13.4 PPG, 4.9 RPG, 1.9 APG, 1.1 SPG
LaMelo Ball, Hornets
Unlike Edwards, I expect the #3 overall pick to be a key player for the Hornets immediately. Ball will be expected to take over point guard duties immediately for the Hornets. LaMelo Ball will find success early due to his ability to create plays for others and he will have some weapons around him to do so. The Hornets have players like Gordon Hayward, Devonte Graham, PJ Washington, etc. around Ball to let him do his thing.
I don't think LaMelo Ball will score a ton but he will definitely still get his points as the main ball handler for the Hornets immediately. I expect him to be the main star for the Hornets immediately after Gordon Hayward and be a positive impact for sure.
Projected Stats: 15.6 PPG, 7.8 APG, 5.1 RPG, 1.2 SPG
James Wiseman, Warriors
The Warriors have a lot of mouths to feed on that team and Wiseman will be the frontcourt member I expect them to feed as well. I can see Wiseman being that 3rd option on the inside behind Curry and Kelly Oubre Jr. James Wiseman will be a dominant presence for the Warriors that can catch lobs and be a strong dominant presence for the Warriors immediately.
Wiseman would be an anchor for them immediately on the inside and could score with ease in the middle. I expect him to get a lot of looks on the inside and to be a good rebounder as well. Wiseman will be really important if the Warriors expect to compete this year without Klay.
Projected Stats: 14.2 PPG, 10.1 RPG, 1.7 APG, 1.8 BPG
Obi Toppin, Knicks
The Knicks got good value at the #8 overall pick. Obi Toppin should be the starting PF immediately for the Knicks and give them a scoring boost in the frontcourt immediately. Although they should've drafted a point guard, getting Obi Toppin was a great move in my opinion.
Even though Toppin is a terrible defender, he's a crafty scorer and will fill up the scoreboard with points immediately. I think he will become one of the leading scorers for the Knicks immediately if not the primary leading scorer. I expect to see a lot of Toppin dunks and excitement brought for Knicks fans as Toppin becomes their top scorer.
Projected Stats: 18.4 PPG, 6.9 RPG, 2.2 APG, 0.7 SPG
Deni Avdija, Wizards
Not sure if Avdija will start immediately for the Wizards or not, but the Wizards got a huge steal in Avdija at #9. Deni Avdija was projected to be a top 4-5 pick in my opinion. Avdija plays with a lot of toughness and can do a lot of things on the offensive end.
He can pass the ball, score on the inside, score on the outside, and play good defense. I think he could win the starting SF spot immediately over Troy Brown Jr & Isaac Bonga. Although I think he will start, I don't see him getting that many touches.
Projected Stats: 11.2 PPG, 3.2 RPG, 2.9 APG, 1.2 SPG