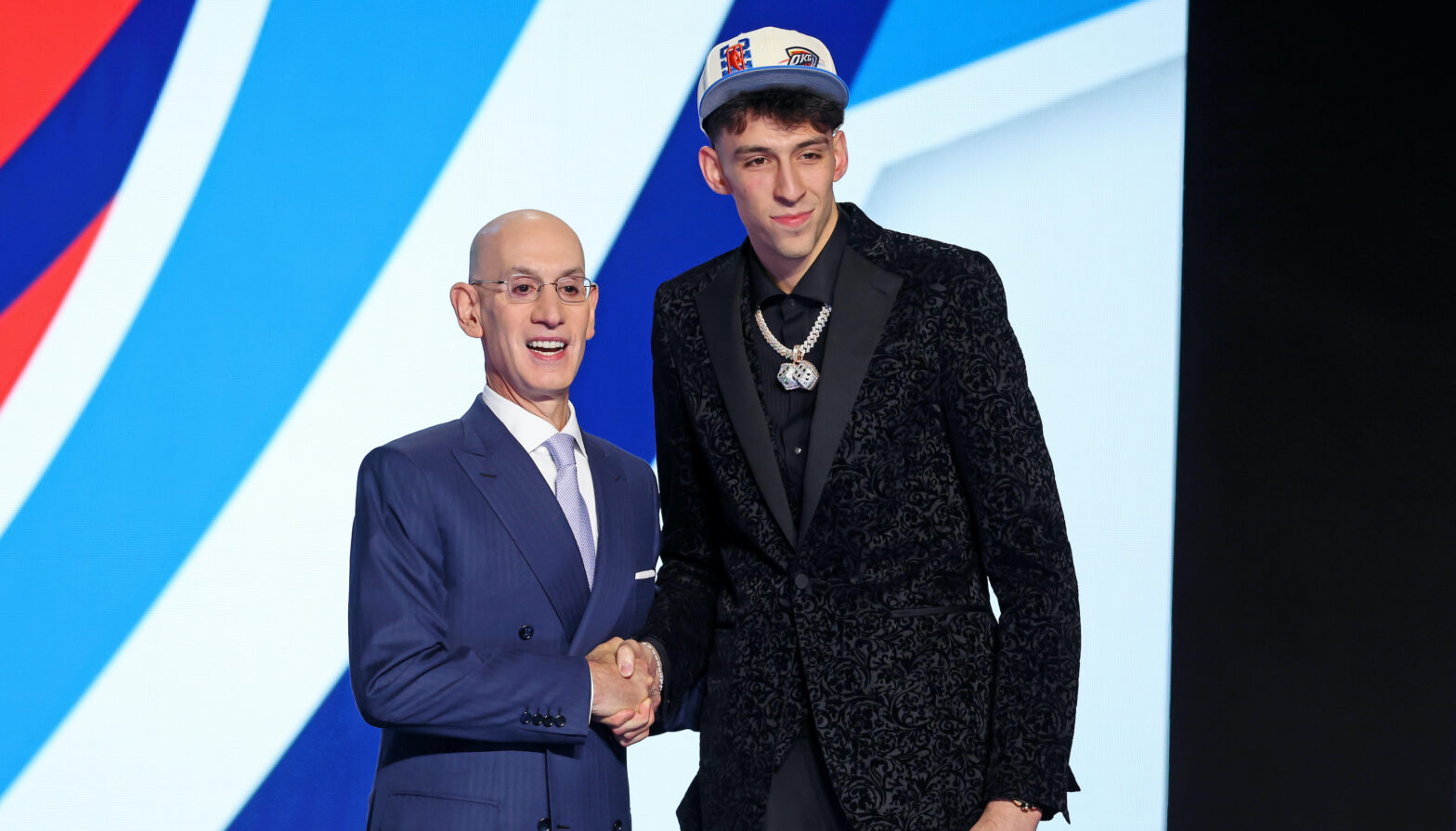 The draft is over and NBA summer league is about to kick off. Before it does I want to share a new idea I had. Many people, including myself, do big boards before the draft but are those relatively dumb?
Talent and potential matter a lot but so does playing time, drafting team, and the culture you are added into.
For these reasons I have come up with the idea of weighing all of these things together and creating one final big board.
For me this is big board 5.0 but this is my one and only post-draft big board. For these reasons I want this to be the big board that people look and judge me on in a couple of years (unless it is bad, then just ignore it).
My rankings didn't totally change from big board 4.0 but if a player was drafted into a bad situation it may hurt his ranking a little and the opposite for being drafted into good positions.
This will be my last piece of the 2022 NBA Draft Cycle to check out the rest of my 2022 draft stuff click the link below.
So without further to do here is my final big board of the year. See you for the loaded 2023 NBA Draft.
1. Jabari Smith, Houston Rockets
My Pre Draft Ranking: 1
Pick Taken At: 3
2. Chet Holmgren, Oklahoma City Thunder
My Pre Draft Ranking: 2
Pick Taken At: 2
3. Paolo Banchero, Orlando Magic
My Pre Draft Ranking: 3
Pick Taken At: 1
4. Jaden Ivey, Detroit Pistons
My Pre Draft Ranking: 4
Pick Taken At: 5
5. AJ Griffin, Atlanta Hawks
My Pre Draft Ranking: 5
Pick Taken At: 16
6. Keegan Murray, Sacramento Kings
My Pre Draft Ranking: 6
Pick Taken At: 6
7. Ousmane Dieng, Oklahoma City Thunder
My Pre Draft Ranking: 9
Pick Taken At: 9
8. Dyson Daniels, New Orleans Pelicans
My Pre Draft Ranking: 8
Pick Taken At: 8
9. Bennedict Mathurin, Indiana Pacers
My Pre Draft Ranking: 7
Pick Taken At: 6
10. Malaki Branham, San Antonio Spurs
My Pre Draft Ranking: 16
Pick Taken At: 20
11. Jalen Duren, Detroit Pistons
My Pre Draft Ranking: 13
Pick Taken At: 13
12. Johnny Davis, Washington Wizards
My Pre Draft Ranking: 10
Pick Taken At: 10
13. Shaedon Sharpe, Portland Trail Blazers
My Pre Draft Ranking: 12
Pick Taken At: 7
14. Jalen Williams, Oklahoma City Thunder
My Pre Draft Ranking: 20
Pick Taken At: 12
15. Bryce McGowens, Charlotte Hornets
My Pre Draft Ranking: 14
Pick Taken At: 40
16. Mark Williams, Charlotte Hornets
My Pre Draft Ranking: 16
Pick Taken At: 15
17. Nikola Jovic, Miami Heat
My Pre Draft Ranking: 19
Pick Taken At: 27
18. Jeremy Sochan, San Antonio Spurs
My Pre Draft Ranking: 22
Pick Taken At: 9
19. Ochai Agbaji,, Cleveland Cavaliers
My Pre Draft Ranking: 15
Pick Taken At: 14
20. Dalen Terry, Chicago Bulls
My Pre Draft Ranking: 17
Pick Taken At: 18
21. Tari Eason, Houston Rockets
My Pre Draft Ranking: 18
Pick Taken At: 17
22. EJ Liddell, New Orleans Pelicans
My Pre Draft Ranking: 21
Pick Taken At: 41
23. Jake LaRavia, Memphis Grizzlies
My Pre Draft Ranking: 24
Pick Taken At: 19
24. Jaden Hardy, Dallas Mavericks
My Pre Draft Ranking: 25
Pick Taken At: 37
25. Gabriele Procida, Detroit Pistons
My Pre Draft Ranking: 23
Pick Taken At: 36
26. Christian Koloko, Toronto Raptors
My Pre Draft Ranking: 39
Pick Taken At: 33
27. Blake Wesley, San Antonio Spurs
My Pre Draft Ranking: 26
Pick Taken At: 25
28. TyTy Washington, Houston Rockets
My Pre Draft Ranking: 27
Pick Taken At: 29
29. Wendell Moore, Minnesota Timberwolves
My Pre Draft Ranking: 32
Pick Taken At: 26
30. Max Christie, Los Angeles Lakers
My Pre Draft Ranking: 28
Pick Taken At: 35
31. Ryan Rollins, Golden State Warriors
My Pre Draft Ranking: 33
Pick Taken At: 44
32. Patrick Baldwin Jr., Golden State Warriors
My Pre Draft Ranking: 34
Pick Taken At: 28
33. MarJon Beauchamp, Milwaukee Bucks
My Pre Draft Ranking: 30
Pick Taken At: 24
34. Christian Braun, Denver Nuggets
My Pre Draft Ranking: 29
Pick Taken At: 21
35. Jaylin Williams, Oklahoma City Thunder
My Pre Draft Ranking: 35
Pick Taken At: 34
36. Kennedy Chandler, Memphis Grizzlies
My Pre Draft Ranking: 36
Pick Taken At: 38
37. David Roddy, Memphis Grizzlies
My Pre Draft Ranking: 52
Pick Taken At: 23
38. Ismael Kamagate, Denver Nuggets
My Pre Draft Ranking: 31
Pick Taken At: 46
39. Walker Kessler, Minnesota Timberwolves
My Pre Draft Ranking: 43
Pick Taken At: 22
40. Jean Montero, New York Knicks
My Pre Draft Ranking: 38
Pick Taken At: Undrafted
41. Trevor Keels, New York Knicks
My Pre Draft Ranking: 37
Pick Taken At: 42
42. Peyton Watson, Denver Nuggets
My Pre Draft Ranking: 53
Pick Taken At: 30
43. Orlando Robinson, Miami Heat
My Pre Draft Ranking: 47
Pick Taken At: Undrafted
44. Vince Williams Jr., Memphis Grizzlies
My Pre Draft Ranking: 40
Pick Taken At: 47
45. Dereon Seabron, New Orleans Pelicans
My Pre Draft Ranking: 41
Pick Taken At: Undrafted
46. Kendall Brown, Indiana Pacers
My Pre Draft Ranking: 42
Pick Taken At: 48
47. Caleb Houstan, Orlando Magic
My Pre Draft Ranking: 48
Pick Taken At: 32
48. Dominick Barlow, San Antonio Spurs
My Pre Draft Ranking: 44
Pick Taken At: Undrafted
49. John Butler, New Orleans Pelicans
My Pre Draft Ranking: 45
Pick Taken At: Undrafted
50. Alondes Williams, Brooklyn Nets
My Pre Draft Ranking: 46
Pick Taken At: Undrafted
51. Jabari Walker, Portland Trail Blazers
My Pre Draft Ranking: 49
Pick Taken At: 57
52. Andrew Nembhard, Indiana Pacers
My Pre Draft Ranking: 54
Pick Taken At: 31
53. Julian Champagnie, Philadelphia 76ers
My Pre Draft Ranking: 50
Pick Taken At: Undrafted
54. Moussa Diabate, Los Angeles Clippers
My Pre Draft Ranking: 65
Pick Taken At: 43
55. Jared Rhoden, Sacramento Kings
My Pre Draft Ranking: 51
Pick Taken At: Undrafted
56. Hugo Besson, Milwaukee Bucks
My Pre Draft Ranking: 55
Pick Taken At: 58
57. Josh Minott, Minnesota Timberwolves
My Pre Draft Ranking: 59
Pick Taken At: 45
58. Khalifa Diop, Cleveland Cavaliers
My Pre Draft Ranking: 57
Pick Taken At: 39
59. Keon Ellis, Sacramento Kings
My Pre Draft Ranking: 58
Pick Taken At: Undrafted
60. Trevion Williams, Boston Celtics
My Pre Draft Ranking: 56
Pick Taken At: Undrafted