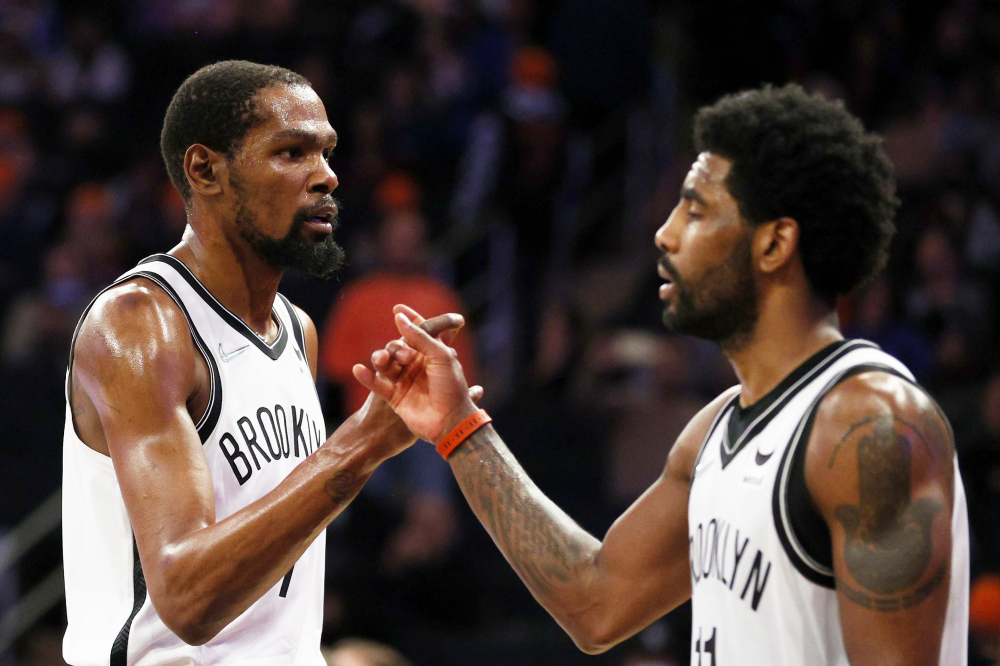 On Monday, June 27th, Kyrie Irving decided to opt into his player option, also announcing he wouldn't leave Kevin Durant, even though there have been tons of rumors about Irving leaving Brooklyn.
Kyrie Irving
"For me, it has always been about being comfortable, loving where I'm at, and I love it here. Once that summertime hits, I know that we'll have some conversations, but there is no way I could leave my man 7, anywhere."

– Kyrie Irving
Irving has shown his faithfulness to Durant, but the favor was not returned. On June 30th, Durant requested a trade out of Brooklyn, and ever since then, the media has been blown up with mock trades and offers. So far, neither of the two have been traded or left, and the Nets have been looking to keep it that way.
Irving and Durant staying in Brooklyn is extremely unlikely, especially with new talks about Irving being sent to Los Angeles to join Lebron James again, but according to Brian Windhorst, the Nets have no intention of sending him to L.A. As of now, rumors about Irving should come to a halt unless they are finalizing a trade with the Lakers.
Kevin Durant
Kevin Durant's name has been coming up nonstop since Monday when he requested a trade out of Brooklyn. From no rumors to being the most spoken-about player regarding the offseason. Offer after offer, the Nets have declined.
When Rudy Gobert, the ex-starting center of the Jazz, was traded to Minnesota on Friday for four first-round picks, Malik Beasley, Leandro Bolmaro, Patrick Beverley, and Walker Kessler, the haul the Nets would have to accept for Durant would be one of the biggest in history. The main reason Durant has a chance of staying even though he doesn't want to is because many teams don't want to sacrifice their young stars or young players with a lot of potential.
The Toronto Raptors would not be willing to give up Scottie Barnes. The Phoenix Suns would not be able to give Devin Booker up if they wanted to because Ben Simmons is on the Nets, who already is on a designated rookie max contract. The same goes for the Miami Heat, who cannot trade Bam Adebayo. Unless Ben Simmons is somehow traded, nothing any team has to offer would make sense for the Brooklyn Nets to accept. With how much value players have around the market right now, there is no team that looks like they would want to give up young stars that the Nets want for Durant.
Keeping Irving and Durant may be a long shot, but only time will tell.