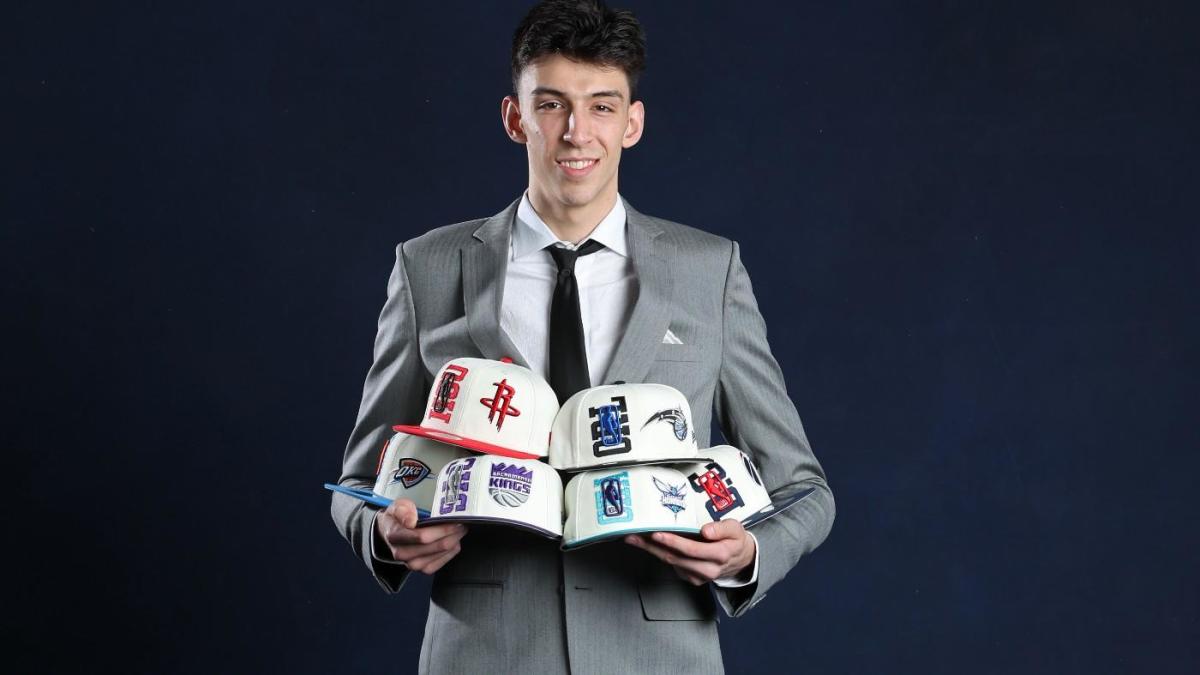 Along with co writers Jakson Peach and Will DeBellis we have put together Mock Draft 2.0. In this mock draft, the three of us alternated picks and went through the entire first round. Intel has started coming out about certain teams agendas but much of the draft is still a mystery. With that being said we still put our GM hats on and attempted to predict where these franchises will go come June 23rd. Just a reminder this is NOT what we would do but instead a general prediction on what could come.
You can check out my full 2022 NBA Draft database with all of my big boards, scouting reports, and mock drafts HERE!
1. Orlando Magic: Jabari Smith, Auburn
Sliding in comfortably at forward spot, the sharpshooter will immediately improve Oralndo's shooting given this team finished 28th in three point percentage. He will bring a level of shooting and defense this team needs. His versatility on defense will be a key need for this team and will create a deadly line with some combination of Franz Wagner, Jonathon Isaac, and Wendell Carter.
-Will
2. Oklahoma City Thunder: Chet Holmgren, Gonzaga
I am sure Oklahoma City will have a lot of discussions on which direction to go at #2 but all indications suggest if Jabari goes #1 then Chet is the pick. Holmgren will instantly improve the Thunders defense with his excellent shot blocking tendencies and OKC may just be the perfect spot that allows him to devolop his offensive game that could turn him into an all-star.
-Joey
3. Houston Rockets: Paolo Banchero, Duke
The Rockets may have a future star guard in Jalen Green, and this year they'll be able to snag a future star forward in Banchero. He's an advanced ball-handler for his size, can score in the post, knock down jumpers from the outside and make plays for others. He'll have to improve on defense to hit his ceiling, but everything else is there for Banchero at an early stage of his career. Banchero also makes a seamless fit in the frontcourt alongside pieces like Christian Wood and Alperen Sengun making this team almost truly positionless.
-Jakson
4. Sacramento Kings: Jaden Ivey, Purdue
Given last year's strategy, Sacramento will likely go with the best player available strategy again which makes it likely they land Jaden Ivey. This pick gives them more leeway to trade De'Aaron Fox. The downhill guard will be competing every practice against two solid nba point guards which should help his development.
-Will
5. Detroit Pistons: Keegan Murray, Iowa
Keegan Murray is not a home run pick but it is still probably the right one. Murray is already 21 but he brings versatitly and talent to a roster that lacks it. Detroit lost out on a top four draft but Keegan Murray is an excellent consolation prize.
-Joey
6. Indiana Pacers: Bennedict Mathurin, Arizona
A lengthy playmaker on the wing is exactly what the Pacers need to amplify their current roster led by a backcourt of Haliburton and Duarte. Mathurin is expected to be a plug-and-play competitor that brings high energy and a contagious style. There would be no better landing spot for Mathurin as the Pacers young rebuilding core will allow him to get minutes right away and he appears to be a seamless fit to a Rick Carlisle system. This could round out the question marks in his game while still allowing him to grow and develop
-Jakson
7. Portland Trail Blazers: Shaedon Sharpe, Kentucky (Kind Of)
More of a trade piece type of draft pick, expect Portland to swing for upside while looking to find veteran players to fill out the roster. We don't know as much about Sharpe as really many prospects but his high upside is tantalizing enough for Portland to hope for a trade partner in all likelihood. Look out for Detroit to attempt to swap this pick for Jerami Grant.
-Will
8. New Orleans Pelicans: Dyson Daniels, G-League Ignite
For what it is worth the Pelicans are RUNNING up to the stage to make this pick. The Pelicans have their stars in Ingram, McCollum, and Zion and they have some good role players but now it is time to shape the roster. Daniels is the perfect glue guy that also has a lot of upside to devolop into a really good player. Daniels will be a great defender that keeps the ball moving and contributes to winning.
-Joey
9. San Antonio Spurs: AJ Griffin, Duke
The Spurs have a need for a talented wing to pair with Dejounte Murray, but they just haven't been able to figure that part of their roster out. Despite the injury concerns, Griffin provides the kind of two-way upside that the Spurs simply haven't had at that position since Kawhi. He's a good shooter and flashes as a scorer, but he needs time to fine-tune his skills and fundamentals. He is a good fit alongside Murray and could have one of the most feared 3-point shooting arsenals in the league in a few years' time alongside Joshua Primo.
-Jakson
10. Washington Wizards: Jeremy Sochan, Baylor
A quick twitch, rangy defender, expect him to continue to rise up draft boards dude to his athleticism and defensive ability. Sochan will be an impact player with his defense from the get-go, and while his skill lackss on offense, being able to score in transition will be a strength in his game.
-Will
11. New York Knicks: Johnny Davis, Wisconsin
The board clears up around this time and the "top tier" talent is fading. With that being said Davis could easily be that guy and the Knicks get a steal with him at 11. Johnny is a great perimeter defender that has shown he can be a good secondary or tertiary scoring threat. Three point shooting will be Johnny's swing skill but if that devolops he will be a good player for a long time.
-Joey
12. Oklahoma City Thunder: Jalen Duren, Memphis
There is a role in Oklahoma City for a rim-runner who plays a traditional centre position. With a current lack of real NBA talent at the Centre position or a true centre on the Thunder's roster. It could give them a different dynamic on offense especially playing with a skilled playmaker like Giddey. Even better for the Thunder, he has NBA-ready athleticism, strength and could have an impact on the roster on Day 1. If this was a 1990s draft class, he would probably be the prized selection. Of course, the limited shooting range will limit his overall potential but there is a lot of value in finding Duren this late into the lottery.
-Jakson
13. Charlotte Hornets: Mark Williams, Duke
A team that struggles inside, expect Charlotte to look for a big man come draft night. Williams defense and rebounding will be his calling card, along with be a lob threat for LaMelo given his catch radius. Mark may never be an all star but he could lock up Charlotte's center spot for the next 10 years.
-Will
14. Cleveland Cavaliers: Ochai Agbaji, Kansas
This pick is commonly mocked for the Cavs here at 14 but it just makes so much sense. The Cavaliers have their stars of the future but they are lacking a real presence on the wing. Agbaji is already 22 but he is already the prospect most of the picks after him hope to be. From day 1, Agbaji will be ready to contribute to a team with playoff hopes.
-Joey
15. Charlotte Hornets: Tari Eason, LSU
Eason is a two-way wing who brings a tough, physical style to the defensive end. He wreaks havoc on ball-handlers and is a dynamic player in transition once a turnover is forced. Eason is also a solid offensive player, having averaged 16.9 points per game at LSU last season. He's a decent outside shooter who really shines when he's in the air around the rim which could be a complimentary piece to Lamelo Ball and mean that Charlotte won't have to overpay for the services of Miles Bridges. The Hornets roster is in dire need of two-way players with length, and he checks off both of those boxes convincingly.
-Jakson
16. Atlanta Hawks: MarJon Beauchamp, G-League Ignite
Might be a surprise, but the G-League Ignite athlete to Atlanta makes sense. Given their GM has ties with the Warriors it makes sense he wants switchability next to Trae Young. They also have some wing players whose futures with the team will need to be decided soon.
-Will
17. Houston Rockets: Ousmane Dieng, New Zealand (France)
As someone who currently has Dieng as their #9 prospect this seems like a no brainer. The Rockets will have plenty of time to take the safe pick over the next couple of years, now is the time to swing for the fences and see if it lands you another star. Taking Dieng is doing exactly that. With his defensive tools, shot, and handle, Dieng has all the potential to be a very good player.
-Joey
18. Chicago Bulls: Malaki Branham, Ohio State
Branham was the second-leading scorer on the Buckeyes despite being an 18-year-old freshman. He's a solid offensive player with an accurate 3-point shot and a knack for getting into the paint. He also sprinkled in some moments of brilliance with two 30-point outbursts in Big 10 road games. The Bulls could develop Branham as Coby White's replacement in the event they can't keep him down the road after re-signing Zach LaVine to a big deal. He would also fit in as a plug and play guy off the bench and fit in with players like Lonzo Ball as a 3-point shooter in a system built on pace.
-Jakson
19. Minnesota Timberwolves: TyTy Washington, Kentucky
A crafty playmaker, Washington could fill in nicely off the T-Wolves bench next to pesky defender Patrick Beverley. A tall point guard who has versatility to play either guard spot, Washington is a solid playmaker even having a game with 17 assists this year. A foot injury dropped Washington's stock but he could still be a starter in this league.
-Will
20. San Antonio Spurs: Nikola Jovic, Mega Bemax (Serbia)
The Spurs need upgrades at their big spots but they have never been known to be a franchise that panics. The Spurs will likely take who they think is the best player avaliable and I believe here that is Nikola Jovic. Jovic has massive question marks on defense but his upside as an offensive player is tantalizing. Jovic is an athletic 6'11 wing, that alone is rare in the NBA nevermind if he devolops his three point shot.
-Joey
21. Denver Nuggets: Jalen Williams, Santa Clara
No one had a better Combine than Santa Clara's Jalen Williams. He's risen from a mid-second rounder to a first-round prospect after wowing executives in Chicago. Williams showed he can play in a variety of different roles depending on the line-up, primarily as a bucket-getter with a two-way impact. Could be a great fit in a Denver system that is deprived of bench scoring
-Jakson
22. Memphis Grizzlies: EJ Liddell, Ohio State
A player with the type of toughness Memphis loves. The gritty power forward has strength and switchability Memphis would love to employ off the bench. A unexpected good shot blocker given his height he can do a bit of everything on the court.
-Will
23. Philadelphia 76ers: Jake LaRavia, Wake Forest
LaRavia gives the 76ers exactly what they need, shooting and wing defense. I think LaRavia is a Harrison Barnes like player which may be exactly what Philadelphia needs next to Joel Embiid, James Harden, and Tyrese Maxey.
-Joey
24. Milwaukee Bucks: Blake Wesley, Notre Dame
There's a lot of raw potential in Blake Wesley, who didn't exactly have an eye-popping freshman season with Notre Dame. Consistency will be most teams' main concern using a first-round pick on a guard who only shot 30% from deep this past year. However, he is not afraid to score at all three levels and his elite first step makes him an intriguing option. Especially for a team like the Bucks who don't have a lot to lose taking a flyer on a guy like Wesley here, Milwaukee is geared to compete right now and can mentor Wesley through the consistency woes.
-Jakson
25. San Antonio Spurs: Kendall Brown, Baylor
The type of athlete the Spurs have seemed to love drafting lately, Brown seems to be a project type of player given his offensive skillset. The rewards that could be reaped would be impressive, given Brown's athletic ability.
-Will
26. Dallas Mavericks: Bryce McGowens, Nebraska
Dallas can not settle for taking another role player, they NEED to swing for the fences and McGowens would be just that. There is a chance McGowens does not work out but I am willing to take a swing on a jumpo guard, with shooting upside, that gets to the free throw line at a high rate but maybe I am not the guy to trust considering I have McGowens at 14 on my board.
-Joey
27. Miami Heat: Patrick Baldwin Jr., Milwaukee
Patrick Baldwin Jr. missed nearly two months of the season after calf injury and was shut down due to an undisclosed injury. The low-major experiment of Baldwin going to play with his dad's team did not work out well. If anything, he's hurt his draft stock with unimpressive numbers against lesser competition. As I said before with the Bucks, Miami don't have a great deal to lose here late in the first round and taking a swing at Baldwin Jr. could pay dividends as he was ranked 5th in the class prior to the season.
-Jakson
28. Golden State Warriors: Orlando Robinson, Fresno State
A skilled, mobile big man, Robinson screams stretch big. While not quite the shot blocker he could maybe improve into, Robinson's skill will make him a potentially valuable offensive player. He also handles the ball well for someone his size.
-Will
29. Memphis Grizzlies: Jaden Hardy, G-League Ignite
Jaden Hardy's fall has gotten out of hand and he should have gone 5-10 picks ago. Hardy may not have had the year everyone expected but he still has incredible talent. Memphis is in a position to strictly take the best player avaliable and they do just that by selecting Hardy.
-Joey
30. Oklahoma City Thunder: Jean Montero, Overtime Elite
Montero took an unusual route by playing in a start-up league that essentially rivals the G-League as a path to the NBA. Already he has put together some amazing passing highlights. He's very gifted as a distributor and has a smooth outside jumper. For most of the NBA, though, he's been relatively out of the mainstream news. If Montero pans out a two-guard front of Giddey and Montero could be scary with both players having the ability to throw eye-popping passes that leave defences stunned.
-Jakson

Must See
The NFL preseason is among us and it's time we start diving more deep...

I finished up my center position tiers, so I figured I would move on...

As we approach the 2022-23 NBA season, I wanted to give my tier rankings...