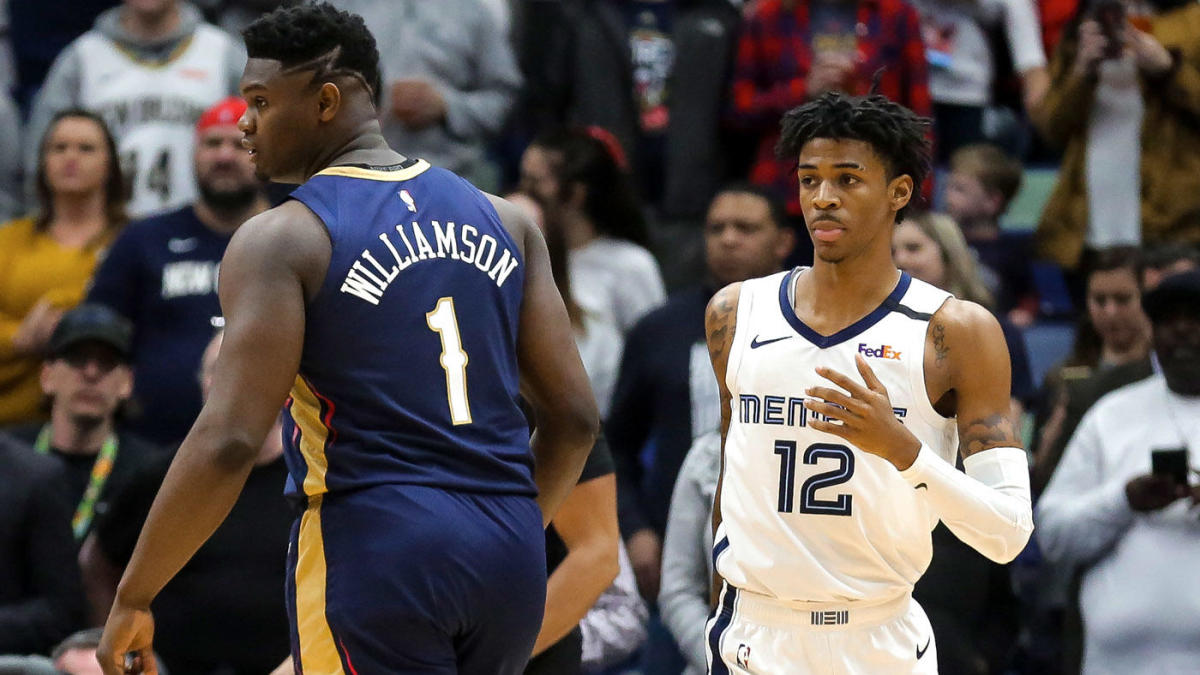 We are inching closer and closer to the start of the season. But to hold us off until it comes, I am continuing my NBA Re-Draft series. Check out the last two re-drafts Here (2021) and Here (2020)!
Next in order is the 2019 NBA Draft. These players have only played three seasons in the NBA so much of this ranking is still based on projection and what they could be.
This is more of a ranking rather than a "re-draft" just because it would get incredibly complicated as the years went backwards to draft for team "need".
Without further ado let me start this list off with a potential surprise.
1. Zion Williamson, New Orleans Pelicans
Real Pick: 1
This may be a surprise to some but it is the right choice. When Zion has played he has been a top ten player in the league. His 19.6 points in the paint a game is the most since Shaquille O'Neal. Zion was the number one pick and although Ja has been incredible, Zion is still the right pick.
The Pelicans were a fun 8 seed last season that gave the Suns a fight but with Zion, they could be legitimate contenders. Zion, Ingram, McCollum, Herb Jones, Valanciunas, Graham, and multiple young players could be a sneaky contender to win the western conference.
2. Ja Morant, Memphis Grizzlies
Real Pick: 2
Ja Morant had a BREAKOUT season this year winning the most improved player award and becoming a borderline superstar. Morant has become the face of the Grizzlies and made them legit contenders. Ja is currently the best player in this draft and I would be surprised 0% if he ends his career in the same position. My biggest gripe with Ja as of now is, for the love of god could he please stop jumping so recklessly and learn how to land (Derrick Rose flashbacks).
3. Darius Garland, Cleveland Cavaliers
Real Pick: 5
Another player with a huge leap last season. The first time all-star displayed the playmaking and self-creation that he had only flashed in seasons past. At the end of the games, too much was placed on Garland's shoulders as a creator. With the addition of Donovan Mitchell, the stress of creation will partially be lifted off of Garland's shoulders.
Quickley want to toot my own horn. Before the 2019 draft, I ranked Garland as the 4th prospect and was on record saying that it wasn't a three player draft but instead a four-person draft and Garland was in that tier (don't worry, I ranked Killian Hayes as my #1 in 2020).
4. Jordan Poole, Golden State Warriors
Real Pick: 28
As a Michigan fan this delights me tremendously. I never quite saw it in college but the terrific Golden State developmental staff have turned Poole into arguably the second most important Warrior (Draymond and Kuminga are mad right now).
Poole has PG13-esk smoothness and is an elite scorer from all three levels. With that being said I would like to see him be anything other than a traffic cone on the defensive end. As the current Warriors age out, expect Poole to become the focal point of Golden State's offense.
5. RJ Barrett, New York Knicks
Real Pick: 3
RJ Barrett just turned 22 so it makes sense that he still mostly flashes in a "star" sense. I love RJ Barrett as a player and viewed him as the second-best player in this draft as a prospect. Barrett recently got a 120 million dollar extension, so clearly the Knicks share the feeling that he can blossom into a star.
I once compared Barrett to Tracy McGrady and still feel like he can become that type of player. With the addition of Brunson, it will be on Barrett to take the responsibilities as nothing will be handed to him on the offensive end.
6. Tyler Herro, Miami Heat
Real Pick: 13
Tyler Herro's career so far has been a roller coaster. Herro infamously dropped 37 in the eastern conference finals against my Boston Celtics. Since the bubble, in the playoffs, Herro has averaged 11.8 PPG, 2.5 APG, 3.7 RPG, while shooting 39% from the field and 25% from 3.
Those aren't great numbers and based on comments made by Pat Riley I would not be surprised at all if Herro is not on the Heat past his rookie contract. With that being said, at worst Herro is a high level bench scorer but he is still very skilled and will have a long NBA career.
7. Keldon Johnson, San Antonio Spurs
Real Pick: 29
No offense to Keldon Johnson, but here is where the drop off happens in this draft. I have loved Keldon's progress as a player and he is now a very solid starter. Nothing about Keldon screams star and is not a sexy player but he will have a long career and help a team contend.
8. Lu Dort, Oklahoma City Thunder
Real Pick: Undrafted
Dort is one of my "guys". An ideal 3 and D player, Dort has solidified himself as a legit NBA player even after being undrafted. Last season, Dort elevated his offensive game averaging 17 points a game. Although his game is forgotten about because he is in Oklahoma City, never forget in the bubble when Dort was the "Harden stopper".
9. De'Andre Hunter, Atlanta Hawks
Real Pick: 4
Man, when Hunter is healthy he is a very good player. That is just the problem though as he has played only 139 games in three seasons. Every time it seems as Hunter is hitting his stride he goes down with another injury.
Hunter is a good player on both sides of the ball, and this season will be huge for him both health wise and progression wise. The Hawks have good pieces on their roster and Hunter's development will be HUGE for their future.
10. Kevin Porter Jr., Houston Rockets
Real Pick: 30
I have been on record stating that I am not quite a fan of Kevin Porter Jr.'s game but I can not deny the talent. Last season KPJ averaged 16-6-4 and shot 37% from 3. With that being said, the eye test (or maybe it is just me) finds KPJ as too much of a ball stopper and someone who puts in minimum effort in on the defensive end.
This is all without mentioning multiple incidents that put Porter's character into question including an event that got him cut from the Cavaliers. Porter has the talent and size to be a very good player but I just have questions on if he will put it all together.
11. Cameron Johnson, Phoenix Suns
Real Pick: 11
Cameron Johnsons is already a top 6 player on a championship contending team. A incredible sharpshooter and competent defender, Johnson has morphed into a player I never thought he would be coming out of college. Johnson was a very big surprise pick at 11 but has panned out well. The reason Johnson isn't ranked higher on my board is only because he is already 26.
12. Grant Williams, Boston Celtics
Real Pick: 22
As a Celtic fan, I would've been SHOCKED if you told me I'd rank Grant Williams here a year ago. Giannis Antetokounmpo is the best player in the world (CLEARLY) and Grant played great defense on him in the playoffs. There are limits on how good Williams can become but during the playoffs, he showed enough to warrant him to be on the list.
13. Nicolas Claxton, Brooklyn Nets
Real Pick: 31
I thought Claxton was an incredible potential guy coming out of college and he still is. A great shot blocker and developing offensive player it is just going to come down to if Claxton can go from being good to great on the defensive side of the floor. Claxton will have a massive role in Brooklyn next season for a team that lacks any real big outside of him.
14. Brandon Clarke, Memphis Grizzlies
Real Pick: 21
Mr. efficiency, Clarke has been productive in the minutes he has been given in the league. Just like in college, Clarke seems like someone that will prosper in more minutes but every time he is given them, production stays about the same. My prediction is Clarke has a long NBA career without ever really breaking out or becoming a star.
Honorable Mentions: PJ Washington, Rui Hachimura, Nassir Little, Cam Reddish, Talen Horton-Tucker, Max Strus