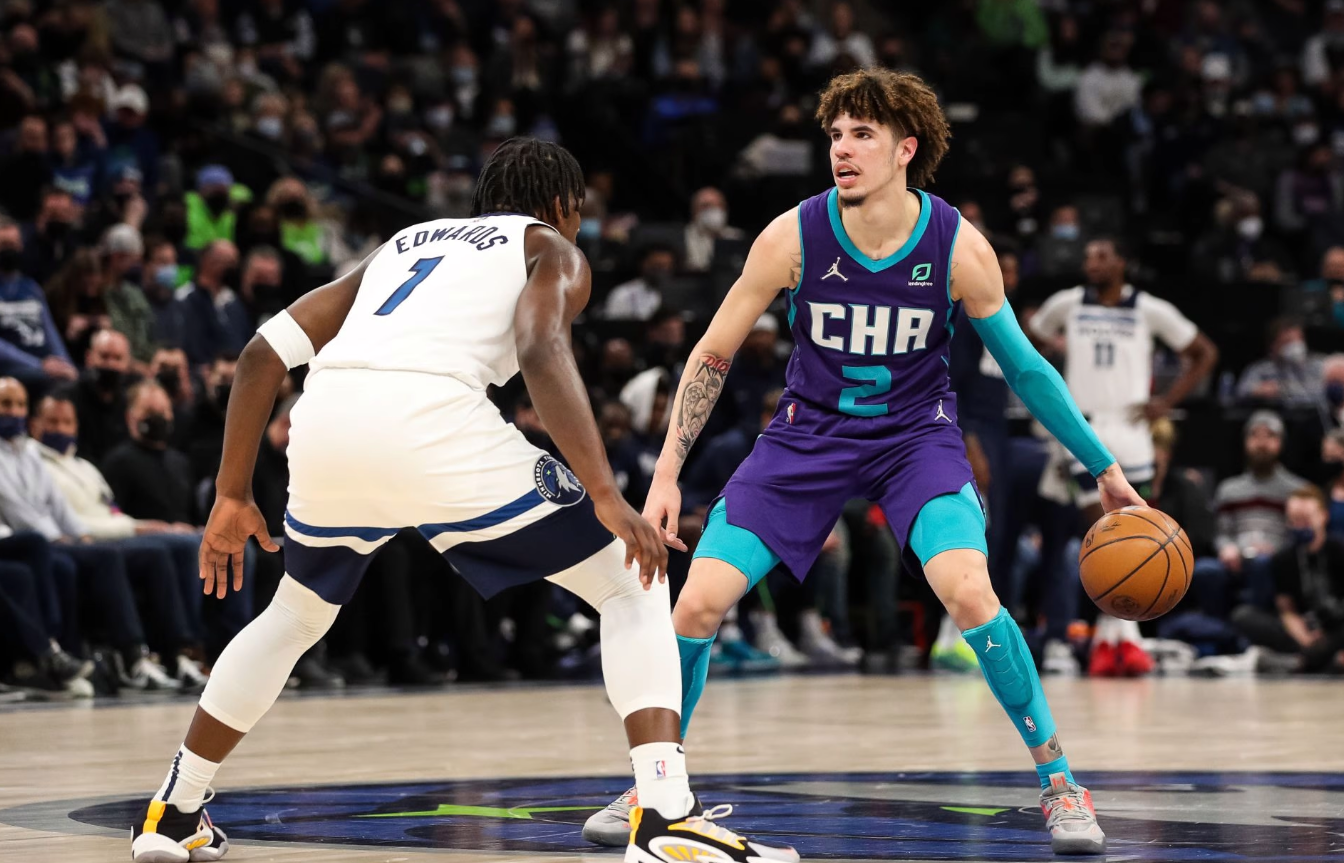 We are in the dark days of the basketball calendar. Although I am working on 2023 NBA draft content and my top 200 players list, I wanted to start a series that was both modern NBA and draft.
I have no idea how many years back I will go but hopefully this series provides a little enjoyment before the season gets started.
With the re-draft I won't be picking "for the teams in the slot" because as I go backwards that will get increasingly complicated.
Instead, I'll be ranking what I would do if I could back to the draft knowing what I know now. Just to be clear, these ARE NOT who I think are better today or who have had a better career.
For the second edition I am doing the 2020 NBA draft. Seeing as these guys have only played two years this is mostly just a projection of their career forwards
1. Anthony Edwards, Minnesota Timberwolves
Real Pick: 1
This may be a minority pick but I feel confident in it. Edwards has the skill, personality, and charisma to potentially be the face of the NBA. When going downhill Edwards is nearly impossible to stop with his combination of size, athleticism, and skill.
Edwards has to improve as a shooter, passer, and defender to become a true top ten player in the league but I have no doubt it is in play. Ant will have a massive jump next year and with the acquisition of Rudy Gobert, do not be surprised if Minnesota are more of contenders than originally thought.
2. LaMelo Ball, Charlotte Hornets
Real Pick: 3
In just his second year in the NBA, LaMelo Ball is already an All-star and has all the tools to make that a consistent occurrence. A 6'7 dynamic playmaker that can create for himself and others has stardom written all over him.
At one point I was in awe of the similarities between Ball and Magic Johnson but LaMelo lacks any defensive energy whatsoever. I would even go as far to argue LaMelo is one of the worst defenders in the NBA. For LaMelo to be considered a superstar he will need to become a better two-way player.
3. Tyrese Maxey, Philadelphia 76ers
Real Pick: 21
I would never have guessed Tyrese Maxey would be this high on a re-draft but here we are. Maxey is a dynamic scorer that has established himself as the 3rd best player on one of the best teams in the NBA. There may be a ceiling on more leaps Maxey can take while Harden is on the same team as him, but the talent is obvious and at some point, another leap will come.
4. Tyrese Haliburton, Indiana Pacers
Real Pick: 12
As the president of the Tyrese Haliburton fan club, I really wanted to put him at #3 but I will settle for #4. Haliburton was able to escape Sacramento and is now the face of the rebuilding Pacers. At no point will he be the best player on a top contender but Haliburton could be the second or third best player on a very good team.
In an era where true point guards are dying, Haliburton is a player that makes his whole team better just by being on the floor. Next year is incredibly important for Haliburton's development as he should elevate himself as the best player on the Pacers and give us a bigger glimpse into the player he will become.
5. Desmond Bane, Memphis Grizzlies
Real Pick: 30
The last pick of the first round becoming a top 5 player in a draft in itself is incredible. Bane has shown that he is one of the best shooters in the entire league shooting 43.6% on nearly 7 attempts a game. I didn't put Bane any higher because he is already 24 years old and his ceiling is not as high as the four players above him on this list.
6. Patrick Williams, Chicago Bulls
Real Pick: 4
I may slightly be going out on a limb here considering Williams has only played 88 games so far in his career but when he is on the court I have been impressed. Williams is a prototypical 3 and D player shooting 41.3% in his career from 3. More importantly than his shooting, Williams is a very good wing defender.
Lockdown perimeter defense is a necessity come playoff time and Williams can give Chicago that. As Williams gets more of an offensive role, it will become all the more interesting if he can keep the same defensive intensity and skill (yes defense is a skill).
7. Immanuel Quickley, New York Knicks
Real Pick: 25
At this point of the re-draft I am pretty much just picking off potential and only some production. Quickley's touch and length alone have me intrigued by what he can look like going forward. I want to see Quickley as more of an offensive focal point in New York but sadly with the addition of Jalen Brunson, I am not sure that is going to happen.
8. James Wiseman, Golden State Warriors
Real Pick: 2
This is basically just a 100% potential pick. I ranked Wiseman as the 3rd best prospect in the draft once upon a time and 39 games are not enough for me to say I am wrong just yet. This season is make or break for Wiseman, where he can either solidify himself as a building block for the Warriors or could soon be on his way out.
9. Onyeka Okongwu, Atlanta Hawks
Real Pick: 6
A top 6 pick not ever getting a starting role in his first 2 (probably about to be 3) seasons is rare but Okungwu is doing just that. Despite showing a lot of high-level flashes, Okungwu is buried behind John Collins and Clint Capela for big minutes.
The Hawks are trying to compete now so they aren't prioritizing getting rid of either of those two players but if they don't they may be wasting vital developmental time. For Okungwu's sake, I hope he gets minutes soon either on the Hawks or not.
10. Jaden McDaniels, Minnesota Timberwolves
Real Pick: 28
YES, YES! I love Jaden McDaniels he is already a good player and is one of the league's most underrated players. There is a reason the Timberwolves added extra picks and players in the Rudy Gobert trade rather than include McDaniels (ironically McDaniels is going to be one of Gobert's best friends as a lockdown perimeter defender).
Once upon a time McDaniels was the seventh-ranked recruit out of high school and turns just 22 in a couple of weeks. There is so much untapped potential with McDaniels and come playoff time next season, I believe he will close games for the Timberwolves.
11. Obi Toppin, New York Knicks
Real Pick: 8
I would hardly say Tom Thibodeau is known for playing young players but Toppin slowly started breaking into the rotation in the second half of last season. That makes this season HUGE for Toppin because with playing time he can show if he's a legitimate player or all flashes. It also doesn't help that ball stopper, Julius Randle, is currently in the starting role.
12. Saddiq Bey, Detroit Pistons
Real Pick: 19
Some people may view this as an undersell but I am not all the way bought on him. Bey can have scoring out bursts but he is still incredibly inefficient. Bey shot an abysmal 39.8% from the field last year and that just isn't NBA level. If Bey is really a keeper for the Pistons he needs to become more efficient while keeping his production.
13. Precious Achiuwa, Toronto Raptors
Real Pick: 20
Mostly a potential pick, Achiuwa is a versatile defender and athlete that fits the Raptors model perfectly. Long defensive-minded athletes are the first thing that comes to my mind when I think of the Raptors and Achiuwa is just that. Raptors are great at developing talents and with his raw talents, he could become a good role player.
14. Killian Hayes, Detroit Pistons
Real Pick: 7
Yeah I know, I know. At one point I had Hayes as a top 2 player in the draft and I am not totally going to abandon ship after only 2 years. Hayes has high defensive skills already, it is just his offensive skills that need work. Hayes has a bag of tricks already he just needs to seriously improve his handle and right hand. I still have faith but this year is his make-or-break year.
Honorable Mentions: Isaiah Stewart, Deni Avdjia, Cole Anthony, Isaac Okoro, Payton Pritchard, Aleksej Pokusevski