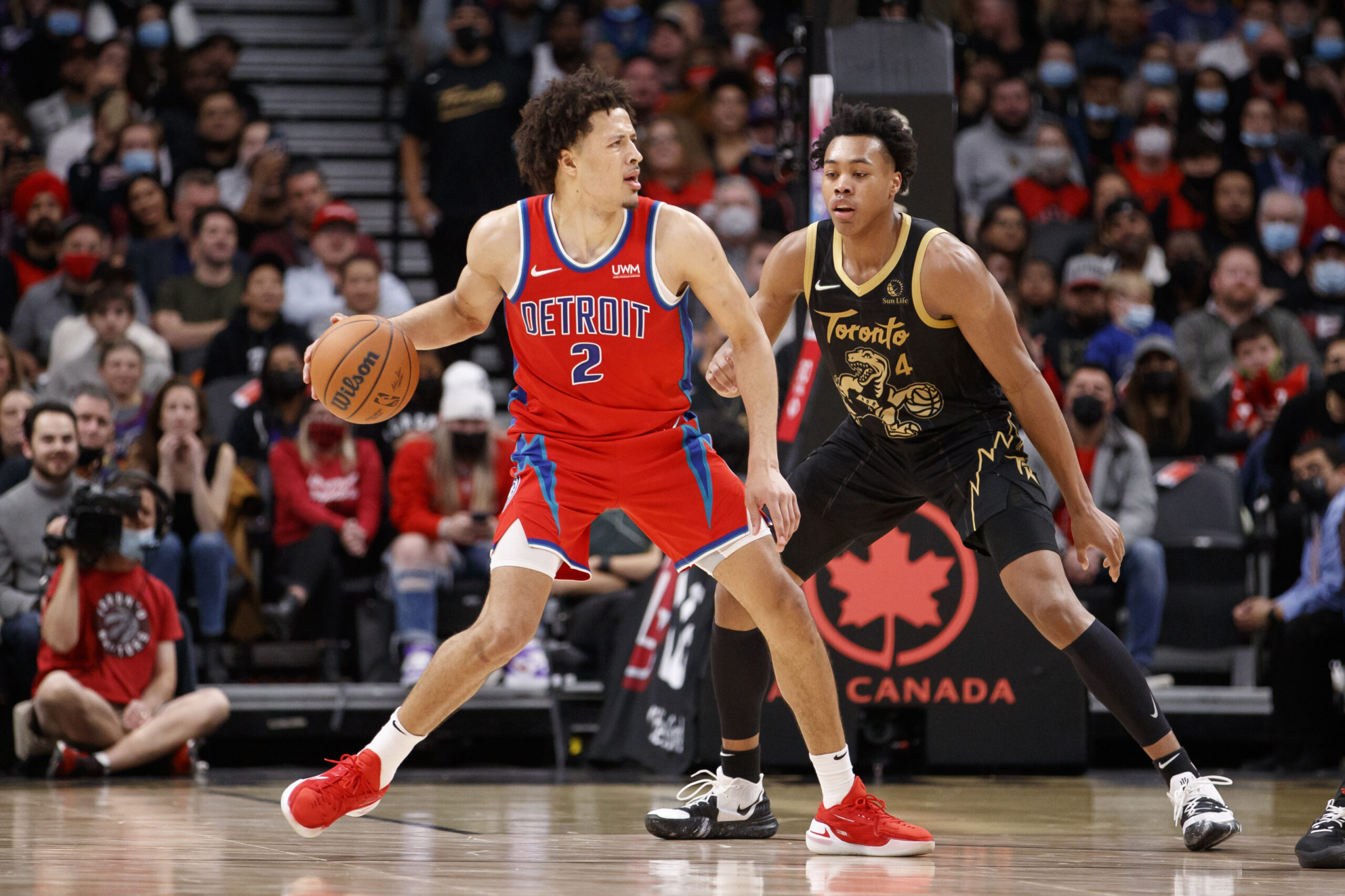 We are in the dark days of the basketball calendar. Although I am working on 2023 NBA draft content and my top 200 players list, I wanted to start a series that was both modern NBA and draft.
I have no idea how many years back I will go but hopefully this series provides a little enjoyment before the season gets started.
With the re-draft I won't be picking "for the teams in the slot" because as I go backwards that will get increasingly complicated.
Instead, I'll be ranking what I would do if I could back to the draft knowing what I know now. Just to be clear, these ARE NOT who I think is better today or who has had a better career.
For the first edition I am doing the loaded 2021 NBA draft. Seeing as these guys have only played one year this is mostly just a projection of their career forwards.
1. Cade Cunningham, Detroit Pistons
Real Pick: 1
I am not sure if this is a bold selection but I did not have to think too much about it. I believed Cade Cunningham was the best player before the draft and still believe it so. Cunningham is a future top 8 player in the league and a superstar in the making.
He has the tools of a star and the game management/manipulation that only few in the league have (Doncic comes to mind). The top four of this draft all have superstar potential but only Mobley made me think twice about putting Cunningham one.
2. Evan Mobley, Cleveland Cavaliers
Real Pick: 3
I love Evan Mobley and honestly think if he fills out he could be a Kevin Garnett-type player. I wouldn't be surprised if Mobley ends up being the best player from this draft because of his two way impact. A 6'10 defensive player of the year candidate that can create for himself and others in itself sounds like a superstar.
I expect Mobley to have a HUGE season next season and would not be shocked if he finds himself on an all star team. Long term I think Garland and Mobley will be one of the best duos in the league and lead Cleveland's return to contention.
3. Scottie Barnes, Toronto Raptors
Real Pick: 4
This is the third time I said this about someone from this draft but I love Scottie Barnes as a player. The rookie of the year being 3rd in a re-draft the year after their draft is very rare but it shows how good this draft really is. I think Barnes is clearly the 3rd best player in this draft and certainly has a lot of star potential.
Last year, I had Barnes as my 5th ranked prospect before the draft and bashed Toronto for passing on Suggs at 4. I regret that now (although I still like Suggs), and realize I had Barnes totally wrong as a prospect. I think Barnes is a future multiple time all-star and would not be surprised if he moved up on this list.
4. Jalen Green, Houston Rockets
Real Pick: 2
I would be SHOCKED if Jalen Green wasn't a multiple time all-star by the time he retires, but yet I have him comfortly in the 4 spot.
5. Franz Wagner, Orlando Magic
Real Pick: 8
6. Jonathon Kuminga, Golden State Warriors
Real Pick: 7
7. Josh Giddey, Oklahoma City Thunder
Real Pick: 6
8. Jalen Suggs, Orlando Magic
Real Pick: 5
9. Alperan Sengun, Houston Rockets
Real Pick: 16
10. Herbert Jones, New Orleans Pelicans
Real Pick: 35
11. Trey Murphy III, New Orleans Pelicans
Real Pick: 17
12. Ziaire Williams, Memphis Grizzlies
Real Pick: 10
13. Cam Thomas, Brooklyn Nets
Real Pick: 27
14. Moses Moody, Golden State Warriors
Real Pick: 14
Honorable Mentions: Chris Duarte, Davion Mitchell, James Bouknight, Joshua Primo, Ayo Dosumnu, Josh Christopher

Must See
The NBA 22-23 season has kicked off with incredible momentum. Even though each team...

Finally the time! The 2023 draft is one of the best in league history...

Every single season there are a few players that crack through and become first...