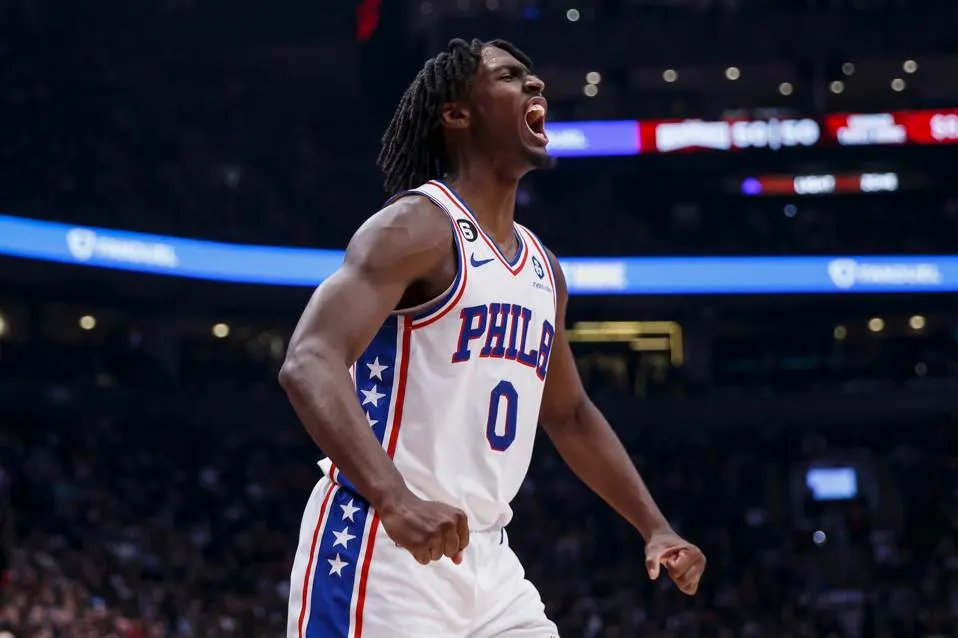 The 2023 NBA off-season brought many changes with it. Trades, signings, waivers, and other movements were widespread throughout the summer. With this, many controversies arose among the organizations, such as the James Harden trade to the Clippers, due to discrepancies in his relationship with Management. Before this season started, the 76ers and fans were uncertain about the team's performance in the absence of James Harden. Until Tyrese Maxey's breakout came about as soon as the tipoff game took place.
Massive Improvement
Despite Maxey having already shown what good of a player he was throughout his stay in Philadelphia over the years, it seemed he had already touched his ceiling until this new role was offered. This confidence boost gave him the tools he needed to exploit every aspect of his game and take it up a notch.
He holds an average of 26.9 points, 5.0 rebounds, and 6.8 assists per game, with a player impact estimate of 14.9. Additionally, he maintained his extraordinary percentages with a field goal of 48.1%, a three-point of 43.3%, and a massive improvement on the free throw, now with 95.1% per game.
On top of that, his turnovers per game have barely seen a difference compared to last year's statistics, with only 1.5 per game. Lastly, his plus-minus has almost doubled this season with 8.7 per game, allowing Philadelphia to be in second place in the Eastern Conference, with a record of nine wins and three losses so far. If he continues this extraordinary performance, the NBA Most Improved Player award will have Maxey's name on it.
Are the 76ers Alive?
Joel Embiid, Philadelphia's franchise player, stated that "there is no ego on this team" which allows them to perform even better and improve their team chemistry as far as games and practices go, which, at this point, may entirely be true since Maxey and the rest of the team's performance keeps getting better. They will undoubtedly still be clinching a top postseason seed.
While it may still be too soon to tell whether the James Harden trade was a win for the Sixers, Maxey's value and contributions to the Organization are 100% factual, and the process is still very much alive. The future of the 76ers is in good hands. We hope nothing for the best for Philadelphia's success and consistency throughout this 23-24 NBA season.
Text source: nba.com