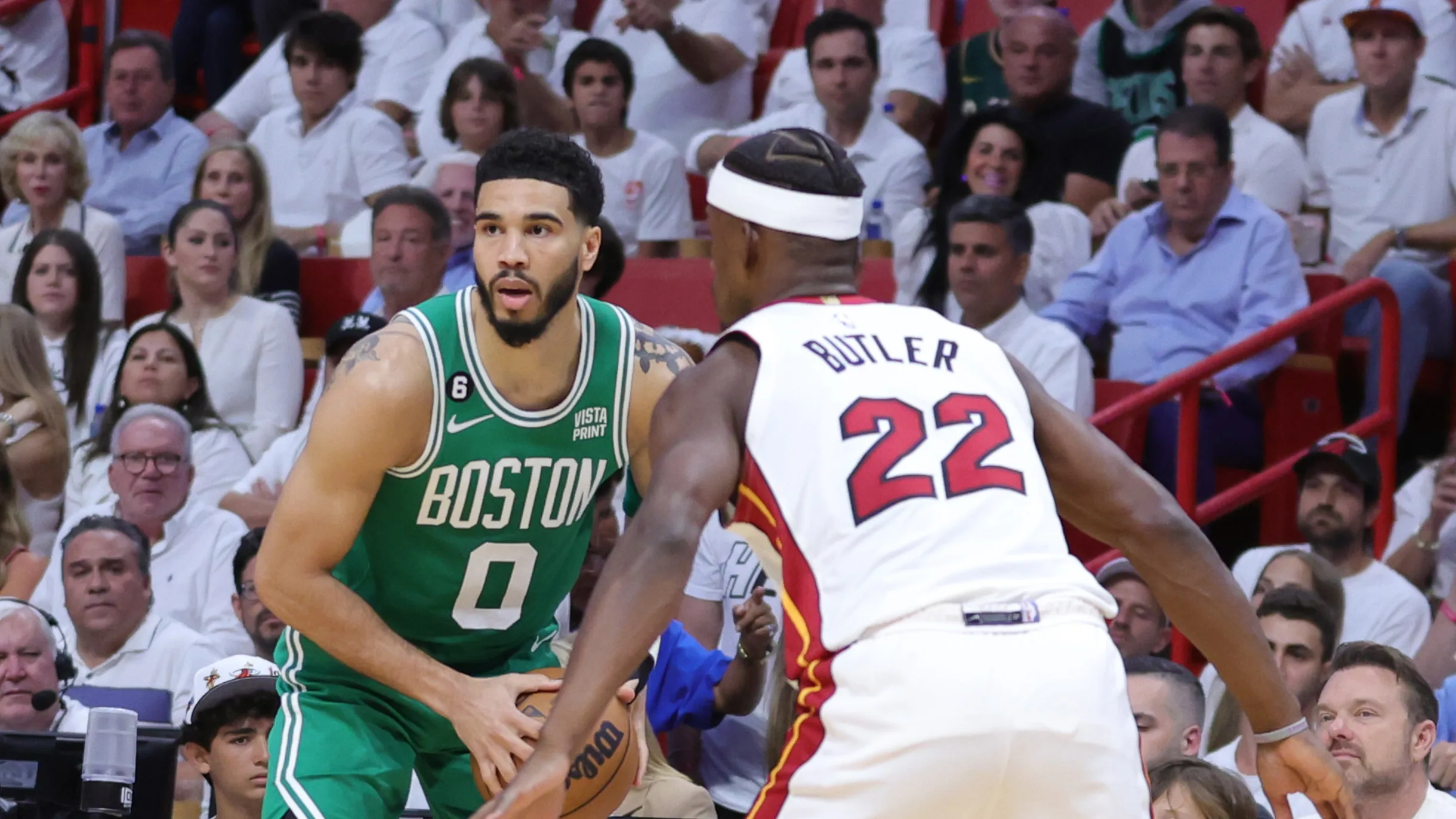 Despite the fact this conference is not as competitive as the West, it still holds pretty impressive teams that are capable of winning it all in this 2023-24 NBA year. Similarly, off-season moves drastically shifted the outlook of the Eastern teams. Having said this, who are the top three candidates to lead the East?
Honorable mentions: 4. Philadelphia 76ers, 5. Cleveland Cavaliers, 6. New York Knicks
3. Miami Heat
Despite failing to trade for Damian Lillard and other pieces in the off-season, Miami is still an excellent team that cannot be ruled out of any conversation. They still have a solid roster with incredible, highly competitive pieces that have shown their value to the team over the years.
Players such as Bam Adebayo, Tyler Herro, Kyle Lowry, Kevin Love, and, of course, Jimmy Butler all have proven everyone wrong, being an underrated team that just played an NBA Finals series.
2. Boston Celtics
The Celtics always deliver great performance during regular season games. As a result, the team usually stays among the first three seeds in the Eastern Conference. They have one of the most complete, balanced rosters in the league, as well as an amazing young yet experienced duo in Brown and Tatum, who can both play their best seasons in their NBA careers so far.
The addition of Kristaps Porzingis and Jrue Holiday can also be of great help to them, provided they stay away from injuries and find consistency.
1. Milwaukee Bucks
The Bucks have an extraordinary opportunity ahead of them this season. They can win it all. Even without their newest addition, Damian Lillard, the team would still be among the favorites for both the WC championship and the NBA title.
Therefore, having Dame will only heighten their odds of clinching the first seed in the conference and making a playoff run. Brook Lopez and Khris Middleton need to be consistent in every performance. Giannis Antetokounmpo has to keep playing consistently and deliver his out-of-this-world masterclasses for the team to stay on top.
The race in the Eastern Conference will be pretty exciting to witness. Anything can happen at this point of the season, and we will be likely to revisit this series around the All-Star break to see how accurate the initial projections were and make our current ones. The 2023-24 NBA season can be one of the best of all time.
Text Sources: nba.com