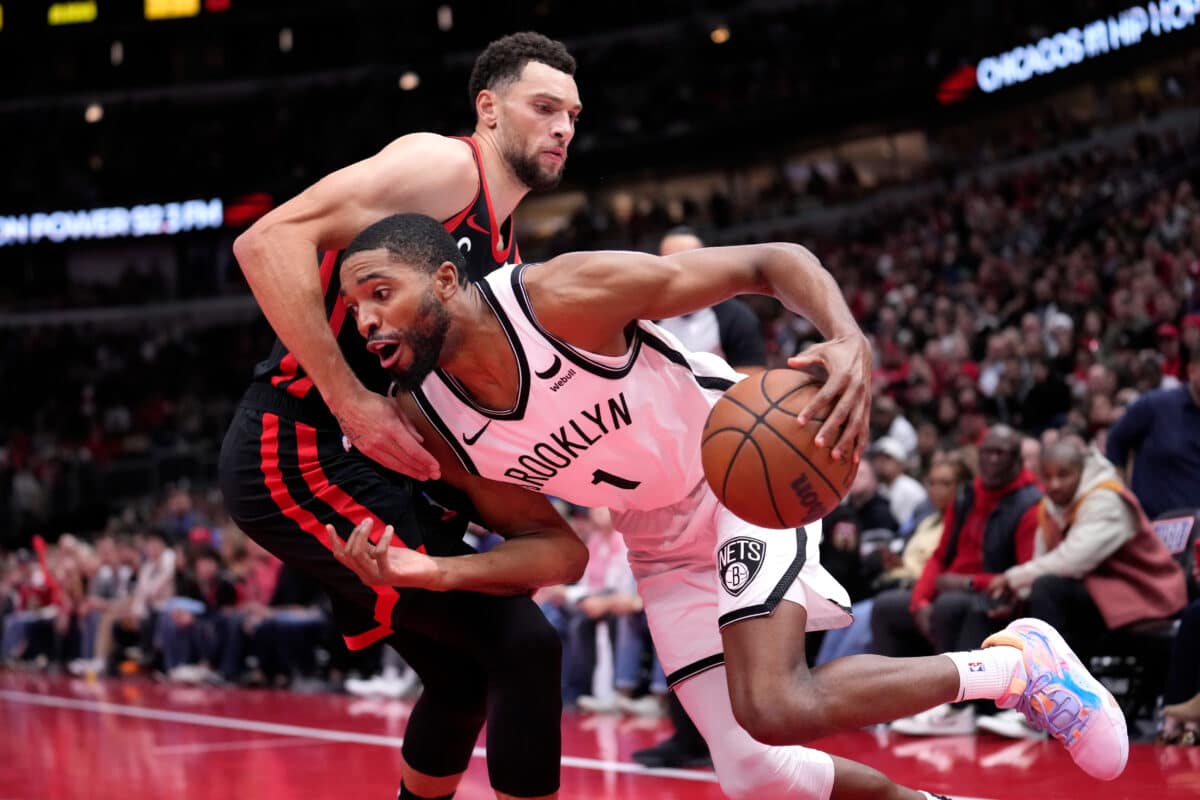 We're starting to hear rumors circulating around stars being unhappy and wanting potential moves to teams. Whether it's Zach Lavine in Chicago or the Warriors trying to make it work with CP3, teams will be scouring the trade market very soon and often prior to the trade deadline.
Pacers get Haliburton a 2nd Star
Indiana Pacers get: Mikal Bridges
Brooklyn Nets get: Buddy Hield, Isaiah Jackson, Ben Sheppard, 2024 Unprotected 1st, 2024 Protected 1st (from OKC, HOU, LAC or UTA), 2026 Top 3 Protected 1st
Why Pacers do this?
If you've watched any Pacers games this season so far, you'll notice two things. They're really good on offense, but equally as bad on defense. How do you solve that? Get one of the best perimeter defenders in the league in Mikal Bridges.
Why Nets do this?
It's fairly obvious the Nets aren't going to be contending for anything any time soon, why not unload Mikal Bridges (27 years old already) to get some young pieces and 3 first-round picks included.
Warriors & Heat Swap Pieces
Miami Heat get: Chris Paul, 2025 2nd rounder, 2026 2nd rounder
Golden State Warriors get: Duncan Robinson, Caleb Martin, Jaime Jacquez, Jr.
Why does Heat do this?
The biggest issue with the Heat is the lack of playmaking. Getting Chris Paul will bring another facet to the Heat that they need and have been lacking for a while now. CP3 would come in and immediately make life easier for Jimmy Butler and Bam Adebayo.
Why do the Warriors do this?
It's already seeming pretty obvious the Warriors' experiment with CP3 hasn't worked out. What they could use is a defensive wing and potentially another shooter to add to the rotation. Enter Caleb Martin and Duncan Robinson.
Kings get more Dangerous
Sacramento Kings get: Og Anunoby
Toronto Raptors get: Sasha Vezenkov, Davion Mitchell, Chris Duarte, and 2026 1st
Why do the Kings do this?
It sounds like the Kings are going to be heavily involved in the trade market… enter Og Anunoby. Anunoby brings another long perimeter defender to pair with Keegan Murray and Harrison Barnes on the wing.
Why do the Raptors do this?
Og Anunoby is on an expiring contract, it's best the Raptors get assets out of him while they can. Scottie Barnes is their future at the wing position, no need to keep Anunoby around. Getting Davion Mitchell and Duarte and a future pick should help set them up a bit.
Spurs Grab A Bonafide Scorer
San Antonio Spurs get: Zach Lavine
Chicago Bulls get: Keldon Johnson, Sidy Cissoko, Doug McDermott, 2024 1st (via TOR), 2025 1st (via ATL), 2027 1st (Top 5 protected)
Why do the Spurs do this?
The San Antonio Spurs already have their franchise cornerstone for the next 20 years in Victor Wembanyama. Adding Zach Lavine, a bonafide scorer who's locked in for the next 4 years can only help. Wembanyama mentioned wanting to make the playoffs in his rookie year, which although might be a bit impossible, Lavine should support the cause.
Why do the Bulls do this?
Getting back Keldon Johnson, a young wing and some future draft assets will only help accelerate them get started on their rebuild. They need to cut their losses while they can and get moving on their future.
Mavericks Get Luka Another Star
Dallas Mavericks get: Pascal Siakam
Toronto Raptors get: Tim Hardaway Jr., Josh Green, Richaun Holmes, 2025 1st, 2028 2nd
Why do the Mavericks do this?
The Dallas Mavericks could use more defense always. Adding in Siakam, who can score on his own and also brings some length in the post and perimeter should help the cause. With the Western Conference stocking up stars, the Mavericks will need to play along the arms race.
Why do the Raptors do this?
Another expiring contract for the Raptors, they need to take advantage while they can. Grabbing a future asset in a 2025 1st and also getting back a young wing like Josh Green with potential, the Raptors can't necessarily lose here.