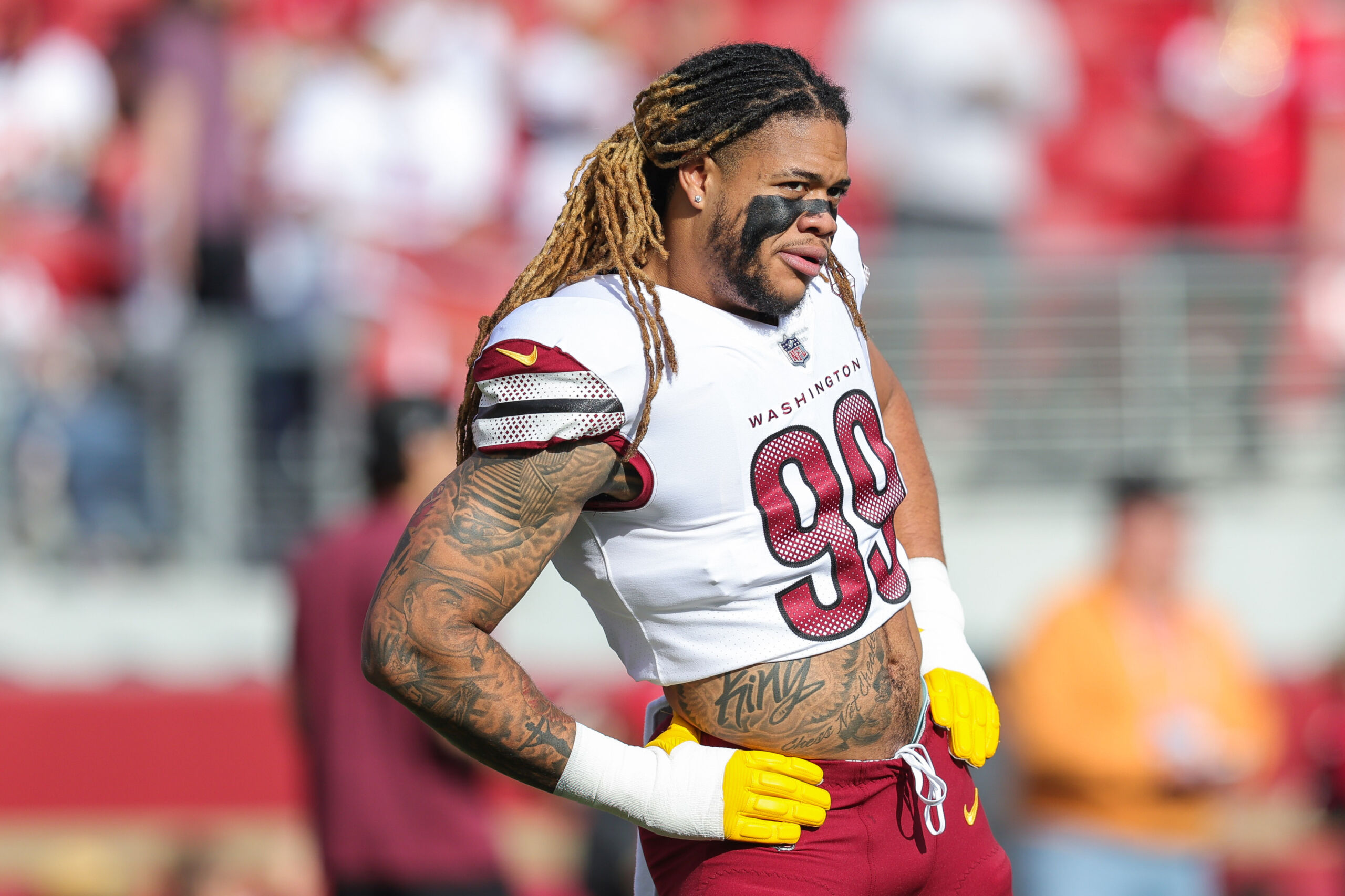 The NFL offseason is currently at the time of no-mans land. The draft and free agency are pretty much over and training camp is expected to start in the next month or so. That's where you get… NFL trades and rumors. There have been plenty of trade rumors throughout the offseason, some a bit absurd, and some… very very realistic.
Let's get into some potential NFL trades we could see prior to the season beginning…
Bengals & Commanders Swap Linemen
Bengals get: Chase Young
Commanders get: Jonah Williams and 2024 4th round pick
Why for Bengals?
The addition of Orlando Brown Jr. has made the linemen situation in Cincy a bit weird. Jonah Williams has requested a trade earlier this offseason after the signing of Brown Jr. which could potentially lead to the Bengals making a move.
Not to mention, the improvements of Jackson Carman and potential of La'El Collins coming back earlier than expected from injury has made Williams more expendable than before.
Chase Young would bring another scary weapon on that underrated Bengals defensive line. When healthy, Young has shown flashes of being a superstar at defensive end and being a nightmare for opposing offenses.
Although he hasn't been too effective since his rookie year, Young could blossom in a new environment.
Why for Commanders?
Chase Young seems to want a trade and it's not like he's produced much since his rookie year. So… why not get a young offensive-linemen that has been at least an average left tackle in the league throughout his career. Jonah Williams can come in and compete for a starting spot immediately.
Commanders were top 7 in the league in sacks allowed last season. Adding Jonah Williams for Chase Young should help improve the offensive-line and allow young QB Sam Howell to play less stress-free.
Dalvin Cook to Chi-Town
Bears get: Dalvin Cook
Vikings get: 2024 5th round pick
Why for Bears?
It's been pretty clear that the Bears are looking to make a push for the playoffs this upcoming season. What better way to help your QB than having an elite running back in the backfield? Dalvin Cook has been one of the best running backs in the league when on the field and would bring another facet to the Bears offense.
Having an offense with Justin Fields making plays, Dalvin Cook out of the backfield, and DJ Moore on the outside? Sheesh, good luck.
Why for Vikings?
Dalvin Cook and Vikings have seemingly looked to part ways as of recent. With his cap hit of $10.4M, the Vikings are looking to move on.
There's a potential they could even cut him, but if you can get an asset… why not? Vikings go and take the 5th off of Bears' hands to save some cap.
Texans Get Their Rookie a Weapon
Texans get: Courtland Sutton
Broncos get: 2024 3rd round pick
Why for Texans?
The Texans don't have a WR1 on the team right now. They have a bunch of WR2s/3s that are capable of making some plays here and there, but not being the #1 option on a team. Sutton's contract is a bit hefty at around $15M a year, but that's the minimum for a #1 receiver nowadays.
Sutton would help take some pressure off of the CJ Stroud and give another option. Adding Sutton to an offense with Dameon Pierce and Dalton Schultz already should bring some intrigue to the Texans to pull the trigger.
Sutton hasn't been put in the best positions to succeed on the Broncos QB situation being funky always. Getting to work with Stroud could bring another level to Sutton's game and also bring some stability to the receiver position for the Texans.
Why for Broncos?
Cap, that's the majority of it. The Broncos also have Jerry Jeudy, Tim Patrick, and KJ Hamler who have shown flashes of taking over for more reps.
Getting a 3rd round pick would be great for the Broncos at this point considering Sutton is expected to make $15M/yr.