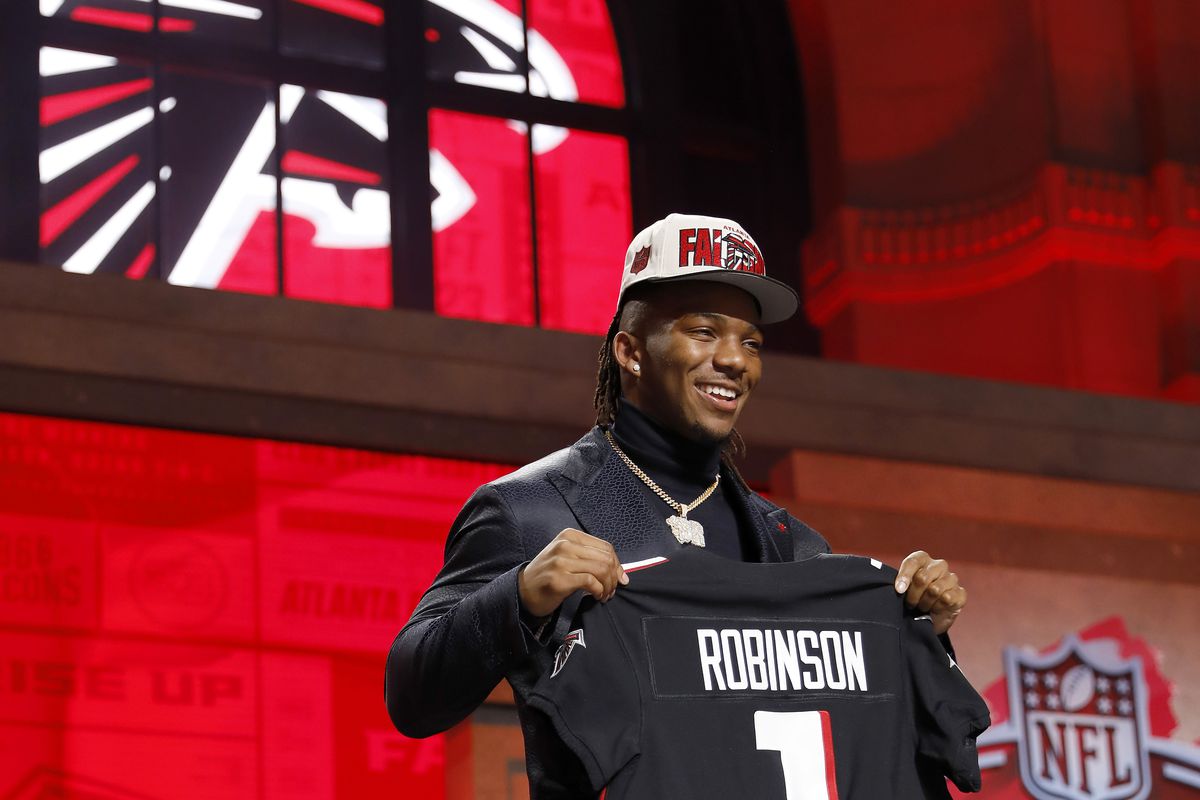 In recent years, we've seen more and more NFL rookies having extremely productive seasons. For example, in 2021, Najee Harris was 4th in rushing yards and Ja'Marr Chase was 4th in receiving yards as rookies.
Even last season, Garrett Wilson and Drake London emerged as #1 options for their respective teams. It's going to be interesting to see which players make the most impact this upcoming season…
Let's get into some NFL rookies that potentially will have huge seasons.
Bijan Robinson, RB, Atlanta Falcons
The Falcons drafted Bijan Robinson with a top 10 pick for a reason. He's going to get the ball… a lot. He's a Derrick Henry type running back that'll just wear down a defense.
He might not get you huge explosive runs all the time, but just a consistent 4-5 yards constantly that'll tire out a defense. The craziest thing is he's so explosive he can also give you those big runs here and there.
Robinson has shown flashes of catching the ball as well so he can be dangerous in all facets of the game. Expect him to be on the field at all times with his versatility to run through defenders and also run past them for catches.
Not only that, he's also proved to be a more than capable pass blocker when needed. A true running back that can do it all.
Late Round 1, High 2nd round
He's going to get the ball a ton and his ability to catch the ball and also make plays with the ball in his hands, easy production. Expect the Falcons to be reliant on their rookie RB early and often.
Jordan Addison, WR, Minnesota Vikings
Opportunity and fit. Jordan Addison will get plenty of looks in the Vikings offense opposite of Justin Jefferson. With Jefferson taking up all the attention on the other side, that's where Addison will feast.
Addison can play inside or outside and has elite footwork to get in and out of breaks to get open. He's not the fastest receiver, but he plays fast on the field. He reminds me of a slightly bigger T.Y. Hilton and if he can be anywhere near that… sheesh the Vikings got a good one.
Many might not know Addison's name early on in the season, but expect it to be known by the end for sure.
Mid to Late Rounds
Honestly, you might be able to pick him up later on in most fantasy drafts as many won't know of him. He's going to surprise a lot this season, a sleeper pick for sure.
Luke Musgrave, TE, Green Bay Packers
What's one of the most underrated options for a young QB? A safety blanket. Enter Luke Musgrave into the Packers offense. Musgrave will be the TE1 option for the young QB in Green Bay, Jordan Love. He's going to get a decent amount of looks in the Packers offense.
Tonyan got nearly 500 yards last season in the Packers offense and he's not the talent that Musgrave is.
Musgrave is extremely fluid for his size and is able to use his feet well to get open. Expect him to get the ball in short yardage situations and get consistent looks in the red-zone as an option.
Late Rounds / Undrafted
A pretty big sleeper in my opinion, but I think he could be worth a flyer in late rounds for sure. If you're looking to get a TE2 in fantasy, I'd look at Musgrave as an option.
It's going to be interesting to see how involved he is in the Packers offense, but drafting him in the 2nd round should give an idea of his potential usage.