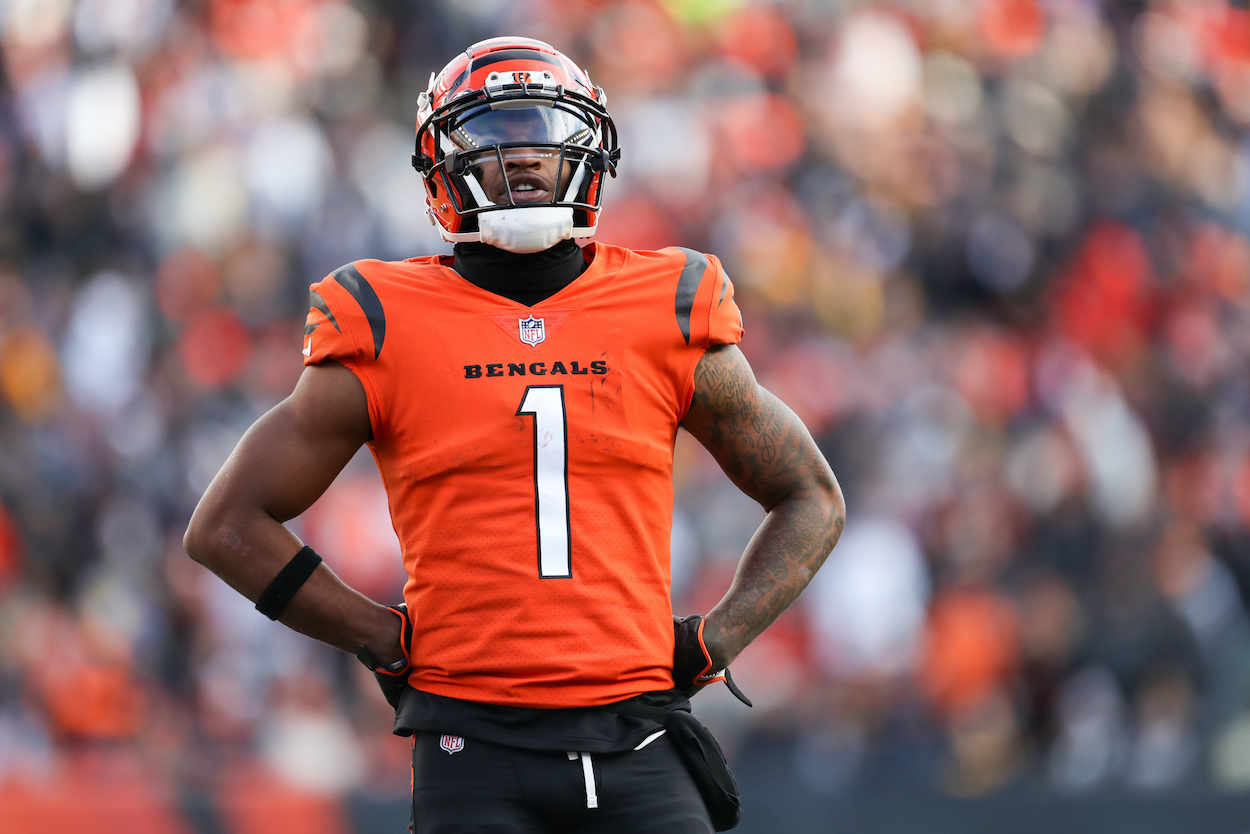 Remember when we were talking about Chase's drops in the preseason? Nah, me either. Many were confused and bamboozled by the Bengals' pick of Ja'Marr Chase in the 2021 draft when they had an obvious need at offensive line. The Bengals made everyone quickly regret it after making the Super Bowl in Burrow's 2nd year. You can definitely argue that Ja'Marr Chase was the biggest x-factor for the Bengals Super Bowl run.
After not playing the year before, many still expected Chase to be the first wide receiver selected. Chase was nothing short of amazing in the year prior with Joe Burrow in LSU's National Championship run. With over 1700 receiving yards and 20 touchdowns as a wide receiver, Chase was a weapon for LSU.
The Bengals struggled heavily with their deep passing in Joe Burrow's rookie season. A lot of it obviously had to do with the offensive line not being able to hold off and also the Bengals lack of a deep threat. They were ranked one of the worst in deep-passing and Burrow was wildy inefficient as well from deep in his rookie season.
Now bring in Ja'Marr Chase to the mix. Chase became an elite deep-threat immediately after entering the league. He started off with a 50-yard catch in his first game of the regular season and never looked back. Chase went for over 1,400 receiving yards and 13 touchdowns in his rookie season, becoming an instant impact player. He changed the Bengals offense by himself. After being more of a short/medium passing and rushing team, the Bengals were able to become a deep-passing team with Chase.
Conclusion
Not only Chase had shown the ability to make plays deep, he showed the versatility to take a simple screen to the house for 70 yards if he wanted to. Chase has elite route-running with elusiveness to get in and out of breaks like a running back and also just run past you as a deep threat. He's an all-around receiver that can make plays from anywhere.
There's a reason the Bengals made a Super Bowl run, Chase was one of the biggest reasons why. Ja'Marr has shown that he's definitely worthy of the top 5 wide receiver label and it wouldn't surprise me to see him universally seen as such.
Chase has almost singlehandedly changed the Bengals offense by himself as a wide receiver. His ability to make plays all over the field and cause issues for opposing defenses makes him a top 5 wide receiver already. Although he's only 22, Chase is one of the best at his position already. He might go down as the best wide receiver in Bengals history the way it looks. As long as the Bengals have Joe Burrow and Ja'Marr Chase, the sky is the limit for that offense.