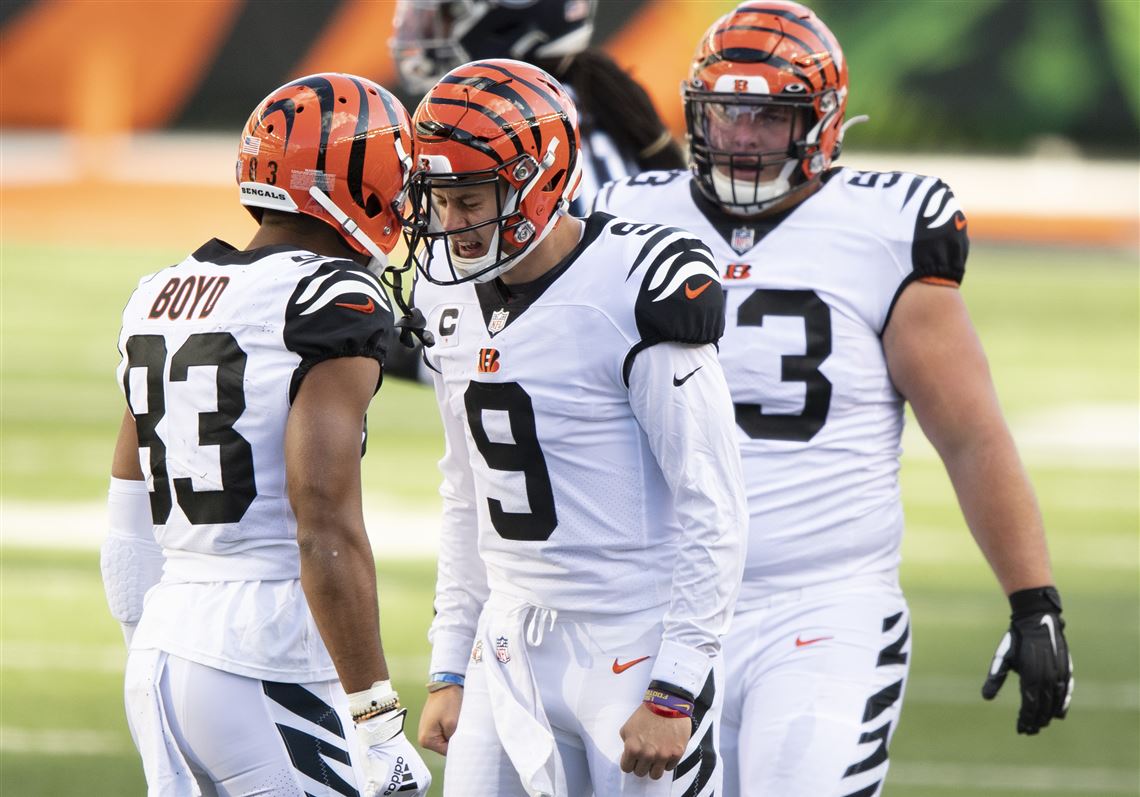 Let's get this out of the way first, the Bengals offensive line is not trash anymore and the national media needs to stop with that. Don't get me wrong, the offensive line was terrible last season and did rookie Burrow absolutely no favors. Even though the Bengals didn't make the flashy big moves for the offensive line, they still made massive changes on the line that people aren't talking about.
The Bengals did as they should and got rid of the bad apples in Bobby Hart and drafted replacements for the other bad apple in guard Michael Jordan (no, not the basketball one). The Bengals signed veteran RT Riley Reiff who is a massive upgrade over Bobby Hart who has been notoriously bad as a starter. Riley Reiff has always been an average to above-average tackle in this league which is still a massive improvement over Hart.
Although they didn't draft Penei Sewell, they got themselves a solid guard option in the 2nd round in Jackson Carman who will be slotted in one of the guard spots immediately. They didn't stop there either, they went and drafted two other offensive linemen in D'Ante Smith (who could potentially end up as one of the biggest steals of the draft) and Trey Hill from Georgia. The Bengals will definitely be fielding a way better line than last year.
Enough talking about the trenches, let's get into the weapons. Joe Burrow arguably has a top 5 group of weapons all around. The Bengals wide receiver group will be a top 3 group I believe by the end of the season. The addition of Ja'Marr Chase was excellent in providing a much-needed deep threat after the departure of Bengals legend A.J. Green in FA. The Chase and Burrow connection will be one of the most intriguing QB to WR duos to watch out for this season for sure. They had a lot of success at LSU and I fully expect that to carry over to the NFL.
They have a long and tall upcoming star in Tee Higgins as well who can high point the ball and make tough catches on the sideline. Although not being as fast as Chase, Higgins can make plays with his range and catching ability. Watch out for Higgins to have a big season as well. Don't be surprised to see Higgins top 5 in receiving yards this season.
Now let's not forget Tyler Boyd who is one of the top slot receivers in the league. Tyler Boyd beats his opponents with beautiful route running and great hands. Boyd always makes the clutch plays when you need him most and is very important to this offense. He was Joe Burrow's safety blanket many times last season and I expect that to continue.
If Ja'Marr Chase is everything he is expected to be, this WR trio will be a nightmare for defenses without a doubt.
Going to the backfield, they have one of the best running backs in the league in Joe Mixon. When Mixon has atleast an average offensive line and is healthy, he's a top 5 running back in my opinion. Mixon can catch the ball at a high level and is very shifty for his size. I expect Mixon to have a big season as well for the Bengals and be relied on more this season.
Now going to Joe Burrow, he's going to be a superstar QB in this league in my opinion. Burrow has everything you want in a franchise quarterback and more. When you look at a superstar quarterback in this league, they're QBs with that "it" factor. Joe Burrow has every single bit of that "it" factor shown at LSU and hints of it in his rookie season. He doesn't necessarily have a big arm or anything, but he beats you with his elite decision making and pin-point accuracy.
Joe Burrow is already a top leader in the Bengals locker room and his teammates love him. Enough to even have him voted as captain as a rookie, insane. If Joe Burrow can stay healthy, the sky is the limit for the young quarterback. Everyone wants to talk about the offensive line like they just sat back and let it stay bad. Watch out for the Bengals because they're coming.

Check out our new podcast episode!
Got Hoops Podcast
A new up and coming basketball podcast by 4 dedicated NBA and basketball fans. It's for fans, by the fans.
Got Hoops Podcast (Ep. 19): Summer League? Beverley Trade? Westbrook/LeBron/AD Trio?
In this episode we discussed the summer league, the Clippers and Grizzlies trade, and the fit of Westbrook with LeBron and Anthony Davis, and other topics as well.
Search Results placeholder
Must See
The NBA season is coming up very soon and it's time we start talking...

The NBA season is just about a month away, with the regular season set...

The first week of the NFL regular season has concluded and it's time for...