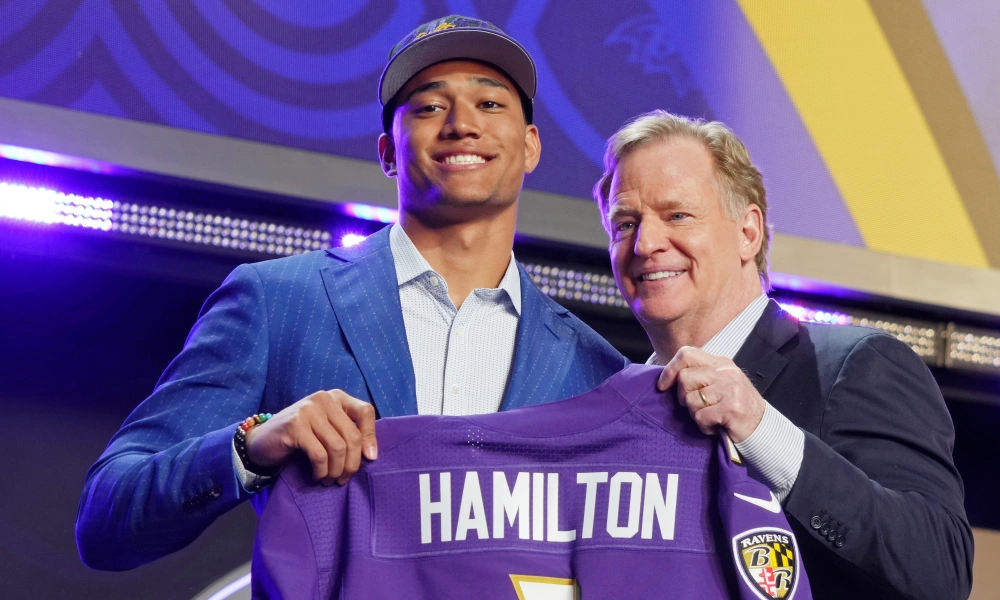 The NFL Draft has concluded and it's time we start talking about some of the biggest winners of the draft. It's really hard to conclude who has won the draft necessarily until we see the players play and give them some time to grow and build, but going off of straight value, we can get an idea so far. Let's get into some of the biggest winners of the 2022 NFL Draft…
Baltimore Ravens
Top picks: Kyle Hamilton (S, Notre Dame), Tyler Linderbaum (C, Iowa), David Ojabo (DE, Michigan), Travis Jones (DT, Connecticut), and Daniel Faalele (OT, Minnesota)
I mean… is this a surprise to anyone? They got great value in getting four prospects that I believed were top 50 players in this draft in the first 3 rounds. They were able to get Kyle Hamilton who some had high as #3 to the Texans and Tyler Linderbaum who was a big need for them after losing Bradley Bozeman in the offseason and also getting two defensive line players that can come in and contribute immediately.
The Ravens went and got straight talent on their team to help bolster their defense and slowly build that offensive line again. Although I still have a huge concern with their WR depth chart right now, their defense is looking extremely stacked right now.
Kansas City Chiefs
Top Picks: Trent McDuffie (CB, Washington), George Karlaftis (EDGE, Purdue), Skyy Moore (WR, Western Michigan), Bryan Cook (S, Cincinnati), and Leo Chenal (LB, Wisconsin)
The Chiefs went and got players that will make an impact immediately on their defense. Trent McDuffie was great value, considering many had him going top 15 in the draft. Then instead of reaching for a wide receiver at the bottom of first, they get elite value in George Karlaftis who I believe will end up surprising a lot of people.
Then they finally get a wide receiver to hopefully try to get back some of the production they lost trading Tyreek Hill in Skyy Moore. Moore has decent speed and is a solid route-runner that finds ways to get open and I think will be a great weapon for Mahomes to benefit with. Not to mention, getting decent value in Bryan Cook and Leo Chenal who will both compete for starting spots immediately on the Chiefs defense.
Atlanta Falcons
Top Picks: Drake London (WR, USC), Arnold Ebiketie (EDGE, Penn State), Troy Andersen (LB, Montana State), and Desmond Ridder (QB, Cincinnati)
The Falcons did the right thing by not reaching and drafting a quarterback with their #8 selection. They went and got a player that they desperately needed, a wide receiver. Then they went and got great value in Arnold Ebiketie who was one of the more underrated edge rushers in this draft and another underrated playmaker in the middle of the field in Troy Andersen.
Then to get one of the top quarterbacks in this draft class in Desmond Ridder in the 3rd round? Amazing value. Ridder doesn't necessarily have to come in and be a starter immediately since they have Mariota, but someone that can take a year or two to learn and allow the Falcons coaching staff to assess him and see if he can grow into becoming a potential franchise quarterback for the team.
New York Jets
Key Picks: Ahmad Gardner (CB, Cincinnati), Garrett Wilson (WR, Ohio State), Jermaine Johnson (EDGE, Florida State), Breece Hall (RB, Iowa State), Jeremy Ruckert (TE, Ohio State)
There was not one pick by the Giants that I didn't love. They got arguably 3 top 10 talents in the draft in the first round in Gardner, Wilson, and Johnson. No one will really know why Jermaine Johnson fell that low, but trust me, the Jets will not complain at all. Gardner was my #2 prospect in this year's draft and Garrett Wilson was someone I had consistently mocked to the Jets. Garrett Wilson is a shifty and speedy receiver that can be lethal with the ball in his hands, another asset for young Zach Wilson to play with. Not to mention, getting a potential #1 running back in Breece Hall to help take the pressure off their young QB? Excellent draft by the Jets.

Must See
Around two years ago this time, I posted an article titled "5 players who...

On Monday, June 27th, Kyrie Irving decided to opt into his player option, also...

The draft is over and NBA summer league is about to kick off. Before...