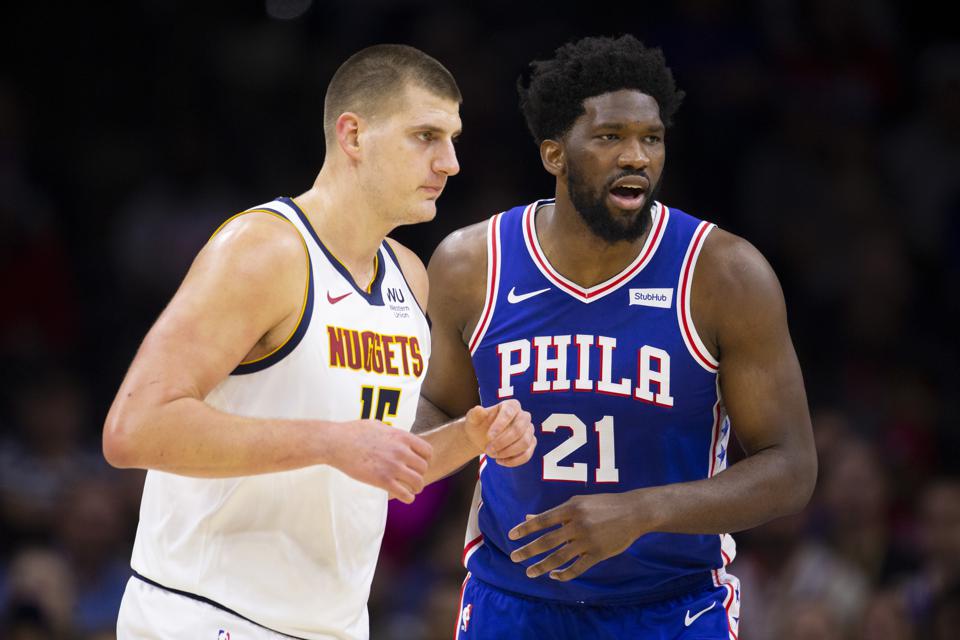 Having witnessed an incredible all-star game, we got to see the best players showing off their skills and proving why they're superstars. In addition, with playoffs around the corner, it's time we had the All-NBA team conversation. So far, all of these players have proven they earned a spot here. Let us take a look!
ALL-NBA THIRD TEAM.
Karl Anthony Towns
This season has been more than surprising in terms of Towns' performance, as there was a significant improvement in his shooting percentages. Additionally, the Minnesota Timberwolves could return to playoff basketball for the first time since 2018!
Anthony Davis
Davis is here mainly due to his injuries, which have prevented him from reaching his highest level possible. Hopefully, he can return fully healthy soon so that the Lakers' chance to qualify for the playoffs increases.
Jayson Tatum
Even though there was not an improvement on his game per season, he still deserves a place in the All-NBA third team. As the star of the Boston Celtics at barely 23 years old, he has yet to deliver a convincing performance in the playoffs.
Trae Young
Another member of the "new generation" gives us a glimpse of the future of the NBA. Although the Atlanta Hawks are struggling to get a play-in spot, Trae Young is performing better every time, which leaves the Hawks fans with nothing but hope.
Donovan Mitchell
Even though he had a relatively quiet season, that does not mean he has not been amazing throughout this year! The Jazz's top-scorer is probably at the highest level of his career, which explains why he is among the best shooting guards in the league right now.
ALL-NBA SECOND TEAM.
LeBron James
Even when there is nothing else we expect from him, LeBron keeps startling us with sensational performances that remind us of his "best days". It does not seem it will stop anytime soon, delivering peak numbers in his 19th season!
Kevin Durant
Were it not for his recent injury; Durant would have definitely been a part of the first team due to his exceptional level of play. Prior to his MCL injury, the Brooklyn Nets player was the favorite to win MVP, as well as the scoring title.
Luka Dončić
Despite his ineffective start back in October, Dončić is now back with his usual, unreal playstyle. As one of the most versatile, unpredictable players, he is guiding the Dallas Mavericks to maintain their spot in the western conference.
Ja Morant
His performance at his age is incredibly astonishing. Ja Morant is quite possibly the epitome of the new generation of players since his style differentiates from everyone else's. Surprisingly, the Memphis Grizzlies now have the third-best record in the entire league.
Chris Paul
The living definition of "point guard" is still a crucial element for the Phoenix Suns. From the ball movement to his decision making, it is pretty challenging to compete against him. Providing he continues this path, the Suns will most likely end the season with their best record in franchise history.
ALL-NBA FIRST TEAM.
Nikola Jokić
Once again, the Denver Nuggets' superstar is arguably a candidate to win MVP this season. His distinctive, extraordinary methods allow him to have more freedom on the court. Due to his recent incredible performances, Denver is back on track for the postseason!
Giannis Antetokounmpo
Giannis' season is incredibly spectacular. His unreal abilities have shown everyone why he will arguably be one of the best players of all time. Not only is he already a sensational player, but he is also improving as if he was limitless. Could he repeat this year with the Milwaukee Bucks?
Joel Embiid
His versatile style has led the 76ers to be a top 3 seed in the eastern conference, making him a strong candidate for the MVP. Now teaming up with James Harden, they have a higher chance to compete in the postseason.
Stephen Curry
With yet another record-breaking year, Stephen Curry is nowhere near past his prime, leading the Golden State Warriors on the offensive end of the court. With Klay Thompson now healthy, they seem to have a strong chance in the playoffs!
DeMar DeRozan
Coming from the Spurs, the change of teams might have been the best thing that has ever happened for DeRozan. Leading the Chicago Bulls alongside Zach Lavine, he is constantly showing us why he deserves to be among the best players in the league.
As we can see, all of these players are likely to be a part of the All-NBA teams. However, it is worth mentioning that this list is subjective, as there could be someone who missed the cut but may have a pretty valid reason to be here as well!
Sources: basketball-reference.com, espn.com, nba.com