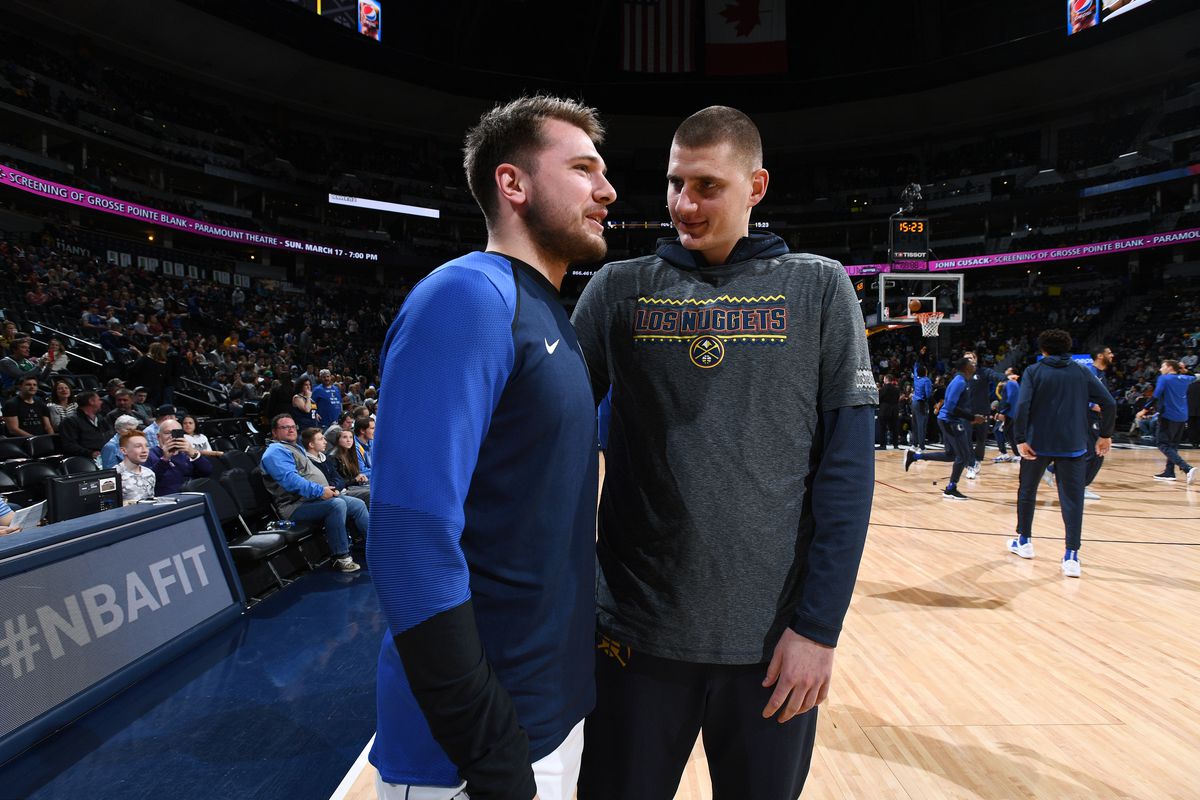 Yes I said part 2 would come out in a week or two and it has been five weeks, but I can explain. After I released part 1, I thought I might as well wait until after the trade deadline because there may be someone on the list who gets traded (oh was I right). Three top 60 trade value guys were traded and if you include the honorable mentions that number is five. Sorry for the delay, here is the article.
I will start off by saying this is not my idea. This concept I have taken from the great sports writer Bill Simmons. Every year from 2001-2015 (also 2019) around January, Simmons would write a massive piece where he would rank the league's players based on their trade value. So what does that mean? Here I'll let Simmons take over on the rules (with modern analogies).
Salaries matter. Would you rather pay Dejounte Murray $15.4 million a year or Brandon Ingram $29.4 million a year?
Age Matters. Would you rather have Chris Paul for the next three seasons or Trae Young for the next 12?
Contract length matters – Beal and LaVine are assets but both could bounce in 5 months
Pretend the league passed the following rule: For 24 hours, any player can be traded without cap ramifications, but with luxury-tax and next-day-cap ramifications. If Team A tells Team B, "We'll trade you Player X for Player Y," would Team B make the deal?
Concentrate on degrees. For instance, an Anthony Edwards-Jimmy Butler swap ain't happening, but Miami would at least say, "Wow, Edward's available?" while Minnesota would say, "We can't trade Edwards for someone who's twelve years older." That counts in the big scheme of things.
This list runs in reverse order. If LaVine is no. 19, then players 1 through 18 are all players about whom Chicago's braintrust would either say, "We hate giving up LaVine, but let's have a meeting ASAP," or, "Done! Call this deal in!" And Chicago wouldn't trade him straight-up for any player listed between nos. 20 and 60.
I know a lot of those rules contradict each other but it is about incorporating all of those rules in order to make a list that resembles that of how valuable players are in terms of a trade. Simmons was incredible at this and his writing made these lists all the better. I have read all of Simmons trade value columns and to my knowledge no one has really done it since he stopped. For that reason I hope to make this a tradition of an article I do and continue what Bill Simmons stopped. If you want to check out Simmons' full database on NBA Trade Value columns you can see it right HERE!
This piece is a pretty big one so I broke it into two pieces. In Part 1 discussed numbers 60-31 on the list and in Part 2 (this one) I will be doing numbers 30-1. Since it has been a month I also left comments on anything that has changed or anything I have to say about players I already ranked. I broke the 60 players into groups titled by the general reaction their general manager would have if someone asked for the player in a trade.
The league is more talented depth wise than it has ever been before. That means we have players of all ages and all contract sizes being incredible contributors and players for teams. For this reason keeping this list to 60 players is extremely hard but I took on the challenge. Because only 60 made the actual "list" there is an incredibly talented group of honorable mentions. I believe this group of honorable mentions is better than any single year that Simmons did this column. I somehow have 34 honorable mentions so I broke them into 3 groups in no particular order.
Honorable Mentions: Stars Making Too Much Money
CJ McCollum
Value was a first rounder, Josh Hart, and Nickeil Alexander-Walker, not bad
Michael Porter Jr.
Kyle Lowry
Julius Randle
Not even an honorable mention anymore
Nikola Vucevic
Kristaps Porzingis
Clearly his value is two bad contracts
Gordon Hayward
Pascal Siakam
May have played his way into the list
Russell Westbrook
Even if he was paid 5 million a year he wouldn't be on this list
D'Angelo Russell
Malcolm Brogdon
Fred VanVleet
First time all-star, has played himself into the list along with Siakam
Honorable Mentions: Not On the List YET
Miles Bridges
Patrick Williams
Still believe he will be on the list next year
Alperan Sengun
Keldon Johnson
Jonathon Isaac
Cole Anthony
Josh Giddey
I know I keep saying this but he is 100% on the list now
De'Andre Hunter
Luguentz Dort
Jaren Jackson Jr.
Tyrese Maxey
Herbert Jones
Probably will never be on the list in his career because he is a role player but I still love him
People I'm Adding
Anfernee Simons
Has Simons played Lillard out of Portland? That seems crazy but imagine the assets you could surround Simons with if you trade Lillard
Matisse Thybulle
His defense is so good that he has to atleast be an honorable mention
Robert Williams
If you catch him on the right 3 game span you would think I'm crazy for not having him on the list
Cam Thomas
He's oozing with potential
Cam Reddish
His value is a first round pick to the Knicks, and nothing to Thibs
Bronny James Draft Stock
Other Honorable Mentions
Dillon Brooks
Andrew Wiggins
All-Star starter, now that he is a good shooter he is very close to being on the list. Once his current contract ends, his value will only go up
Myles Turner
According to the Pacers his trade value is two first round picks (although that seems exaggerated)
Christian Wood
Seth Curry
Aaron Gordon
Terry Rozier
Jerami Grant
Whatever his value is, the Pistons think it is higher
Cameron Johnson
Jonas Valanciunas
People I'm Adding
Marcus Smart
As a Boston fan sometimes he is untradable and other times he is unwatchable
Kyle Kuzma
Derrick White
Required to add him because he was basically traded for 2 first round picks
Malik Monk
A shame he won't be a Laker in 5 months
Recap of Part 1 (with new notes)
Group S: I'm Not Trading Him, He's Just Too Young
60. De'Aaron Fox
59. Lonzo Ball
58. John Collins
57. OG Anunoby
56. RJ Barrett
Fire Thibs and watch his trade value skyrocket
Group R: I Know He Has a Massive Contract, Are You Sure You Don't Want Him?
55. Rudy Gobert
This summer we may see if there is a market for Rudy Gobert and his massive contract.
54. Brandon Ingram
Group Q: Sorry I Can't, He's Worth More to Us Than He's Worth to You
53. Jonathon Kuminga
52. Jalen Suggs
Suggs is starting to come into his own as a defender and I wouldn't move him up this list but his spot seems more secure because of this.
Group P: I'm Pretty Clearly Willing to Trade Him
51. Domantas Sabonis
His trade value was apparently someone ranked above him (Haliburton) and Buddy Hield. I am not sure if that means I underated his trade value or the Kings made another dumb trade (I am going to go with the latter).
Group O: Yes I Want (Insert Superstar Name Here) I'm Willing to Give You…
50. Miles Bridges
49. Jordan Poole
Not sure what this says about his "trade value" but apparently Golden State is willing to offer him a 4 year, $80 million deal this summer.
48. Desmond Bane
47. Tyler Herro
Group N: I Would Need WAYYY More, He's Much Better Than You Think
46. Jrue Holiday
45. Jarrett Allen
44. Franz Wagner
Is still getting better throughout this season. Not sure how many players Orlando would deal for him period.
43. Draymond Green
Group M: I Really Want to Trade Him, But I Need Something Back
42. Kyrie Irving
Still wouldn't touch with a ten foot pole even if the mandate is lifted.
41. Ben Simmons
If you tag along two role players and two first round picks he can get you a top 15 player in the league. For all of the slander that Daryl Morey got (including from myself) he did the right thing. Morey could of had Tyrese Haliburton and Harrison Barnes but he held up and was able to get James Harden.
Group L: I Can't! Our Fans Would Riot
40. Klay Thompson
May have him a couple spots worse now that I have seen him play. Since coming back, Klay has played like someone that hasn't played in two years (go figure). As of recently Klay appears to be getting into more of a grove and for Golden State's sake hopefully he is "back" by the playoffs.
39. Khris Middleton
Group K: If I Trade Him He Will Comeback and Haunt Us
38. Dejounte Murray
37. Jalen Green
If you do not know my thoughts I encourage you to go read what I wrote about him in Part 1. Even since I trashed him he has not gotten better. There is no way Jalen Green has more trade value than Dejounte Murray and now he is multiple spots lower than he was last month.
36. Jamal Murray
35. Tyrese Haliburton
I touched on this in the Sabonis section but I don't believe the Haliburton trade represents Haliburton's trade value. If Haliburton would have been widely shopped his value would have been much more but like usual the Kings are gonna be dumb.
34. Scottie Barnes
Group J: I Wanna Listen, But That Would Be Bad Karma
33. DeMar DeRozan
I am always underating DeRozan and I am probably doing it again with this ranking. Since I ranked him here, he has only gotten better. His value is hard to guage with his big contract and an age already passed 30 but nevertheless he should be in the top 30.
32. Jimmy Butler
31. Chris Paul
Potentialy a top ten player but he is old and like his recent thumb injury showed, he is always getting hurt.
Part 2
Group I: I Can't He's a Young Stud, No Way!
30. Bam Adebayo
He is ranked 30 but who honestly would the Heat trade Bam for? The big is only 24 years old and is locked up long term. If the Heat got a call about anyone else in this category they would probably just say no because of how versatile Bam is. Adebayo has been hurt a lot this season so it is easy to forget how good he is or how well he fits Heat culture (yes it's a thing).
What makes Bam so special is just how versatile he is. On offense, he is a post player that screens great but he is also a rim runner if needed. On defense, he is exceptional guarding bigs and even survives well when he is switched onto perimeter players. Fun exercise, if Minnesota called and said Towns for Bam, would Miami do it? I lean yes but don't lie you thought about it longer than you thought you would.
29. Darius Garland
Once upon a time I said the 2019 draft was a four player draft despite most saying it was a three player draft (Zion, Ja, and RJ Barrett were the consensus). The reason for my difference in opinion from the consensus was my belief that Garland could be a star (it may appear I am trying to brag but don't worry I ranked Killian Hayes my #1 prospect in the next year's draft over guys like LaMelo, Edwards, and Haliburton, YIKES).
While scouting Garland I saw him as a Damian Lillard type of player, someone who can shoot from deep, who is highly crafty, and can get to the hoop. Garland has proven so far that the Damian Lillard trajectory is not out of the question. Garland has become more efficient as a scorer and has actually become a great teammate and great playmaker averaging 8.2 assists a game. Cleveland is the perfect situation for Garland because his defensive holes are mostly covered up by the land of giants (Mobley, Allen, and Markkanen). If Garland continues to become a better scorer then there is no reason he can not become a Damian Lillard type player.
28. Shai Gilgeous-Alexander
27. Jaylen Brown
These two players are very similar in both age and where they are at in terms of their career. Both of these players put up really good numbers as young two guards but they are at very different points in terms of team success. Jaylen Brown is the second best player on one of the hottest teams in the league right now. In Brown's five playoffs he has won seven series, including two Eastern Conference Finals. Jaylen Brown is a near elite level scorer but I doubt there are many executives around the league who believe he can be the best player on a very good team. As a Celtics fan, I love the occasional games that Tatum isn't playing and Jaylen scores 40, but we just can't win like that. I would not trade Brown, but I won't say it is impossible we find out his value this summer (especially if Memphis calls, 3 firsts and Bane???)
SGA is possibly the hardest player to judge in the NBA. Everyone agrees that he is a good player but just how good is he. Some analytics will suggest he is severely underrated and some say he is a top 15-20 player in the league (not me). It is unfair to say that Shai is not a winning player because the Thunder are clearly trying to lose and sometimes Shai even hurts their efforts to do that. Just last season, Shai became the unofficial youngest player to get shut down for the season because a team was trying to lose. The Thunder tried to trade Shai last summer for Cade Cunningham so although he is only 23 years old he might hilariously be too old for Oklahoma City's timeline. If a team in the top 4 of this year's draft is willing to swap their pick for SGA then Oklahoma City probably will.
26. DeAndre Ayton
I was HIGHH on Ayton after last season's playoffs and ranked him as the 22nd best player in the league last summer. That was an accurate rating and I still believe Ayton is a top 5 center in the NBA. Ayton has value as an offensive center and is an above average playmaker but where he has incredible value is with his switchability. In the playoffs, bigs are played off the court by making them switch onto quick guards but this was not the case with DeAndre Ayton. Ayton was able to stay on the court when it mattered most as a serviceable perimeter defender.
This may seem crazy because they are currently the best team in the league but Ayton may not be on the Suns' roster next season. The Suns owner, Robert Sarver, cheapness can not be ruled out. Sarver refused to offer Ayton the max in contract talks and now he will be a restricted free agent this summer. Despite Sarver's hesitance to pay Ayton he did pay Mikal Bridges and Landry Shamet. If you don't believe me that Sarver might not pay Ayton, here is a brief history of Sarver's cheapness.
Forced out GM Bryan Colangelo who was the architect behind the seven second Suns
Refused to pay Joe Johnson $14 million in 2005 despite being title contenders
Traded four consecutive first round picks for cash considerations during title contention

With picks they could have got Andre Iguodola, Rajon Rondo, Rudy Fernandez, and Nate Robinson (you think those guys could have helped a team??)

Asked Steve Kerr to take a 10% pay cut despite being a great GM
Threatened to move the team if he did not get $150 million for arena renovation from Phoenix
So excuse me for being hypocritical on the Suns chances on re-signing Ayton this summer. I especially think this when teams like Orlando, Detroit, San Antonio, and Portland can create space to offer Ayton a max contract.
Group H: If You Tell Anyone I Listened, I'll Deny It
25. Bradley Beal
So I'm not sure if Beal technically should be on the list now that he can't be traded this season and he will be a free agent this summer but I'll put him on here anyway. Beal has been incredibly disappointing this season and Washington is in a tough situation come this summer. Beal is not worth a summermax but if that is the only way Washington can retain him then should they? No! If Beal says he is leaving unless he gets a supermax then let him!

Bradley Beal has the potential to be a lethal scorer but he is not a top 25 player and therefore should not be offered a supermax. We have seen with John Wall, Russell Westbrook, Tobias Harris, (and will see with James Harden) that signing an older franchise player to a long term supermax can backfire. Not only should Washington not offer him a supermax but they should call his bluff that he will join another team. The only teams that have cap space this summer are bad teams, and the only way Beal can join another team is with the help of Washington via sign and trade. That would help Washington get value on Beal and kick start the next phase of their franchise (lets call it the Porzingis phase).
24. Zach LaVine
What an amazing season for Zach LaVine. Similar to Beal, I'm not sure we should include him considering he is about to be a free agent but this my list not yours. LaVine has taken yet another step up this season and is now a clear top 20 player in the league and for the first time in his career he is on a contender. LaVine turns 27 next month so he should be a very good player for a long time. If LaVine signs a 5 year supermax this summer (Chicago SHOULD give it to him) then his trade value will sky rocket as a fairly young player with a long term contract.
Something else I am incredibly excited for is seeing Zach LaVine in the playoffs. In the playoffs stars and scorers matter so LaVine should thrive. I think the DeMar DeRozan story this year has been incredible and fun but Zach LaVine is still the better player on the Bulls. LaVine is one of the best scorers in the NBA regardless of position. If there are less than two minutes in the game here are the top ten players I want with the ball.
Kevin Durant
Giannis Antetokounmpo
Steph Curry
Luka Doncic
Devin Booker
Joel Embiid
Zach LaVine
LeBron James
Damian Lillard
Jayson Tatum
I am not exaggerating that I would take Zach LaVine and his three level scoring ability 7th in this category. For this exact reason I am very excited to see LaVine in the playoffs.
Group G: He is Our Best Player and He is Young, I Can't
23. Karl Anthony-Towns
In Towns' 7 NBA seasons he has played in only 5 playoff games. For years Towns was considered a perennial top 25 player but yet he has only played in one playoff series and that was when he wasn't the best player on the team (Jimmy Butler). With that being said KAT has been awesome this season and earned his 3rd all star selection. The Timberwolves are currently the 7 seed in the Western Conference and it is in no small part due to Towns. If for some reason Towns asked out, he would have a plethora of teams calling and willing to trade the farm. I would be hesitant to be one of these teams because at no point has he shown to be a winning player but his trade value is undeniable.
I am using a second paragraph to address Towns' claim as being the best big man shooter of all time. Towns is right depending on how you classify "big man". If you are simply saying a seven footer then here's the list.
Kevin Durant (he's lying about his height)
Dirk Nowitzki
Karl Anthony-Towns
Kristaps Porzingis
Nikola Jokic
Channing Frye
Brook Lopez
Sam Perkins
Nikola Vucevic
Andrea Bargnani
To be fair to Towns, if you remove non centers from this list (Durant, Nowitzki, Porzingis, Frye, and Bargnani) then he is the best shooter. A better way to put it would be that Towns is not the best big man shooter of all time but he is the best shooting center of all time.
22. Cade Cunningham
Cade is exactly who I thought he was when I ranked him the number 1 player in last year's draft but he is not the best player in the draft because of someone outperforming their draft position (he is coming soon don't worry). Cade is a 6'8 point guard that can shoot threes and plays smart basketball, what is not to like? I am not sure Cade Cunningham will ever be the best player on a title contending team but I do believe he can be the second best player on a championship team.
Cunningham is not a ball dominant player and keeps the ball moving very well. If Detroit can find a superstar player, Cunningham not only will fit great next to him but he also will make him an even better player. The easiest way Detroit can find this star is in the NBA draft and this year could provide them with that opportunity. Here is my opinion on what the Pistons top 5 should be on their big board for this year's draft (this is not my personal big board, that is coming soon).
Jabari Smith
Chet Holmgren
Jaden Ivey
Paolo Banchero
Shaedon Sharpe
Cade makes all five of those players better and all of them have the potential to propel the Pistons into future contention.
21. Anthony Edwards
Edwards may not be the best player on the Timberwolves (yet) but he is their most valuable player in terms of trade value. Edwards is already a star but he has future superstar written all over him. This season, Edwards has increased his numbers in every major statistical category and all his shooting percentages. More importantly than that, Edwards seems to have the "it" factor. He is full of big games and big moments that directly translate to winning.
Edwards still has two seasons after this under contract and a max contract that will undoubtedly follow. Between the "it" factor, his age, and his contract I may even be underating Edwards value in the trade market. If you told me that in 2-3 years Edwards is a top 10 player in the league I would not be surprised at all. The only reason Edwards is not ranked above his fellow draft classmate, who I ranked one spot higher than him, is because there is a potential world where Edwards becomes an empty stats player (I don't believe he will). Either way Edwards is and will always be, must watch TV.
20. LaMelo Ball
Possibly the most fun player to watch in the league. LaMelo has been under the spotlight since he was 14 years old and has had a crazy journey to NBA stardom. LaMelo played in: highschool, Lithuania, a league his Dad made, high school again, Australia, and now finally the NBA. I am not sure any NBA player ever can match the madness the journey LaMelo went through. Every step of the way LaMelo could have screwed up or let wrong influences get to him and yet here he is as an NBA all star. LaMelo unquestionably impacts the Hornets winning and if they can continue to surround LaMelo with talent, contention will only follow.
LaMelo's ceiling is incredibly hard to figure out. LaMelo is already an elite passer and a really good rebounder at only 20 years old. This season LaMelo has also taken a major step up as a scorer averaging nearly 21 points a game and shooting almost 37% from 3. The hole in Ball's game is that he is not yet a very good defender, at this point I would call him an average to slightly below average defender. There are not many great comparisons for LaMelo Ball at his best, so I will go ahead and say the one that will make people think I am crazy, Magic Johnson. LaMelo is nowhere near the defender that Magic was but offensively you can see the potential for LaMelo to get there. Comparing a 20 year old kid to a top ten player of all time is nuts but that is the type of potential you can see when you watch LaMelo.
Group F: His Contract is Way to Much of a Bargain Right Now
19. Evan Mobley
18. Trae Young
Ok well Trae Young is set to make either 172 million or 207 million so I guess that's not a great title. Still Trae Young is on his rookie deal this season which makes his current deal a major bargain. Mobley on the other hand is a MASSIVE bargain. Last postseason Trae showed that he is not only a great shooter and scorer but he is also an incredible passer. This season Young has shown his ability to completely take over games and be the best scorer on the court whenever he wants to. The Hawks have dissapointed this season but if they can squeeze into the playoffs Trae is good enough that they may be able to steal a series.
Mobley will be paid a rookie level deal for the next four years and he has already shown himself to be an incredible player. If Mobley continues this and the voters have half a brain cell then he will be the rookie of the year. MARK MY WORDS EVAN MOBLEY WILL BE THE NEXT KEVIN GARNETT. Yah I'm serious, Evan Mobley is that good. Mobley's defensive impact is imeasurable and he has shown flashes of being a really good offensive player. As a rookie Mobley has been a very good playmaker and it is not crazy to say that Mobley will be able to be the best player on a championship team one day.
Group E: You Would Have to Give Me Sooo Much
17. Damian Lillard
Another player that we might find out their value soon. I would still lean that Damian Lillard will not be traded this offseason but stars can move quickly. Anfernee Simons has looked like a star the past month and that could change Portland's outlook on their future. The NBA has shown a history for smaller guards to suddenly drop off in production so it is not out of the question that Lillard is near the end of his productive prime. Lillard had a major surgery on his abdominals on January 13th and I think it is safe to assume he will not return the rest of this season. If injuries and age plague Lillard, his best days may be behind him.
Everyone asks if Lillard will demand a trade and force Portland to trade him, but are we sure it is not smart for them to trade him whether he asks or not. If Portland believes that Lillard still has superstardom left in the tank and they can build a competent team around him then they should keep him (unlikely for both reasons). But if Portland thinks Lillard may soon regress or that they will not be able to build around him, why not trade him and build around Simons and the assets that they receive. It sounds crazy to want to trade a superstar but Portland is a small market and one of their best chances to find assets may be by trading their superstar.
16. Paul George
If the Clippers would have lost game 7 against the Mavericks last playoffs then Paul George would probably be on a different team right now. Not only did the Clippers win that game, but when Kawhi went down, George (and reggie Jackson) carried the Clippers to the Western Conference Finals and pushed the Phoenix Suns to 6 games. Paul George's game is smooth and although he may not be a superstar, he is just about as good of a secondary star as you are gonna find in the league. If the Clippers ever looked to move on from George he would have a multitude of suitors as he has three seasons left on his contract after this one and is still only 31 years old.
This has nothing to do with Paul George anymore but if you were in charge of the Clippers what is the goal the rest of the season. If I were to tell you that Kawhi and PG are out the rest of the season (they probably are) then what is that point of making the play in. The Clippers made a great move adding Norman Powell and Robert Covington who can both help next season but everyone on their roster (besides Brandon Boston) already has playoff experience. Wouldn't you rather get a top 10 pick that you can either draft a player that will help next season or deal for a proven player. Just a thought.
15. James Harden
Well I guess we know his value. This is exactly the reason I wanted to wait until after the trade deadline to do part 2 of this list. Harden's value dropped after he self tanked his price but yet he could still get: a 25 year old all-star, two role players, and two first round picks. That is very high value for someone who wanted to be traded and is on an expiring contract. Harden's future value will be completely up to how he finishes this season with Philadelphia. If Harden wins the title and proves he is still an elite scorer, then his trade value could shoot up multiple spots. If Philly implodes and Harden has yet another playoff collapse, then Harden could fall into the 20s and if he signs a 5 year max maybe the 30s.
Hypothetically, if Harden won the title, where does he rank all time? I am still working on my own rankings so I won't get ahead of myself but he has to then be a top 30 player all time with a title right? Just off the top of my head he would have above Nash, Iverson, Paul, and Ewing. Would he above Kawhi, Stockton, Pippen, or Wade? I'd lean towards no on all of those in the latter category but that just shows how quickly Harden can change his legacy (for what it is worth I believe Harden is somewhere in the 35-45 range all time right now).
14. Anthony Davis
Disappointment. That is what this season has been for Anthony Davis and the Lakers. Two seasons ago I ranked Anthony Davis as the 2nd best player in the NBA folowing the Lakers title in the bubble and since then he has done he best job to make me look stupid. Game 1 of the 2020 NBA Finals is when the Davis hype peaked. Constantly throughout his career we were led to believe he was the next Duncan and great power forward but we were just wrong. In his first finals game he put up a 34 points, 9 rebounds, 5 assists, and 3 blocks in a win over the Heat. This seemed like it was the start of the real Anthony Davis saga it was his I'm here moment or something we would look back on as the start of his greatness like we do for Jordan's 63 against Boston in 86', LeBron's 25 straight in the 2007 Eastern Conference Finals, or Magic's 42 and 15 in the 1980 NBA Finals. All of those players used those games as breakouts but Davis has yet to even return to where he was then.
Injuries have nagged him but health is a skill that most of the greats are able to keep in check. Even when he does play, these last two seasons Davis has almost welcomed the idea of being a 2nd option star. The best player on the Lakers is 37 and it is Davis' time to become the alpha of the team. Davis has had a good career and when you look at statistics it was not crazy that he made the NBA75 this season but everyone that has been watching him since he came out of college has to say his career has been mainly disappointing.
Trade value is usually a good indicator on how much potential the player is supposed to have. Evan Mobley is not close to being better than Jimmy Butler but I think it would be more important to have him on your team going forward than Jimmy. Here is where Anthony Davis has ranked in Bill Simmons trade value column since 2013 (his rookie season). Now this is extremely stupid because I have to do my own hindsight rankings for six of the years but I will do my very best to not be bias or project more than people did at the time.
2013: 16
2014: 3 (projection)
2015: 1
2016: 5 (projection)
2017: 7 (projection)
2018: 6 (projection)
2019: 4 (He did two rankings this year, the first one having him at 2 but this is more recent)
2020: 5 (projection)
2021: 9 (projection)
2022: 14
For 8 straight seasons Davis was clearly a top ten trade piece and five of those years he was top five. Davis has had a downward trajectory in both trade value and value as a player the past 3-4 years right when he is supposed to be entering his prime. Davis turns 29 in March and his best years are supposed to be coming not be behind him. If Davis is able to stay healthy and develop more of an alpha mentality then it is not crazy that he returns to the top of the league but until then he is disappointing.
With all that being said, when I first made this list in January while Davis was injured I ranked Davis 16 behind Dame and Harden. Lillard's injury appears to be more serious by the day and Harden's constant drama made me put Davis ahead of the two. Davis played great after he returned from injury but yet again he is hurt.
Group D: No Way!!! If I Traded Him It Would Be James Harden 2.0
(Updated Title) They May Demand a Trade this Summer So Talk to Me Then
13. Zion Williamson
12. Donovan Mitchell
I am especially proud of this section's title but in reality either of these trades would be much worse than the Harden trade. We knew of Harden's potential but no one had an idea he would become the superstar that he became. I would say that both of these players are stars and have the undisputed potential of being superstars but are not yet.
Mitchell is incredible and on any given night has the ability to drop 40 points. My favorite part of Mitchell's game is that in the biggest games he gets better and his playoff career is evidence of that. With that being said, Mitchell is not yet consistent enough for me to call a "superstar" as some nights he drops duds or seems to disappear. Mitchell still has 3 guaranteed seasons under contract after this year but rumors have already begun about his potential desire to play elsewhere. If I am Utah I am not even answering the phone until Mitchell demands a trade and I still may not answer after that happens.
Zion is extremely tough to gauge value from. Last season, Zion was the 14th best player in the NBA and this year he has not even stepped foot on the court. Despite being one of the best players in the league there is still a major cause for concern if you are a New Orleans fan. For reference here are the red flags for Zion.
Has Played in 90 out of 212 potential games which is only 42%
Gained weight every season to the point where he is now overweight
Already shown disinterest in New Orleans and a desire to play in a bigger market
Is eligible for a 5 year 175 million dollar deal this summer
Did not talk to the star player the Pelicans traded for (McCollum)
Apparently hates the GM David Griffin
Under normal circumstances I would not even think about handing an overweight player, who plays 42% of our games, and already wants to leave my city a 175 million dollar deal. Zion Williamson is not normal. At 21, I ranked him the 14th best player in the league but honestly when he is on the court he makes a compelling case to be a top 10 player. If Zion stays healthy I have 100% confidence he will be a top 4 player in the league one day but that is a big if. As for what I would recommend New Orleans does…yeah actually I have no idea, get back to me this summer.
Group C: I Can't, He IS Our Team
Big Category
11. LeBron James
At 37 it seems crazy to put LeBron 11th on a trade value list despite only having 3-4 seasons left but let me lay out my case. First, LeBron is still very very good. LeBron is currently the fourth or fifth best player in the world (Giannis, KD, maybe Steph, maybe Embiid, and maybe Jokic). Currently the Lakers suck, they are not a good basketball team and should have no chance at winning the title. Right? Don't lie, in the back of your head you can't count out the Lakers to win this year's championship. So why is that? Why do you not want to count out a 27-31 9 seed when there are teams that have clearly been better all season. The answer is simple, LeBron James. Time and time again in his career LeBron has been counted out and he has exceeded expectations. LeBron is the best or second best player of all time so having him on your team gives you a chance to win the title every season. On top of LeBron's impact on the court he also makes any team incredibly more valuable just by being on it. If LeBron demanded a trade today nearly every team in the league would send an offer (seriously, would the Knicks offer their whole team for LeBron, probably).
10. Devin Booker
Devin Booker for the first time in his career now has a real case at being a legitimate superstar, here is the evidence.
Was the second best player on a finals team last season
Was the 16th best player in the NBA last year (according to me) and he got much better
Is the best or second best player on the best team in the NBA currently (it is 1A/1B however you have it)
Is the best scorer in the current Western Conference playoffs not named Steph
If you had one game to win can you honestly name 10 players you would rather have?
The case is yet to have too much evidence but that is okay as Booker is only 25 years old and his team is the current favorite to win the title this season. This is a rare example in the trade value list that I am not sure that the Suns would trade him for any player in the league. If Denver called and said Jokic for Booker right now, would the Suns do it? What about Dallas with Doncic? The fact that you are even thinking about these and not immediately saying yes shows just how good Devin Booker is and what his potential could be.
9. Jayson Tatum
Putting Tatum three spots above guys like Zion and Mitchell may seem pretty ambitious and homerish (I'm a Celtic fan) but it is just simply the safe bet. Even as a Celtics fan sometimes I worry if Tatum can be the best player on a championship but at his worst he is a high level scorer that can propel his team to the playoffs like he is now. Tatum is in the first year of his five year max extension and is still only 23. Recently the Celtics have been incredible and FiveThirtyEight currents projects the Celtics have the best chance to win the NBA title in the league. Now that is absolutely crazy but it just shows how a lot of numbers and anayltics are nehind Tatum and the Celtics come these playoffs.
8. Kawhi Leonard
Yes his ACL may be torn, yes we do not know when he will come back but I do not care. Injuries are not nearly as big of a deal as they used to be and Leonard still has three more seasons after this one under contract. Leonard has blossomed into an offensive weapon and although he is not the all time defender that he used to be, he is still an above average defender. If Leonard were to demand a trade (would not be the weirdest thing he has done) then the Clippers would surely still get back a godfather return for their superstar.
7. Ja Morant
Before this season I ranked Ja Morant the 39th best player in the league and it appears he is making me look very stupid. Ja Morant is exactly what you want from your superstar: great teammate, great player, sells tickets, and great personality. If you have a small market team like Memphis it's unfathomable to ever trade someone who ia as valuable as Morant is to your team. I originally had Morant in the Group D category but he has seemed to play himself into an even higher category.
I have no fears about Ja Morant as a leader, as a player, or as a playoff performer but I do have a major fear on Morant's health. Morant is GOING to get injured. Remember when Derrick Rose was taking off as one of the best players in the league and everyone just knew a major injury was coming and it did. Morant plays incredibly similar to Derrick Rose when he flies at the hoop and contorts his body in order to score or make a play. Currently these moves help Morant make incredible plays but they will almost certainly lead to injuries. Both Derrick Rose and Russell Westbrook (probably the two most similar players to Morant) have had major knee injuries (ACL and Meniscus).

Derrick Rose and Russell Westbrook are interesting comparisons when it comes to injuries because they affected the players in completely different ways. After Derrick Rose tore his ACL he was just never the same and his injury derailed potentially an all time great career. In 2013, Russell Westbrook tore his meniscus and was not the same player for about a year. The difference between these two players is unlike Rose, Westbrook was able to maintain an incredible career and even won an MVP after his injury. With the recovery process becoming so much better maybe this is not as big of an issue as it used. For example, a torn achilles used to be a career ENDER (find me a hall of famer that was the same after a torn achilles) but Kevin Durant seems to be fully recovered and one could argue he has even gotten better since his injury.
Yes I am using a fourth paragraph just to talk about the inevitable Ja Morant injury. Despite feeling very confident that Morant will have a major injury I still am confident ranking him number 7 on the trade value rankings. If I didn't think Morant would get injured I may rank him higher but because I am confident in modern science and recovery periods I am still ranking him above other young stars even with his injury concerns.
Group B: I'm Not Gonna Answer the Phone
6. Joel Embiid
Joel Embiid is a superstar that much is clear. This may seem slightly high for an injury prone player that has missed more than half of the games in his career but it is reasonable. In March, Embiid turns 28 and he still has six years left on his contract. In a league with very few dominant big men Embiid is dominant with the ball and is still an elite defender. If Embiid ever did enter the trade market every team's mouth would water at the idea to add the best back to the basket center since Shaquille O'Neal (Jokic is a better center but not better as a strict post scorer and yes he is better than Dwight). Embiid separates himself from the young players in the tier below him because he has proven himself as a superstar. Embiid is a very good player and now that Philly has given him another star don't be surprised if he carries them to an NBA title.
5. Kevin Durant
4. Steph Curry
I struggled a lot ranking these two players ahead of Embiid but I think they just mean more (especially Curry) to their franchises. I know that seems crazy to say about Embiid and Philly but I think it is true. Curry and Durant's talent is incredible and they are the two best scorers in the world right now. With that being said, both players are 33 years old with Steph turning 34 in March. Both of these players are clearly behind the three ahead of them (it should not be hard for you to figure out the other three).
Things that numbers won't show: Curry is willing to do absolutely whatever it takes to win even if that means a dip in his percentages or stats and Durant is currently at the peak of his shot making powers, he is able to rise up over anybody and shoot wherever he wants on the court. Steph Curry gets the slight edge in this list because let's be honest, Oakland would burn if they traded him. Possibly a better question, who is better all time?
Steph Curry
3x Champion
2x MVP
7x All-NBA
8x All-Star
2x Scoring Champion
One of the best team players the league has ever seen
Kevin Durant
2x Champion
2x Finals MVP
1x MVP
9x All-NBA
12x All-Star
4x Scoring Champion
One of the best scorers we have ever seen
I'll leave this one up to you.
Group A: Completely and Utterly Untouchable
3. Luka Doncic
If you would have told me three months ago that Luka would not be the #2 player on this list I would have expected that he got hurt but that is not the case. Yet again, Luka came into this season out of shape and is now trying to work himself into shape mid season. Luka unquestionably has the talent to be the best player in the NBA and even though he is young at some point he will have to put it all together and do it. Luka seems to be hitting his grove right now and I am excited to see him in the playoffs during a year that nearly anyone can win the conference.
2. Nikola Jokic
If I would have written this two months ago I would have swapped Luka with Jokic for this spot. Jokic is just flat out incredible and he is still only 26 years. Jokic is the best passing big man of all time and is currently dragging a poor Denver team to the playoffs. Analytically Jokic is the most valuable player in the league but as we know the award is not just based on value but it is also based on team wins and narrative, two things that Jokic does not have this season. Also an underrated thing about Jokic is his defense this season. The combination of size and speed by Jokic makes him a great and near all defensive team player this season. Jokic probably will never be #1 on this list because of the guy in front and behind him but expect him to be near the top of this list for the next 6-7 years.
Denver will probably not make the title this year because of injuries, but they should be viewed as a legitimate threat to win it all next season. If Denver has Jamal Murray, (insert guard wing who can shoot here), Michael Porter, Aaron Gordon, and Nikola Jokic on the court all at the same time then Denver could be the favorite to win the 2022-23 NBA title.
1. Giannis Antetokounmpo
Was there any doubt? Giannis is the best player in the world today and he is only 26 years old. Giannis is good, he is young, and he is locked up for the next five seasons. The question is no longer will Giannis become the best player in the league because he already has accomplished that. The new question is how far up the all time lists he can make. He is already in the discussion as one of the best power forwards ever.
Duncan is clearly the best ever. The next tear is jam packed with players all similar in the all time rankings (Karl Malone, Dirk Nowitzki, Kevin Garnett, Charles Barkley, and now Giannis). Here is their resumes for Championships, MVPs, and Finals MVPs.
Malone- 2x MVP
Nowitzki- 1x Champion, 1x MVP, 1x Finals MVP
Garnett- 1x Champion, 1x MVP
Barkley- 1x MVP
Giannis- 1x Champion, 2x MVP, 1x Finals MVP
You could make a legitimate argument that Giannis may already be the second best power forward of all time. I am not ready to make that argument because of cumulative stats but as Giannis plays he will continue to rise up the list.
Wait, I just realized I lost some of you a bit ago when I said Giannis was the best player in the league. The league is really talented right now, arguably the best ever, so it may seem crowded at the top but I think Giannis is clearly the best. I think this because of three main reasons.
The Finals Last Season
Do we not remember one of the greatest finals in NBA history? In the finals Giannis averaged 35 points, 13 rebounds, 5 assists, 2 blocks, and a steal all while shooting 62% from the field. Not only did Giannis fill up the stat sheet but he provided some of the most iconic finals memories in recent memory (The Ayton block, the Jrue Holiday alley oop, and his 50 point game six explosion). What Giannis did in the finals was incredible and one of the best finals the league has ever seen. During those finals it became clear Giannis was the league's best player and 60 regular season games won't change my mind.
He is Elite on Both Sides of the Floor
Not only is he an offensive bully that is nearly unstoppable in the fast break but Giannis is also the league's most versatile defender. Curry, LeBron, and Durant are all great players but none of them have the two way impact that Giannis does. None of those players could win MVP and Defensive Player of the Year (LeBron in 2013 could but that's 8 years ago). The most popular other "best player in the world" is Kevin Durant but Giannis does much more on the court and contributes more to winning than Durant does.
He Wants it More Than Anyone Else
Finally and most importantly, Giannis just wants to win more than anyone else. He does not care about the media circus, the city he plays in, or his stats. All that Giannis cares about is winning and that is the single most important thing in basketball. Yes Kevin Durant scored 49 against the Bucks and Giannis, yes the shot he hit was truly incredible but Giannis WON the game. When did the priorities of the game change? Winning is the main goal and should be the ONLY goal, and no one helps you accomplish that more than Giannis Antetokounmpo. I rest my case.