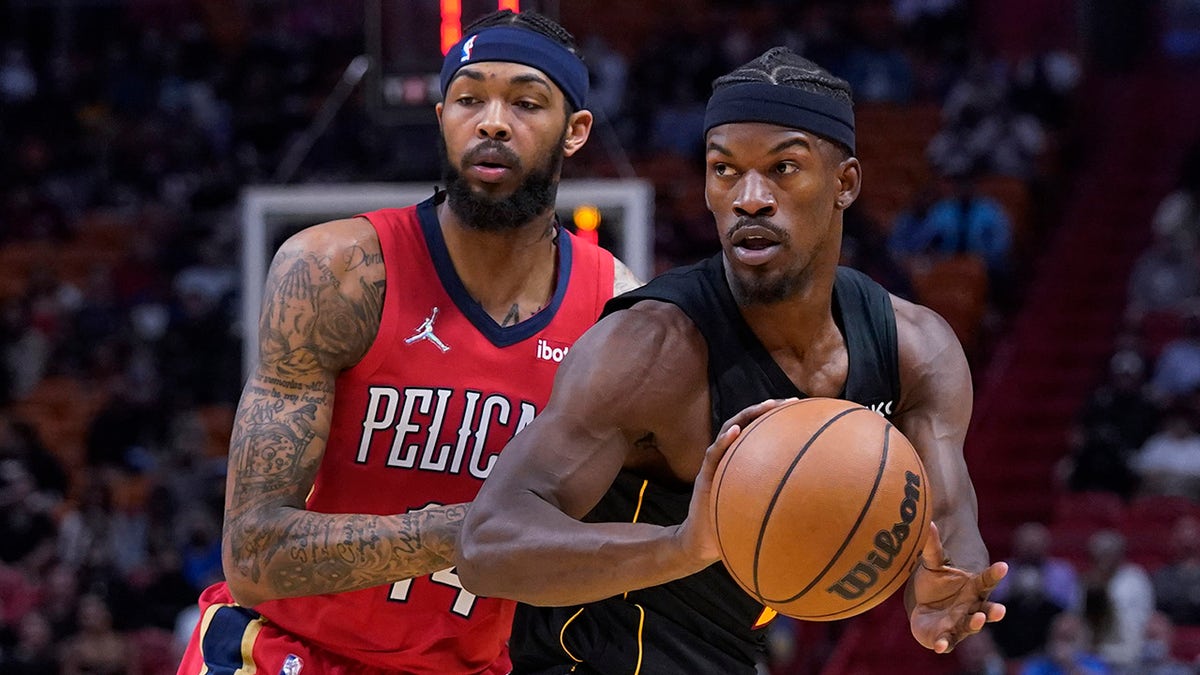 I will start off by saying this is not my idea. This concept I have taken from the great sports writer Bill Simmons. Every year from 2001-2015 (also 2019) around January, Simmons would write a massive piece where he would rank the league's players based on their trade value. So what does that mean? Here I'll let Simmons take over on the rules (with modern analogies).
Salaries matter. Would you rather pay Dejounte Murray $15.4 million a year or Brandon Ingram $29.4 million a year?
Age Matters. Would you rather have Chris Paul for the next three seasons or Trae Young for the next 12?
Contract length matters – Beal and LaVine are assets but both could bounce in 6 months
Pretend the league passed the following rule: For 24 hours, any player can be traded without cap ramifications, but with luxury-tax and next-day-cap ramifications. If Team A tells Team B, "We'll trade you Player X for Player Y," would Team B make the deal?
Concentrate on degrees. For instance, an Anthony Edwards-Jimmy Butler swap ain't happening, but Miami would at least say, "Wow, Edward's available?" while Minnesota would say, "We can't trade Edwards for someone who's twelve years older." That counts in the big scheme of things.
This list runs in reverse order. If LaVine is no. 19, then players 1 through 18 are all players about whom Chicago's braintrust would either say, "We hate giving up LaVine, but let's have a meeting ASAP," or, "Done! Call this deal in!" And Chicago wouldn't trade him straight-up for any player listed between nos. 20 and 60.
I know a lot of those rules contradict each other but it is about incorporating all of those rules in order to make a list that resembles that of how valuable players are in terms of a trade. Simmons was incredible at this and his writing made these lists all the better. I have read all of Simmons trade value columns and to my knowledge no one has really done it since he stopped. For that reason I hope to make this a tradition of an article I do and continue what Bill Simmons stopped. If you want to check out Simmons' full database on NBA Trade Value columns you can see it right HERE!
This piece is a pretty big one so I broke it into two pieces. In part 1 (this part) I will be doing numbers 60-31. Later, hopefully soon, I will release part 2 which will be numbers 30-1. I broke the 60 players into groups titled by the general reaction their general manager would have if someone asked for the player in a trade.
The league is more talented depth wise than it has ever been before. That means we have players of all ages and all contract sizes being incredible contributors and players for teams. For this reason keeping this list to 60 players is extremely hard but I took on the challenge. Because only 60 made the actual "list" there is an incredibly talented group of honorable mentions. I believe this group of honorable mentions is better than any single year that Simmons did this column. I somehow have 34 honorable mentions so I broke them into 3 groups in no particular order.
Honorable Mentions: Stars Making Too Much Money
CJ McCollum
Michael Porter Jr.
Kyle Lowry
Julius Randle
Nikola Vucevic
Kristaps Porzingis
Gordon Hayward
Pascal Siakam
Russell Westbrook
D'Angelo Russell
Malcolm Brogdon
Fred VanVleet
All of these guys are pretty similar. All of these players are older with the exception of Michael Porter and DLo and have massive contracts that would make teams think twice before trading for them.
Michael Porter Jr. is only not in the top 60 part of this list because of his injury history. When Porter is healthy he is one of the best young players in the league but his injuries seem too lingering for my liking. In two of his four seasons in the league he has missed nearly the whole season because of his back problems. Back problems, more specifically nerve issues are not something to play around with and become especially scary when you are tied into 170 million for the player. Porter is good but because of his back and his contract I would not touch him with a ten foot pole.
My major regrets from this group looking back are Pascal Siakam and Fred VanVleet. Siakam is overpaid but he has been much better this season than in the past couple so he still has real value. VanVleet on the other hand is playing at an all star level and that has to be incorporated into his value. VanVleet is on a decent contract and if I could redo this list he really should crack the top 60. No I am not gonna say anything on Russell Westbrook and if anyone was wondering I have him finishing 3rd to last in trade value (John Wall last and Tobias Harris second).
Honorable Mentions: Not On the List YET
Miles Bridges
Patrick Williams
Alperan Sengun
Keldon Johnson
Jonathon Isaac
Cole Anthony
Josh Giddey
De'Andre Hunter
Luguentz Dort
Jaren Jackson Jr.
Tyrese Maxey
Herbert Jones (sorry I had to find a way to get in him in here)
Jaren Jackson and Miles Bridges were really close but it is just too soon for all these guys. Everyone on this list I think one day could be in the top 60 but it is just too soon in their respective careers for them to make it. With that being said, all of these players would still have a market as players on low contracts that have really bright futures. I also really wanted to include Josh Giddey but he is still a bad shooter, defender, and inefficient so he will have to wait another year or two to make the list.
Other Honorable Mentions
Dillon Brooks
Andrew Wiggins
Myles Turner
Christian Wood
Seth Curry
Aaron Gordon
Terry Rozier
Jerami Grant
Cameron Johnson
Jonas Valanciunas
What a group. Every contender would take every single one of these guys if they could. This is a perfect group of third to fourth options on title contending teams. All of these guys could reasonably be traded for a first round pick and some even a lottery pick. I have no regrets leaving anyone off this list besides one.
Looking back, Andrew Wiggins should be on the list. Yes he is making 64 million over the next two years but have you been watching him this season? Wiggins is currently my best player in the Western Conference left off my all star team. Wiggins is providing the Warriors with exactly what they need which is perimeter defending, athleticism, and 3 point shooting. For the first time in his career Wiggins is efficient and is now a valuable piece for a team that is the favorite to win the title. Sorry Wiggins, you should have made it.
Without further ado here is the top 60 trade assets in the league.
Group S: I'm Not Trading Him, He's Just Too Young
60. De'Aaron Fox
59. Lonzo Ball
A little ironic that Fox and Ball are grouped together here as they have been rivals for a long time. In college Fox and Kentucky beat Lonzo and UCLA twice including an epic sweet 16 battle where Fox scored 39 points. Early in the league Fox was a better player but now it is much closer of a debate if it hasn't already flipped the other way. Ball has been underwhelming this year but Fox's defensive and halfcourt struggles make me lean Lonzo for now. Not only is Lonzo arguably better than Fox now but he is also on a four year 80 million dollar deal opposed to Fox's five year 163 million dollar deal. The title says "I'm not trading him" but with Haliburton's emergence as a starting point guard it would be smart of Sacramento to move on from Fox and his albatross of a contract while they can still get value.
58. John Collins
Collins' contract may slightly overpay him for the production that he has shown but with him hopefully continuing to get better and the salary caps progression, the contract is not a bad one. John Collins is only 24 years old and his contract pays him roughly 25 million dollars a year so it is very reasonable that he will make that deal worth it. If Collins is your first or second option you're in trouble, if Collins is your third option you are okay, but if Collins is your fourth option then you are a really good team. It would not make sense for the Hawks to deal Collins in the near future unless they are packaging him with other assets for a superstar.
57. OG Anunoby
56. RJ Barrett
These players serve as perennial favorites for the league's Most Improved Player award but both have yet to fully make the leap towards being a star. Yet again this seemed like the season that RJ would break out but he has done just the opposite. RJ is only scoring about 17 points per game while shooting an underwhelming 41% from the field. Barrett still has incredible value in a trade because he is only 21 years old and has shown flashes of super star potential. OG on the other has had a "breakout type season and is in the all star debate. Questions still pop up about what his full potential even is. Anunoby is not the Paul George type of wing as he is not nearly skilled enough or a good enough ball handler to be that type of scorer. If you rule that part of his game out, what is left? How far is he from his ceiling already? OG is a promising and talented young player but these questions need to be asked if you are going to give up assets for him.
*Late Edit* Barrett has been playing incredible as of recent as he just became the youngest Knick in history to have back to back 30 point games. If Barrett continues this, his trade value will also continue to rise. Now that Barrett and Reddish are teammates in New York prepare for the endless rumors that the Knicks will reunite the former Duke big 3 by acquiring Zion Williamson in the next couple years. Final thought, call me crazy but I still think Barrett has Tracy McGrady like potential and I think he has been showing it as of late.
Group R: I Know He Has a Massive Contract, Are You Sure You Don't Want Him?
55. Rudy Gobert
Rudy Gobert is a very interesting player because the Jazz would never trade him because of his importance as a rim protector. But even if they did want to trade him, who would take him? Gobert is 29 but has an albatross contract of five years, 205 million dollars. Gobert is an excellent player and potentially underrated by many people. On offense, Gobert is a powerful low threat but on defense he is the single best shot blocker in the league and alters or affects nearly every shot that comes down the lane. Wow, that sounds like a top 20 player, why isn't he?
Despite being a defensive stud, when the playoffs come every team tries to get bigs onto guard switches. When that happens, Gobert can not guard perimeter players and has to be subbed out in end of game situations. Last year against the Clippers, Gobert was constantly switched onto Paul George and George would score at will. This is exactly why I have a problem with Rudy Gobert winning defensive player of the year. How are you the defensive player of the year if during the playoffs you literally can not stay on the court because of your defense. If Gobert demanded a trade I do not even know what his value would be. Would you trade an asset of value for someone making 200 million dollars over the next five years and can not play in the closing minutes of a playoff game, probably not.
54. Brandon Ingram
I am not a Brandon Ingram fan but I will admit he has value. We are constantly told that he has incredible potential and he is bound to be one of the best scorers in the league. Ingram has not only not shown this but he has shown more than enough for me to question if he is a winning player. Ingram still has 4 years and 141 million dollars left on his contract which makes him not only overrated but overpaid.
Group Q: Sorry I Can't, He's Worth More to Us Than He's Worth to You
53. Jonathon Kuminga
52. Jalen Suggs
I put these guys together because it seems very unrealistic that either player is traded. Both players were top seven picks in the draft just seven months ago. Suggs has been relatively disappointing but I ranked him as the second best player in this draft before this season so I am not gonna give up on him yet and Orlando feels the same way. Suggs is a winner at every level so once he settles into the NBA it won't be long until he does it again. I view Suggs as a Kyle Lowry like player and it makes sense that Lowry also had early career struggles. Do not give up on Jalen Suggs.
Kuminga on the other hand I was not as high on before the draft but I am now sold. Before the draft I thought Kuminga was all potential and had yet to show anything. Every scouting report I read talked about the potential of Kuminga but there was never any substance behind his draft stock. For these reasons I was weary of Kuminga but oh was I wrong. Kuminga still oozes with potential but he is also backing it up. Kuminga has the frame of a modern wing and his defense is incredible. When I say Kuminga is a good defender I mean that he has all defensive first team type of potential. Kuminga still can not shoot but if he can figure out some of the offensive fundamentals then he will be a superstar.
Group P: I'm Pretty Clearly Willing to Trade Him
51. Domantas Sabonis
This one is simple. He doesn't wanna be there and Indiana wants to trade him. He will probably be dealt at the deadline but it is a very interesting question on who he will be traded to. I kept this one short because we will probably find out about his true value very soon.
Group O: Yes I Want (Insert Superstar Name Here) I'm Willing to Give You…
50. Miles Bridges
49. Jordan Poole
48. Desmond Bane
47. Tyler Herro
Can you see any of these guys being traded? No I can't either. But if the Wizards start offering Bradley Beal or the Timberwolves start offering Towns, you bet that the Heat, Grizzlies, Warriors, and Hornets would start offering the guys above. Everyone of the players above is having a breakout season.
Herro is offering the Heat a massive boost off the bench and is finally able to score at a high level while still being efficient.
Bane has been the most surprising young player as he is currently a starter on a team that currently has home court advantage in the Western Conference. Bane is a good defender and sharpshooter and this season he has found ways to score getting to the hoop as well.
Poole's emergence as an athletic sharpshooter has pushed Golden State from a good team to now the prohibitive finals favorite.
Miles Bridges is a major candidate for most improved player and is flashing future all star potential.
Every one of these guys has a legitimate all star potential so it would be just flat out dumb for any of these teams to trade them without getting a top 20 player in return.
Group N: I Would Need WAYYY More, He's Much Better Than You Think
46. Jrue Holiday
First, Jrue Holiday was traded for four first round picks about a year ago so that shows his trade value. Second, the Bucks would never trade Jrue Holiday as he is incredibly important to the Bucks especially on the defensive end. I ranked Holiday as the 25th best player in the NBA at the end of last season and although he can struggle offensively he does more than enough on the other end. Holiday is still one of the league's premier defenders and is the glue guy that holds together the defending champs and the best team in the league (yes I said it).
45. Jarrett Allen
Jarrett Allen will be an all-star this season and if that seems weird to you then you have not been paying attention to him this year. Allen has a good sized contract with a 5 year, 100 million dollar deal. Originally that deal seemed like it might be a slight overpay but that is now a very reasonable contract for an all star. Allen is a good defender, great rebounder, and this year has picked up his production around the hoop (that is an understatement considering he is shooting above 70% from the field). Trading Allen would make no sense and his pairing next to Mobley has actually been surprisingly good despite preseason critics (add this to the list of things I was wrong about).
44. Franz Wagner
A major surprise of this year's draft has been Franz Wagner's emergence. I fully expected Wagner to be a very good 3 and D player but he has surpassed even that simple of a label. Wagner is already a 3 and D player but for the first time you can see his potential as something more. It is easy to see Wagner blossoming into a player like Gordon Hayward which is much better than originally thought (just imagine if the Warriors had him this season, sorry I get distracted). Nearly no trade makes sense to get rid of Wagner because the Magic do not need a star and should prioritize young potential, like Wagner.
43. Draymond Green
The Warriors will never trade Draymond. Draymond is the heart and sole of the Warriors and everything flows through him. The connection that Steph and Draymond have is so special that I would go as far as to say it has never happened in NBA history. Casual fans will try to make fun of Draymond and say he is a poor offensive player but that just is not true. Draymond's 8 points, 8 rebounds, and 7 assists stat line looks weird and underwhelming but it just represents Draymond's will to win. Draymond wants to win and that is all he cares about. If Draymond wanted to he could for sure average 18-20 points a game but the team would not win nearly as much as they do now. Not only is his offense and link with Steph Curry underrated but his defense is incredible. If the voters get over this stupid Gobert thing then Draymond surely should be the defensive player of the year this year. Draymond posts a stunning 99 defensive rating which for perspective is better than any LeBron or Michael Jordan season.
Group M: I Really Want to Trade Him, But I Need Something Back
42. Kyrie Irving
41. Ben Simmons
This is obvious I won't spend too many words on this one. Simmons is clearly available and has a high price but nevertheless he is certainly available. Kyrie also seems to be available and if someone gave the Nets something of value in return. I am not sure I would trade for either of these divas but they have to make the list because of just how talented they are.
Group L: I Can't! Our Fans Would Riot
40. Klay Thompson
When I say riot I mean there would actually be fires started if Klay Thompson was traded. Thompson just completed one of the more inspirational comebacks in NBA history missing two and a half seasons with a torn ACL and torn achilles. Yes Thompson is overpaid when you consider he may never come back the same but Golden State NEVER could trade him. Thompson is a three time champion and along with Curry and Draymond headlined the Warriors dynasty (notice how I left Durant off). I recently came to a consensus with myself on the top five shooters ever so listen because it is my article and I can get off topic if I want.
Steph Curry
Klay Thompson
Ray Allen
Reggie Miller
Larry Bird
Era and impact on the shot has to matter so Bird makes the list and although guys like Kerr or Korver are incredible in percentage the five guys listed above are just too hard to leave off.
39. Khris Middleton
I am not sure if Milwaukee would literally riot but it would not be far from it. Middleton hit the series clinching shot in last year's NBA finals and was the second best player on that team. The Bucks still are the best team in the league (again yes I said it, get over it) and Middleton is way too valuable to get traded. His numbers may have dropped slightly this season but I have no doubt that not only will those numbers go up but he will also be incredibly valuable come playoff time.
Group K: If I Trade Him He Will Comeback and Haunt Us
38. Dejounte Murray
Murray has made a drastic leap this season and is now in the conversation for most improved player of the year. Can you imagine how the conversation between Daryl Morey and RC Bufford went when Daryl called him and tried to accept the previously offered trade for Ben Simmons. Bufford and the Spurs definitely said some Draft Day type of line like "the world is a different place than it was two months ago". If anyone can pull off the Costner line in real life it is Bufford or Popovich.
The reality of the situation now is that the Spurs probably would not give up Dejounte Murray even straight up for Ben Simmons. Murray is on an incredibly affordable contract and is now a young star on both sides of the floor. Why would I give up a quiet, productive, affordable, spurs-like player for a diva that gets paid 30 million a year (this is coming from a Ben Simmons fan).
37. Jalen Green
I am off the Jalen Green hype train. I have sold my stock and am no longer in his corner. I listed Jalen Green as my number 3 prospect before the 2021 NBA draft but I have done a 180 on my stance of him. I liked the idea of a two guard being super athletic, having the ability to score from three levels, and has defensive potential. Since the draft I have realized Green is inefficient, a poor defender, and has no impact on winning outside of scoring. You can see how much Jalen Green someone has watched this year by seeing how fast they mention how many points a game he scores.
Who cares if he scores 15 points a game, he has no impact on winning. Jalen is a bad passer, a below average rebounder, a poor 3 point shooter, and terrible defender. If you compare Green's numbers and advanced stats to the players he was compared to before the draft (LaVine, Beal, McGrady. Kobe, and Vince Carter) you will find that he is below all of those guys in every stat besides points. I understand those are all great players but that is exactly what we thought Jalen Green was gonna be isn't it? Green may end up being a good spark plug and if he is lucky an all star but he will not be as great as many thought. Here are guys who will be better than Jalen Green in five to six years.
Easily, Haliburton's pick and roll passing is amazing and… well I won't say too much because spoiler alert he is next.
Jalen Suggs is a winner, Jalen Green is not. Suggs does not care how much he scores if his team wins, Green wants to beat you with scoring. Suggs has been underwhelming this season but he will turn it around and I am confident he will be a star. Green on the other hand, not so much.
Jalen Green hopes that he will be the player Jordan Poole is now.
If he ever decides he wants to play basketball again (which is a big if) then he will be much better than Jalen Green will be.
He plays defense.
He plays defense.
He plays defense. And he is already a good shooter and offensive player.
Herro has now shown an obvious path to get better and unlike Jalen Green he actually can score from three levels.
Yah that is right, Green isn't even the best prospect on his team. Rockets fans are really hating me right now and I would be mad too if my team took someone number 2 overall and there were six better guys behind him (I am not gonna claim I predicted that part, but that is the situation).
He is bigger, he is a better shooter, and is a better defender. Wagner is already a 3 and D player, Green has highlight potential but neither the 3 or D.
I have not sold any of my RJ Barrett stock (I have a lot of it, I once ranked him as the second best player in the 2019 draft ahead of Ja Morant and Darius Garland). Barrett is on a recent tear and his stats are increasing drastically and I am sure soon they will be back to where they were last year by the end of the season or maybe sooner. I will say it again but I think Barrett has Tracy McGrady type potential.
Ok off the top rope with this one. Yes I have a basketball crush on Herbert Jones but I am sticking by this. Herb Jones is everything that Jalen Green is not and they are both rookies. Jones is shooting well from 3 (I know small sample size but all indications say it will continue) is an incredible defender and is just a winning player. I know it may seem crazy but the end goal in basketball is to win and you have a better chance to win with Herb Jones than Jalen Green.
36. Jamal Murray
ACL injuries do not mean nearly what they used to so I am not very worried about Murray's recovery but I still have to drop him some spots just in case he is never the same. Jamal Murray is an elite level scorer at his best but he also has been an underrated playmaker. Murray still has a big contract left getting paid 131 million dollars over the next four seasons. Murray is the perfect heat check player to play next to Jokic and his superb passing. Last playoffs we saw Murray play in he put up superstar numbers.
26.5 Points
6.6 Assists
4.8 Rebounds
50.5% From the Field
45.3% From 3
All of this was done while co-leading the Denver Nuggets to the western conference finals. Murray is expected to come back this season in time to have a couple warm up games before the playoffs. I do not expect Murray to play as good as he did in the bubble but if he does, the Nuggets are sleepers to win the western conference. For that exact reason, the Nuggets have no plans to deal Murray anytime soon.
35. Tyrese Haliburton
Ok I'll be honest, I understand this is too high for Haliburton in reality but to be honest I still want to put him higher. The random all Joey Barrett team is something like: Tyrese Haliburton, Herbert Jones, Bruce Brown, Gary Payton II, and Robert Williams with Jalen Johnson as my young bench prospect. If I was a GM I would just get those six guys on my team and I would have a chance to win every game. This is probably evidence that I would be a bad general manager but I'm sorry all these guys play a team game and seem to really care about winning.
Ok now that I am done going over my fake team that would win 27 games back to Haliburton. Haliburton is someone that box score glancers or highlight watchers will not fall in love with but if you truly watch the games you will see it. In a pick and roll it seems like Haliburton just makes the right decision 9 out of 10 times. If he is hedged too hard he has a crisp nice bounce pass that feeds his bigs nice and easy buckets and if the defense plays it lazily then he will break past them for a bucket. If Haliburton ever plays with a dominant center (*cough* *cough* Joel Embiid after a Ben Simmons trade) then I think we will see just how good of a pick and roll passer he is. Also can Sacramento either trade him or Fox because they both are talented players but are constricted when next to each other.
34. Scottie Barnes
Scottie Barnes is just a delight to watch and that is the easiest way I would describe it. In a forwards body he can nearly guard anyone in the league and is still a good offensive player. When the Raptors took Barnes with the fourth overall pick I called them one of the losers of the draft because they passed up Jalen Suggs. Although I still believe there is a chance Suggs becomes a better player I will admit they are not losers of that draft (if anyone is counting that is like the fourth or fifth time I've admitted I've been wrong).
Barnes has impressed this season not only with his defensive versatility but also by improving his offensive game. Barnes averages about 15 points and nearly 4 assists a game and most impressively is shooting a serviceable 32.4% from 3. If Barnes can continue this trajectory I can imagine him as a not scared to shoot and hopefully not diva version of Ben Simmons. That may sound like an insult but I promise you that is a huge compliment on Barnes playmaking and defensive capabilities.
Group J: I Wanna Listen, But That Would Be Bad Karma
These are all guys that would never ever be traded because they are just too important to title contending teams. With that being said all three of these players are on the wrong side of thirty and have big contracts that will surely over pay them towards the end of the deal. But that is not always a bad thing because in today's NBA sometimes you have to be willing to look stupid later in order to compete today.
33. DeMar DeRozan
Before this season DeRozan would not even crack the top 60 of this list as a 32 year old with a big four year contract that had not even started. Oh was I wrong. DeRozan is now a fringe MVP candidate for a team that is currently the number one seed in the eastern conference. I will be the first to admit I had the Bulls pinned as a 6 or 7 seed and never would have imagined them as a title contender. That change in narrative has a lot to do with many players but no one bigger than DeMar DeRozan.
DeRozan is having the singles best season of his career after he turned 32, which is very impressive. 26-5-5 while shooting 49% from the field is a statline only matched by Kevin Durant, LeBron James, and Giannis Antetokounmpo. Those are 3 of the top 5 players in the league, then DeMar DeRozan. All of this is without mentioning DeRozan has been an incredible teammate, a winning player, and has improved his 3 point shooting incredibly. The Bulls would trade LaVine before they would trade DeRozan and although that is for other reasons it is still impressive.
32. Jimmy Butler
Butler seems to have a tough problem with staying healthy and that is especially a problem when you consider he is 32 years old and guaranteed to be paid 220 million over the next five years. With that being said, when he is healthy he is a top 15-18 player in the league and is good enough to propel a team to a championship. Butler's contract is tough to swallow but as soon as you lose faith go back and watch the 2020 NBA finals. Watching Butler give everything he can possibly give to win the series will rejuvenate your faith that he can play for a while longer.
31. Chris Paul
NO! I am not trading for your nearly 37 year old point guard, on a massive contract, averaging 14 points a game, is how that conversation should go. In reality, every team that is one piece away would drool at the thought of adding the point god to their roster. Paul is the point guard that just won't die. He is an interesting case because Paul is not especially durable as he gets hurt all the time but here he is at 36 headlining a team with the one seed. Paul is a true winner, just not a champion. I mean that in a literal sense but also I believe there is a difference in the way those types of winners are classified.
At 6'0 Paul is not able to simply will a team to the trophy and instead must be the second or third best player on the team to succeed. Luckily for Paul there is a potential player like that right next to him in Devin Booker. If Booker can make yet another leap this season then the Suns could be the favorites to win the title this season. Some call me a Chris Paul hater but I believe I am just a realist on the situation. The career he has had is incredible and 20ish teams would give up a first round pick or two for him even with his age. I just believe Paul may be getting slightly overrated in an all time sense. Yes I want him on my team but not instead of Magic, Curry, Oscar, Stockton, or Isiah Thomas and that is just how it is. Paul is not in that upper echelon of NBA point guards and is instead behind that group with Steve Nash, Jason Kidd, Russell Westbrook, and Bob Cousy (he is a six time champion, shut up). 
Part 2 Coming Soon…