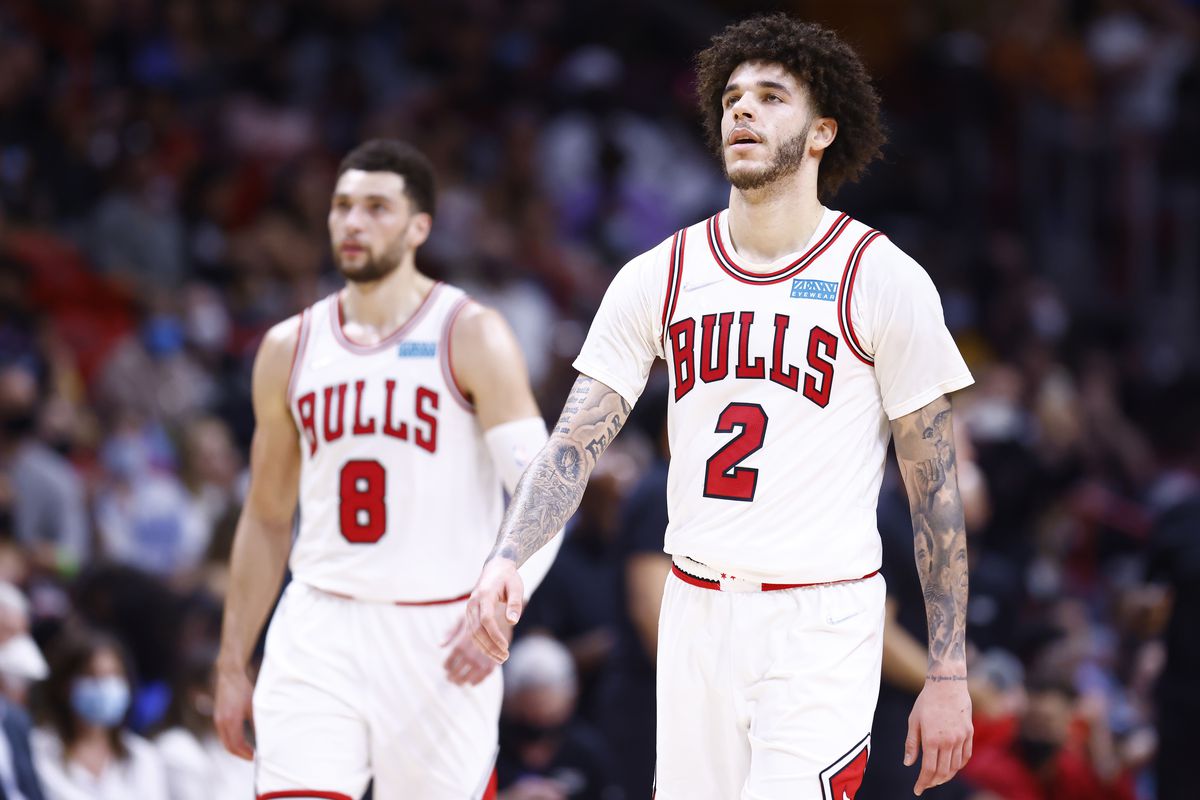 The Bulls have been a team that were in a rebuild after trading their star player in Jimmy Butler during the 2017 NBA draft. The Bulls received Zach LaVine, Kris Dunn, and the 7th overall pick in which the Bulls drafted Lauri Markkanen.
Fast forward to the 2021-2022 NBA season and the Bulls are a real threat and have a chance of winning it all. The Bulls made some major moves during the offseason with the signing of Lonzo Ball, Alex Caruso, DeMar DeRozan, and Derrick Jones Jr. It was a complete change of the team.
Going into the season we had major questions like, how will DeMar and LaVine work out? How good will they be defensively? LaVine and DeMar are both balldominant players so how will they share the court together?
So far the Bulls have proven us wrong, they are 27-11 and sit at the top of the east.
No one thought the Bulls would be playing this well and the way their star players are playing with each other has been even more surprising. Zach LaVine this season is playing great as he is scoring 25.7ppg, 5reb, 4ast, while shooting 48.9% from the field and 41% from 3.
DeMar DeRozan has been proving the doubters wrong with his play all season long. This season he is averaging 26.3ppg, 5reb, 5ast while shooting 49.3% from the field and 35% from 3. He's been taking a lot more 3s and in back-to-back games made the game-winning shot against the Pacers and Wizards. DeMar has been playing at an MVP level.
The Bulls also have 2x all-star in Nikola Vučević who is playing better as he found his role within the team. Lonzo Ball is the best point guard for this team as he doesn't demand the ball and when he gets his touch he throws dimes. Ball is also a great defender as he is averaging 1.9 steals ppg this season a career-high for him.
Lonzo with the Dime
Something that I want to point out is that the Bulls have a lot of bodies that can play similar roles. Ayo Dosunmu, Coby White, Alex Caruso, are the names that come to mind at the guard position. These 3 players are providing great minutes off the bench and challenging each other to see more playing time. Caruso has been out due to a left foot sprain but while he has played he has been very good.
This Bulls team look like the real deal and will continue to surprise many people and are my dark horse team to look out for in the playoffs as they are just one big man away from having all the pieces they need to win the title.