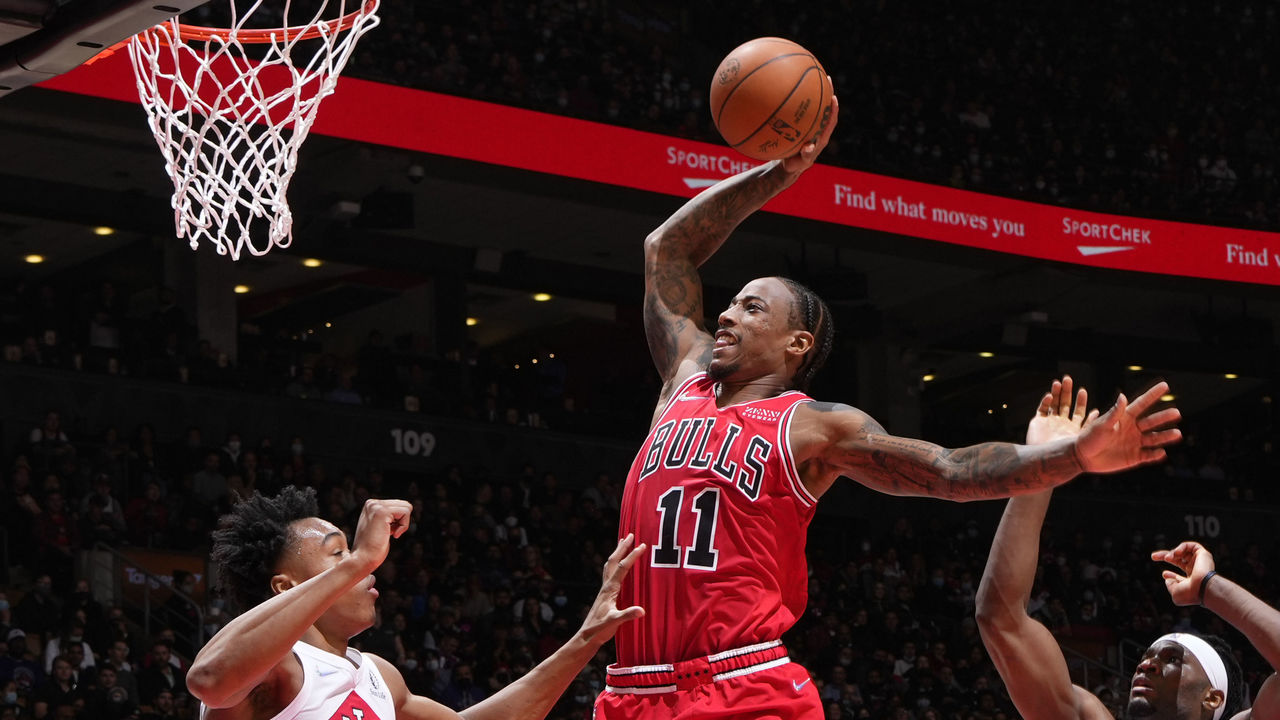 This summer, Bleacher Report published an article titled "Ranking the 10 Worst Signings of 2021 NBA Free Agency". In the number one spot on their ranking was Demar Derozan. Derozan had just signed a 3-year, $85 million contract with the Chicago Bulls. As it turns out, Bleacher Report could not have been more wrong.
The 2016-2017 NBA season was a career-best for Demar Derozan. He put up impressive numbers for the Toronto Raptors, scoring around 27 points per game, five rebounds, and just under four assists. He continued his all-star level play the following season, but Toronto wasn't cutting it in the playoffs. The Raptors continued to get pummeled by LeBron James and the Cleveland Cavaliers. During the summer of 2018, Toronto ended up trading Demar to San Antonio for Kawhi Leonard. That season, Leonard led the Raptors to an NBA championship.
From then on, people started to think it was over for Demar. Winning a championship did not seem like a real possibility in San Antonio. Derozan still put up good numbers, putting up around 21 points, six assists, and five rebounds over his three seasons with the Spurs. Even with those numbers, the Spurs still were not even close to being a threat in the west.
This summer, Derozan's contract with the Spurs was over. Rumors heavily leaned towards Derozan becoming a Laker alongside LeBron James and Anthony Davis. It was even revealed recently that Derozan thought it was a done deal. It turns out the Lakers did not want to sign him for more than two years. So the two parties halted the conversation, and the Bulls took advantage.
On August 3rd, 2021, the Chicago Bulls announced that they acquired Demar Derozan through a sign and trade deal with the Spurs. Derozan would be joining Zach Lavine and other newcomers, Lonzo Ball and Alex Caruso. Along with Bleacher Report, many NBA fans had their doubts.
That brings us to today. Demar Derozan, fresh off an appearance as an all-star starter, and is in the MVP conversation alongside Giannis Antetokounmpo, Joel Embiid, and reigning MVP Nikola Jokic. Derozan silenced all the haters and is having the best season of his career. Averaging 28 points per game with five assists and five rebounds, Derozan has been bouncing around the MVP rankings proving that he can still play at the level he could back in Toronto. Now more than ever, Demar Derozan's championship dreams are within reach.