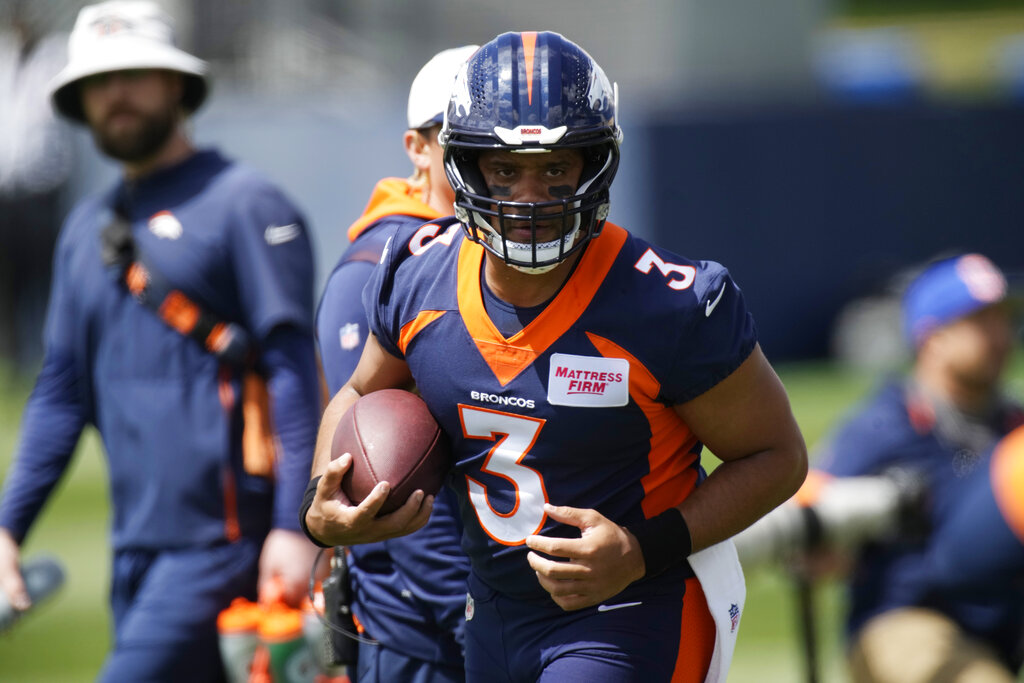 Arguably the strongest and most anticipated division in the NFL this year is the AFC West. It features the Kansas City Chiefs, who have been to the Super Bowl in 2 of the last 3 years, and the Los Angeles Chargers, who are led by young superstar Justin Herbert. The Las Vegas Raiders who recently acquired Devante Adams to reunite with Derek Carr, and the Denver Broncos, who have a new sheriff in town in Russell Wilson to rejuvenate a once-storied franchise.
The division will be heavily showcased in primetime, as the Broncos, Chiefs, and Chargers have five games apiece and the Raiders have four. For now, it appears to be a coin-flip as to who will win the division, with each team making its case for success. So let's dive deep into each of these teams and why they have the chance to go all the way.
Kansas City Chiefs
Key Additions:
WR JuJu Smith-Schuster (FA)
S Justin Reid (FA)
WR Skyy Moore (draft)

The Chiefs entered the offseason as top dogs in the AFC West, and still remain as the odds-on favorite to win, but it's safe to say things are getting shaky in Kansas City. With the Chiefs' immense success, reality is beginning to set in, as the salary cap has hit them hard. Last year, they re-signed superstar quarterback Patrick Mahomes to an enormous 10-year, $503 million dollar contract.
They continued the high spending by re-signing star tight-end Travis Kelce to a 4-year $57 million dollar contract. The sky was the limit for the Chiefs, but after a disappointing finish losing to the Cincinnati Bengals in the AFC Championship, they were met by a multitude of tough decisions. First, they were forced to cut ties with star receiver Tyreek Hill after unsuccessful contract talks. Hill was shipped off to Miami in exchange for five draft picks, including this year's 1st-rounder and next year's second-round pick. Hill then signed a massive deal with the Dolphins for 4 years and 120 million dollars.
To replace him, Kansas City signed JuJu Smith-Schuster from Pittsburgh and Marquez Valdes-Scantling from Green Bay. The Chiefs then drafted Skyy Moore from Western Michigan in the second round. Moore will provide tremendous speed, which they lost when they traded Tyreek Hill. Overall, it's agreed upon by experts that the Chiefs conducted a solid draft. Notably, they selected CB Trent McDuffie with Pick 21 and EDGE George Karlaftis with Pick 30. Both players will immediately bolster the Chiefs' defense.
After the draft, however, the Chiefs lost yet another star. Tyrann Mathieu signed with the New Orleans Saints on a 3 year $33 million deal. Mathieu was known for his explosiveness and relentlessness on the field, earning the nickname "Honey Badger". It's without a doubt that the Chiefs will miss both Hill and Mathieu, but with much of their core still intact, Kansas City will likely continue their success. With a quarterback as good as Patrick Mahomes and a legendary coach in Andy Reid, they should have nothing to worry about.
Las Vegas Raiders
Key Additions:
WR Davante Adams (trade)
OLB Chandler Jones (FA)
CB Rock Ya-Sin (trade)

In their second season in Sin City, the Raiders somehow found success despite, well, everything. From the John Gruden drama to the Henry Ruggs III incident, Las Vegas dealt with numerous hardships and controversies in 2021, yet they still managed to make the playoffs. Regardless of the first-round loss to the Bengals, the Raider's season can be considered an unlikely success. Derek Carr had a very good season, throwing for 4,804 yards and 23 touchdowns. We also witnessed the emergence of receiver Hunter Renfrow and DE Maxx Crosby.
Renfrow notched 1,038 yards and 9 touchdowns, while Crosby had 56 tackles and 8 sacks. Heading into the offseason, there was a lot of uncertainty surrounding the Raiders and which direction they were heading in. Their first action was to decide who the head coach would be. Interim head coach Rich Bisaccia did a phenomenal job leading the Raiders to the playoffs, but was he really fit to be an NFL head coach? Apparently not.
The Raiders hired Dave Ziegler from New England to become the new general manager, and Ziegler brought along Josh McDaniels to replace Bissachia as head coach. McDaniels has been offensive coordinator for the Patriots since 2012 and has had a spotty coaching career, from the numerous scandals when he was the head coach in Denver, to his immediate withdrawal after being hired by the Colts in 2018. But there's no doubt that McDaniels has a brilliant football mind, as he's won three Lombardi Trophies with Tom Brady and the Patriots.
Josh McDaniels will begin his stint in Vegas with a team ready to compete, as they've acquired two superstar talents along with an already talented roster. First off, they traded a first and second-round pick for receiver Davante Adams. He's arguably the top wide receiver in the game. Over the past two years with Green Bay, Adams caught 29 touchdowns and tallied up 2927 yards. Granted, Aaron Rodgers was his quarterback and was a back-to-back MVP in those years, but it's safe to say that Devante will be very productive with Las Vegas. Adams already has good chemistry with Derek Carr, as they were teammates in college at Fresno State for two years and are close friends.
On the defensive side of the ball, they signed future Hall-Of-Famer EDGE Chandler Jones to a contract worth $52.5 over the next three years. The 32-year-old veteran will form one of the league's most feared pass-rushing corps lining up alongside Maxx Crosby. After the acquisition of Jones, defender Yannick Ngakoue was the odd man out. He was traded to Indianapolis for cornerback Rock Ya-Sin. He should immediately help with the Raiders' thin secondary. The Raiders are playing their cards this season hoping to cash in on a championship, which is fitting since they're located in the Gambling Capital of the World. Only time will tell if their wagers will work out.
Los Angeles Chargers
Key Additions:
JC Jackson (FA)
Khalil Mack (trade)
Sebastian Joseph-Day (FA)
Bryce Callahan (FA)
Kyle Van Noy (FA)

After a heartbreaking loss rooted in a controversial timeout call by Chargers head coach Brandon Staley, Los Angeles had some work to do and the funds to make it happen. Heading into free agency, the Chargers had the most cap space in the entire league with $56 million to spend, and they certainly didn't go cheap.
First, on March 10th, they agreed to a trade with Chicago to acquire superstar pass-rusher Khalil Mack for only a second-round pick and a future sixth-rounder. The linebacker tacked on 36 sacks in Chicago after being traded from the Raiders ahead of the 2018 season. Throughout his career, his numerous accolades include six Pro Bowl appearances and five all-pro selections.
He'll form a downright scary pass-rushing duo with Joey Bosa, who logged 10.5 sacks last season and has 58 in his career after being drafted third overall in 2016. But the Chargers still finished after acquiring Mack. A week later, they signed Patriots cornerback J.C. Jackson to an official contract worth $82,500,000 over 5 years, which seems like a pretty good discount regarding his talent level. The former undrafted rookie has compiled a whopping 17 interceptions over the past two years, more than any other player by far. Jackson will team up with safety Derwin James and cornerback Asante Samuel Jr to form a very strong secondary.
J.C. Jackson will also be joined by fellow cornerback Bryce Callahan. Callahan signed with the Chargers on the 5th of May from the division rival Denver Broncos. When healthy, Bryce Callahan has proven to be one of the top slot corners in the league. In 2020 with the Broncos, he got two interceptions in ten games, and he's notorious for his lockdown coverage and deflections.
Moving away from the secondary, the Chargers also brought in defensive lineman Sebastion Joseph-Day from that other L.A. team, the Rams. Joseph-Day had three sacks and 38 tackles alongside Aaron Donald as the Rams' defensive tackle. He was a crucial part of Los Angeles' title run and will make an impact on the Chargers' run defense. Finally, the last of the flurry of signings for the Chargers was brought in linebacker Kyle Van Noy. Van Noy also came from New England in his second stint with the Patriots after spending a year in Miami with the Dolphins.
Since 2017, he's put in steady production as a defender, notching 26.5 sacks and 356 combined tackles. Although his productivity has remained pretty stagnant over the past couple of years, he's a proven defender that upgrades the linebacker room. The main attraction for the Chargers will once again be young superstar QB, Justin Herbert. In his first year, Herbert threw for a rookie record 31 touchdown passes, and improved in his second year, throwing for 38 touchdowns.
The sky's the limit for Justin Herbert, as he's expected to improve into MVP form this season. There's a lot of hype around this Chargers squad, and they're expected by many to compete for a championship right now. Only time will tell if these expectations can become reality.
Denver Broncos
Key Additions:
QB Russell Wilson (trade)
DE Randy Gregory (FA)
DT D.J. Jones (FA)
CB K'Waun Williams (FA)

Ever since legendary quarterback Peyton Manning hung up the cleats following his Super Bowl 50 victory in 2016, QB has been both the biggest need and question mark for the Broncos. And after six rough years, Denver has finally found their quarterback. On March 9th, 2022, hopeful Broncos fans were heartbroken when they learned that Aaron Rodgers decided to stay in Green Bay. But just a few hours later, they were treated with a pleasant surprise as the Broncos acquired future HOF quarterback Russell Wilson from the Seattle Seahawks.
Wilson is one of the best quarterbacks of the generation, compiling an incredible 262 touchdowns in his career. But the Broncos had to give up quite a bit to get him: two first-round picks, two second-rounders, TE Noah Fant, DE Shelby Harris, and QB Drew Lock. This is one of the largest trade packages in NFL history, but if Russell Wilson can continue to play at the level he did in Seattle, it will be well worth it. He'll team up with first-year head coach Nathanial Hackett to lead a potent offense.
The Broncos have an explosive young core headlined by running back Javonte Williams and wide receivers like Courtland Sutton, Jerry Jeudy, Tim Patrick, and K.J. Hamler. These young players have never experienced a great, or even good NFL quarterback, and will finally have a chance to showcase their talents. The Broncos also brought back veteran running back Melvin Gordon to split reps with Javonte Williams. Gordon and Williams make up a dangerous backfield that will take the load off of Wilson, who was college teammates at Wisconsin with Gordon.
On the defensive side of the ball, the Broncos made moves to fill holes and become stronger as a whole. Their first move was to bring in edge rusher Randy Gregory on a five year deal worth $70 million. Gregory had spent his first seven years with the Dallas Cowboys before signing with Denver.
The 29-year-old pass rusher had a career-best six sacks in 2021 and hopes to continue the success in the Mile High City. Another move to support the run defense was the signing of defensive tackle D.J. Jones to replace Shelby Harris. DJ was a key player in the 49ers strong defense, having 56 combined tackles in 2021, many of them coming on runs. Jones is known as one of the best-run stuffers in the NFL and should pair nicely with rising star Dre'Mont Jones.
Finally, the last notable move was bringing in cornerback K'Waun Williams from San Francisco. The signing of Williams was a move out of necessity, as he was a cheaper alternative at corner to Bryce Callahan. The slot cornerback should fill the void lost by Callahan. All of these new players will join superstar safety Justin Simmons and cornerback Patrick Surtain II hoping to elevate an already-great defense. After a busy offseason, the Broncos are hoping to find success for the first time in half a decade with an all-around strong roster with seemingly no real weakness.
Final Thoughts

This year's AFC West is considered by many to be the strongest division in the NFL and perhaps the strongest of all time. With all four teams capable of winning the Super Bowl, we've never seen anything like it. Can the Chiefs sustain success after arguably getting worse? Will Derek Carr and Davante Adams be deadly enough to bring a championship to Vegas? Will Justin Herbert take the next step to become an MVP-level QB and fulfill the immense expectations on the Chargers? And will the Broncos' revamped roster led by Russell Wilson return them to the highest level and win a Super Bowl? All of these questions will be answered during the upcoming season in the most exciting division in football.